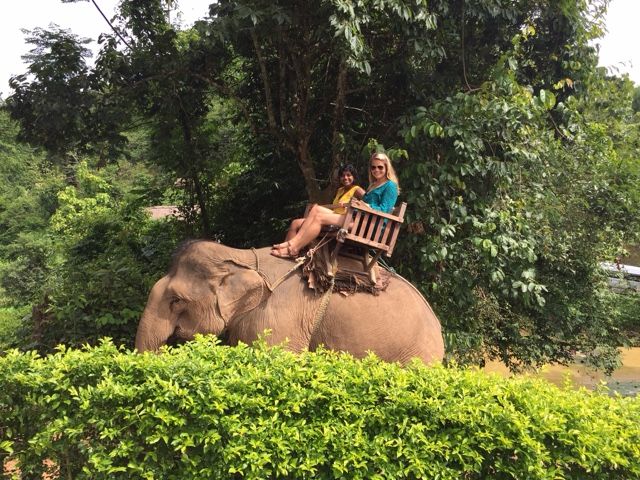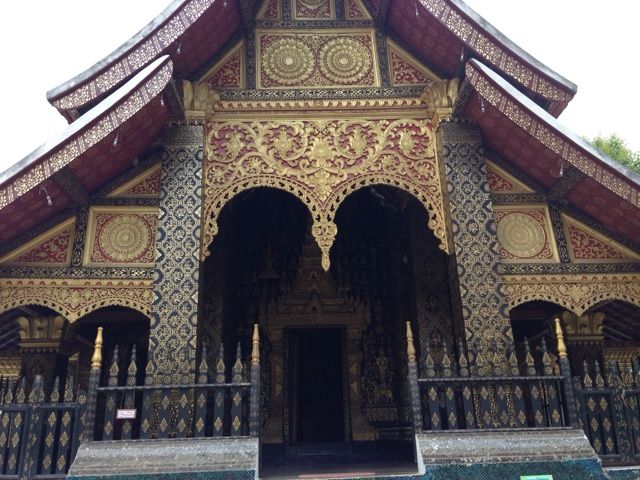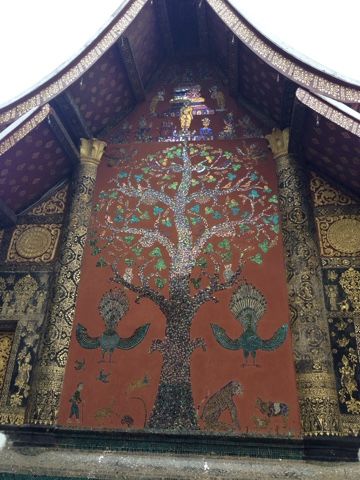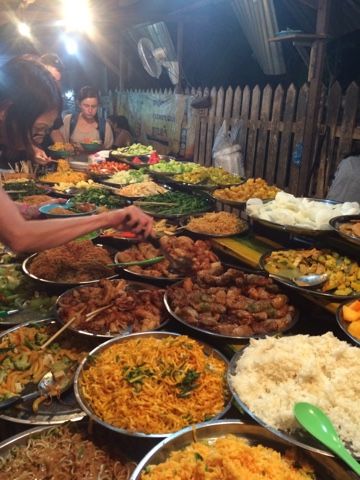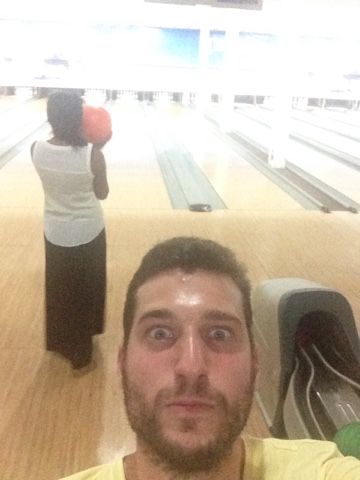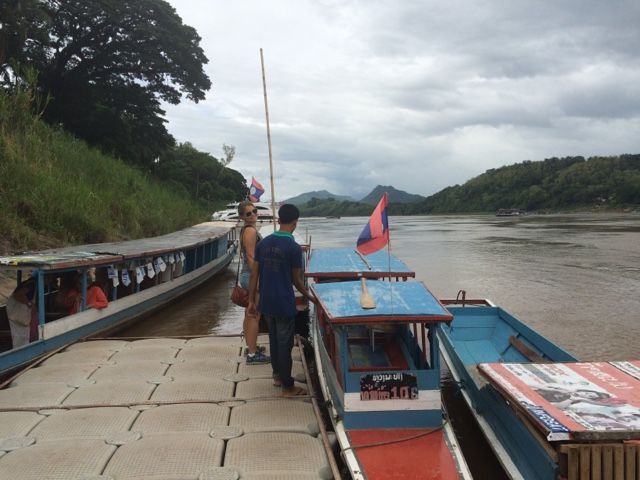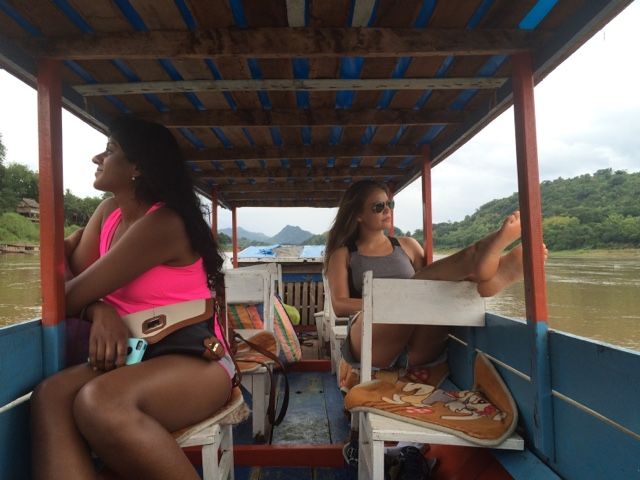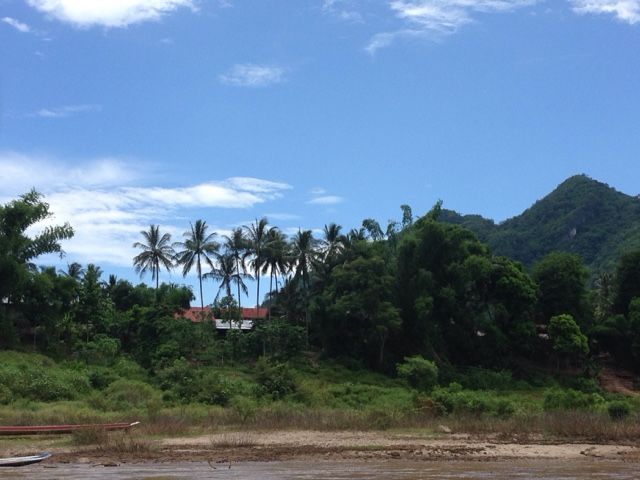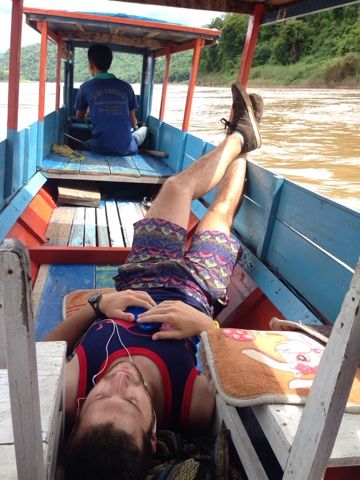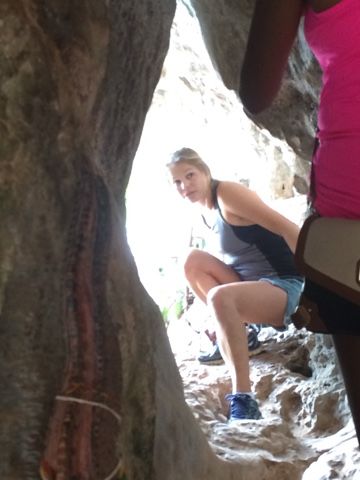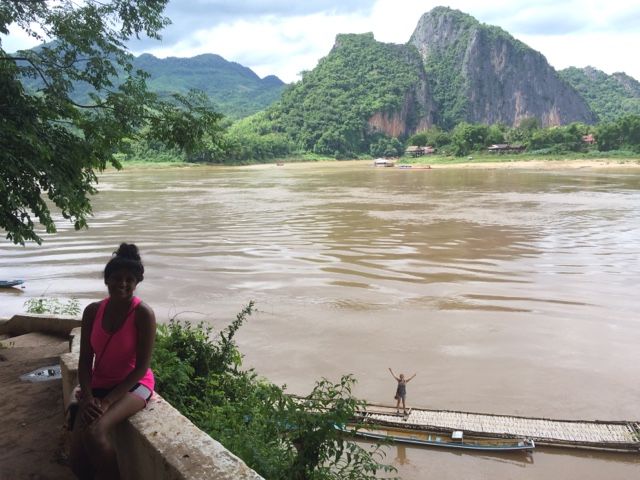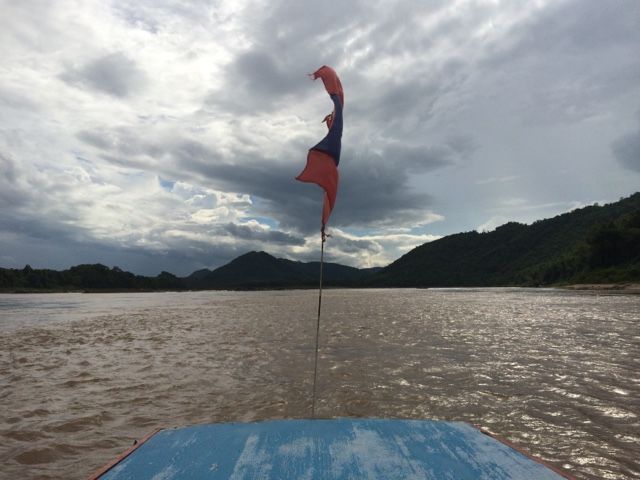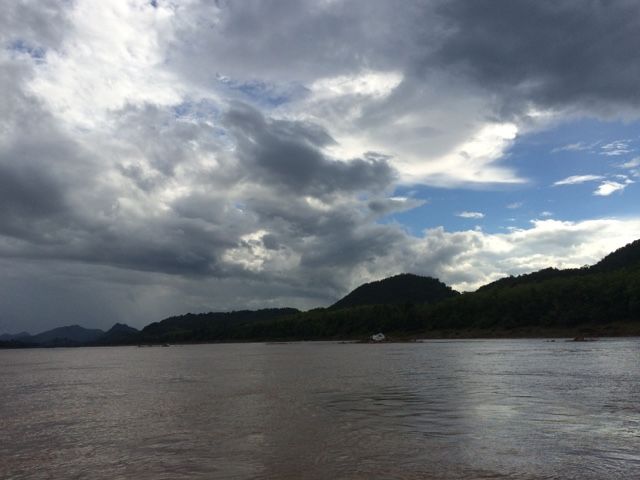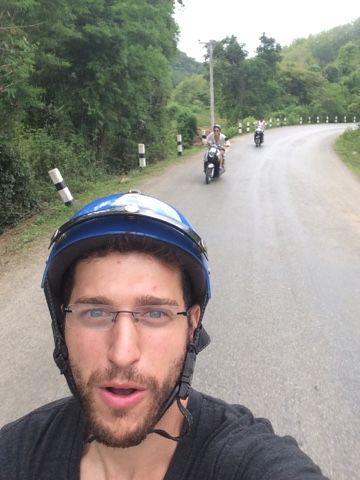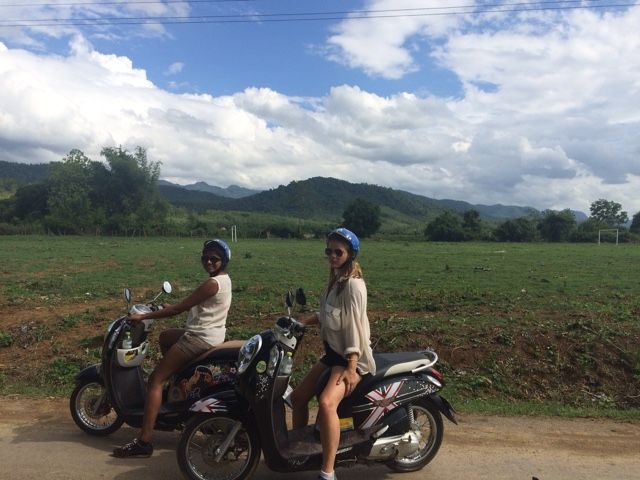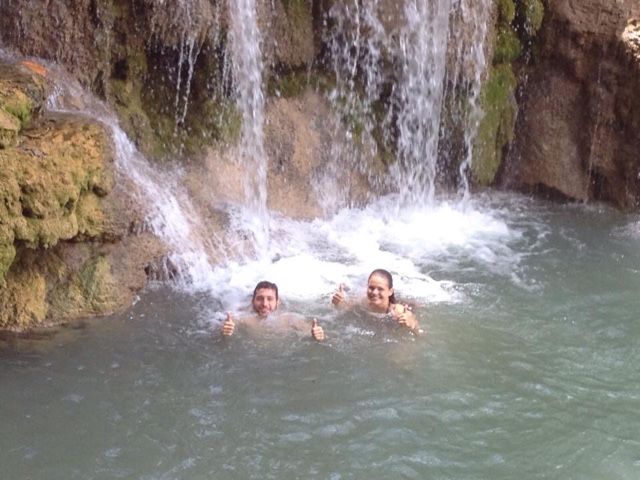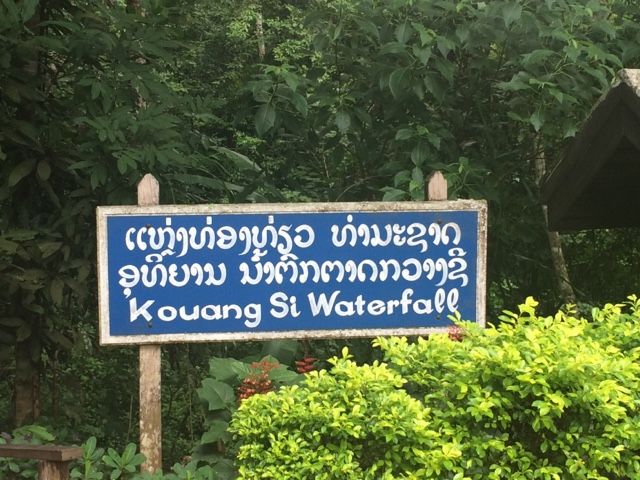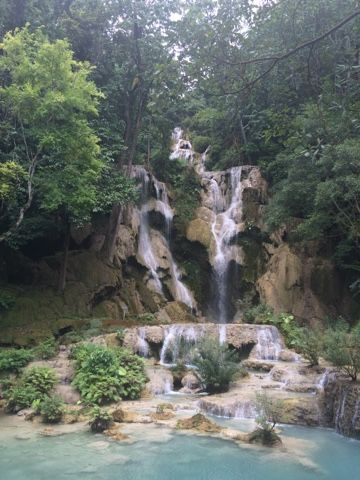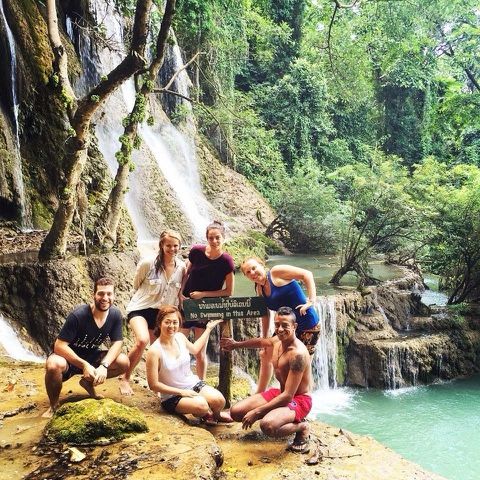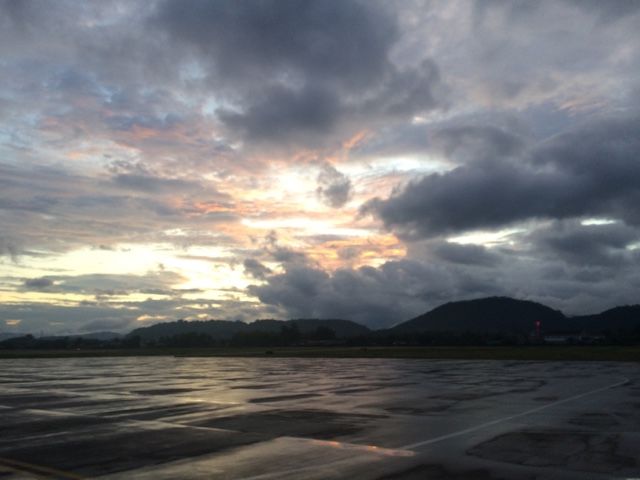 First guest post from Killa K and TSB.
When realizing that there were only two seats left on our "chosen" flight (aka the only flight from Chiang Mai to Luang Prabang), we decided to split up for a day. As Dave moved further north in Thailand to Chaing Rai, Killa K and TSB took the last two seats on the flight. Given TSB's undying love for Luang Prabang and Killa K's newly discovered lackadaisical attitude towards making plans, we decided that it was the perfect opportunity for a guest blog post covering our time in Lao.
Part I: As told by TSB
As described by Dave himself, Lao has a reputation of being the "bastard child of Southeast Asia." Many travelers book extravagant trips to Thailand, Vietnam and Cambodia, then decide to stop over in Lao for a night or two just to add another country to the roster. I will admit, I knew nothing about Lao except that the capital was Vientiane. When I woke up on the flight from Chiang Mai and looked out the window during landing in Luang Prabang, I was not expecting the lush rolling green hills (some would call them mountains) and a winding river that was the color of clay. About two minutes after our flight landed, the daily afternoon rainstorm occurred and we were kept on the plane to wait it out. While we were skeptical of being locked on the plane, we learned our first lesson: everyone in Lao just stops what they are doing when it rains and waits for it to pass.
Surely enough, after a few visa and customs lines and a shared minivan to the "city center," we were dropped off at Villa Merry 1. A large majority of the residences in Luang Prabang are "guesthouses" with a family or two actually living inside as well. Villa Merry 1 actually had two families living nearby. One of the Australian women had a self-proclaimed mid-life crisis and moved her family to Luang Prabang from Australia to run the guesthouse. We never quite figured out how the children go to school or who the other random German guy is actually married to, but they were extremely helpful.
Once we dropped our backpacks in the room (the bathroom felt a lot like a bomb shelter with no windows), Killa K and I made our way to the "night market." Each night, the main street is completely blocked off from car traffic so that vendors can set up stands selling elephant memorabilia in all shapes and sizes (pants, purse, figurines, etc.). While we do enjoy our elephant pants from Thailand quite dearly, nothing will ever top street food. As we wandered, we learned that Lao has a very interesting mix of cuisines. While the food is not quite as spicy as Thai food, it is pretty similar. The main difference is the French influence that is felt all over the city through cafes, bakeries, and baguettes being sold on the street next to billions of variations of rice noodle dishes.
After I had successfully filled up on spring rolls and tofu skewers, Killa K and I made the most important culinary discovery of the trip thus far (Dave may disagree and go with the ambiguous "breakfast noodle soup" instead). Regardless, the "coconut cakes" were a crowd favorite. Each bite-sized cake is made of rice flour and coconut cream, then cooked in a skillet to resemble a small, sandwich-like, spherical cake. They were essentially small drops of heaven and I insisted on having them for dessert every day for the rest of our time in Luang Prabang.
Part II: By Killa K
After our nightly wanderings, we called an early night in preparation of our highly anticipated elephant tour. We embarked on a quick hour drive to Elephant Village, a sanctuary for older elephants rescued from the logging industry in Lao. These elephants, unlike the ones from my previous experiences, were looked after with the highest quality of care – fresh varieties of food, daily vet visits, daily baths, and returning to the jungle after tourists' visits by 2 pm. After riding an elephant (in bench and on his neck) on land and through the river, dozens of pictures, and feeding him bananas as a treat, we had a short lesson on elephant care and visited the two resident baby elephants, Maxie and Tryn. Elephants truly are TSB's spirit animal – naturally vegetarian, gentle, strong, and wise.
Upon our return to Luang Prabang, we wandered around the old city of Luang Prabang to visit the numerous temples, or Wats. I particularly enjoyed Wat Xiang Thong, whose structures were covered with gorgeous painted scrolls and overlooked the north bank of the Mekong River.
Dave joined us in the late afternoon, and we returned to the night market for the outdoor buffets, with buckets of food and whole fish on sticks (followed by coconut cakes, of course). At dinner, we met an English friend named Ben with an enviable beard and his friend Nieve. Given Luang Prabang's total population of 50,000 people, we ran into Bearded Ben several more times and helped him celebrate his 21st birthday in Lao.
That evening, we made our second most important discovery in Luang Prabang in the form of a quaint wine bar called Icon Klub. The walls were cheerfully decorated with literary quotes, strange pictures of famous people, and the odd sculpture or two. The bartender and owner created her own cocktails, although she did note certain inspiration from Milk 'n Honey in New York. Even in Luang Prabang, all the cool kids have been to the cool bars in NYC.
We had heard from many of our fellow travelers that a bar called Utopia was the place to be that night. Like the New Yorkers that we are, we wandered over to Utopia around 11 PM, blissfully unaware of the curfew in Luang Prabang. By the time we got there, everyone was on their way out and we were a bit confused until several tuk tuk drivers approached us muttering "bowling, bowling?" It turns out that the real late night fun takes place at the bowling alley. We learned the chief of police owns the alley and has rigged the system to get the late-night tourism business. So somehow we ended up in the middle of nowhere in Lao at a bowling alley at midnight. While Dave was fairly decent at bowling earlier in the night, the scores continued to drop with each round we played. We finally called it quits after making some new Brazilian friends and TSB managed to knock a pin down in the adjacent lane…
For obvious reasons, we had a late start the next day. After gorging on a late breakfast/lunch of Pho and green curry at Café Ban Vensate, we made our way down to the north bank of the Mekong to find a private longboat to the Pak Ou Caves. Our longboat was essentially a long canoe with a roof, with about 8 or 10 small white chairs lined up along the sides, and painted bright robins egg blue with red accents. Our captain had some issues getting the boat going, but after 30 minutes of tinkering, we were en route. If we had been impressed with the scenery, we were in awe of the lush, wild greenery as we floated down the river. No picture could capture the raw beauty of the perfect sky, clouds, mountains in the background, and the odd villager fishing, washing clothes, or simply wandering. The journey itself was arguably better than the destination. We paused for a refill at a floating gas station and another stop for a bathroom break on a deserted riverbank, before arriving at the Pak Ou Caves.
The Pak Ou Caves are an important historical, religious site in Lao and still in use today. The caves are DARK and every crevice is filled with Buddha figurines in a variety of poses – "Calling the Rain," "Witness to the Earth," etc. After enjoying the caves and some viewpoints from higher up, we got back in our boat for a quick stop at a local village before returning to Luang Prabang.
Part III: Back to TSB
On our last day in Luang Prabang, we needed to see the Kuang Si waterfalls. There are a variety of ways to get to the waterfalls (about 35 km outside of Luang Prabang). Some people simply take a tuk tuk, while others join a tour group that does the caves and the waterfalls in the same day via minivan. We naturally decided that this was the best day to rent motorbikes.
This turned out to be one of the best decisions of our trip yet. The Laotian countryside is stunningly beautiful and riding motorbikes with the locals was a great way to immerse ourselves. The road was decently paved, although watching out for potholes was a must. The Kuang Si waterfall is one of the most interesting and unique natural wonders I have ever seen. The waterfall is made of three different tiers that cascade into hundreds of swimming pools. We decided to go ahead and swim before climbing to the top of the falls to avoid the other tourists.
After swimming for an hour or so, we started the climb to the top of the falls. At each level, there are more and more swimming pools. It was much less crowded at the top, and the views were an amazingly juxtaposition of the falls with the Laotian countryside. From the top of the falls, we spotted the most picturesque hidden swimming pool and the back of a sign, indicating that those who accept the challenge of finding the pool are CLEARLY supposed to swim…
After a couple of failed attempts at poorly marked "paths," we found one with a sign giving us "considerable hints" not to pass. The barricade was made of barbed wire, but there was a clear path on the other side to the most perfect swimming pool to ever exist. Luckily for us, another group of four people (US, French, Polish, and Korean) were looking for the magical mystery pool as well. We helped each other over the barricade and finally reached the pool. There aren't really words to describe the shade of teal that the water is or the feeling of swimming in the top tier of a waterfall while looking at the Laotian countryside, but Kuang Si was definitely a highlight of the vacation.
Lessons learnt:
Floating gas stations in the Mekong River are full service. No need to get up from your captain's seat.
Signs giving "Considerable Hints" are really more suggestions.
According to the motorcycle mogul that rented us our bikes, "If you have a good boss, follow him to the top like Jack Ma."
This travelogue was first published by Indochina Summer - 2015 .