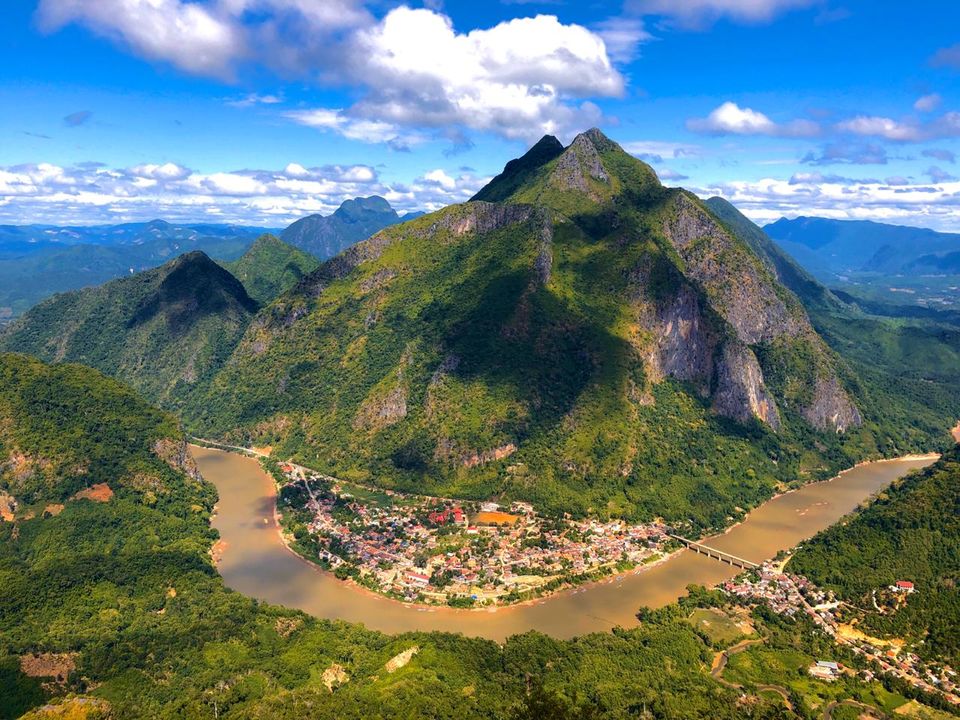 Laos? The lady at the immigration at Chennai international airport looked at me quizzically. Where is it? That was when I knew I was making the right decision, going to a country which many people don't know about is definitely positive. Less crowd, more nature, and more local stuff. Well, I wasn't exactly right. Laos is a very unique country wherein it has developed pockets meant for tourists and the remote villages where no one can ever go to!
You have to shell out 40 Dollars visa fee, one of the highest ever if you are an Indian though!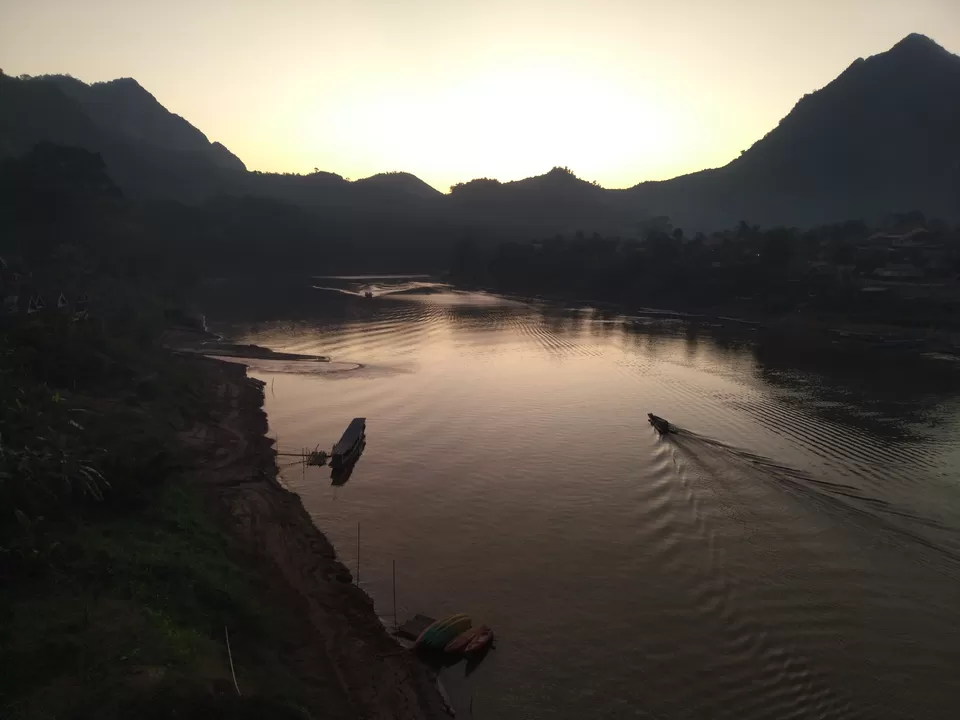 Cheap, not cheap
This country, since it is now developing for tourism, only has fancy means of transport. A luxury sleeping bus or minivans all air-conditioned and cost around 500-1500Rps. There arent any local buses and for you to travel you need to shell out this amount. And you need to travel since you are out there exploring a new country! I am only assuming that local people used to travel by foot or stay in their village only.
The only thing that is really cheap is to stay at hostels. You can get 6 people sharing-dorm with AC and hot water and free breakfast for as little as 200 Rs per night! That is definitely cheap and luxurious! But you will have to shell out the same 200 for a meal at any restaurant around the main centers as well, so not so cheap!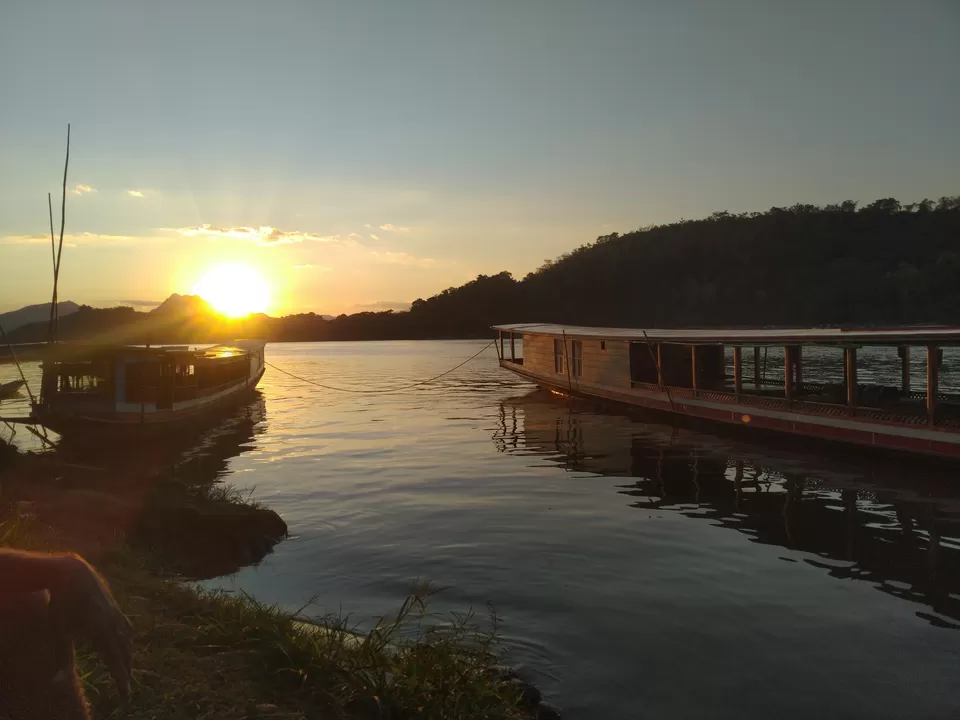 Sit by the riverside with a Lao beer and a sandwich watching the sunset
Food
You can get a sandwich for as cheap as 80Rp or spend 200 for a bowl of noodle soup or fried rice! They only get more expensive from here. We stayed at Luang Prabang for quite a few days and the best bet is the night market. Efficient, though we had a feeling they would just keep the leftover meat and grill it the next day so meat-eaters, not sure how fresh your food is!
There are numerous dishes for the meat-eaters to try and my friends did go yum yum over quite a few dishes so I am sure it was wonderful. If you are tired of plain rice and noodles there are numerous cafes along the way to get pizza, burger and shakes and Indian restaurants in a few towns so that you don't miss your home too much!
Noodle soup is available everywhere
Lao beer, of course, happens to be a must-try and you get local rice wine in supermarkets and stores in plain plastic bottles which you can try to get the local taste.
Nong Khiaw
This little town in the north of Laos is a quiet place with many adventure hikes and tours. We stayed at the swimming pool campsite which is a set up of few tents around a swimming pool and was one of the cheapest places to stay in. It's a little away from the center and perfect to spend the night gazing at stars or talking sitting by the pool.
We went on a hike up a relatively new viewpoint where you have to pay 80rp(10,000kip) for the entry and after a two-hour steep hike up the hill, you reach an amazing viewpoint. The highest in the area and you can see all around. It isn't a very easy hike so unless you are a fit person you will spend the next two days in pain like I did. It will hurt to walk up or down the stairs but it was worth the experience.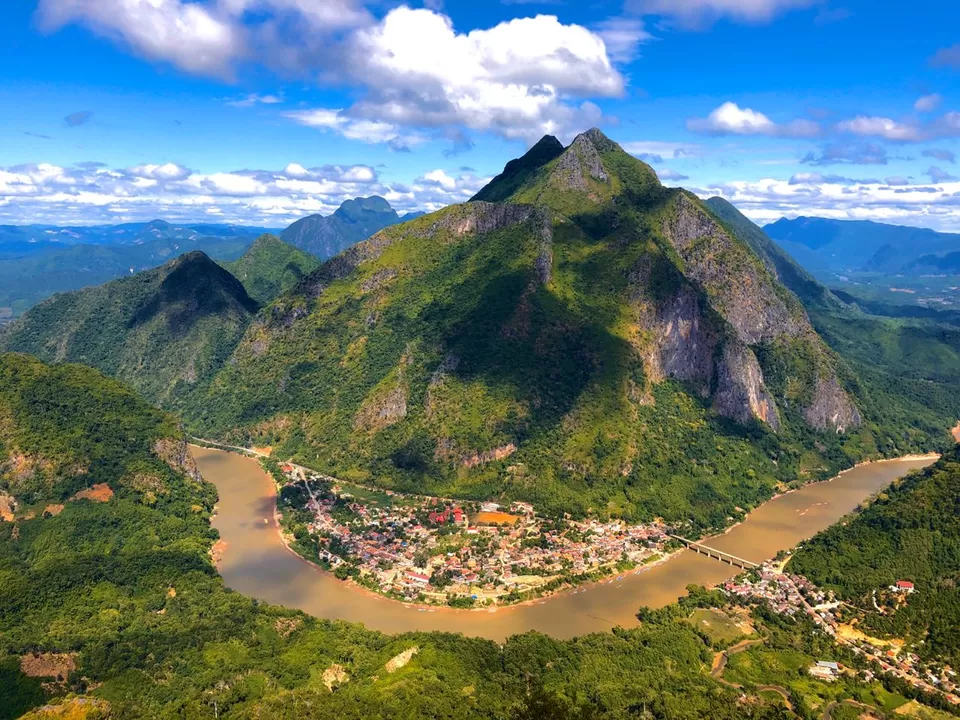 You even have some kayak tours, treks through the jungles and other alternate adventure sports here so if you want to spend a few days away from the crowd and are ready to shell out 800-1000rps per tour you can come here and have an amazing time.
Luang Prabang
We flew in and out of the country from here but if you here only to do Laos I would advise you to fly in from Luang Prabang and fly out from Vientiane. It gives you time to see more and spend more time in the north and south! Luang Prabang is one of those cities developed around for tourists. It is very western with lots of cafes, bars, and restaurants all along the riverfront and in the town. There are many monasteries and museums here as well but each one has an entry fee of 10,000 Kip! I used to peep into them at night after they were closed to maximize the monastery count!
The night market of Luang Prabang is worth checking out without a doubt. How they come every evening at 5, set up their foldable tents and start arranging their products in perfect order is admirable. I like their efficiency and neatness. This is the perfect place to buy souvenirs if you know how to bargain! You need to be good at that or people like me can pay whatever they quote and spread happiness!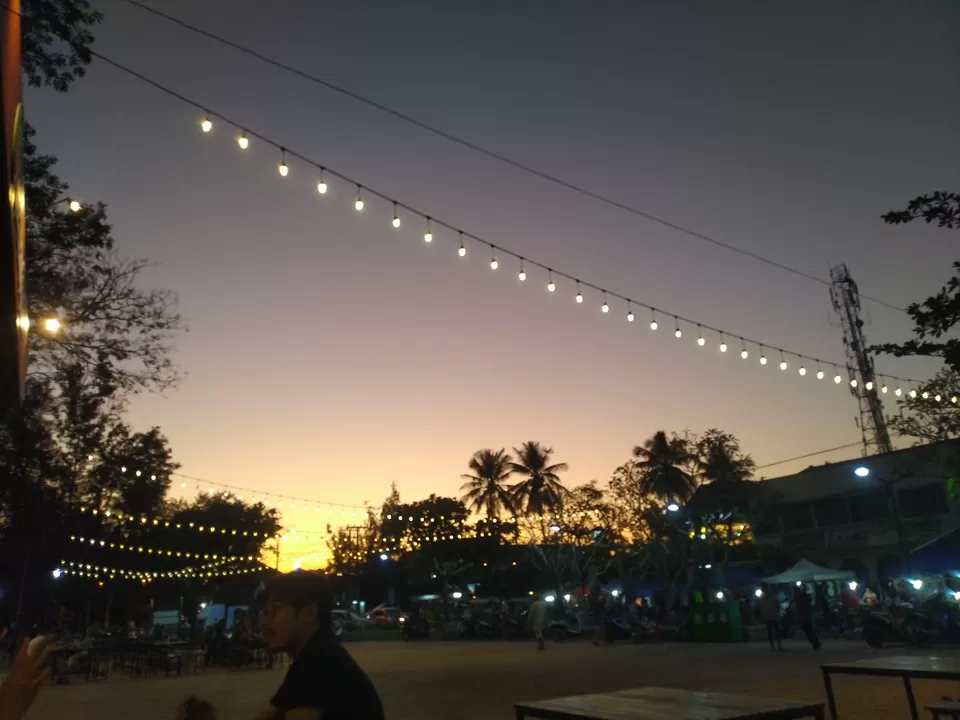 Sunsets by the riverside are mesmerizing and you could find yourself one of those small decks and watch the sunset behind the hills.

Kuang Si waterfalls are one of those must-visit places when in Luang Prabang for its crystal clear blue-white waters at so many levels. You can hike all the way to the top to see the different levels and find yourself a quiet little pool and relax there in its cold waters. Tad Se waterfalls are equally nice.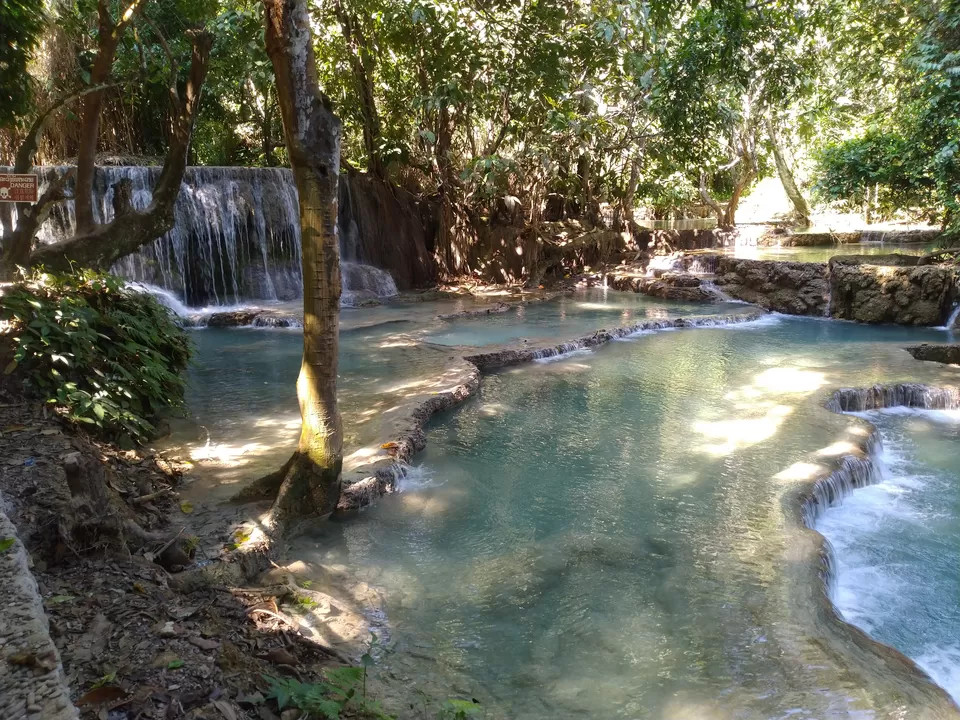 Vang Vieng
Now 6 hours south of Luang Prabang is another adventure and party hub called Vang Vieng. This felt more at home than Luang for us as maybe this isn't that westernized. There are many cafes, restaurants, and pubs here but it still has a more homely feel. Vang Vieng is the place for hot air balloon rides, kayaking, tubing, caving, blue lagoons, and rock climbing! All the adventure you can do during the day and relax to free whiskeys in the night. Though I have been told all the free booze tastes like water with whiskey flavoring!
This place is famous for blue lagoons, a waterbody developed for tourists to jump, swim and relax in. They have cliffs to jump into the water, ropes to be a Tarzan before splashing in or just tubes and life jackets to relax and float about.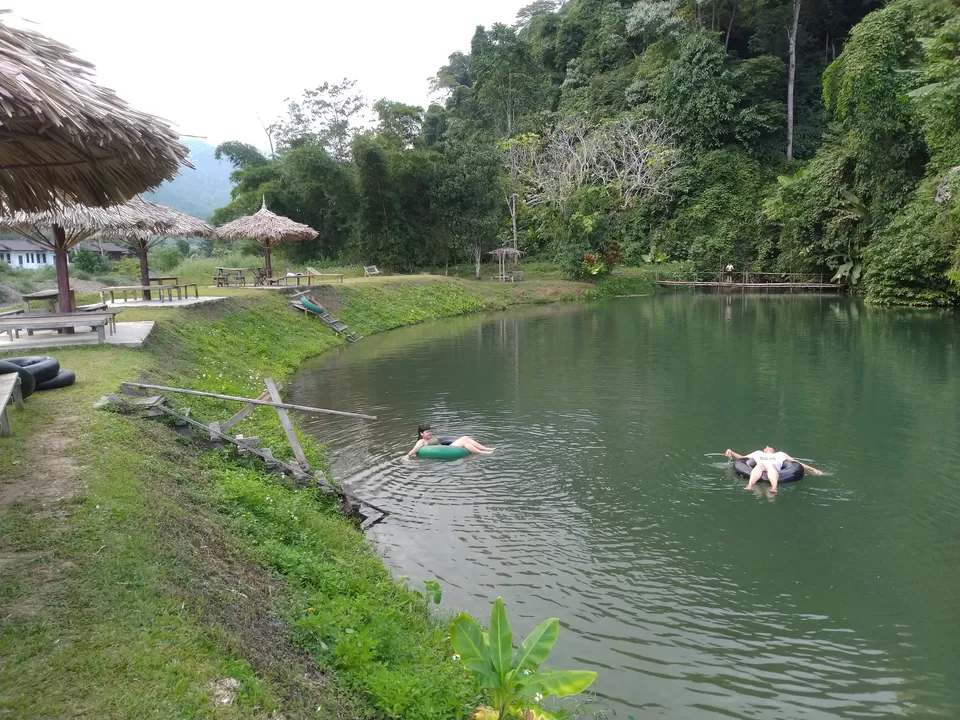 Rent a scooter or a buggy and head to the dusty, rocky road. The road is bad but it takes you to beautiful destinations. For instance, blue lagoon 1 is at the end of a good smooth road but if you take the effort to ride on the dusty road for half an hour you end up at blue lagoon 5, it is much more quiet, empty and relaxing. In between nature with its own cave and tubes. There are more caves to explore and viewpoints to climb up to along this dusty road most of which will definitely be worth it!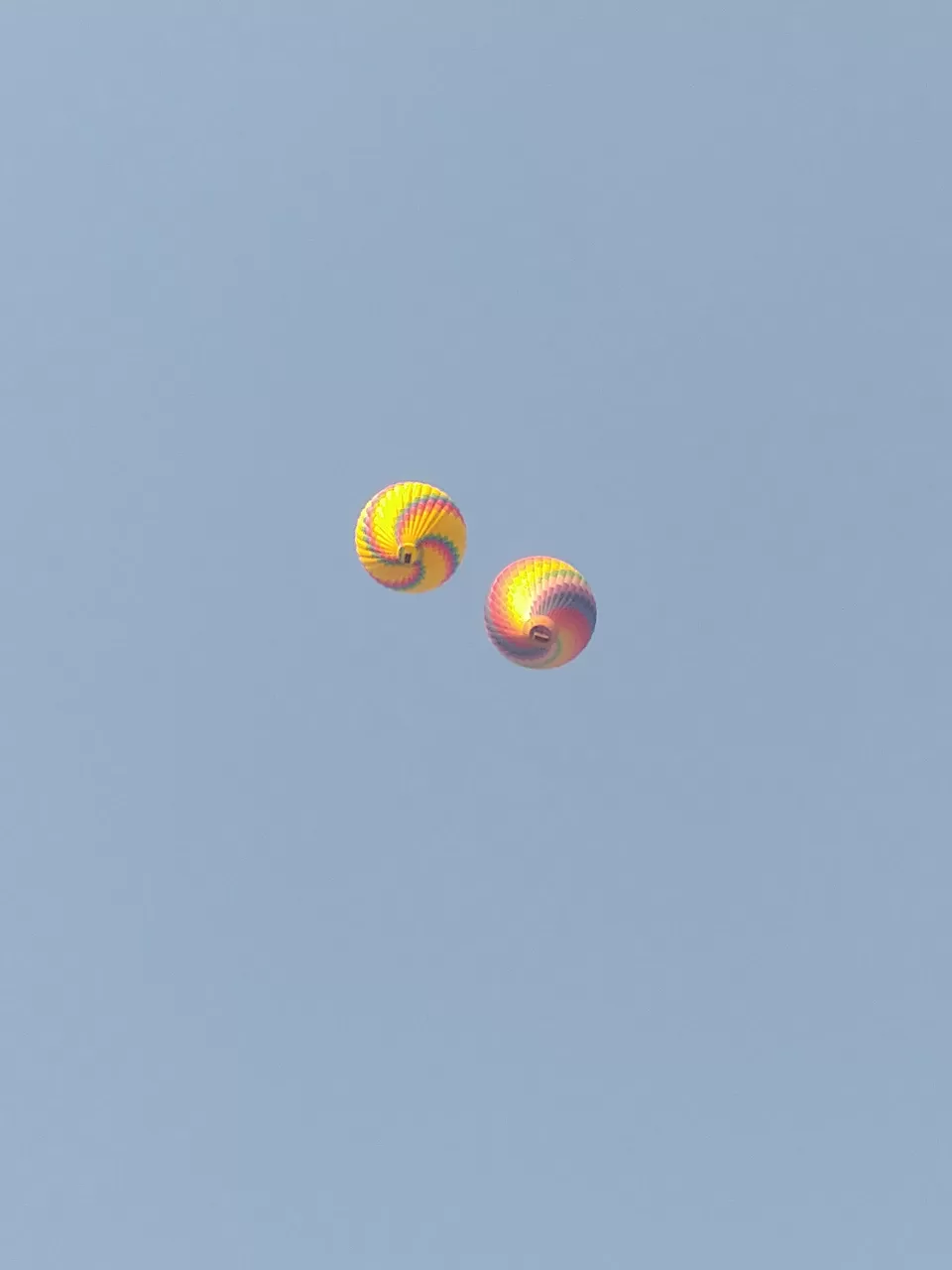 You can rent a bike and head out towards the Nam Ngum Sanctuary to see numerous islands with a few beachy shores one day. Though these islands look way better on google maps than they do from ground level, you can always find one small corner or an empty island and relax, watch the sunset. The ride is lovely and you can discover some villages which are not on the usual tourist track.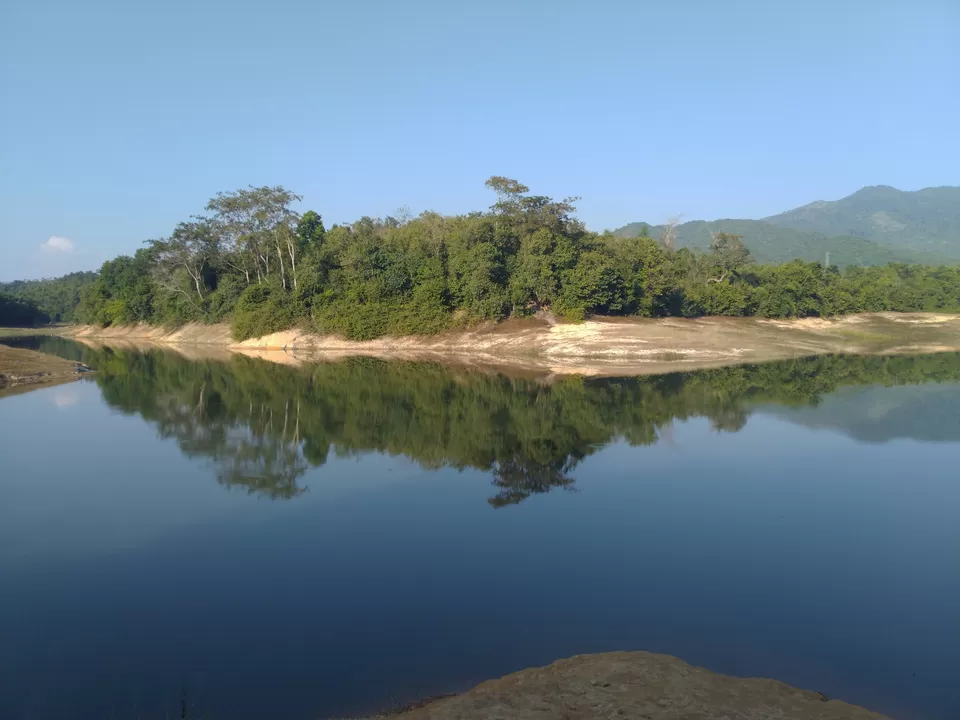 My friend went for the Gibbon experience post this which is a little expensive for people on a budget. He took the slow boat from Luang Prabang to Huay Xai which takes two days to reach. There the treehouse, trek, and climbing along with the final zip lining experience is definitely memorable and the videos seemed amazing. If you arent on a budget I would recommend you try this for sure! Though there are numerous other cheaper zip lining options in the Vang Vieng and other places this in the jungle treehouse experience is definitely better.
Laos is a very beautiful country yes. It is very hilly, with the Mekong river passing through. It has rocks to climb, rivers to kayak in, sunsets to see from hilltops, hot air balloons to experience, caves to venture in with unexploded bombs scattered in a few, fine dine classy restaurants to have a fancy meal in and night markets to shop for till your feet drop! It has it all. And compared to India, much cleaner, smaller and happier. So don't think twice, go take a break in Laos!