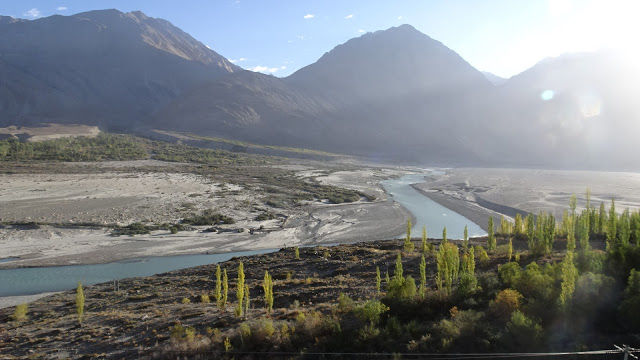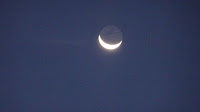 27th September 2016 No WiFi and no phone connectivity except BSNL in Hunder.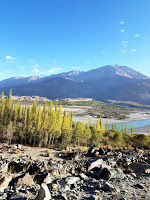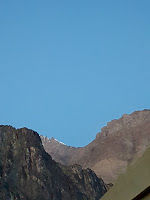 I was up by 0530hrs, woken up by the prayer calls emanating from the army camp not too far away. Sleep had been sound and I did feel well rested. The Sun had not risen, but would anytime; so I stepped out for some dark light photography; unsure if either of the equipment in my possession would be of any use.
It was cold outside. Thankfully the air was still, and the sky clear. Got some decent shots of what I was after, and felt at peace... for a good 30 minutes, until I looked at the watch.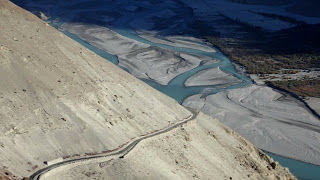 It was 0615 hrs now, and no sign of Arjun or the Mahindra XUV. where on earth was he? there was no way to get in touch with him too.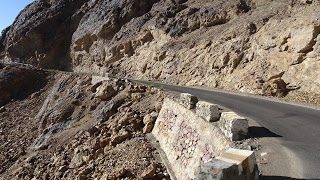 My travelling companion was up too and joined me outside. Mr Habib and family, as promised had risen, and had our breakfast ready. Tea, toast and eggs consumed,(moderate intake), bags ready, and bill paid; a princely Rs 2,500 for the food and stay; we awaited our transporter. I must say that at this price point, Habib Guest House is a steal, especially for the warm hospitality that is thrown in for free. At 0655 hrs we could hear an SUV engine and a dust cloud headed our way.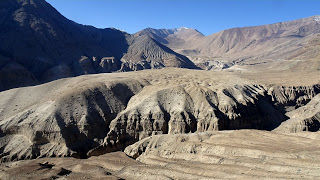 'Sorry for the delay, met my family after very long, so slept a bit late.' I was annoyed, but we were on a holiday. No point spoiling it with an argument in the morning which would not change anything. I instructed Arjun that we would make up for the time lost by driving non-stop to Leh, barring technical halts if required to relieve oneself or tea to keep awake on the road. Having spent 5 hours on a road the day before, that simulated aircraft turbulence for some 2 hours, I was too aware of the journey today. I wanted to be in Leh before noon. Some 4 hours and a million pictures later, we were there. Had we started when we should have, we could have taken a short halt at the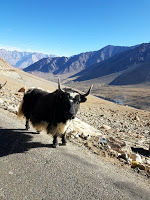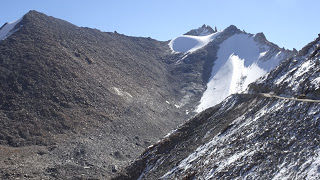 Diskit Monastery, the oldest in Nubra, dating back to the 14th Century. Sadly, it was not meant to be. What I discovered along the way was that the same road and landscape can look and feel so different at different times.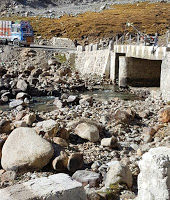 1600hrs, our boy was at the hotel porch. Obviously, my morning glare must have done the trick. I had limited time and each minute was precious and paid for. The afternoon was to be spent visiting Gompas (Monasteries) in the vicinity of Leh. The largest and most famous is campus is that of the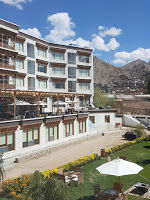 By 1130hrs, we were at the "Grand Dragon" hotel. The room was being serviced, so we were asked by the manager to have some breakfast. Luxury suits us just fine and both wife and I were sporting a smile at being looked after. The room was large and well appointed. Shower, now which one of us would attack it first? It was large enough for two and so we did. Clean and refreshed, there was no sign of tiredness. We took a walk around the property with a "selfie" motive. Arjun would be back at 1600hrs for the second part of our journey on this day. Back in the room, we connected on to the WiFi to download emails and upload pics. We had been disconnected with the rest of our world for more than 24 hrs and needed to inform home that we were safe and alive. Haq called to check if we were fine and comfortable at this hotel.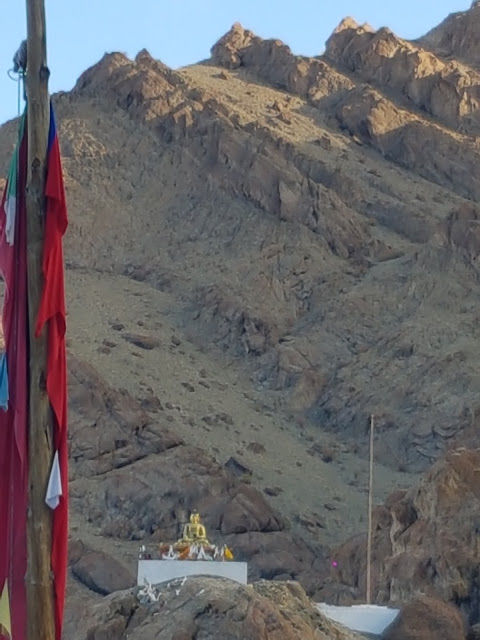 Hemis Gompa. Had we come here a week earlier, we could have been a part of the great Naropa Festival that was celebrating its 1000th year. No wonder the monks look jaded. The road to Hemis some 45 km from Leh was a delight. We passed the Shey Monastery & Palace (15km from Leh)and Thiksey monastery (19 km from Leh)on our way, deciding to stop for a visit, time and sunlight permitting. Along the way, one could spot several Gompas, every small village has one.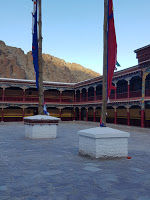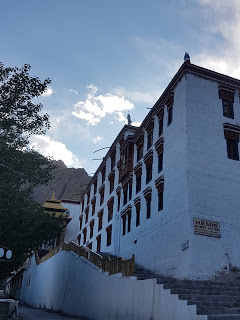 Hemis Gompa, in many ways, resembles a smaller version of the grand monastery in Lhasa Tibet. Even so, it is beautiful and serene. Just sitting there hearing the monks chant singularly or collectively is a memory that will sit fresh in my mind forever. Photographing monks in prayer and or the Buddha statues inside, without permission, is prohibited, but that did seem to deter many of the visitors.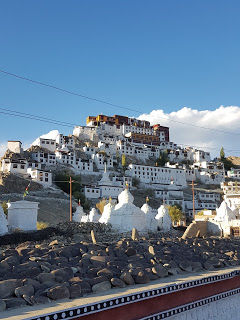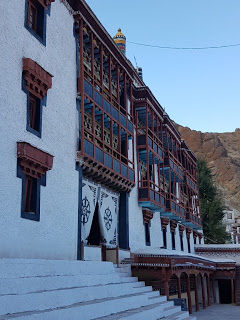 Having spent our time in absorbing the purity here, we were too overwhelmed to visit Thiksey, other than photographing it from the outside. Which is what we did, as also the Shey Palace. I guess natural structures appeal more than man-made, no matter how ancient they may be. Add to that the fact that there was limited time and body fatigue slowly creeping up. By 1900hrs we were on our way back to Leh just 30 minutes away. Wife had done her statutory trinket shopping at the Tibetan refugee markets along the way, as i spent time shooting landmarks.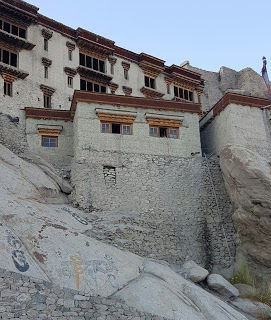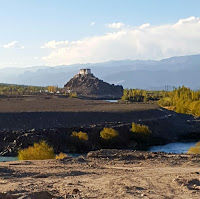 I asked Arjun how the road to Pangong lake was? It was our journey for the next day. Five hours one way, 150 km, road condition fair; that is, not as bad as the one to Nubra. The trouble was that we were going to return the same day. I was already regretting it, but then, Pangong was the highlight of Ladhak and our trip. How could I think of even missing it?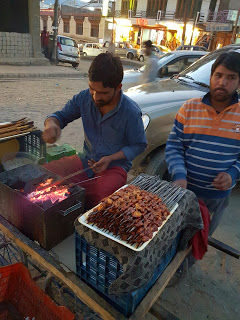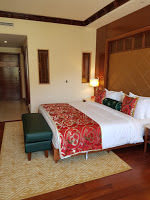 Somehow, seeing a city, however small, seems to energise a person from a city. No sooner we entered Leh, saw the bustle in the markets, wife wanted to be a part of it. Having had nothing for lunch, the sight of kebab vendors on the road got our bellies growling. The solution, a walk on the vehicle free mall road to inspect the local bazaar while street food hopping. By 2100hrs we were back at the hotel. I thought we would have to pack up early, but then a comfort call from Haq changed it all. 'You can start by 8am and be back by 8pm or earlier,' he said. That allowed us time for a drink before a brilliant but light dinner by the grill warming us in the chill, on the restaurant's deck outside.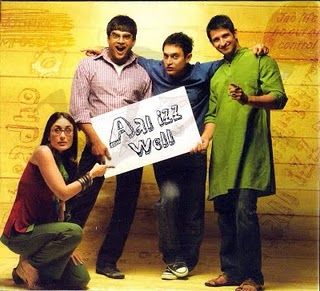 Something inside me told me "Aal izz not well, aal izz not well."
Whatever, it was, it was time to catch a good 7 hours of deep sleep.