Expecting a balmy sun on your visit to Kashmir this April? Get ready for a surprise. Last Saturday it snowed in the valley and people woke up to a complete whitewash outside their homes.
The rainfall for the preceding three days, had indicated a chill in the weather but snowfall in the summer was still a surprise. As unnatural as it might be, it gave the visitors an unplanned photo-op in this wonderland.
Zojila Pass received high snowfall resulting in an instant shut down of the Srinagar-Leh Highway. Sonmarg received 1-inch deep snow. Places like Minamarg and Gumri got 6 to 12 inches deep snow.
Tourists who arrived to witness the blossoming tulips this month, didn't quite expect a drastic change in weather.
The overwhelming view of the snow-clad landscapes in the month of April somehow force us to think if indeed all's well?
Earlier this year Kashmir experienced the driest winter in last four decades and it became one of the many indicators of climate change that are left ignored.
In fact there was no snow at all during the 40-day period of harsh winter in Kashmir, locally known as Chillai-Kalan, which starts on 21 December. While the temperature reached season's record low in several parts of Kashmir in December but there was no major snowfall. So why now?
Similar April snowfall was experienced in 2017 too and we're just starting to guess if this will become a regular occurrence in the coming years.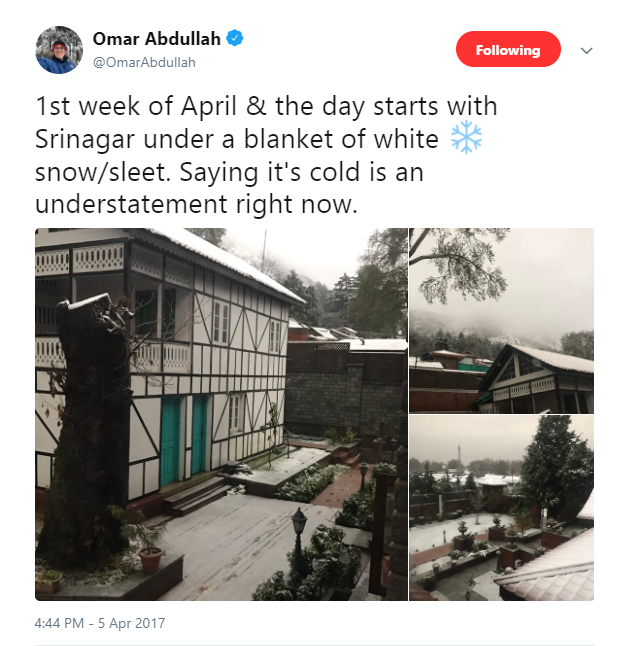 Snow in April is one of the many indicators of climate change. It is nature's way of making up for the dry spell in the preceding winter months. These anomalies will cease to happen in the future when there will be no untimely snowfall in April since the earth is getting drier by each day.
Snowfall in April is indeed a beautiful tragedy that overwhelms the visitors and the locals alike. With the abnormal shift in seasons, it seems we no longer have to make winter travel plans to witness snow in Kashmir.