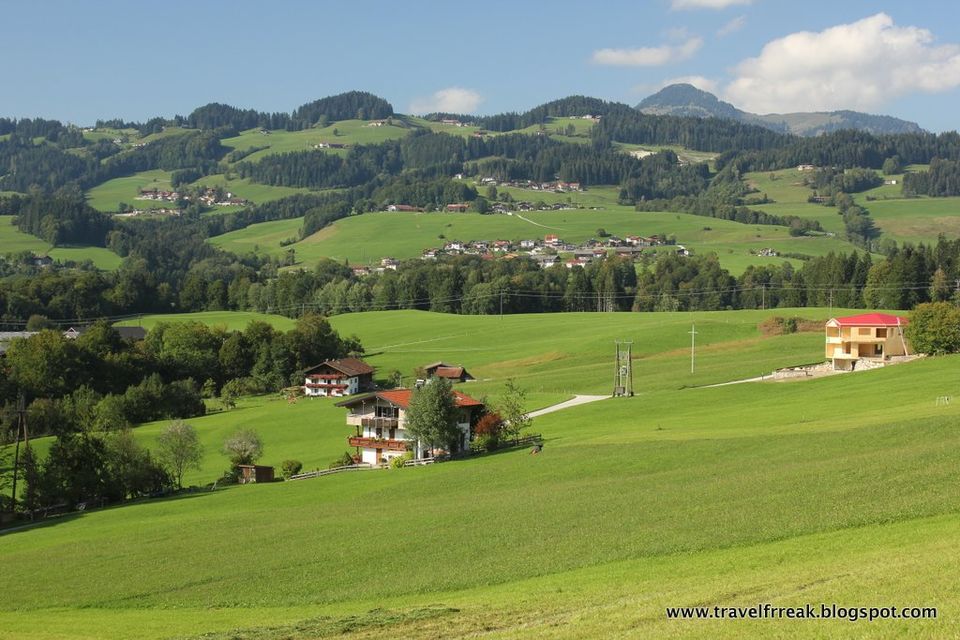 Details and photos on, http://travelfrreak.blogspot.com/2018/10/living-life-alpine-style-weekend-in.html
This summer, I spent two short weekends in the Alps in Austria. It was something I have dreamt of for a long time - to go and spend some time in the Alps without any planning. Just go to a random picturesque village and enjoy some unplanned time in the midst of nature.
I did that recently in the small nondescript villages of Ebbs and Kufstein. I ate in the local restaurants, walked on some of the trails, explored the village centres and just went where the heart wanted me to go. It was being so close to nature and not being bound by any timelines which I loved. It was like a dream come true and I can see myself doing many more such short trips in the future.
I had to go for a few days of training to Kitzbuhel in Austria where I have been thrice before. It was as expected, given it was summer it was stunning everywhere, with scenic views, bright green hills, small rivers and lakes, clear blue skies with clouds dotting them and a serenity and freshness everywhere which makes you feel alive again. The weather forecast had not been great when I went there, and the sky would be overcast in the morning. But everyday the weather would change, and turn bright and sunny towards the second half of the day.
I waited till Friday to see how the weather evolved and finally decided to stay the weekend given it was turning out to be sunny and warm everyday. And the way I decided the place to spend the weekend was also interesting. I had to take the flight back from Munich to London, and so searched for a station town on the train route from Kitzbuhel to Munich, which would be good enough to spend the weekend. So I zoned in on Kufstein which looked fascinating in google images ????. And booked a room in a small boutique hotel which turned out to be 15 mins cab ride from Kufstein, in the village of Ebbs.
I reached Ebbs on Friday evening and was not disappointed. It was a small little village in the valley of river Inn, with mountain views on both sides, local trails and nature to enjoy during the day and typical alpine houses everywhere adding to the captivating views all around. This valley has many small villages and towns, all centred along the river Inn, which flows on the boundary of Germany and Austria (and also gives its name to the city of Innsbruck). It is a massive river and looks green in this part of the Alps. And the local saying goes like this - the Green Inn flows into the Blue Danube which ends in the Black Sea ????.
I was staying at the Wirtshaus Sattlerwirt, a small boutique hotel 15 mins walk from Ebbs village centre. It was a nice small, convenient and comfortable hotel with good quality rooms. The staff at the hotel was helpful but did not know a lot of English which was a bit of a bummer. It was 5 mins walk from river Inn and had magnificent views of the Kaiser mountains right outside its window! I could have sat there for hours in the balcony, just admiring the views. Which I did????.
On Friday, after checking in, I walked to the village centre for dinner. The walk was about 15 mins but I chose to take a detour away from the main road. There was a trail to walk through some huts, and fields next to the river, with panoramic views of the mountains around the valley. It was a nice walk and I ran into lot of people mountain biking on the path - looks like its the popular touristy thing to do. I also walked past a lot of trees laden with pears and apples everywhere - clearly it was fruiting season.
The weather wasn't really sunny, and there were clouds at places but still good to be out. There were some sheep and cows grazing peacefully in the fields. I also walked past a beautiful hut which was actually being used to house cows! It has to be the most beautiful cowshed I have ever seen. The village centre was small and typical. And had a few grpvery stores to help out tourists. It had some concrete buildings but mostly alpine wooden houses. And a church. The church was closed by this time but there were candles burning in the cemetery which made it feel open.
By this time, it started raining a bit and so I hurried to the restaurant - Piccolo Salento. It was a lovely Italian restaurant serving quite authentic food and the view outside was totally heavenly. After a nice relaxed dinner, I walked back to the hotel, this time through the main road. And loved being outside in the fresh air. This is the part of the mountains I miss in the city always - the fresh and cool air which makes you feel alive and young everytime!
The next day, after breakfast at the hotel, I decided to do a shortish 9 km, 3-4 hour trail to the church of St Nicholas which is located atop one of the hills nearby and is supposedly a local place of pilgrimage. It was a round trail starting at the Ebbs village centre and then going all the way along some hills to the church. And back through the village of Muhltal all the way back to Ebbs. I of course took a lot longer than the 4 hours, given the views were so mind-blowing that I couldn't but stop and gaze at them all the time!
The walk up was through some residential alpine houses, each of which had flowers growing in their balcony which were overflowing with colours now as it was summer. And as you walk up to the church, you get to see lots of majestic panoramic views of the valley down below and the river Inn flowing through. The church had the best views from the top though. It was an old wooden church and in front there was three huge crosses, some swings for children and a few wooden benches to just sit and enjoy the stunning views below. Multiple villages all around till miles and the river Inn gleaming in between. It had got too hot by this time, so I took a short break and sat there for some time to cool down.
Then I took a longish way back down around the village of Muhltal. The path is not well marked, so there is a chance of getting lost there. Not just because of the markings though. As the views are so enchanting, there is a high chance of missing the markings if you become too engrossed in the sights around ????.
The trail is one of the most picturesque ones I have been on. Each turn brought with it another new Yash Chopra song location! The alpine houses with the flowers in the balcony, the green fields, the majestic Kaiser mountains right behind, with their peaks covered by clouds, the narrow paths with cows grazing away lazily, with cowbells tinkling and breaking the silence, the jungles and small streams on the way. This is exactly how I have always dreamt life would be in these idyllic villages in the Alps. And it is exactly what I saw and felt on this trail. And that is how a 3-4 hours walk turned out to be a 6 hours one for me. I totally loved it, being touristy but also being active and healthy at the same time. Walking does not feel tiring anymore and time just passes by too quickly in a place so close to nature as this one.
While walking back to the village, I noticed a family bringing back their cattle after a day of grazing. They had a baby and the wife was walking with the baby behind, herding all the cattle. And the husband was walking in front tying ropes on the sides so that the cattle did not venture into people's houses. It was all so efficiently managed, no wonder there is a difference between the developed and non developed world.
When back at Ebbs, I went to the local church of Ebbs, which was open now. It was like all the typical European churches in the inside - with glazed windows on both sides. And outside was a small cemetery with many artistic tombstones. Somehow I find it very fascinating to see the tombstones of people from the areas from as much as 400-500 years ago. And a lot of them still have flowers on them. Its something in every church in Europe which links it to the people living closeby for many many years. Anyways, I was tired from the the walk and once back at the hotel, decided to call it an early night. Though turned out there was a wedding party in my hotel, with music playing all night long and I couldn't really sleep early as planned!
The next day, I was initially planning to go on another trail or do horse riding, given Kufstein is famous for some special types of horses local to the area. However, I changed my plans later and chose to take it more easy. I lay in and enjoyed the views outside my window in the morning, sitting in the balcony and reading a book. Then as I had to take my train to Munich from Kufstein, I went there and spent the afternoon enjoying the town centre.
The station was right in the town centre, and after getting the train tickets, I walked in to the old town centre. It was a smallish area with cobbled streets, a small square, colourful buildings, a church and a fort right next to river Inn. The Kufstein fort was perched on top of the hill, and was visible from far. There was a long path on both sides of the river to walk. And then there was a side street which was famous for its beautifully painted buildings and was a sight to behold. Even in such a small town, there were activities going on for tourists to enjoy. There was a cycle race ending in the square and a music show going on where it finished.
I walked around all these areas, next to the river, up the fort, into the church, in the old town street and so on, just enjoying being out in the sun. There were loads of tourists around at this time, all enjoying exploring the town, eating and drinking and generally chilling in the sun. Finally, I stopped at a local restaurant and had some half decent vegetarian food but still felt totally relaxed and happy.
It turned out to be quite a lazy but very fun afternoon. Its amazing how even very small villages and towns in Europe can be so vibrant and interesting. They all have something to offer which can make time there feel fruitful. For example, Kufstein had its own very historic trail, a river, pretty buildings, grand views, many nature trails nearby and a relaxed atmosphere all around. And its not even on any tourist map!
After the relaxed afternoon, it was time to come back to Munich and then to the busy life of London. It was quite convenient to take the train to central Munich and then for the airport. There are trains every hour and they run on time given its Germany. Very soon and before time, I was at the airport. The train ride was through some lovely landscapes which looked even more impressive in the clear and sunny weather. I was surprised though by seeing the number of immigrants in Munich. I have been travelling there for the last 10 years and its been constantly increasing.
Anyways the unplanned weekend went by very quickly and I realised how much I love the Alps. I can see myself doing some more such relaxed weekends regularly over the next few years. While I was going to Ebbs, my cab driver was questioning why I was spending the weekend in an otherwise obscure village like Ebbs when there were so many other great places to see in Austria. I wanted to tell her that every place in Austria is stunning. And since she stays there, she doesn't realise it as she has a very high benchmark. And it was proved again. Even small places like Ebbs and Kufstein can give you an amazing time out from your busy lives...