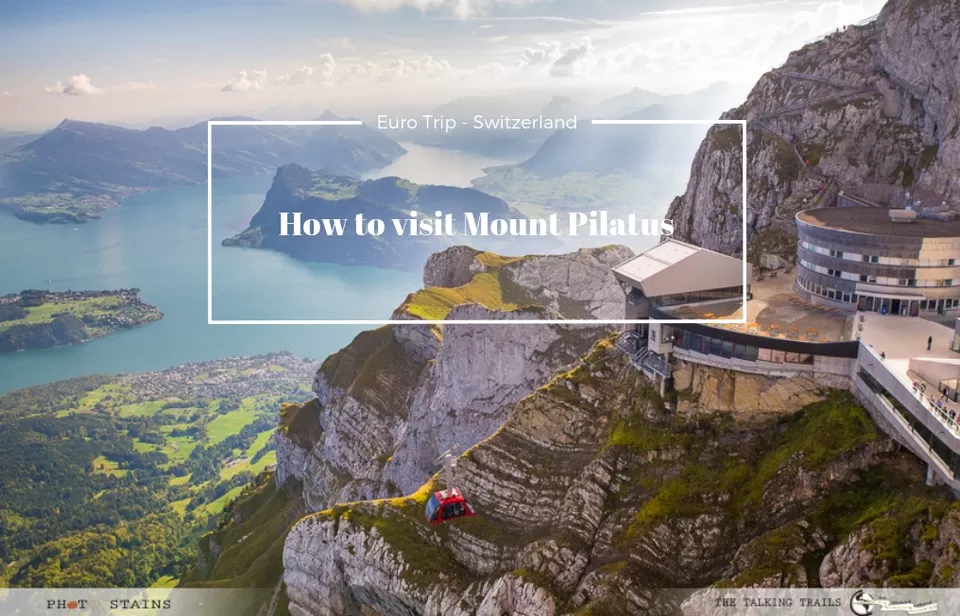 There is no denying the fact that Switzerland is the country of high mountains and panoramic views – something which makes it totally unreal. Even more unbelievable is the fact that every mountain top in this country is accessible to everyone – not just by hiking but also by trams , cogwheel trains and gondolas. The aerial view of this country will really make you say – This is heaven. You think of Switzerland and Swiss cheese, snow-capped mountains and gorgeous mountain lakes come to mind. And trust me a trip to Mount Pilatus has it all, every icon you can probably think of. When we were planning our trip to Mount Pilatus , we had only one thing in mind – We did not want to miss anything. And knowing that there were several ways to visit mount Pilatus , I was a little worried thinking if we would be able to do everything in the time we had , in the best possible way while sticking to our budget. So I hope this blog post "How to visit Mount Pilatus" helps you in planning your visit to Mt. Pilatus and make this trip a trip of your lifetime.
Things to Remember :
1) Before you plan your visit check weather forecast. If you want to enjoy the views of Alps, it must be sunny.
2) Dress appropriately and if possible in layers. It might appear a bit warm in Luzerne but at the top of Mt. Pilatus it is totally different ballgame. Also there are plenty of small trails at the mountain top to enjoy the views,so wear comfortable shoes.
3) For the best experience, plan to visit Mt. Pilatus in the morning. You will have less crowds and views will be amazing with sun hitting the alps at an angle. Trust me your photos will come out to gorgeous.
4) You cannot view sunrise at the mountain top if you do not stay at Mount Pilatus. There are two hotels at mountain top – Pilatus Kulm and Bellevue and you must pre-book them if you plan to spend a night.
5) Plan your transportation very carefully. Different modes of transportation will leave at very different end points which are not near to each other.
6) Most importantly if you plan to visit several sights in Switzerland by public transportation , invest in Swiss travel pass. I think you can get 50% off on the tickets for Mount Pilatus with Swiss travel pass.
7) If you plan to use public transportation to reach to Kriens or Alpnachstad be on time. Trains and buses run on very exact schedules, so it is critical to be on time.
How to Reach :
There are several options to get to the top of Mt. Pilatus – By hiking and by combining different modes of transportation : cableway, cogwheel railway, boat and train :)
1) By Cableway:
From Lucerne drive to Krienes. There is a small paid parking area near the ticket station and if you arrive early , you can easly find parking. Leave your car here and head straight to the ticket window to get the tickets for cableway ride to Mt. Pilatus. From Kriens, you will be riding a series of two panoramic gondolas and a cableway to get to the top of Mt. Pilatus. You can opt for return ticket to come the same way or you could take cogwheel rail on your way back. Just keep in mind that cogwheel will drop you at Alpnachstad which is about 45 mins away from Kriens. So it will be a bit of ride to come back to your car at Kriens.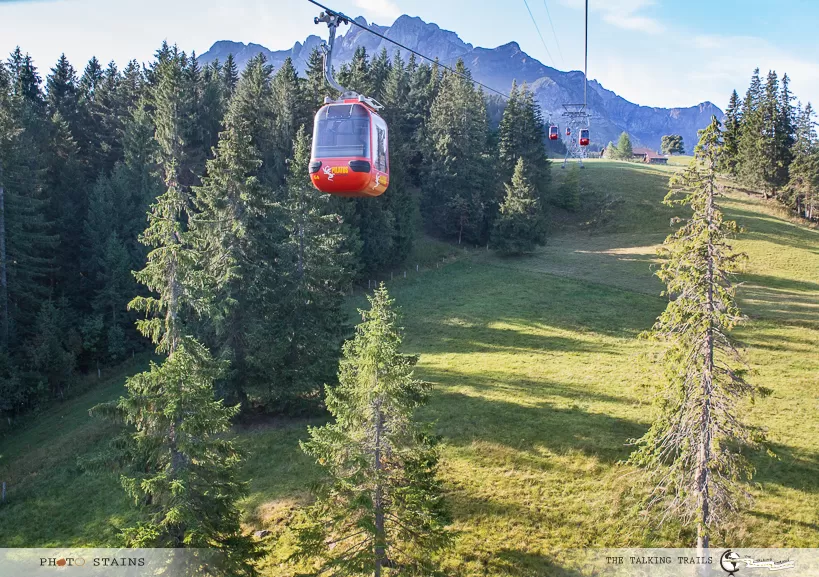 The First Gondola will take you to Krienseregg, which is the first stop and has small ropes course perfect for children. From here you will hop onto next Gondola which will take you to Fräkmüntegg, the second station.This station has one of the longest toboggan run in Switzerland perfect for people of all ages. The final accent from Fräkmüntegg will be done in a cableway which will take you to the top of Mt. Pilatus (Pilatus Kulm).
Note : The tickets of Toboggan and rope course at Krienseregg are not included in the cableway ticket to Mt. Pilatus. If you plan to enjoy these attractions , they cost extra. More info on the prices for Rope Park and Toboggan can be found here .
Cost: Round trip from Kriens to Pilatus Kulm: Adults CHF 72, Children(6 – 16) CHF 36 ,50% discount with Swiss Travel Pass.
2) By Cogwheel Rail :
If you want to enjoy the best of both – Cableway and Cogwheel Rail , here are few options.
Silver Round Trip ticket : Alpnachstad train station is the starting point of cogwheel rail. Silver Round Trip ticket takes care of your transportation from Lucerne to Alpnachstad by train. It includes your ride up by cogwheel train , your descent by cableway and gondolas to Kriens, and then ride a bus back to the railway station. If you don't have a car, this is perfect because your transportation to and from Lucerne is included in your ticket price.
Cost: adults CHF 85.20, children CHF 42.60
Golden Round Trip ticket : This ticket includes a boat ride from Lucerne to Alpnachstad. From Alpnachstad you will change to the cogwheel train to the Pilatus. Then take the cable car down to Fräkmüntegg and change to the gondola to Kriens. From Kriens ticket center , it's a 10 minute walk to the bus stop called 'Kriens, Zentrum Pilatus' and you can take bus line 1 to the Lucerne rail station.
Cost: Adults CHF 102.60, Children 6 to 16 years CHF 51.70
What did we do?
We were staying in Lucerne so we drove to Kriens. We were among the first ones to reach the ticket counter so there was absolutely no wait time. We went up Mount Pilatus by cableway. Since the gondolas are pretty exclusive ( they generally put one family in one gondola) ,it was just me and Manhar. We could enjoy the mountain scenery and drift past the nearby cows munching on grass. Their bells gave us a perfect background music which was so Swiss like. As we reached up the altitude , we could see Lake Lucerne at a distance surrounded by Alps – pure magic.
Once we reached the mountain top , we walked to several viewpoints ,enjoyed a hot beverage in Hotel Bellvue and saw adrenaline junkies paragliding from Mt. Pilatus. We wanted to return by cogwheel rail but then realised Alpnachstad was a bit far and it would take us about an hour to reach back to Kriens parking lot.
What to Expect at the top :
Mount Pilatus has something for every kind of visitor – active or passive. If you want to just relax on the mountain top , you can leisurely walk around to all photogenic points. You'll find several bars and restaurants at the top, as well as a terrace to enjoy the views of Lake Lucerne and the Alps. For people who want to explore Mount Pilatus to fullest , there are several hiking trails. Hike to Tomlishorn on Mt. Pilatus is one of the most famous hikes. Also there's a 'Dragon Path' about the myths around this mountain, and several hiking trails to viewing points.
I will love to hear about your experience while visiting Mount Pilatus. We visited in late September , it was a bit cold but not freezing cold but as i suggested , on mountain top the weather can change in seconds – so come prepared. Mount Pilatus gave us a nice teaser of Swiss Alps and on my next trip , I will definitely spend time hiking in Alps . Have you visited Mount Pilatus? Did you find the entire experience expensive or worth the money you spent? I will love to know your thoughts. If you need any help with day trip ideas from Lucerne or itinerary recommendations , leave me a comment below and I will definitely get back to you. Thank you so much for stopping by .
Before you leave : You can find my Switzerland Itinerary here and a day trip guide to Bern here.
For more travel inspiration , grab my free ebook here where I have shortlisted 24 amazing destinations ( 2 for each month) that are perfect for honeymoon, a city break or just an escape from reality.