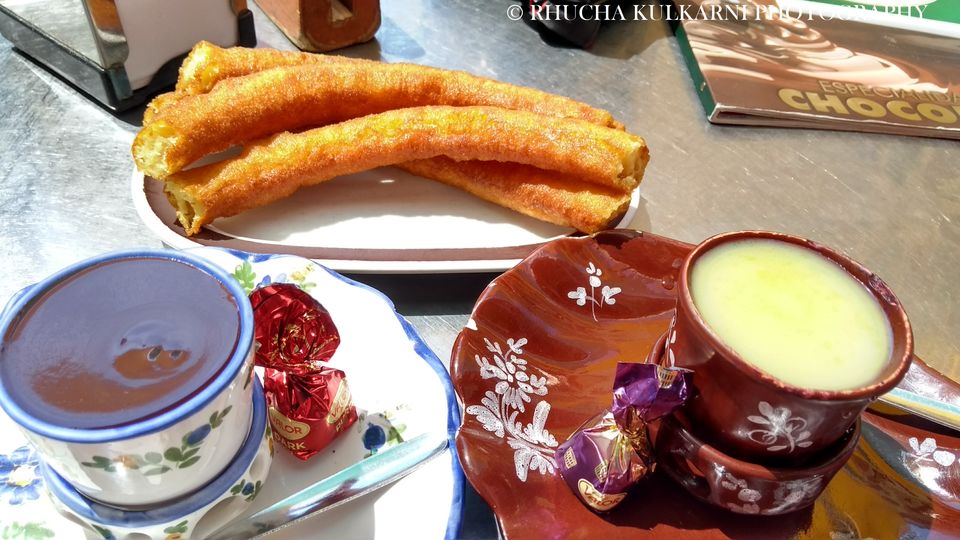 Spain is all about the good life, and good food is an oh-so-essential part of living the good life. Combine this with some refreshing beverages from the land of Espana, and you have the perfect recipe to some happy times! But as I toured Spain during my Eurotrip, I realized that different parts of Spain have their own distinguishing peculiar food-and-drink styles. While Andalusian Seville got immersed in the taste of Sangria, vivacious Valencia extended a more heart-warming welcome with heap-fulls of Paella. But what truly struck a unique chord in my heart (or rather my stomach) were the unique flavours and ingredients of mainstream Madrid- the Spanish capital. Global food may be a norm in this capital metropolitan, but this Spanish megacity has still retained its Spanish essence by celebrating its peculiar food style. Here is how I made merry, on my quest of the Madrid munchies!
1. The vada-pav of Madrid- Bocadillo de Calamares: In the mood for a quick hunger-appeasing bite? Grab a "Bocadillo de Calamares" on the go, and enjoy the capital city's most famous sandwich. While the name may throw you off-the-hem, this complicated-sounding dish is quite simple, yet delicious. Nothing but a sandwich made of squid rings which are coated with flour and deep friend. For the extra-loaded foodie-binge, add a dash of mayonnaise or paprika sauce and you are all set to call it a meal. Almost every nook and corner in Madrid finds a sandwich bar which serve crunchy hot samples of this mini-meal. But the best ones are believed to be in and around Plaza Mayor.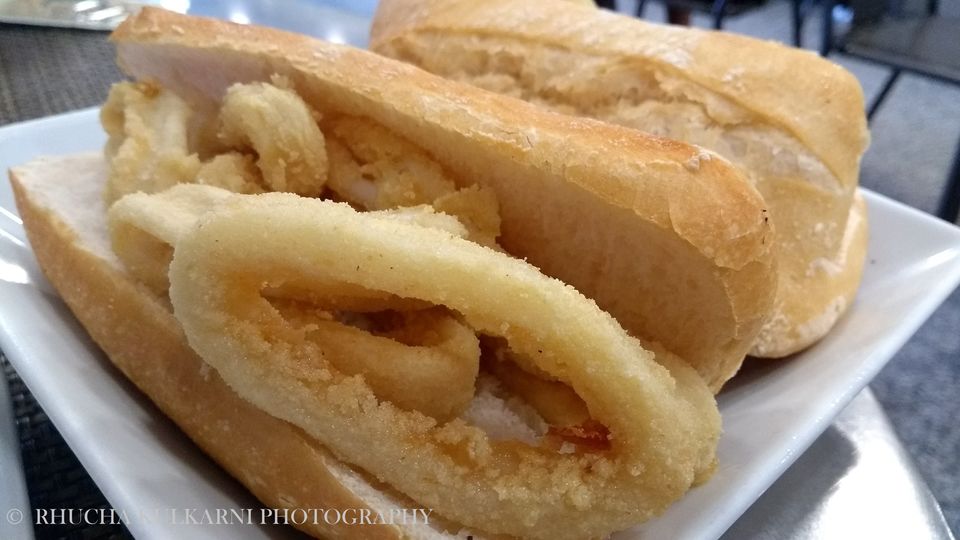 2. Pig ears or Oreja a la Plancha: A typical Spaniard dish, found commonly in Madrid is pan-seared pig ears, served as a large plate to be devoured by itself. To enjoy it in true Espanyol-style, pick up the toothpicks, sprinkle some salt and pepper and down it between sips of fine red wine. While it may take a while to fathom the nature of this meal, contrary to its weird perception, it is essentially a portion of pork, and a tasty one at that. The Madrid restaurants give it a local twist by adding chunks of bacon or mushrooms to the preparation. Dig into this delicacy in any one of the Cerveceria or bars, my personal pick for this culinary exploration was at Cerveceria Restaurante Dona Juana SLL, a nice roadside café on Calle del Postigo de San Martín.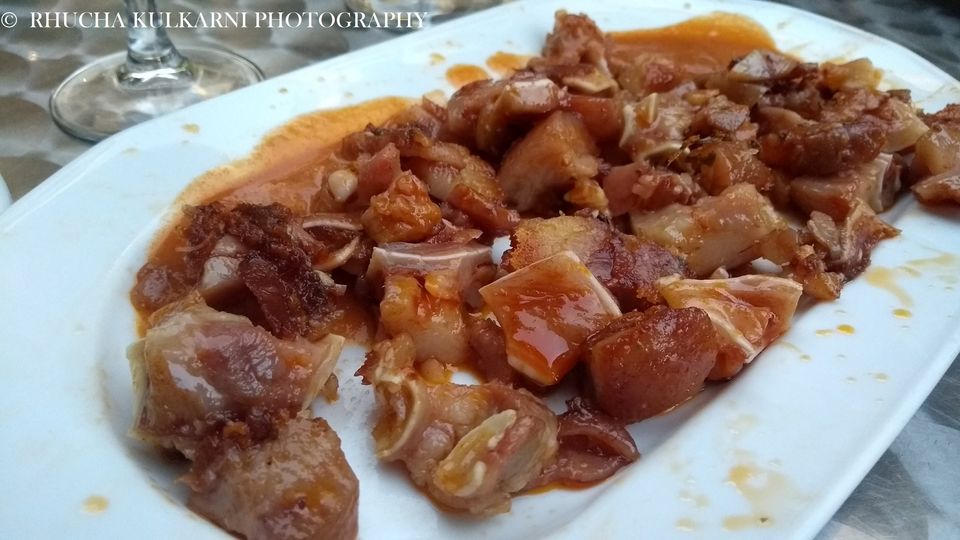 3. Meat Stew or Cocido Madrileno: A meat stew that is sure to warm both your body and your soul during Madrid's cold winters. The Madridians give the traditional meat-stew a unique taste by adding loads of fresh vegetables, chickpeas, chorizo sausages and pork. All the ingredients simmered together for hours creates an appetizing aroma that is sure to make your stomach rumble! Such is the expanse of this dish, that it is eaten over several courses- the liquid elements are had as soup and then the veggies and the meats are consumed as second and third courses. One of the best restaurants serving this multi-course meal is the Malacatin next to Plaza de Cascorro. It is literally comfort-food redefined!
4. Iberian hams: Curated hams are a Spanish speciality, and something not to be missed if you are a die-hard meat lover. As you roam the markets of Madrid, you are sure to come across legs of these hams hanging in almost every eatery, such is this dishes' popularity with both locals and tourists. Make sure you pay your respect to those involved in this trade- spend some time watching the butchers slice these legs into wafer-thin, edible slices- an art in itself!
5. Manchego cheese: Madrid is known for its cheese, which may come as a surprise considering cheese often comes with the "Swiss" tag. But this unique tasting cheese called Manchego cheese is a treat in itself- it comes from the La Mancha region of Spain, just south of Madrid. Manchego cheese is an aged cheese, kept for sixty days to two years, for it to carry the tag of "manchego". Four primary varieties are available in increasing order of age- Fresco, Semicurado, Curado and Viejo. It is often served standalone, in cured form, and drizzled with a dash of olive oil for extra flavour! Or you can combine some simple ingredients- cured Manchego cheese, Iberian ham, and fresh bread and DIY your own scrumptious meal! Sample both the hams as well as the cheese on-the-go in Madrid's famous food markets such as Mercado de San Miguel or Mercado de San Anton.
6. Chocolate con Churros: The chocoholic in you is sure to do a happy flip-over when it sees the chocolateries and cafes serving innumerable forms of chocolate-dark, milky, white and what not! And when the gooey goodness is accompanied with crunchy churros, what more do you need to ask for when on vacation? While many chocolateries dot the city, I enjoyed some sinful indulgence many a times at the Chocoletaria Valor on Calle del Postigo de San Martín, right in the heart of the city. But beware, the chocolaty decadence can prove to be a meal in itself, so plan ahead and keep your tummy empty to do justice to this chocolaty immersion!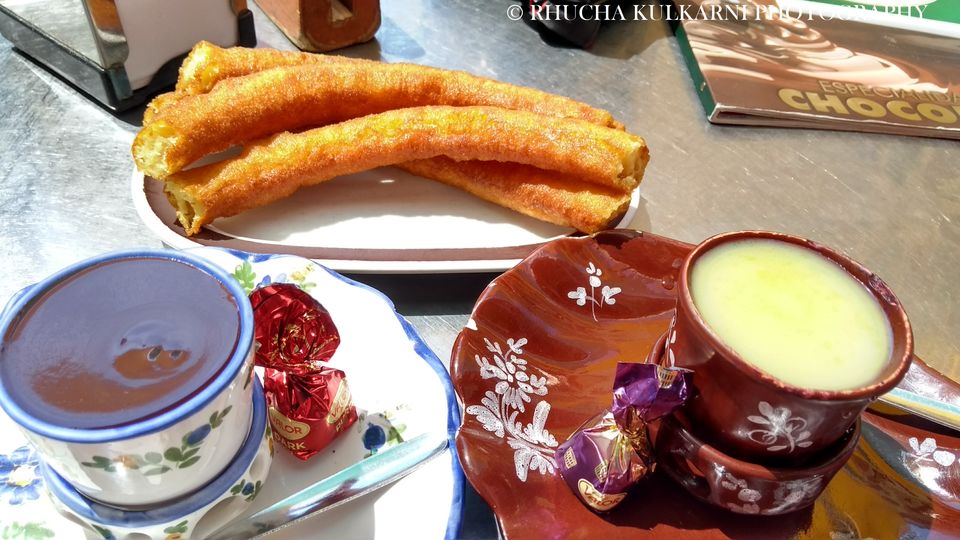 7. Tapas: The ultimate original Spanish food item, you will find loads of Tapas bars spread across Madrid. Tapas is nothing but bite-sized plates of delicious dishes, to be enjoyed as appetizers along with drinks. One of the most popular tapas dishes is Patata Bravas, Vegetarians can rejoice and dig into this dish without restraint, because it's made purely of potatoes- cut fresh and deep fried and then lathered in a tangy red sauce! Perfect reason to let go of your diet constraints and dig into some deliciousness when in Madrid.
8. Tortilla de patatas or Spanish omelette: The Spaniards have their eggs not as a breakfast fare, but as a main meal for lunch or dinner. It is no surprise then, that we see the popularity of wholesome tortilla or Spanish omelette, a great go-to dish for eggetarians. Enjoy a small slice (tapas) or order the whole dish (pincho) and find goodness in familiarity- the good ole' omelette. You can also add your personal twist to it with add-ons like mushroom, bacon, peppers, sausages and other garnishing. This can be savoured in almost any eatery, but it's even better when the place goes by the name of this dish- Pez Tortilla on Calle de Pez provides many variations of this simple dish to suit your palate.
9. A Winey Affair: The Spanish are probably best known to be the makers of the ever-refreshing beverage called Sangria. But Madrid is more about wines, thanks to its proximity to major wine-making regions. If you are a wine aficionado, there is a range of wines to suit every budget and taste. They are categorized as per the region of origin or "Designation of Origin" as is the official term, and also as per the type of grape. Some great wines by region are Rioja, Penedés, Navarra, Rueda, Cava, Jeréz, La Mancha etc. These wines are best enjoyed in accompaniment with interesting looking and delicious tapas from tapas bars.
Madrid is your go-to place for an authentic Spanish culinary journey. It is foodie's haven, and a great destination for those who love to experiment with different food ingredients and styles. What's more, from fine dining to partying to street-side eateries- there's something for every budget and taste! Apart from the fascinating sights, a trip to Madrid is indeed a trip to culinary heaven! So why wait, head straight to the Spanish capital and tantalize your taste-buds!