"We guys like to enjoy life in slow motion back in Madrid. I'd say we are definitely used to being relaxed about life in general...doesn't seem to be the case here, though." I always used to wonder if most of the Spanish travelers I get a change to meet in India were making this thing up. For somebody who had not been to Spain and experienced the local lifestyle, I had always fathomed the Spanish capital to be a bustling metropolis with similar problems of chaos and commotion as in any other major capital city. As it turns out, if you have been harboring similar impressions about Madrid as I used to, then you can not be any further away from the truth!!
With the typical charm of a Spanish sunny afternoon, surrounded by beautiful old buildings and museums which take you back into the rich historical heritage , coupled with one of the best night life scenes in the region, you deserve to treat your wanderlust to a traveler's delight in Madrid for a couple of days.....and it all begins with exploring one of the most beautiful parts of the city -
Day 1 :
The Sun Gate, as it translates to in English, is quite easy to spot since it is the biggest plaza in Madrid - and probably the most crowded one too!! With numerous street performers, charming shops and cafes in and around the square, you can easily lose track of your time here. Of particular interest should be the famous statue of Bear and the Strawberry Tree - which happens to be Madrid's official logo. No one seems to know exactly why the bear and the strawberry tree are the city's icons except that there used to be many bears in the fields around Madrid, and the strawberry tree might actually be representative of the Hackberry tree that once was in abundance around the city. Nonetheless, it makes up for a pretty interesting sight indeed.
While in Puerta Del Sol do not miss out on visiting the most peculiar of attractions - Kilometer 0, whis is the spot from which all distances in Spain are measured.
Located a short walk away from Puerta Del Sol is the main square of Madrid, the Plaza Mayor. You cannot help but notice the ancient baroque touch to the building around the plaza once you enter it. Built in 1619 during the reign of Phillip III, this place is still one of the most popular gathering spots for locals and tourists alike. Plaza Mayor is the place to be in if your are in search of options for "tapas" or a typical "bocadillo de calamares" (a calamari sandwich), since there are a lot of great restaurants serving some of the best ones. This symbolic spot is a great place to grab a cup of coffee and immerse in the beauty of the ancient architectural marvel around you.
The Palacio Real de Madrid is the next stop on your walking itinerary in Madrid, located only a couple of minutes away from Plaza Mayor. This is probably the biggest attraction in the city and the beautiful exteriors actually do not stand anywhere close to the grandeur and beauty of the palace interiors. Measuring 135,000 sq meters, this is the largest Royal Palace in Europe and is decorated with some of the finest pieces of art - masterpieces of Goya and Velasques, along with the impressive royal armory housing life-sized armored knights and imperial weapons. Tickets cost around 10 euros for adults and can be bought from here. Also, while here do check out the impressive statue of Philipp IV made by Valasquez himself - with help from the famous astronomer Galileo!!
After a sumptuous round of local cuisines for lunch in one of the many beautiful restaurants in Mercado San Miguel, it is time to head over to another plaza, albeit a lot different from the previous ones. This plaza is home to the magnificent memorial of the most famous Spanish writer, Miguel de Cervantes. Under the sculpture are the impressive statues of Don-Quixote de la Mancha, the famous knight of Spain and his squire, which will surely intrigue you. While admiring the statue, do not forget to notice the two statues of women on either side of Don-Quixote - they have quite a story behind them which you should definitely read up before visiting the place!!
Ever imagined you would see an Egyptian temple in the heart of the Spanish capital? Well, dreams do come true and the Temple of Debod is definitely a unique sight to behold in that respect. This shrine, dedicated to goddess Isis, was originally erected near Aswan in second century BC and was donated by Egyptian government to Spain in 1960s. This place offers probably the best opportunity to catch a glimpse of sunset and capture the sweet memories of your first day in Madrid.
Party like the locals do in the oldest part of the city of Madrid and treat yourself to some of the most delicious tapas in the city. With options for great restaurants, pubs and bars as extensive as in La Latina, this area is just insanely fun for everyone looking to immerse in fun when the sun goes down over the city. Cava Baja is the main street lined with small traditional bars where you can get delicious tapas and pinchos. On Sundays it's the place where Madrid locals go to spend the evening bar-hopping, so be prepared to greet and meet the fun locals of Madrid.
Day 2
An early morning visit to one of the most iconic and picturesque park in Europe is probably the best way to start the next day. Indulge in leisurely walks around the ponds, surrounded by the best of nature or take a boat ride in front of Monument to Alfonso XII. From an impressive botanical garden, crystal palace, pretty swans to museums and monuments, this place has got it all. You can get some food along and enjoy a leisurely breakfast on the plush greens around the garden. Ahh, and if you stick around till noon you can enjoy a free concert by Banda Sinfónica de Madrid!!
Step right into the national museum of Spanish modern art and be mesmerized with the best masterpieces of 20th century Spain. Reina Sofia is an experience like none other, especially for art lovers, and is a part of the Golden Triangle of Art , a triangle formed by three renowned museums, in Madrid. It houses some of the best works of Pablo Picasso, Joan Miro and Salvador Dali among others that you can revel in. Apart from some of the best works of these artists, the museum also offers some peculiar and curious art installations like old televisions, cinema projections and illusions etc. No visit to Reina Sofia is complete without finding the most significant piece of art created by Picasso - Guernica!! I can assure you won't be able to take your eyes off of this masterpiece once it has grabbed your attention.
The museum remains open from 10:00 am to 9:00 pm on Monday-Saturday, except on Tuesdays when it is closed. On Sunday it remains open till 6:00 pm only. You can expect to pay around 10 euros for entry.
Making up one of the remaining two corners of the Golden Triangle of Art is one of the best art museums in the world, Museo del Prado. Unlike Reina Sofia, which is a museum of modern art, Prado museum is a haven for anybody interested in Spanish art history and grandeur. It has arguably the largest and finest collection of European and Spanish art, dating back to 12th century. You can enjoy some of the very best works of the most recognizable Spanish masters like El Greco, Francisco de Goya, and Diego Velasquez, alongside other art titans like Bosch, Rubens, and even Raphael. Don't miss the best-know art on display in the museum - Las Meninas by Velázquez. Once inside the museum you will not even realize how quickly your day passed by - such is the charm of the artworks on display here.
What would a Spanish vacation be without delectable Tapas and some wine to give you company for the evening? Also, now would be a good time to find a restaurant which lets you enjoy a live performance of Flamenco - the most famous Spanish dance form. Maybe you might want to head to the most experimental and hip part of the city, marked by technicolor artworks on walls and colorful buildings all around. Drenched in the colors of display and satiated by the delightful Spanish local cuisines, you'll instantly know your wanderlust thanks you for the weekend you treated it to - after all Madrid does not let anybody down!!
Where to stay
Hostel beds can be found between 12-25 euros based on how far they are from Plaza Mayor. While Wifi comes standard with most hostels, some also offer free breakfast. You can check out the extensive list of options here. A budget hotel can cost you anywhere between 40 to 100 euros depending upon location and time of the year. This link will help you make the right choice for your hotels.
Transportation
Madrid is an amazing city to cover on foot and is not as large as other major European capital cities like Paris and London. Metro tickets will cost you around 1.5 euros for central zones while the prices will increase the farther away you move from the city center. This link will provide you the information regarding metro fares across the city. Getting to and from the airport costs around 3 euros on train. Renting a bike is another great way to see the city, with prices around 15 EUR for the day.
Money saving tips :
You can save up on your expenses by following these handy tips:
1. Lunch is usually the cheapest meal of the day in Madrid. You will find "menu del dia" in many restaurants around the city, which will cost around 10-15 EUR.
2. Many museums, including the ones highlighted in the itinerary above, in Madrid have free entries on certain days and certain times of the year. So research on internet for these time slots in order to enjoy a free view of the beautiful art installations in these museums.
3. Join one of the many free walking tours in the city to know more about the history and culture of the attractions. New Madrid Walking Tours and Cat's Hostel Walking Tours are among the most popular walking tours in Madrid.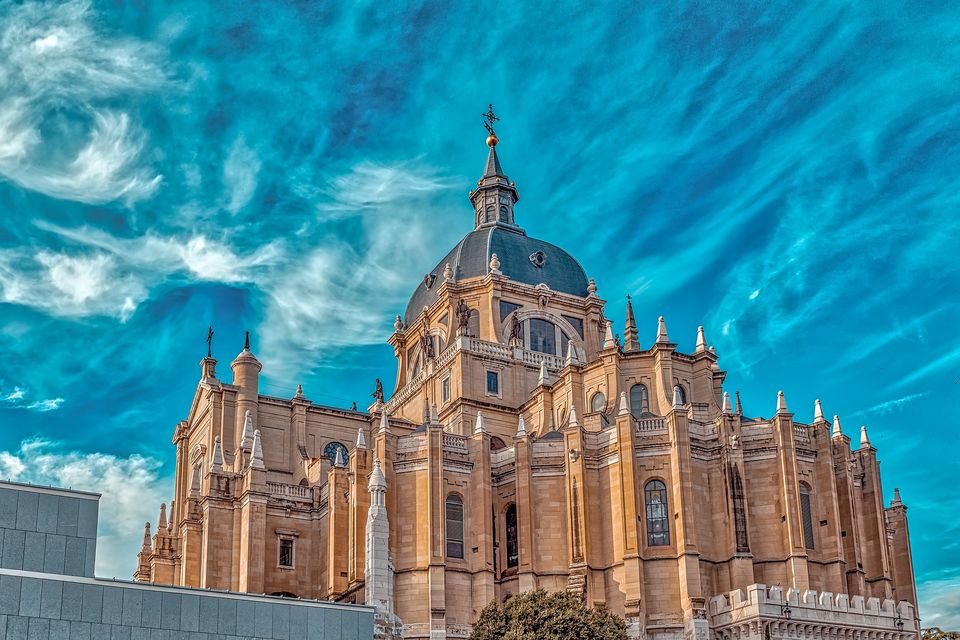 ---------------------------------------------------------------------------------------------------------------------
From doing my bit towards the environment by working in future mobility research field, often finding myself wandering aimlessly through landscapes, to continuously seeking thoughtful conversations with travelers from across the world, I am a travel experience narrator. A firm believer in the philosophy that a human should experience everything and do everything in his lifetime (for specialization is for insects....), you can say "hi" to my photographer alter-ego @througharobinseye on Instagram, read through my mind as I narrate my personal travel experiences at www.talesofarobin.wordpress.com or sing along with me @undrkn5trk5hn
---------------------------------------------------------------------------------------------------------------------