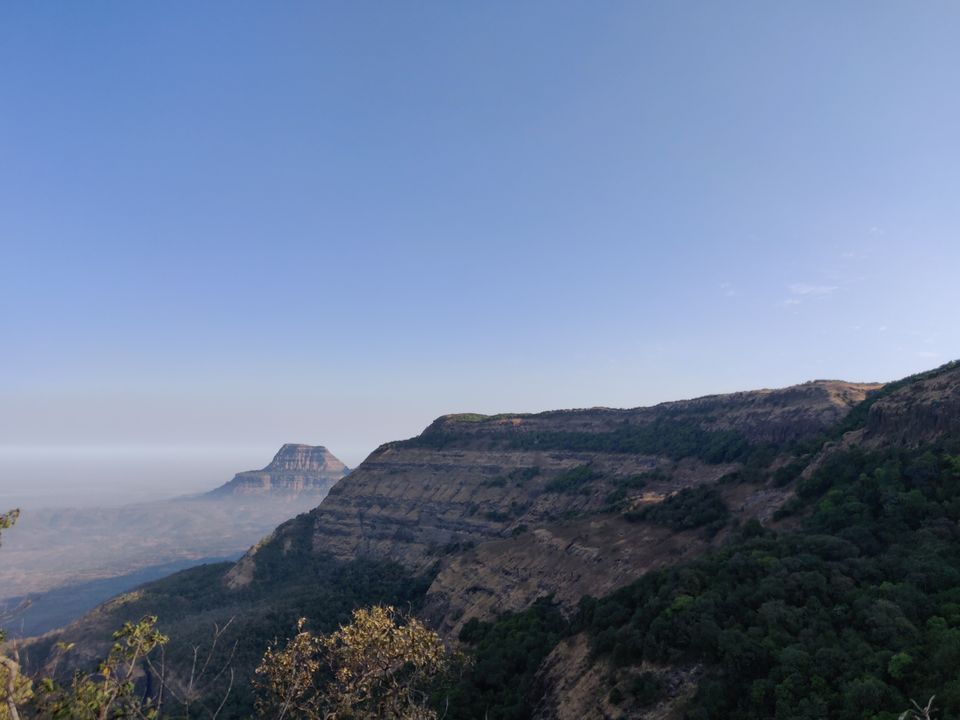 As the popular saying goes, nobody is ever sad when they are traveling. Every time it makes you realize your true self and I think there are no experienced travelers, all are discovering some thing or the other each time they set foot to on a new destination. Traveling was always hands down YES for me, be it a trek, a road trip, hiking or even just a journey.
This write up is about such a lovely personal experience .
A usual Sunday morning, I woke up to an early morning whatsapp text from my long time friend and trek organizer Krishna -"What are you doing today?" I smiled coz I am sure whatever he has in mind, I'm gonna say Yes. I remember few days earlier he was asking if anybody is interested in Bhimashankar, so obviously I knew where he is taking. But one thing I didn't know it's going to be a bunch of senior citizens.
As far as I'm concerned, last moment packing is a walk in the park for me. I always found it thrilling. If I weren't, he probably wouldn't have called me in the first place. He told me about the group only when I met him at Karjat, our rendezvous point for the night trek.
For those who don't about Bhimashankar, I will write a few words. It is houses the popular Jyotirling shrine located close to Pune.
It is said to be one of the most powerful shrine for the Hindu religion. And for most people it is a divine journey, so was it for the batch that was going with me. Bhimashankar also is the origin of Bhima river, one of the prominent rivers in Maharashtra. Even though it is accessible by road from Pune, trekking was one of the popular choices to reach there. Especially during Shivratri festival, people even walk barefoot to the hilltop. We went just a week prior to shivratri.
Krishna who is my friend since 2014 is the founder of Dark green Adventures. He is a full time trek organizer. I have met him in one of early day treks to Matheran. Ever since he has been my friend and a wonderful organizer. He is an expert Mountain climber and trekker. I have done 4-5 treks with him before this one. This trek was a customized one for the group. They were 11 of them from all areas of life bonded by their divine and adventure trips in the past. Apart from Me and Krishna the only outsider was Rajesh, who was also a family man. We 14 started the trek at night.
A little about the group- they were all such an energetic crowd with years of experience with some first time trekkers as well. Entrepreneurs, Retd. Navy Rear Admiral, Doctors are just to name few. A month ago they have done the PEB fort trek and ever since they were longing for Bhimashankar. They found their calling and years of waiting on this Feb 2019. Some have even flew down just to do this hike. We were planned to Meet at Karjat station and travel to the base village named Khandas. I met Krishna at the station, then only he told me about the group. He said jokingly- I thought I will get bored, that's why I called you to join. We both laughed. Nevertheless I am going to climb that mountain. Little did I know these bunch of oldies going be my role models. 60+ age and they were still climbing like enthusiastic teenagers.
After dinner we got in our Jeep from Karjat to the base village. Since the moment I stepped in that jeep I was amazed by their will power and enthusiasm to conquer the Bhimashankar and have darshan at their beloved temple. I was just listening to them all the way. I had no words to interfere their positive discussions. At that moment, I knew this is going to be a once in lifetime opportunity. They all are nothing but pure gems. I'm just lucky to have joined them in their divine journey.
We started the trek at 10.30pm after a little introduction. Since Krishna is always leading end, I decided to trail behind the group so that nobody is left behind. Unlike what I was expecting,they all shown extraordinary power to climb the tricky patch. Bhimashankar is not an easy grade trek so I had a pretense that they will take more time to climb. But they surprised me. Everybody was a pro. I don't know whether it was their unity or their Shankar Bhagwan's calling that lead them, I was pretty much impressed. Because I know, even youngsters will itch your brain with lack of co ordination, group-ism and what not. But never once during the entire duration I felt bored or irritated.
The trail was fun, we happen to watch some peaks of mountains in the moonlight and dried up grass felt like a golden river flowing. We were all astonished by the view. At around 1 am we reached a Village where we decided to stay the night and climb the rest at dawn. It was not exactly a village, but just a home halfway in the mountain. At that night at 2 am, we had wonderful Tea, that too from the fresh milk of the cow. We went to sleep for waking up to a fresh morning hike. Some didn't even sleep, they just spent time in meditation.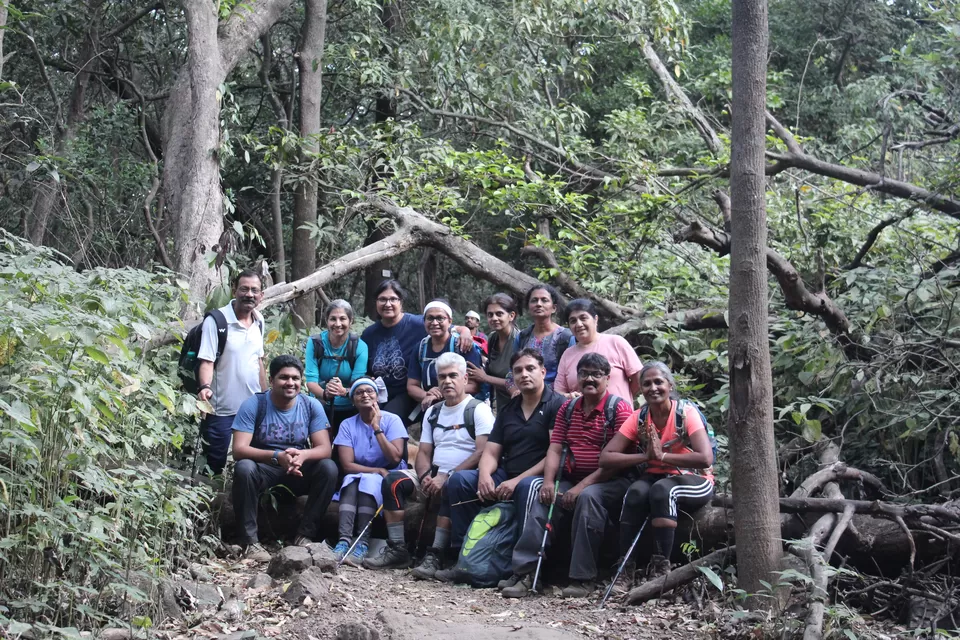 At around 5.30 we all woke up, was ready for the trek by 6am. We started to some steep and hard trails in the beginning and by 8am we were almost on a flat trail of mildly dense forest. Arrows put up by some NGOs and clubs were seen all the way till top. After trekking for another hour we reached the summit of Bhimashankar and that was dream came true for all. The views from the top were mesmerizing. Some were engaged in clicking pictures. I just sat there for a minute. It was awe inspiring. A fine line of clouds and summits of far away mountains were enough to fill my heart. I was thanking myself for conquering one more peak of Sahyadris.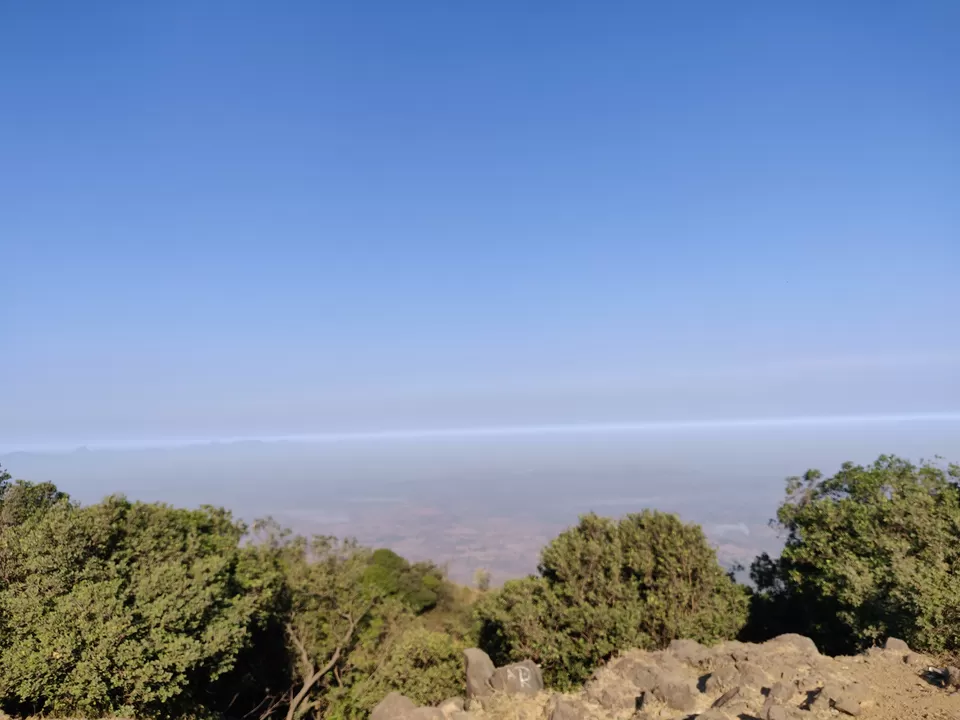 At the top, while some went for Darshan directly, me some guys went to a small hotel for breakfast. I was more than happy to take a shower when I came to know they had facility for it. While two others opted for hot water, I gifted myself with a cold shower. It was very rejuvenating. After breakfast of Poha and Coffee, we were ready to descent.
One thing I was noticed with the group was, they were all came with sufficient supplies of water, electrolytes and sunscreen etc. I have noticed in my previous treks is that everybody comes with some snacks and biscuits and that's it. Even experienced trekkers do the same mistake. One thing you require most is to keep your body hydrated. That is of utmost importance. Because even though you might not be feeling thirsty, your body requires water, especially during descent in day light. It was very comforting to know that everyone had brought all the necessities.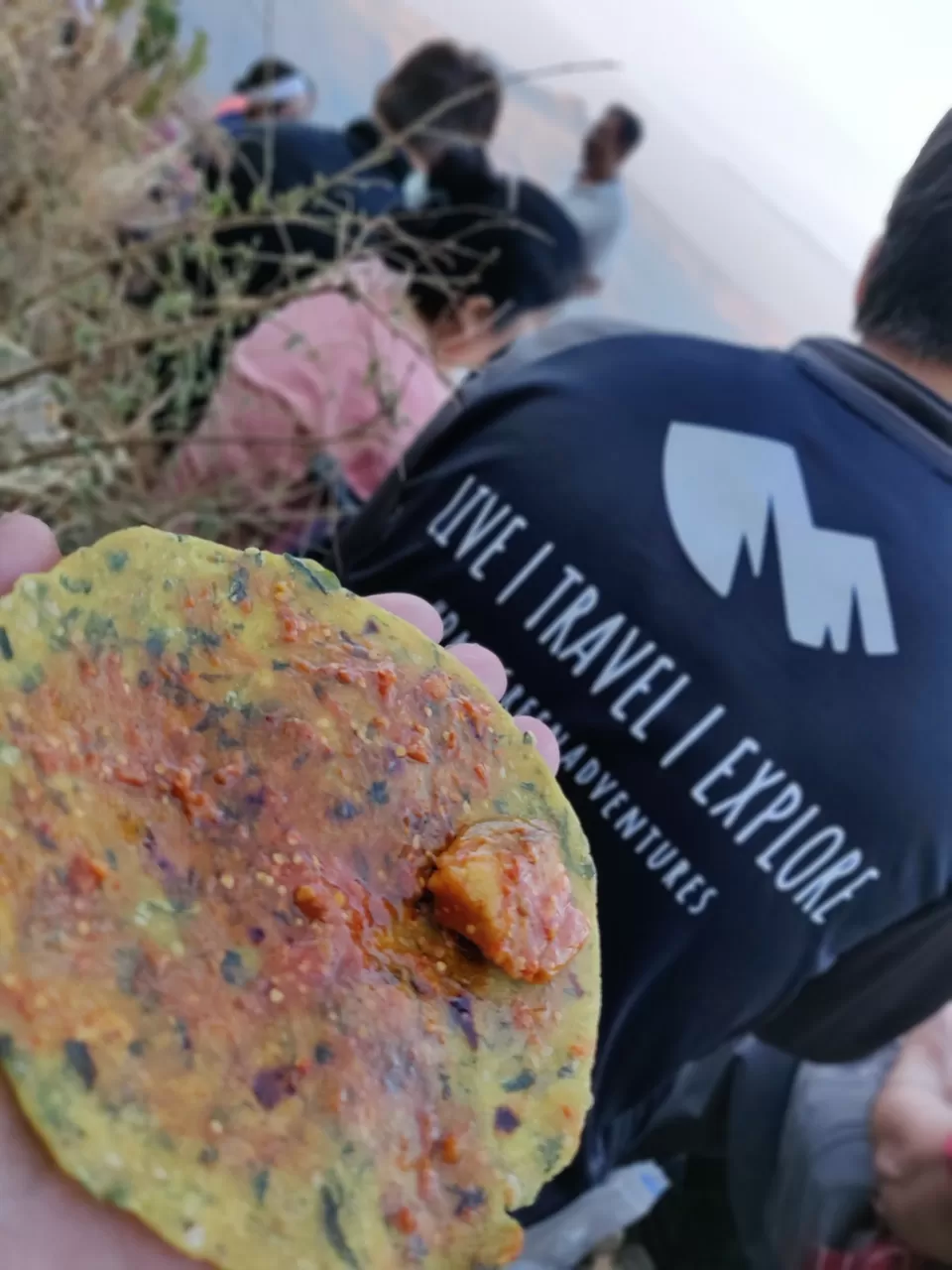 At around 11am we started our descent along the same route. This time we had company, a doggy, who came all the way till base. He was there leading the way and resting only while we rested. Some of us were happy to provide him with biscuits and water. After almost 2 hour, we reached back the house where we stayed the night. They gave us excellent local cuisine lunch.
Post lunch we rested for a while, we even played UNO cards. Who knew senior citizens were such a fun gang :)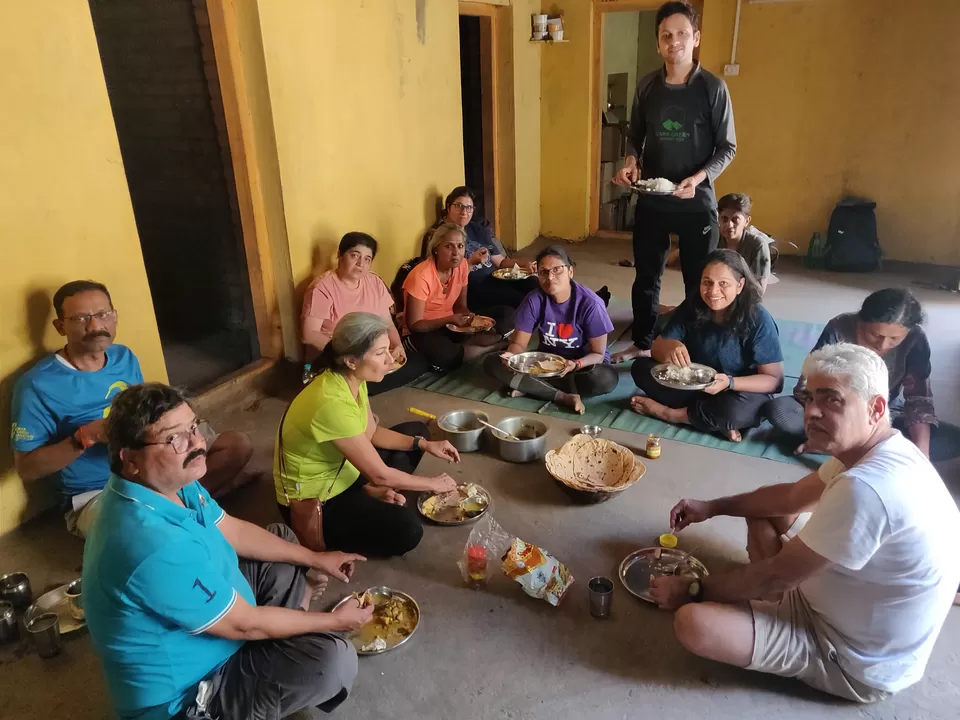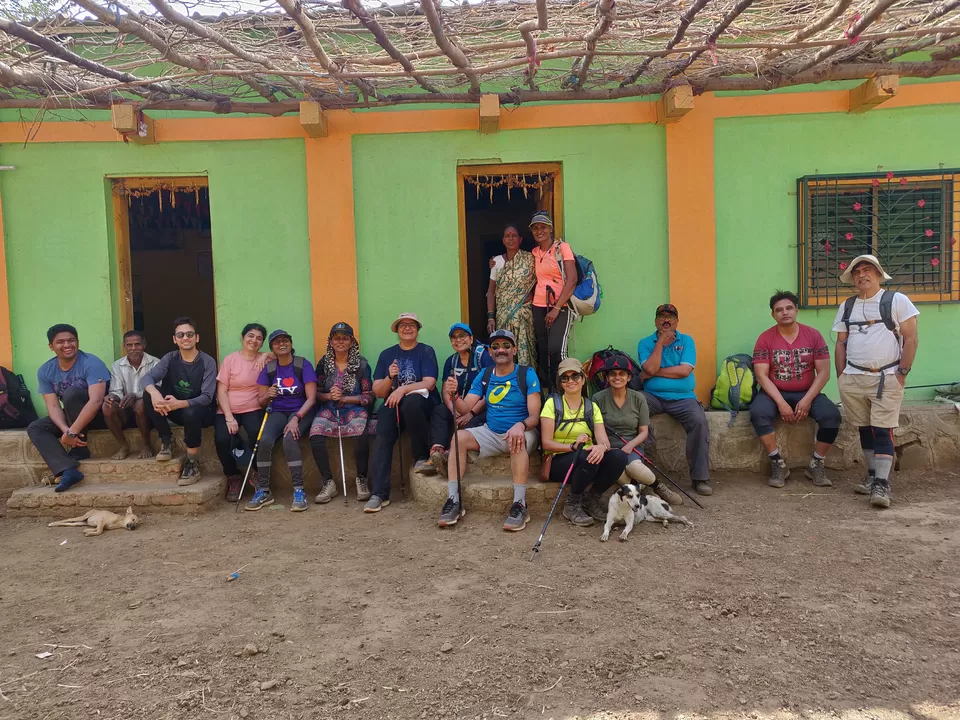 At 3 we continued our return journey. Even though many of them were exhausted with sun, headache and joint pains, they all kept going. With minimal rests and supports from each other, we reached back at the starting point at about 6pm.
After the Jeep journey of an hour and a glass of sugarcane juice, we all were in a train to Mumbai. Without a second thought I can say it is one of the best and most relaxed trek I had in my entire life. The group proved me wrong in every perspective I had with them. I'm sure they will also remember this trip for life. Some of them were even planned for Everest base camp trek in March. I'm sure they will do that also with ease. Anyway I was happy with a lifetime of memories of a whole bunch of sweet people. Without a second thought, it was a weekend that I can never forget.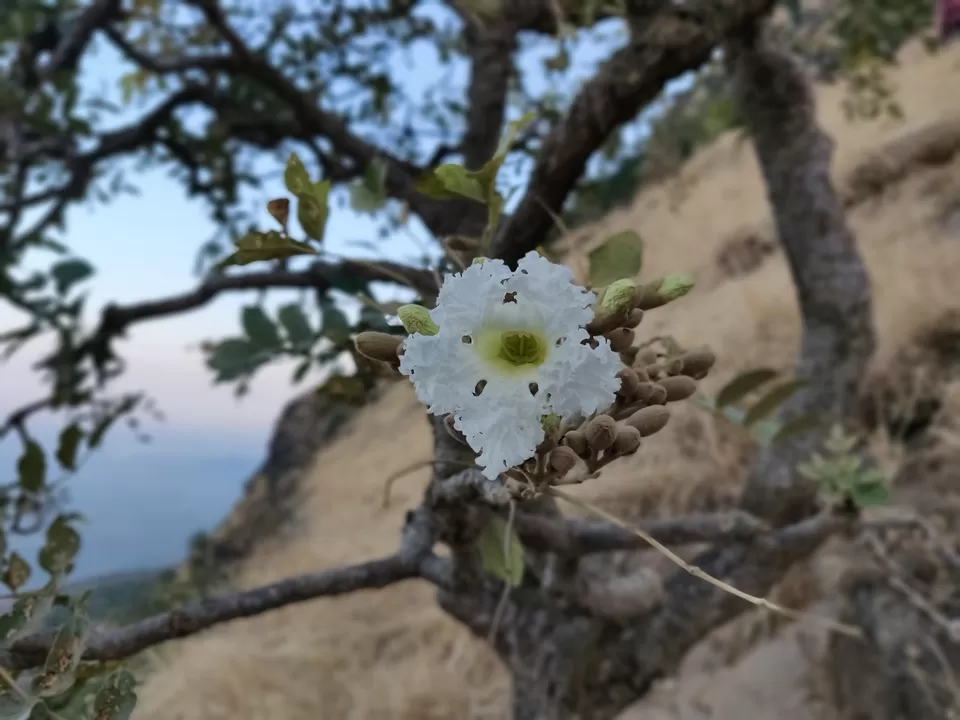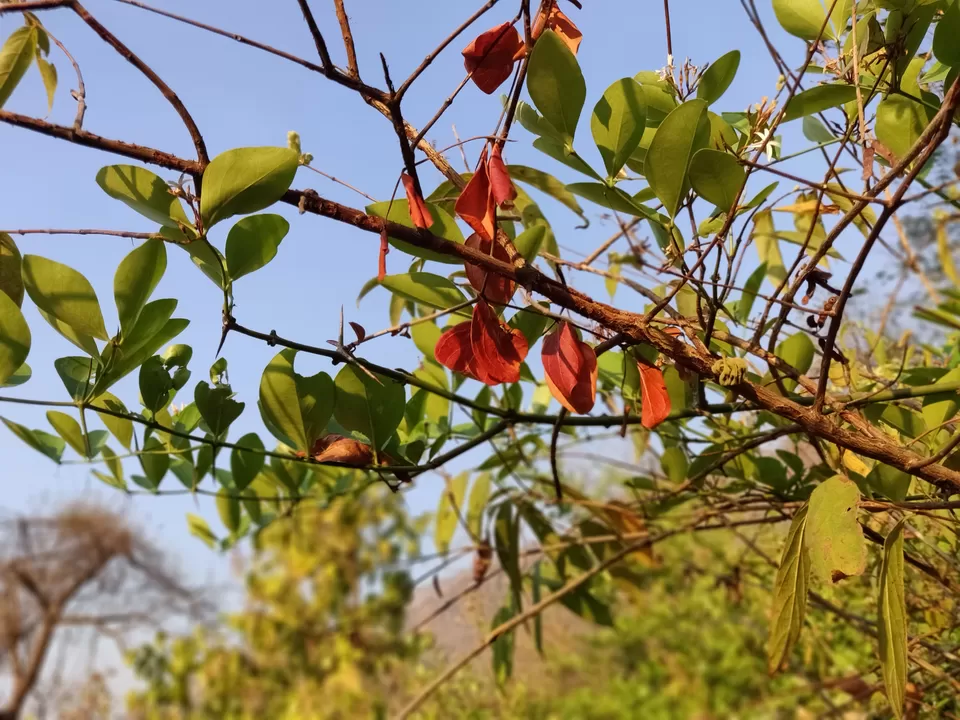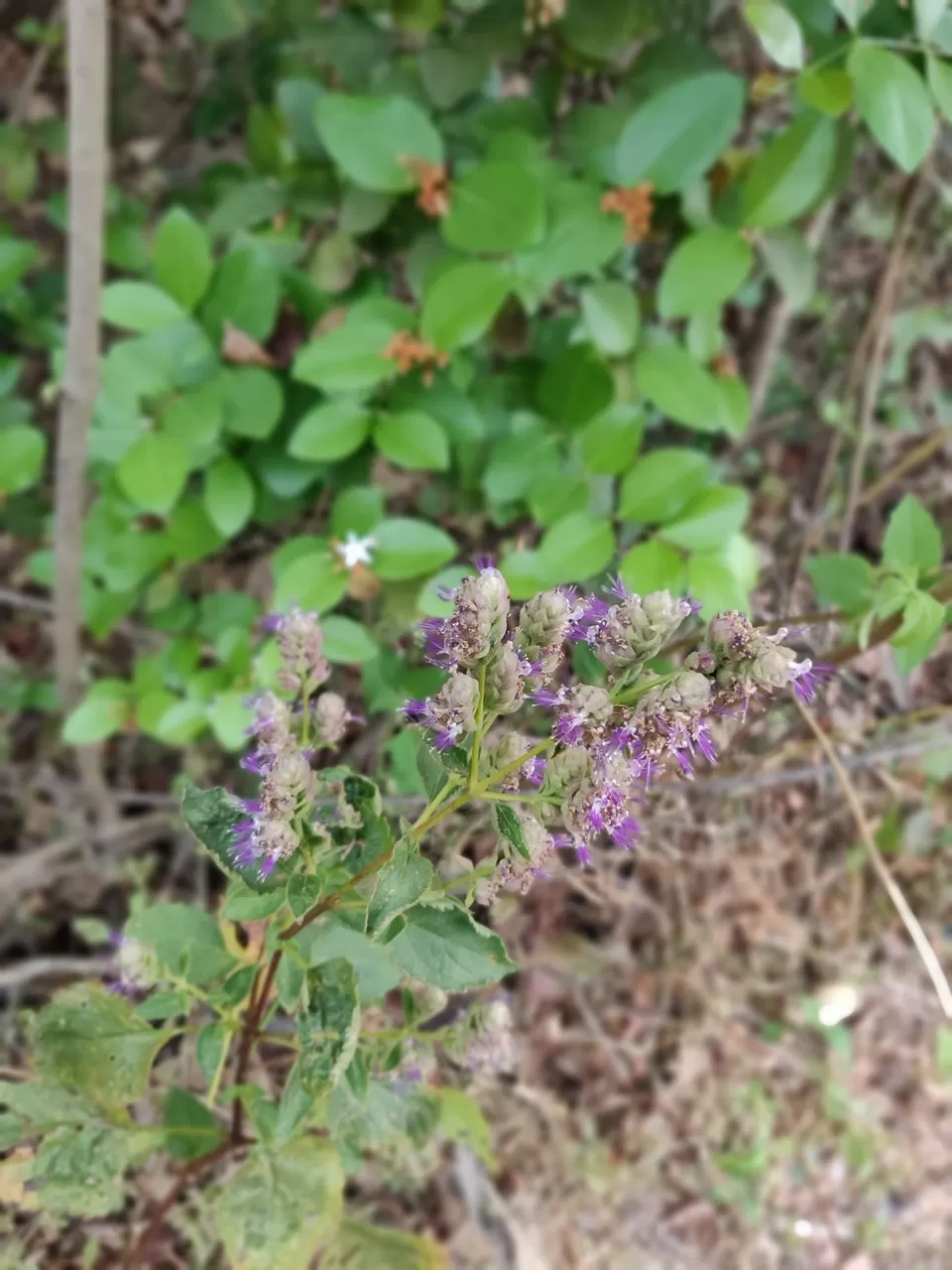 If you love to go for such mind boggling treks, do visit the social media platforms for #Darkgreenadventures. The host Krishna is available 24x7 for such awesome experiences. He can also be reached in Mobile and WhatsApp -09820285295.
Thank you Shweta for inspiring me to write this one :)
#darkgreenadventures #naturelove #memoriesforlife #lovefortravel #trekforgood #tripototravelstories
My previous travel stories :
1. Lucknow - https://bit.ly/2VSqo05
2. Daman - https://bit.ly/2Uwv7Eu
3. Silent Valley - https://bit.ly/2TukTI5
Thank you for reading :)