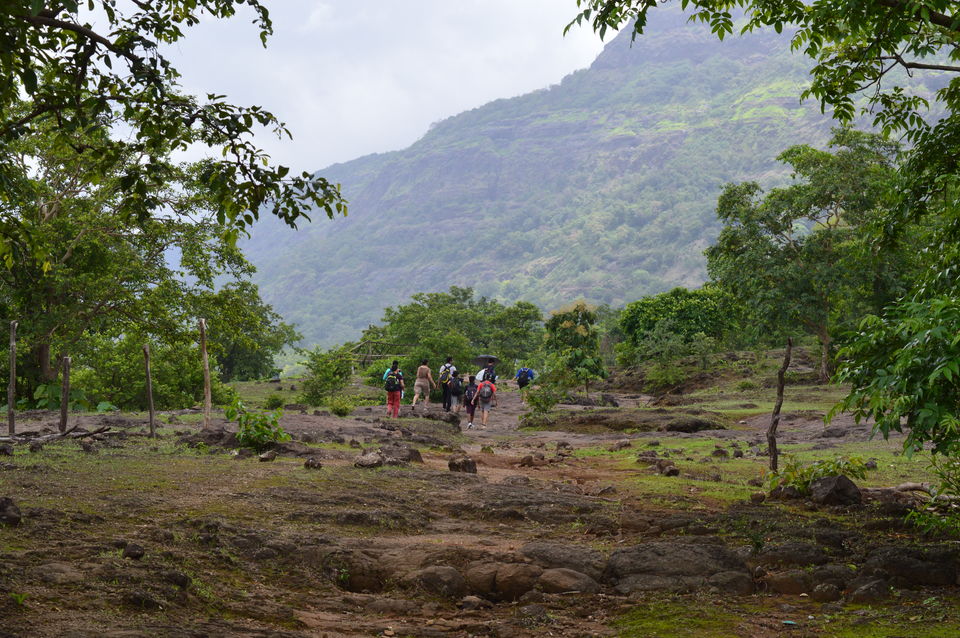 Bhimashankar temple, one of the twelve jyotirling's of India, is located in the Ghat region of Sahyadri hills. Apart from pilgrims who reach this temple, this place is also apparently very famous for the nature lovers, trekkers, bird watchers as this place has been also declared as a wild life Sanctuary in 1985 due the the forest area. This temple is approximately at a height 3500 feet.
I was on a trek with a group of 18 others trekkers. All of us boarded the same train from Mumbai, the Karjat local at 6:10 but from different stations and our meeting point was Neral Station where we had our breakfast Idli & chatni, brought by Krishna, our Trek Leader & Organiser of Dark Green Adventures.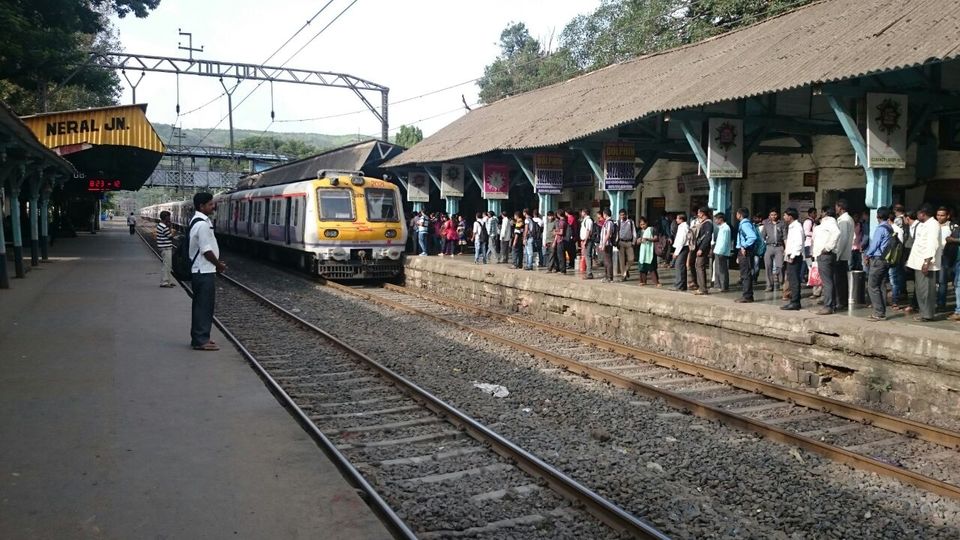 Soon after the breakfast we broke into two groups and got into two tumtums, after almost an hour we reached our starting point around by 10: 00 am. We had an introductory round and after some chilling, started for our trek.
The two frequent routes to reach Bhimakshankar trek are:
1) Via Ganesh ghat :- This is a simple route, but consumes more time than the Shidi Trek. It is known as ganesh ghat as the route has a Ganesh temple on the way which comes just in one hour after the start of the trek.
2) Shidi Trek (Ladder Trek) :- This route is quite difficult and even more during the rainy season. There are three ladders placed on the rocks which looks very risky and not at all recommended for the first time trekkers.
Since our group had more first time trekkers, we chose the Ganesh Ghat. We reached the Ganesh Ghat soon in an hour and the trek till here was simple and easy. The weather was pleasant, it did not rain however.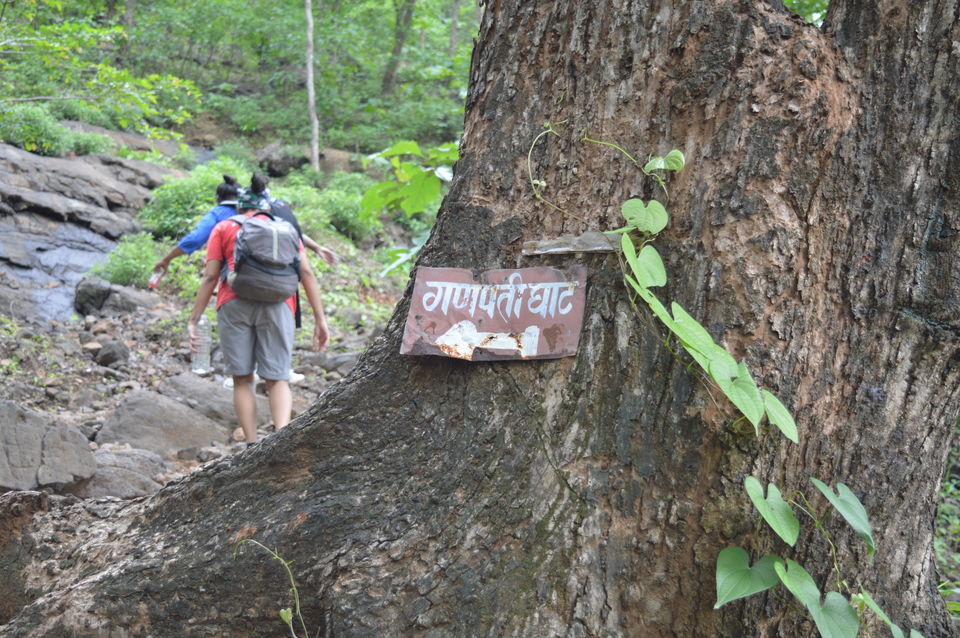 Our Plan was to reach the village Padarwadi by 1 PM, take lunch there and after some rest start for the Bhimashankar temple, reach there by 4 Pm, back to the village by 7 pm, stay there overnight at a local's hut whose name also happened to be Ganesh, next morning start descending and reach Karjat by 12:00 noon.
The greenery was at its best and the weather just perfect. We crossed the Jungle enjoying the beautiful scenery of the green lush trees and the view of the Sahyadri hills. We reached our guide Ganesh's place by 12:30 and I fell in love with it completely. This village had no electricity, but had Solar Battery. The delicious food we had there was irresistible cooked in Choolha (the brick stove). I am pretty much sure I won't get that food anywhere I try to scout for it. While we reached , they were still doing the chapatis and had to wait for some time for our lunch. The moment they called us in for lunch me and Supriya were the first ones to jump on the plates. The chapatis were very large. So much did we eat, making our trek difficult for us later on, but we could not let go the awesome tasty food we were given.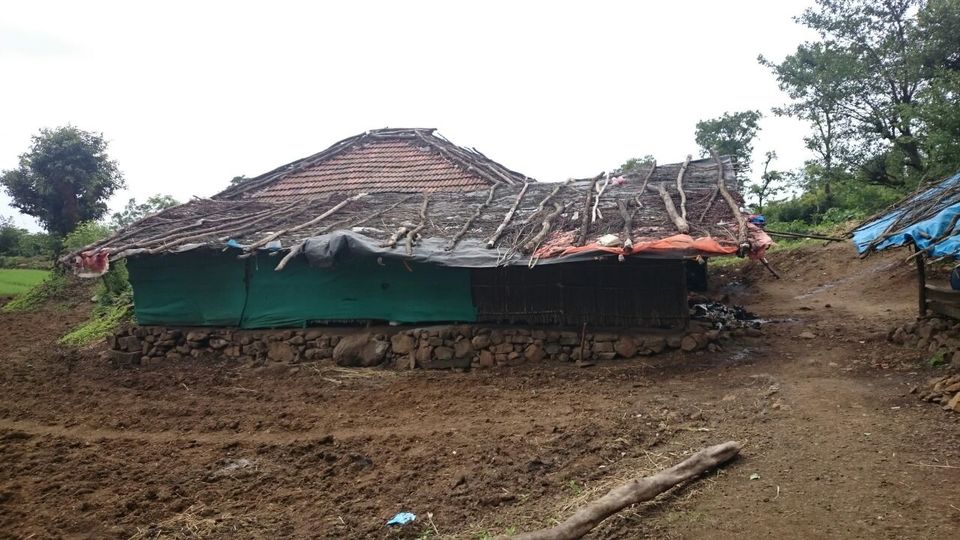 After some rest we started for the temple around 2:00 PM and yes after that heavy lunch it was actually difficult climbing. We could feel our tummies ;) We had our little breaks and did it slow as for some it became difficult walking. Krishna our Trek leader ensured the slow walkers kept on walking and motivated them throughout the trek. We came across many other trekkers on the way, some also carrying the handy music speakers, it was fun to listen to the songs in the jungle.
We were at the temple around 4:00 pm, we also got in the line for darshan but on getting to know it might take more than 2 hours for it; we were out of it as we had to reach back on time before it was dark. So we decided to just go and see the temple from outside. But Hang-On, One of my trekmate, Kaustabh happened to bump on to one of the pandits with whom he was on a trip recently which gave us our last minute entry to the temple. Lucky devotees we were of course as we got the Lucky Darshan!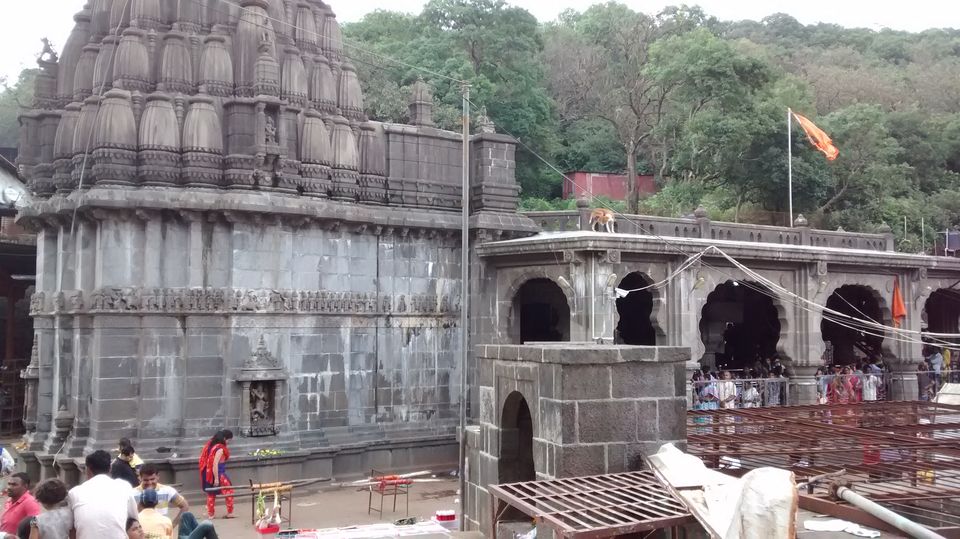 We bought some mava Pedas from here.
After the Darshan we started back, some of first time trekkers chose to sit and rest at the lake side who were very tired. The small lake was serene. Most of us took our shoes out and enjoyed the free fish pedicure that we got. Those tiny fishes would bounce on anything that went into the water. It was fun.
Descending was easy and fast. We reached back on time before it was dark but had to take our torches out as we were reaching ganesh's place. As we were home, we sipped tea and the rest of the team got busy with the "MAFIA" game , a game well known to the trekkers.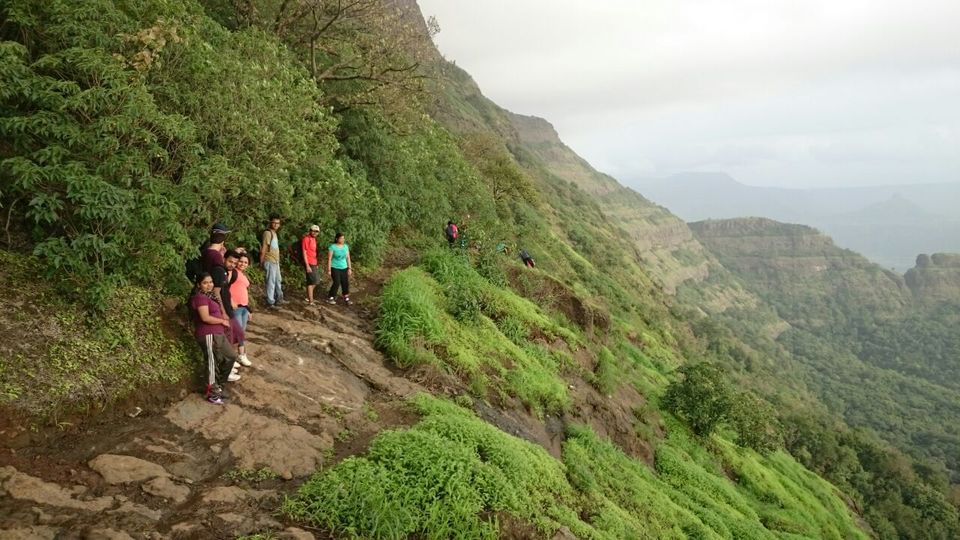 Again the delicious food was waiting for us and soon after it, I was asleep while some were awake upto 2:00 am. Next morning we had some natural alarms "the Hen" as they helped us get awake at 4: 00 am. I kept on ignoring till 6 am and finally was up to take a morning walk around. A great view it was, the hill was right away in front of us hiding in the morning dew. There was no loo here, so many of us were running with the bottles in the morning, a complete different experience ;-)
We left Ganesh's place by 9:00 am and reached down in the next 2 hours. From there our Tumtum was already waiting for us and we were in Karjat before 12:00 pm.
Do's and Don'ts: First time trekkers should not consider the Shidi Ghat, that being quite risky. The Ganesh Ghat is simple but long. I suggest to do the easier treks before Bhimashankar. This trek is usually a day trek or a one day-one night trek so carry all that things you might need for a day's stay. Windcheaters/raincoats must if you go during monsoon.
How to reach Bhimashankar :
By Road -: Distance from Mumbai 222 km, Lonavala 132 km
By Air -: The nearest Airport is Pune, which is some 2 and a half hour drive.
By Railways -: The nearest railways station is again Pune which is 111 km from the city.
Best Time to visit is during the Monsoon, ie July to September as the greenery and the Jungle is at its best.