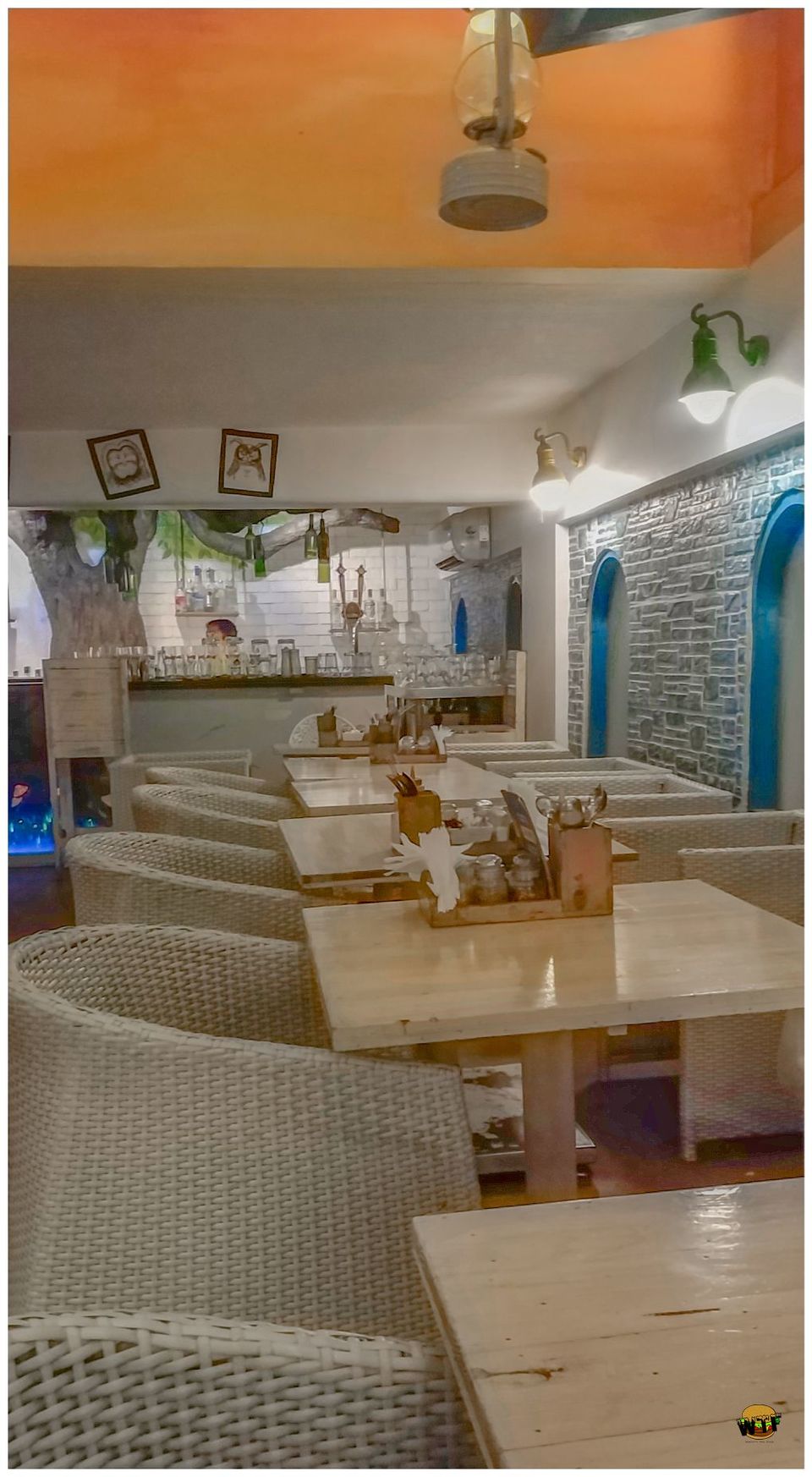 Carrying the name and legacy of German Bakery and treating the sweet-toothed citizens of Pune with a variety of baked treats, German Bakery Wunderbar is a Go-To-Place for the people of all age groups. After opening its doors to the public, years ago in 1988 and having a history of its own, It has become a hot favourite of plethora of citizens residing not only in Law College Road and SB Road area but from all over Pune and also among the visiting foreign tourists.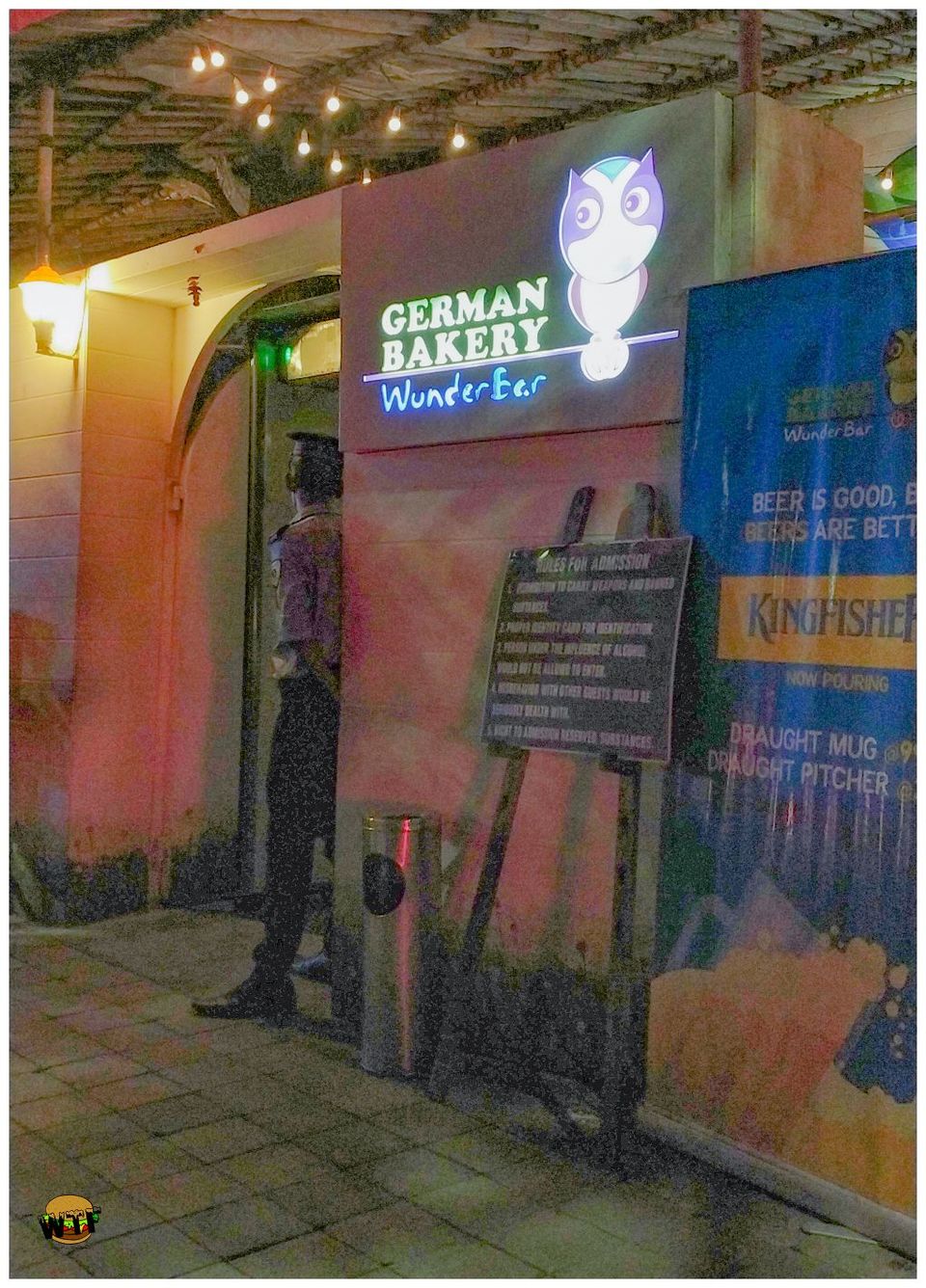 German Bakery as the name suggests is originally a chain of bakeries and the outlets that serve alcoholic drinks are called German Bakery Wunderbars. Along with a list of mouth-watering dishes, the ambiance is also something to fall in love with. The Law College Road has a gorgeous Al-Fresco section with a Patisserie, the Place also a beautiful sitting place inside along with a Bar. While the place is open for Breakfast, Lunch and Dinner to everyone. I was recently invited over a blogger's table for dinner and given below is a list of some of the amazing dishes that I got to try my hands on:-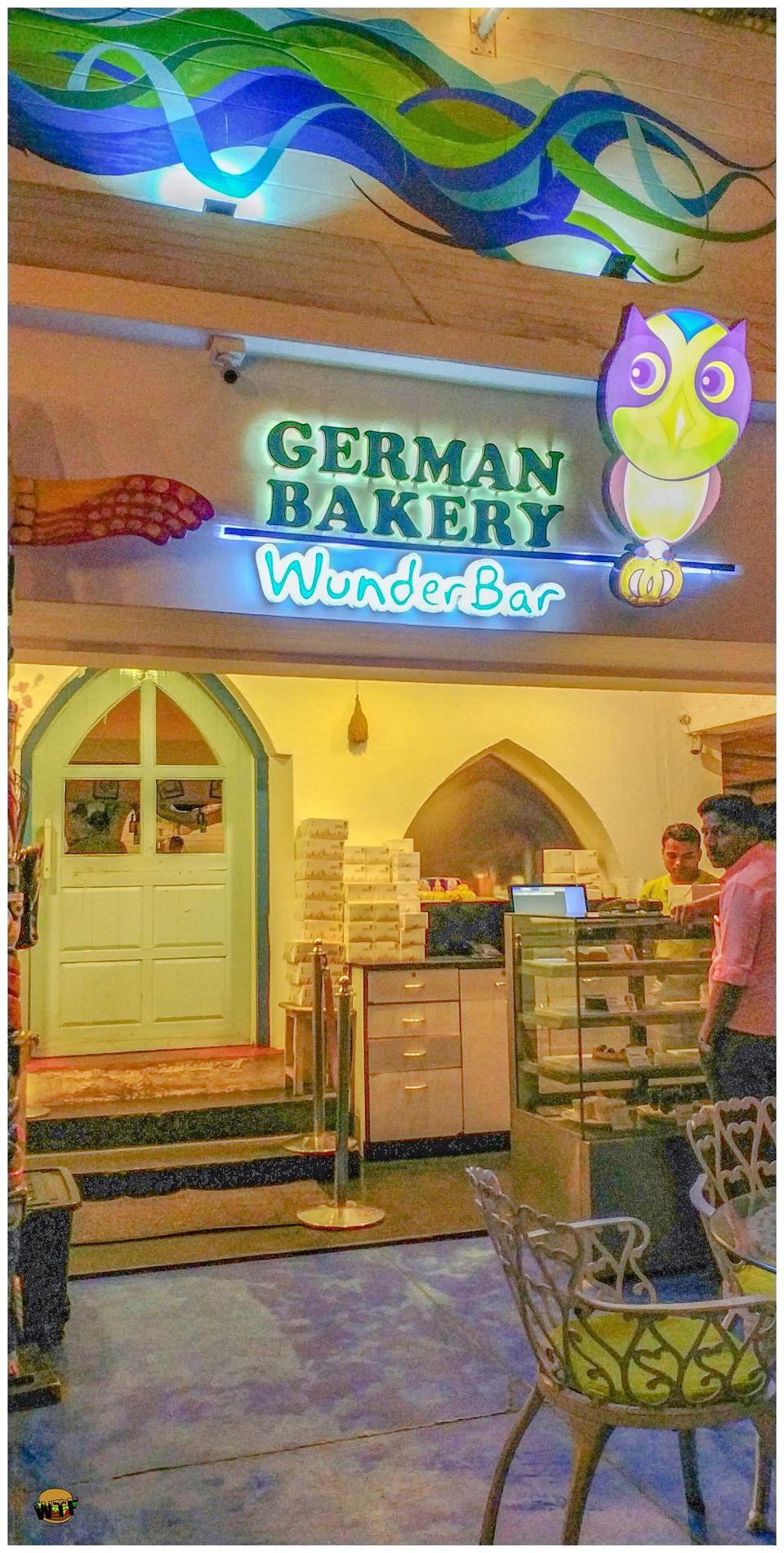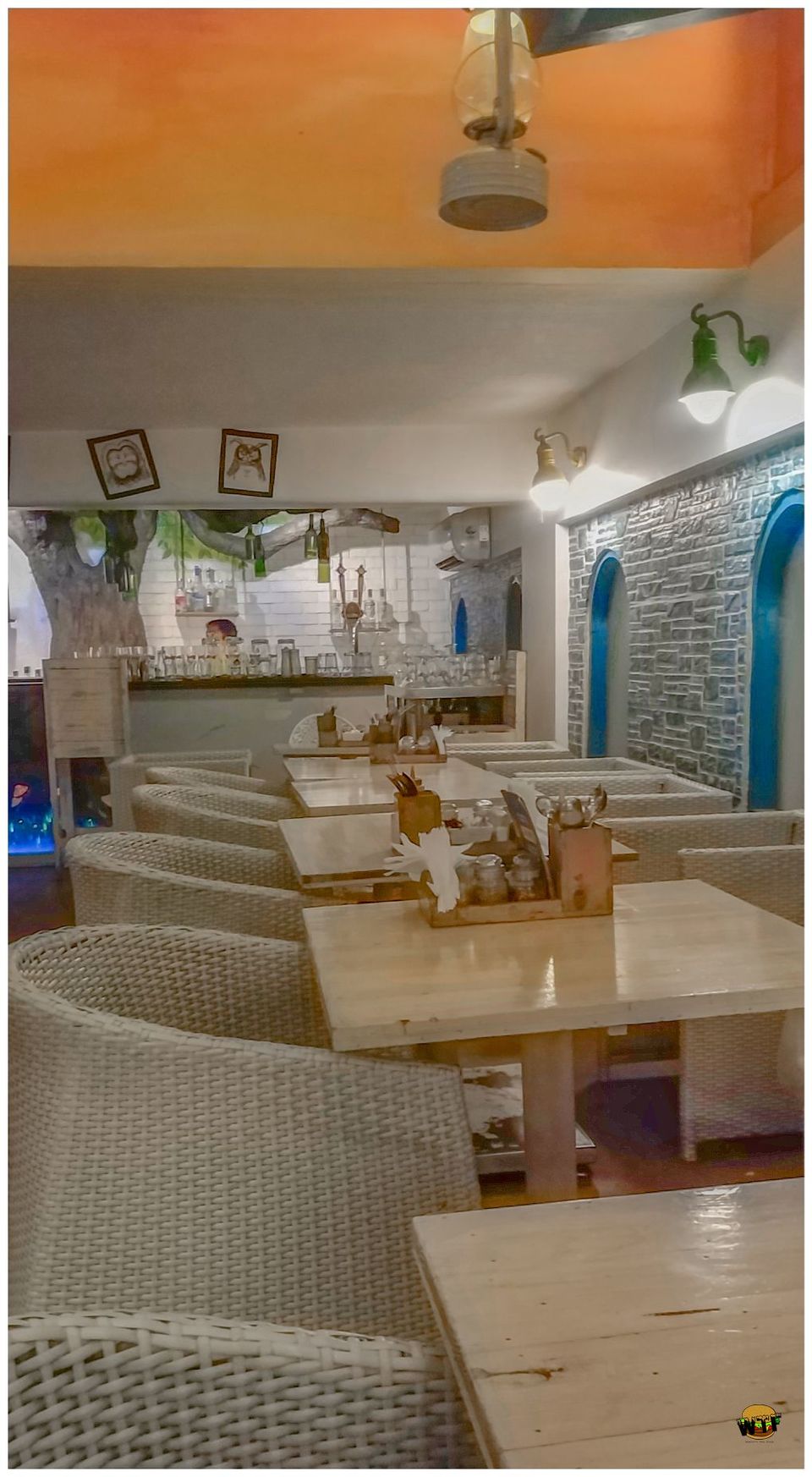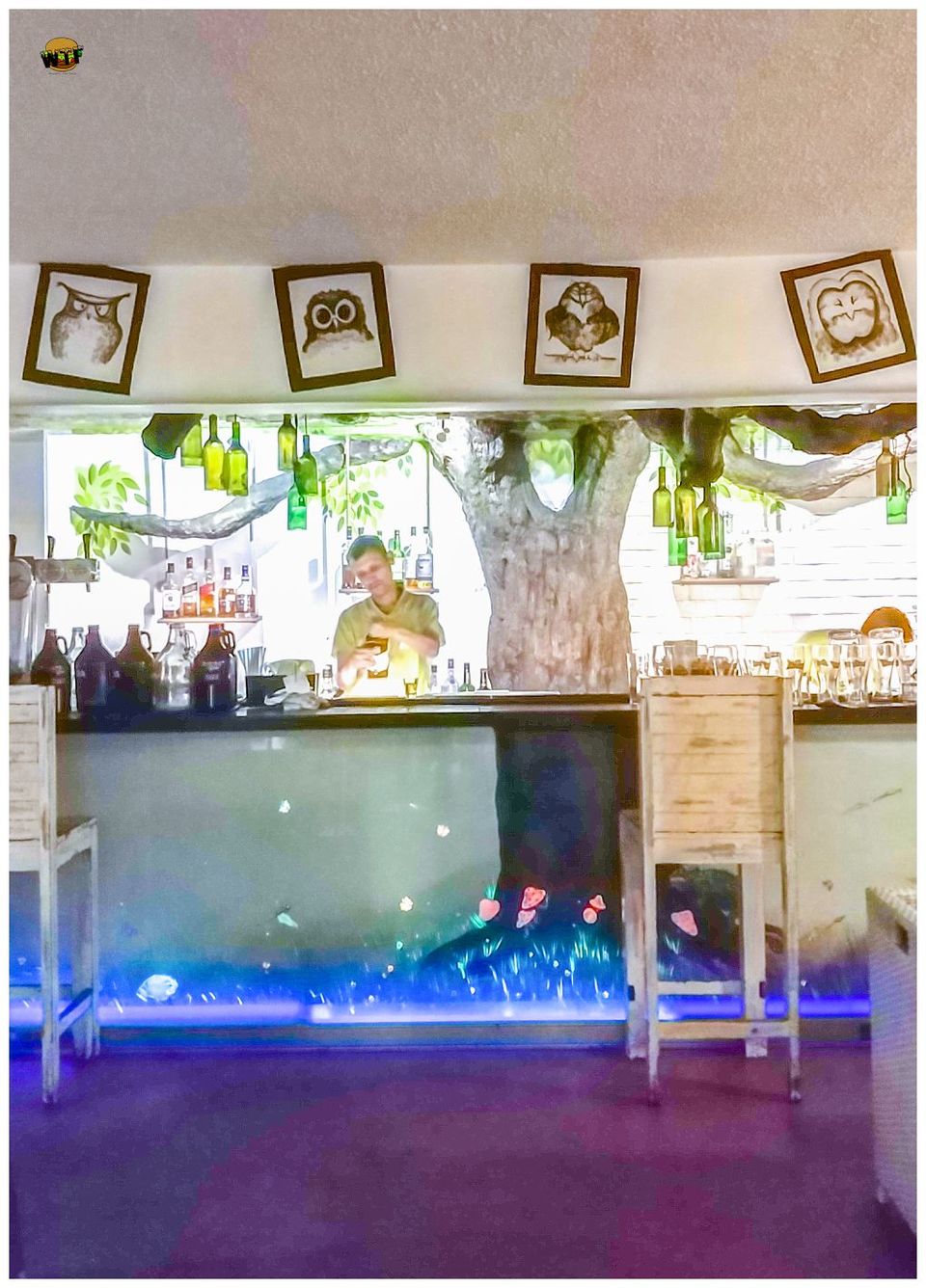 FREAK SHAKE:-
Freaky Mochalicious (300 INR):- I have fallen head over heels in love with this Mountain of Mocha, Cream, Dark Chocolates, White Chocolates, More Chocolates, Cakes, Roasted Coffee Beans, Ice-Cream and what Not. Freak Shakes at German Bakery is the best way to order everything you love in just one drink. I mean I love Coffee, I love Chocolates, I love Cakes, I love Ice-Creams, and I loooooooooved this Freak Shake. If you haven't tried it yet you're missing on something you don't want to.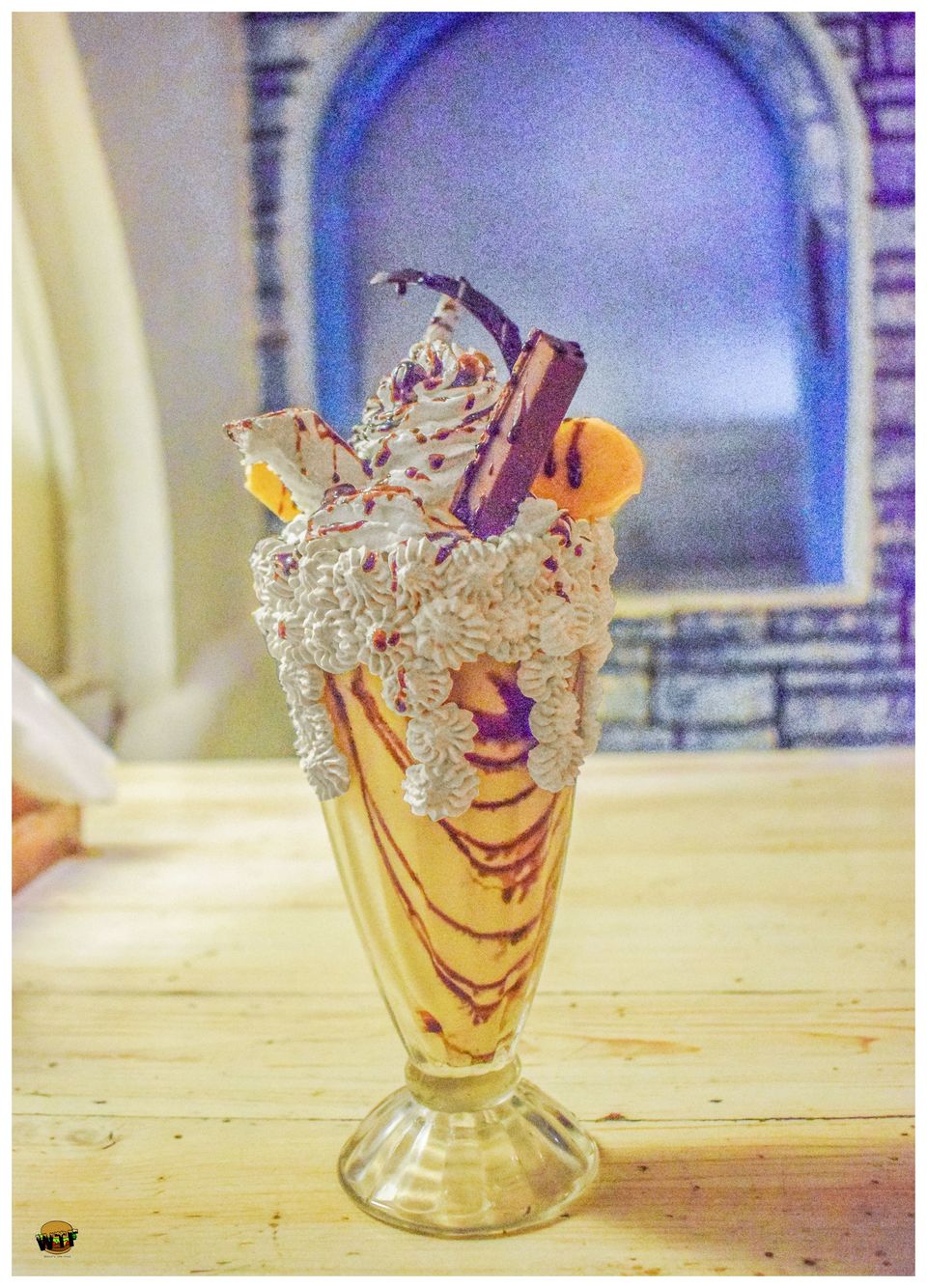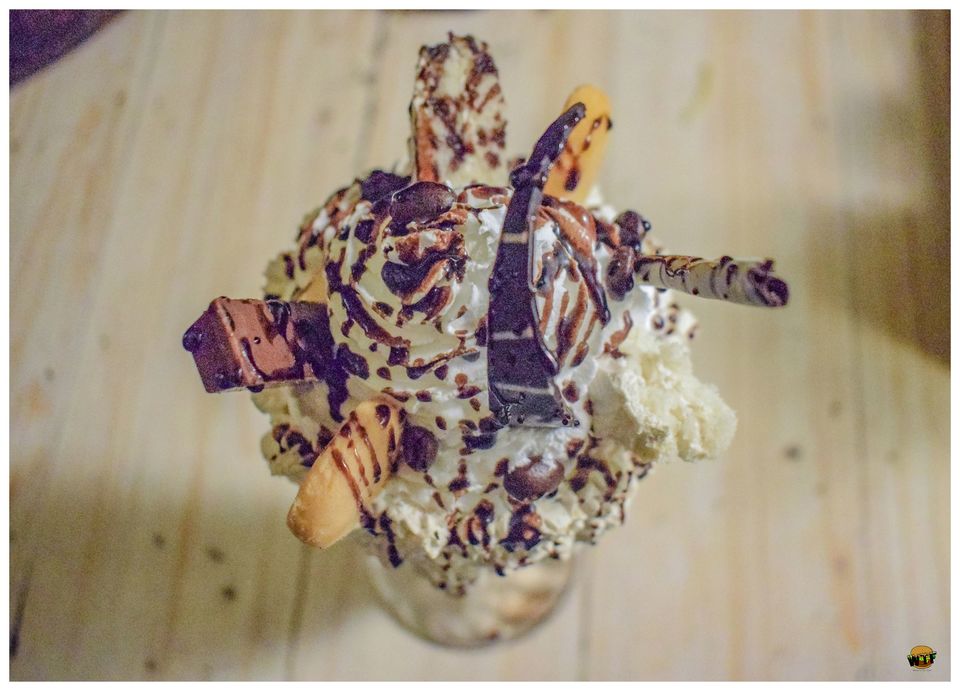 SNACKEROONIES:-
Fish N Chips (335 INR):- As I always say, My love for fish has always been limited to Prawns but that doesn't meant I don't eat or like fish. And with some recipes like these, It always makes me have a second thought about the same. The crunchy bites into a well cooked fish goes perfect with a side of masala fries and salad.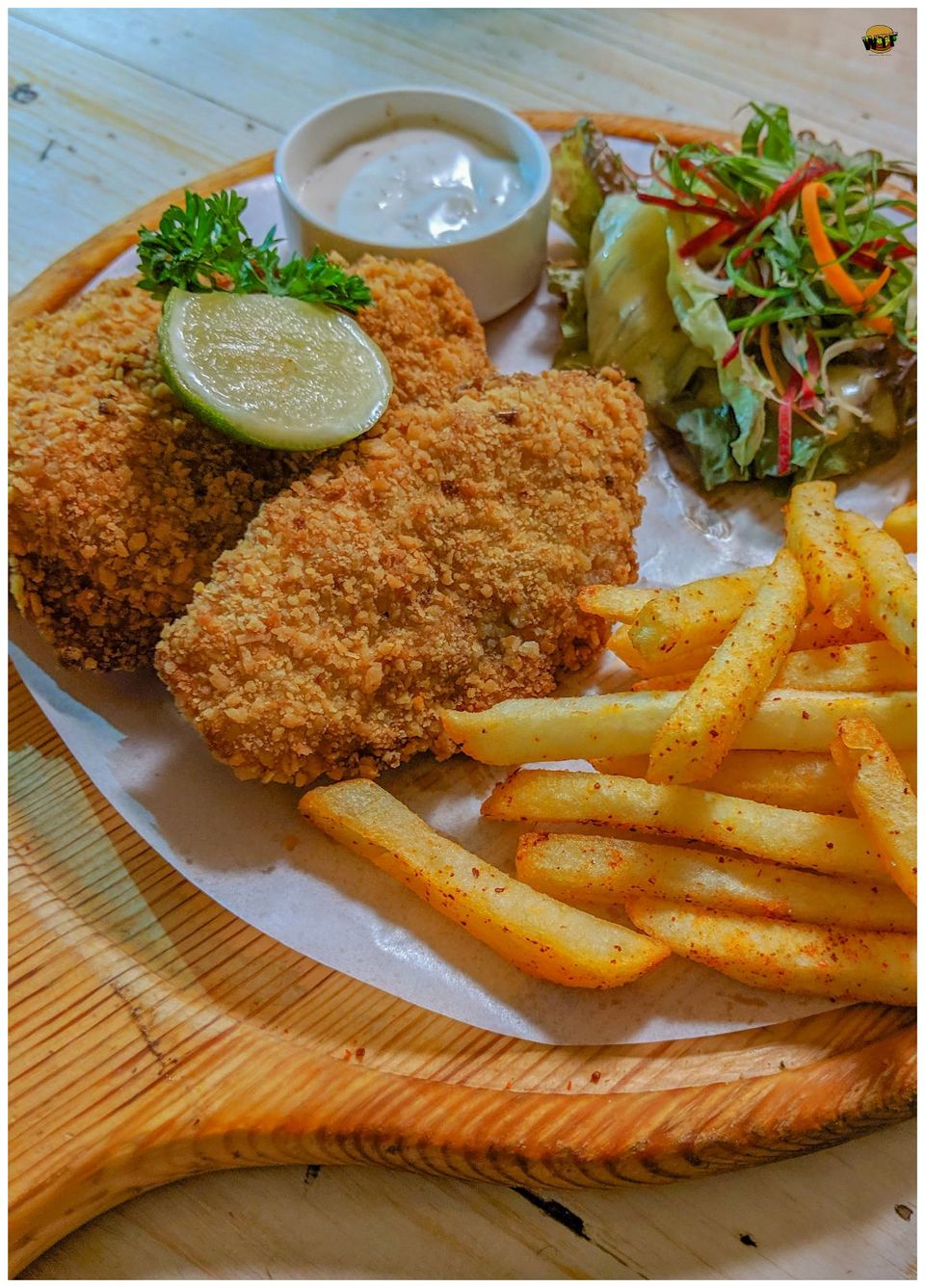 A LIL' BIT MORE:-
Spaghetti Aglio Olio Peperoncino (280 INR):- This dish, is a Roman staple, and is known for many Italians as a late night necessity. You know, the type of meal you make when you get home at 3am, drunk, after a night out in the city! Spaghetti Aglio Olio Peperoncino is a quick, go- to first course or side made with olive oil, chili peppers and garlic. You can also add Chicken (150 INR) and Prawns (250 INR) to your meal.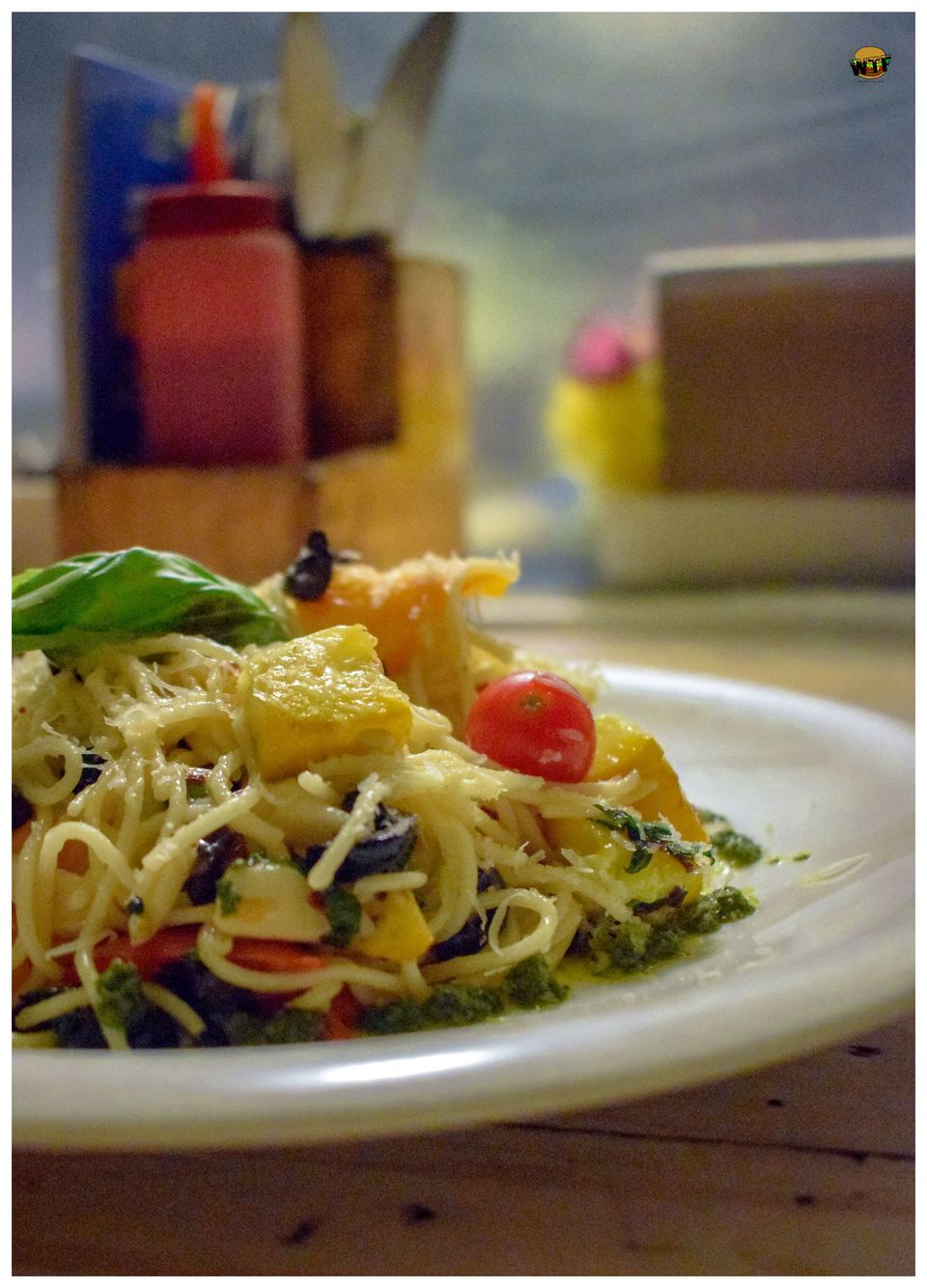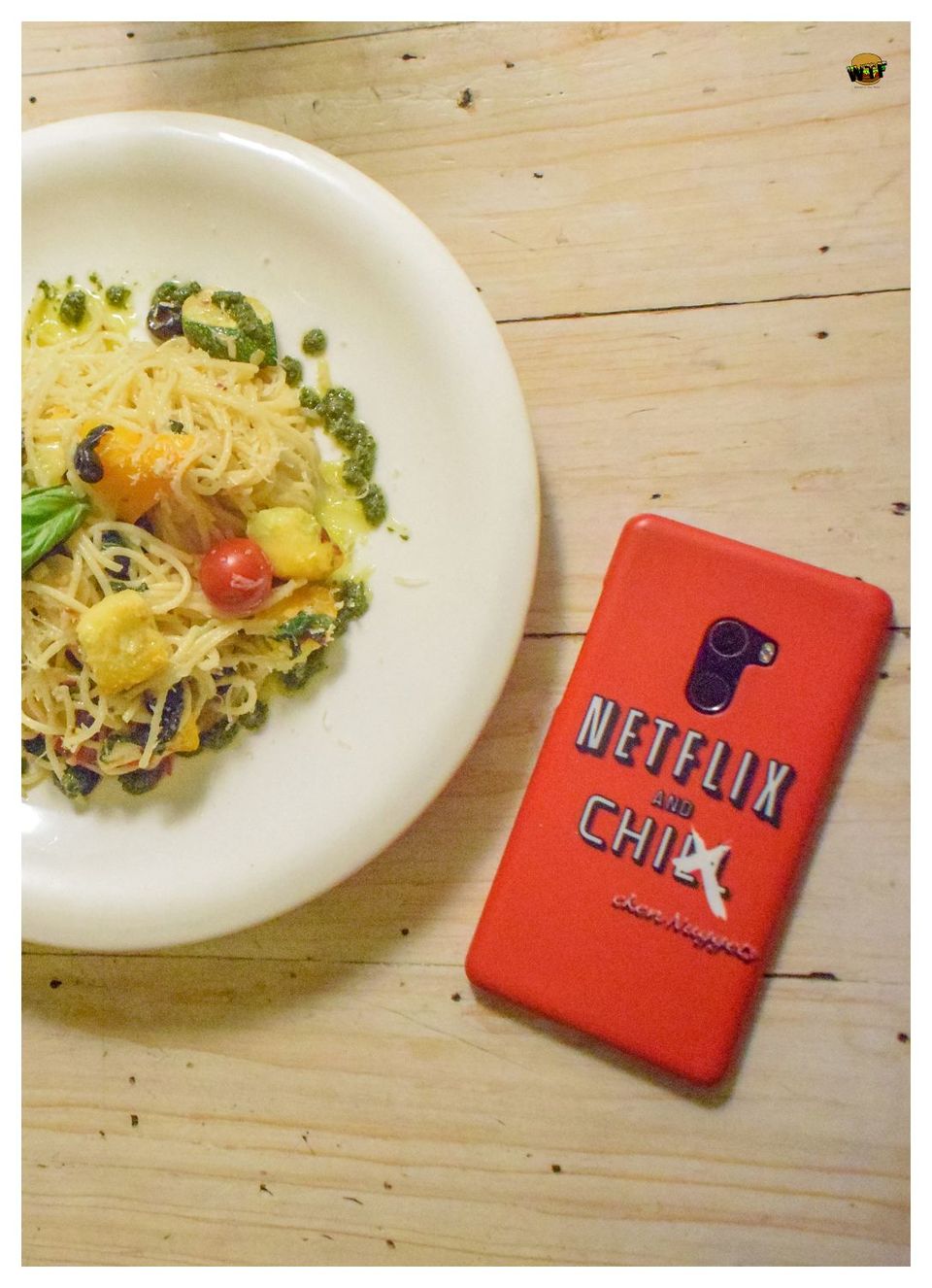 PIZZAS ON FIRE:-
Spicy Cottage Cheese (360 INR):- Given the fact that I prefer burgers over pizzas and if I had to go for a pizza I'd prefer Non-Veg ones Veg ones anyday, This one did quite an impressive job of making me like it. Topped with a unique duo of Cottage Cheese and Spinach, This Pizza is nothing but lip-smacking.
Spiced Garlic Bacon Cheese (240 INR):- This is the best from the lot we are talking about. As the name suggests, the presence of Spices, Garlic, Bacon and Cheese as the main ingredients compliments every bit of the name. Bacon & Cheese is everything about making your taste-buds dance.
SWEET ENDINGS:-
Baked Double Chocolate Cheesecake(230 INR):- I have fallen for Baked Cheesecakes time and time again ever since I had the Baked Cheesecake at Millers and every time I have it, my love for cheesecake only grows. And If that wasn't enough, @when_in_pune had built a whole lot of suspense well before they brought this cheesecake that only got real when I took the first bite of it. This Baked Double Chocolate Cheesecake is an utterly delicious proof that you can never wrong with chocolate.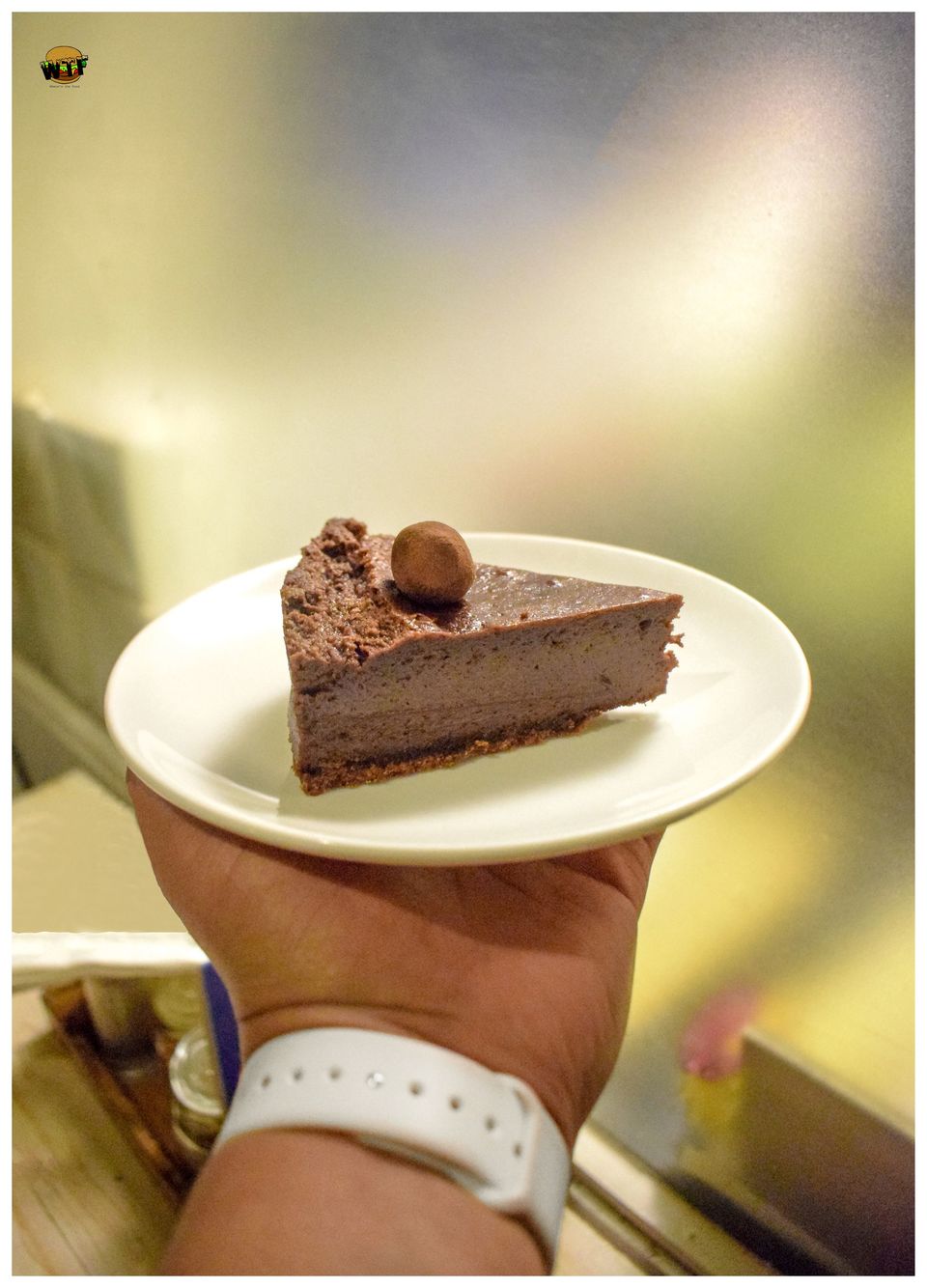 Raspberry Red Velvet Cheesecake (220 INR):- I don't know why but I have never loved Red Velvet Pastry or Red Velvet Cheesecake, and I guess that is maybe because of my lack of sweet-tooth. I mean I crave sweet but not as much as savory or spicy food. But before this whole write-up becomes totally irrelevant, what I'm trying to say is - This Raspberry Red Velvet Cheesecake has totally changed my perception about the Red Velvet Cheesecake and in every good ways possible. The tartness of the raspberries create the perfect balance to the sweet biscuit base and the condensed milk in the cheesecake.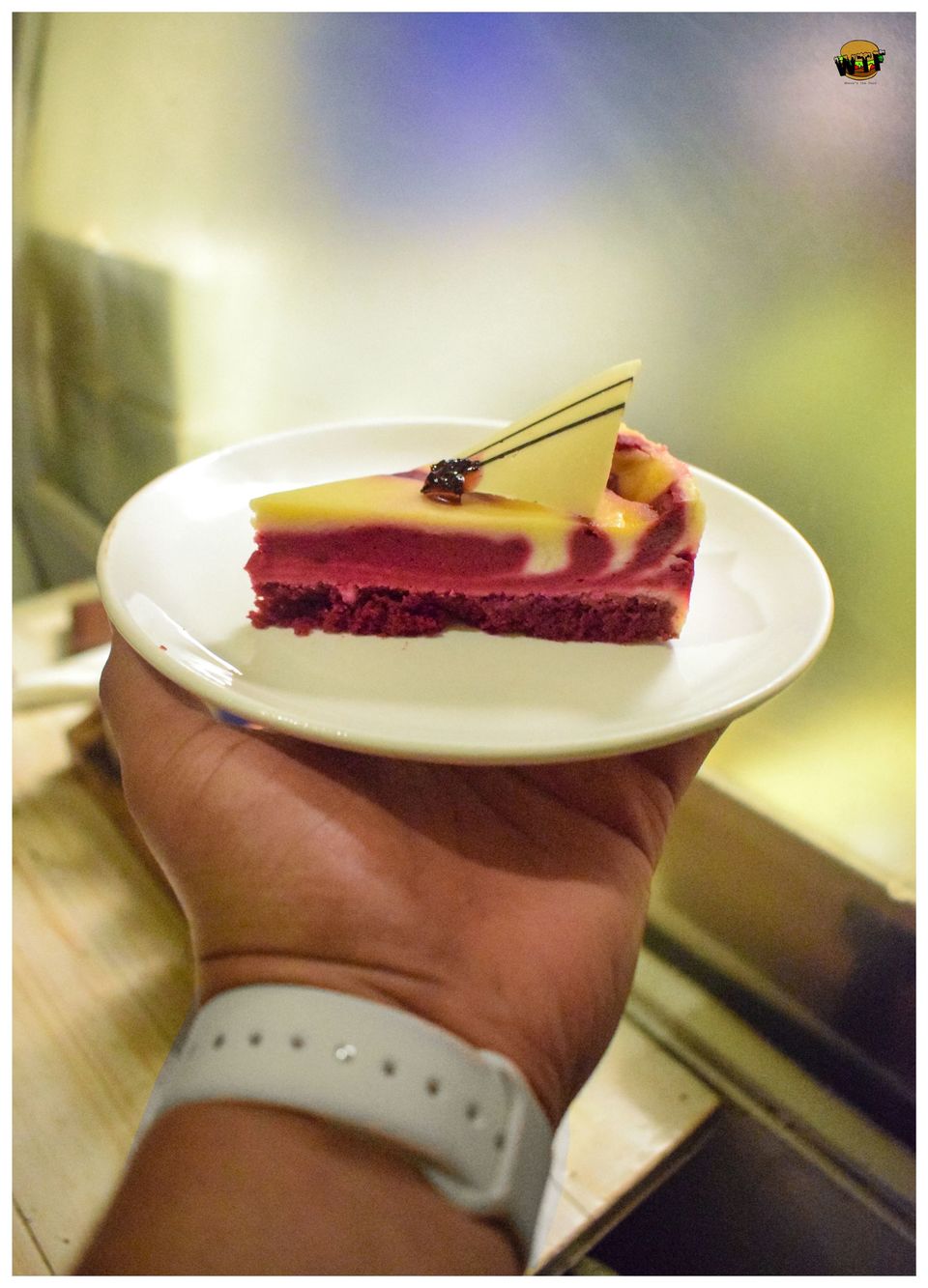 Along with It's comfy ambiance, courteous staffs and mouth-watering recipes, different people will always have their own stories and reasons on why you should go to this place.But I must say that nothing can be experience only in words, you have to visit this place. And let me say that in all caps again - "YOU HAVE TO VISIT THIS PLACE", lol.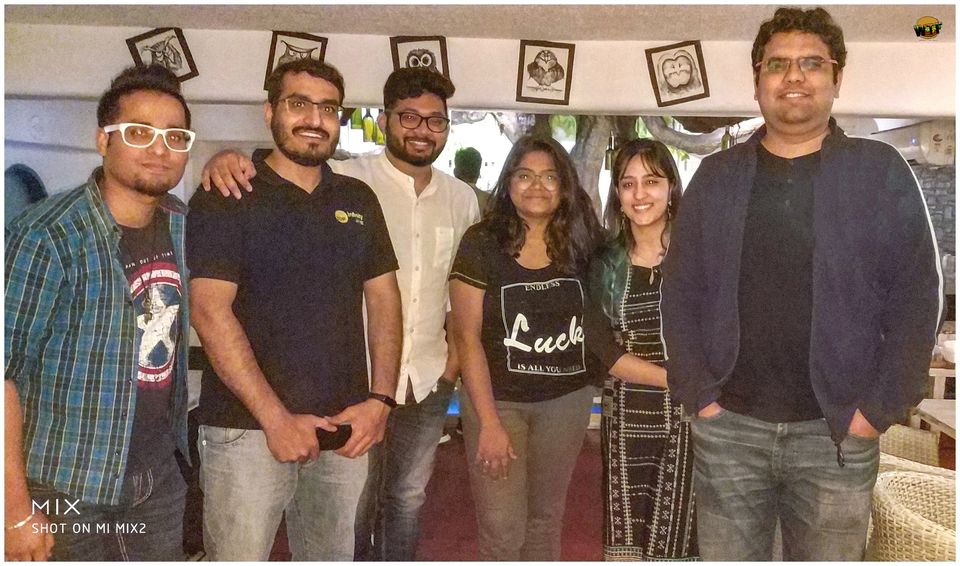 Thanks Ruchi Parekh and The Placet for extending the invite and Thank You Team German Bakery Wunderbar for hosting us.