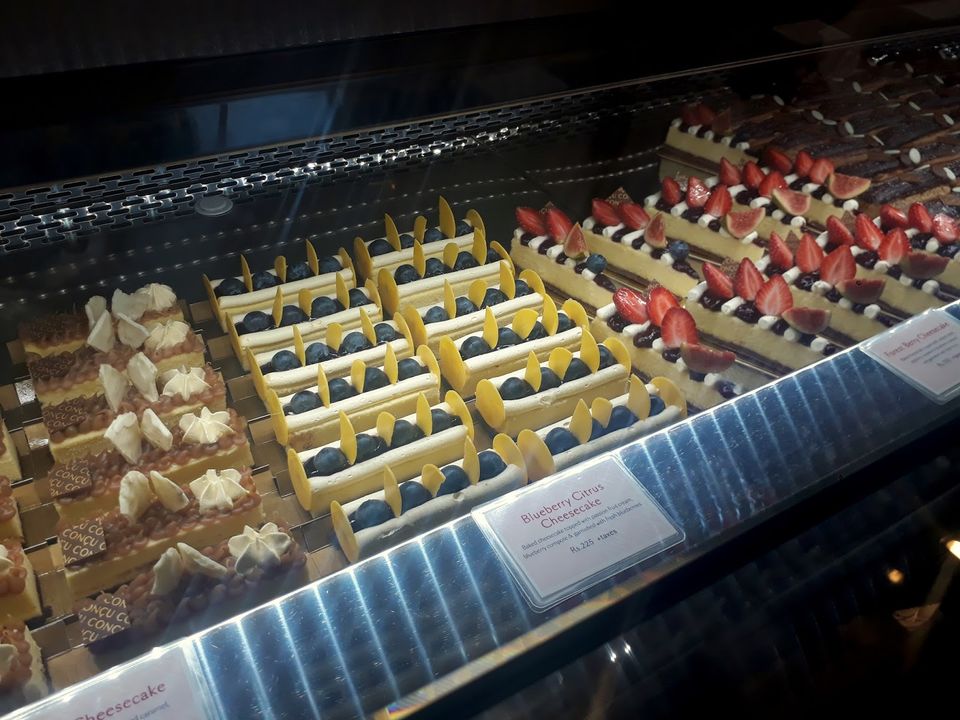 I went on my very first trip to Hyderabad last year, and I met some of my university friends for lunch in Jubilee Hills. A couple of hours into the afternoon, we were done eating and were sitting around wondering what to do next, when one of our friends spoke up. "There are just three things distinctive about Hyderabad: The heat, the biryani, and Conçu." I laughed at the dramatic generalisation, for it sounded like something one would say as a joke. It seemed even reductive, for as I discovered during those 3 days, there are far too many things distinctive about Hyderabad.
But the confidence with which he'd said it made me want to find out what this Conçu place was all about. What if it was something really revolutionary, and we were missing out? So we headed there next for dessert. Now I have a huge thing for French decor: the pastel pinks and mint greens, those low-hanging lampshades, the easy sophistication, and oh, the daintiness of it all! So when we walked up to the front facade of Conçu, guess what I might have uttered. . . .
.
.
But of course... Oooh la laa!
Conçu in French means 'designed' or 'crafted'. Located in a nondescript by-lane of Jubilee Hills, a posh suburb of Hyderabad, the patisserie has a pale sea-green facade and peach doors. There's open-air seating in the foyer, perfect for the pleasant Hyderabadi evenings, and wooden tables and bay-window seats inside for when it's hot outside, which is most of the time.
We took up a table by the window inside and decided to order. That's when the uniqueness of Conçu revealed itself. There was no dessert menu! You simply walk up to the glass counter, where a server will fish out a wooden flat tray and ask you to pick out whatever you want to eat. It's why they say Conçu is a place to take your friends and family to. You can pick out a host of different desserts - there is a whole lot to choose from - and share them on the same plate. That way you get to taste a variety of sweet treats without having to eat them all full-size.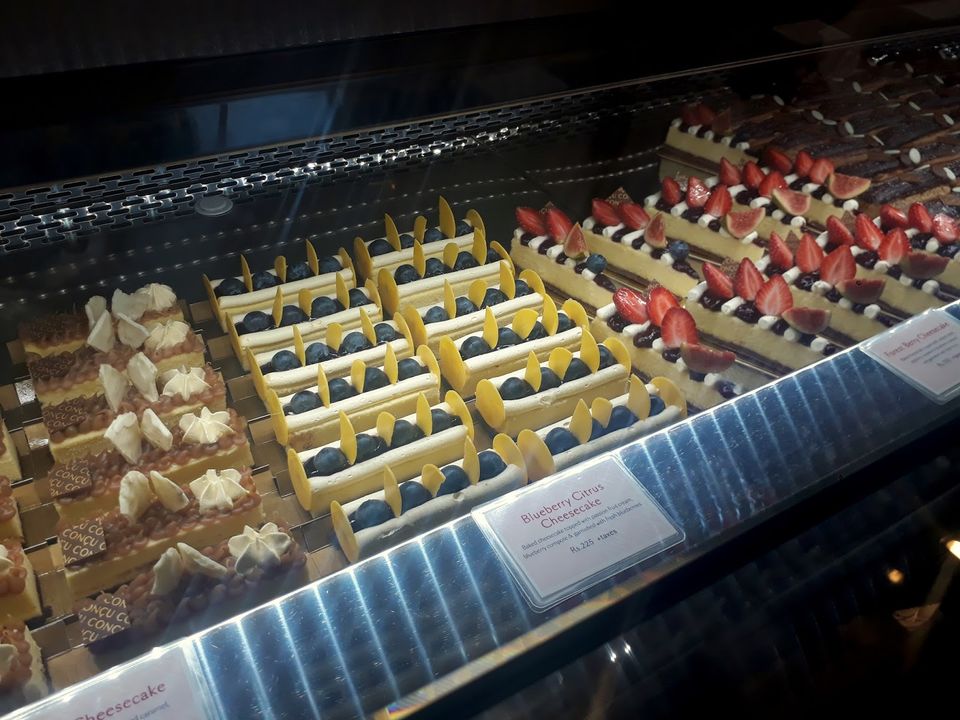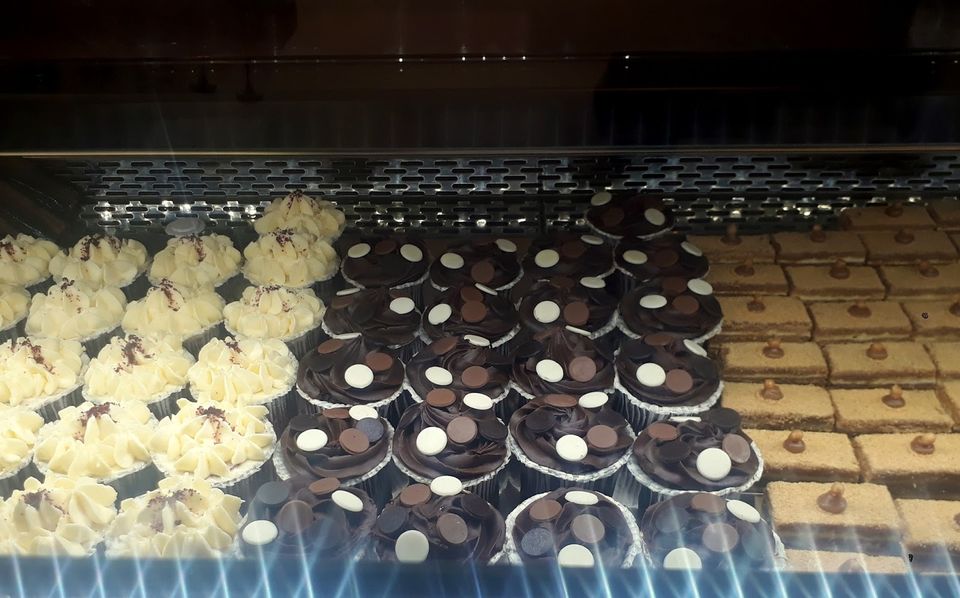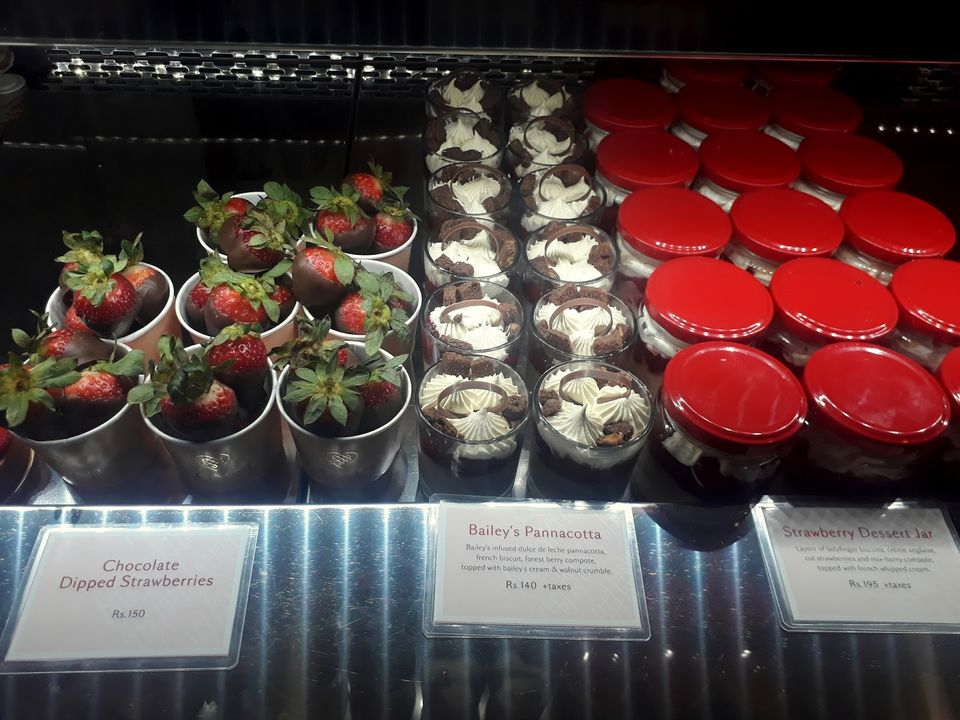 The desserts at Conçu are a lovechild of the owner Sahil Taneja and his wife Swati Upadhyay and keep changing regularly . We tried the yummy Strawberry Tart, Forest Berry Cheesecake, Red Velvet Cupcake, Classic Opera, Chocolate Eclair, some chocolate pastry I can't remember the name of, and the best Tiramisu I've ever put in my mouth. There are also savouries on offer, although very limited in choice. Each piece of heavenly goodness at Conçu costs somewhere between INR 80-250 (I don't remember the exact price range, but this is a good enough estimate).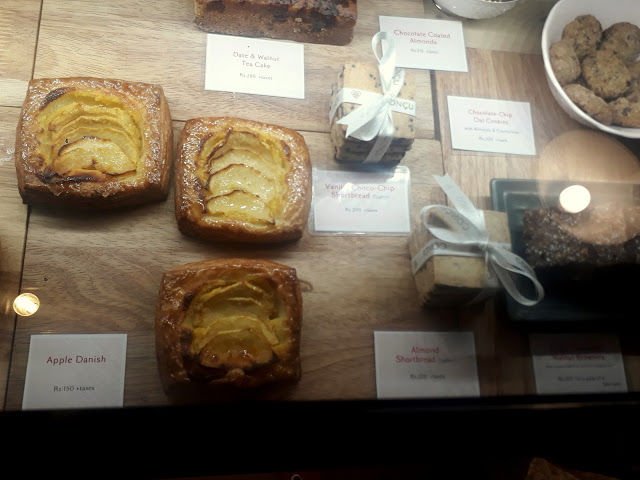 As the dessert pile on our tray kept receding, we began getting more and more languid. It felt like we had all died and ascended to heaven. It took us some ten minutes to gather our wits again and think about our next course of action, which by some gory twist of fate turned out to be about more food - if you count coffee and hot chocolate as 'food'.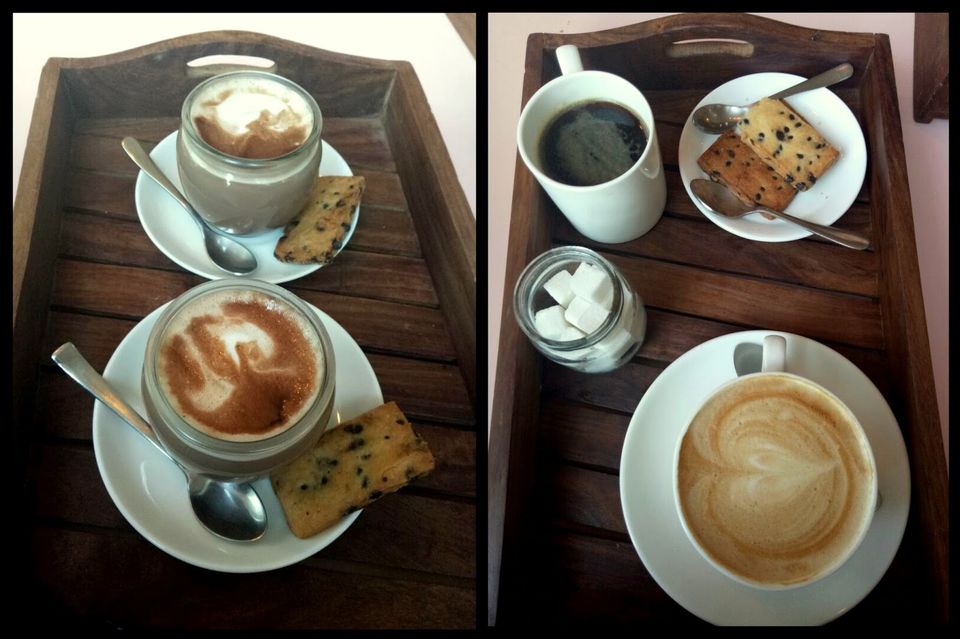 While the various kinds of coffee we ordered were all great and the shortbread served with them oh-so-gooood, the hot chocolate was somewhat of a let down. It was exceedingly thin and sweet, so much that we were trying to make one another finish it by the end. But certainly a small price to pay for experiencing the best bakery in Hyderabad.
Back from Hyderabad, when I decided to write about my experience of Conçu, I Googled the bakery only to find it is indeed the highest-rated bakery in Hyderabad! With a rating of 4.9 on Zomato and 4.7 on Dineout, Conçu speaks for itself on the internet. So now you definitely know where to go for the best desserts in Hyderabad. Karachi Bakery, with several decades of excellence and outlets across the city (and now India), is a close second on the list of 'sweet' experiences to have in Hyderabad. Yet another Hyderabad bakery I had heard of and wanted to check out was Labonel, though I had to save it for another time. But there's a lot more to do and see in the city of biryani and pearls. Perhaps I'll write more about my adventures in Hyderabad sometime. :D