For most Mumbaikars, Goa is the most favoured getaway on a weekend. While I cannot argue that there's anything else like a trip to Goa, but Maharashtra has a 840km long coastline stretching along the Arabian Sea, which deserves some attention as well – Guhagar Beach!
A great place away from the crowds and commercialisation of Mumbai is Guhagar, a city known for its virgin beach, betel nuts, coconuts, coir items, Hapus Alphonso mangoes and the quintessential Konkani cuisine.
Guhagar briefly appeared on the tourist radar two decades ago when the controversial Enron power plant being constructed here, discourteously made it part of the headlines.
Much has been written about the sheer diversity of Maharashtra, but few ever really venture far enough to understand the full extent of it. And Guhagar, the hidden gem in Ratnagiri, has remained serene and untouched by commercialisation.
So yes, there are definitely no five-star suites or five-course meals to be found here. But, what you can expect are stunning beaches, colourful houses and helpful locals. Still need more reasons to visit? Then here are some to tell you why Guhagar is a true seascape.
Guhagar Beach, Maharashtra
• To experience Guhagar beach – clean and free from hordes of tourists
Guhagar beach is an impeccably clean beach surrounded by coconut and betel plantations, which give way to an expanse of white sand that is bare, and merges into the blue horizon like a dream.
Other coastal towns near Guhagar Beach:
1. Budhal Beach – 20km away from Guhagar
2. Borya Bunder and Karul – 22km away from Guhagar
3. Palshet Beach – 12.50km away from Guhagar
• To get a taste of lip-smacking Konkani cuisine
Let Guhagar initiate you into Konkani cuisine. You can find the best fusion of Brahmani vegetarian food and non-vegetarian meals here. Have signature dishes such as masala pomfret, Malvan chicken curry and fried prawns with a plate full of rice or stacks of chapati.
Two personal recommendations would be Hotel Suruchi (near Guhagar market), and Annapurna (meal for two ₹450) for fresh seafood fans, which is just ahead of the rickshaw stand.
But if you want to stick to comfort food, then you will be able to find local interpretations of Punjabi and Chinese cuisine in most restaurants.
• For a chance to explore the Anjanvel Lighthouse
At a distance of 14km from Guhagar Beach, the Anjanvel Lighthouse, on top of a steep hillock, offers a stunning view of the sea and is a nice spot to spend a few hours, especially in the evening. Outside the lighthouse, there is a small temple, Tolekeshwar Temple, dedicated to Lord Shiva, which is also worth a visit.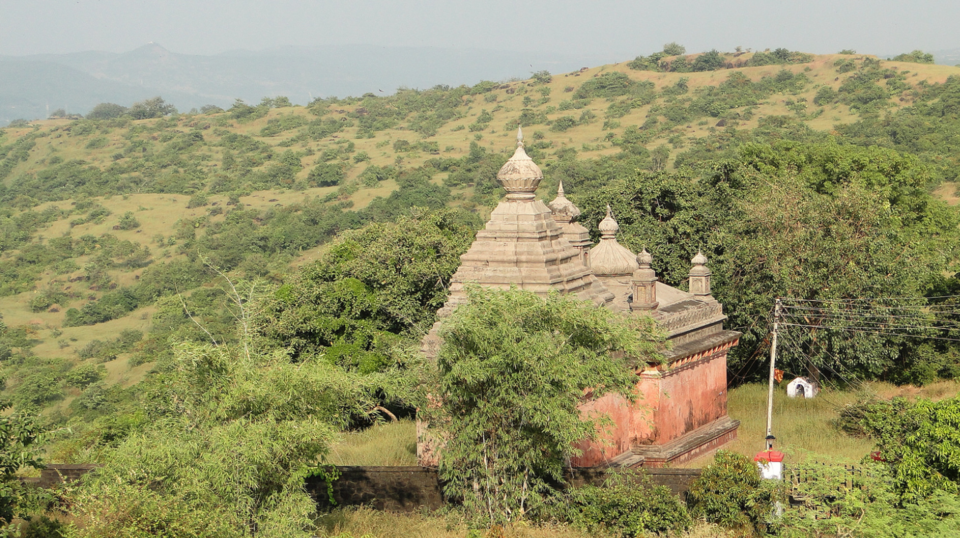 • To enjoy the drive to Hedvi – a black sand cove between the two white sand beaches of Guhagar and Ganpatipule.
A little stretch of beach hidden beyond small roads, is in the town of Hedvi (15km south of Guhagar). Along the way to Hedvi, consider stopping at Velneshwar, another white-sand beach in the region with a colourful blue-pink temple.
• To discover spirituality or let it find you in Guhagar
With many outstanding temples, such as Vyadeshwar, Tolekeshwar, Udaleshwar, Velneshwar and Balkeshwar, Guhagar is a treat for temple lovers.
Don't forget to visit the Durga Vyadeshwari Devi temple (considered as the main deity for many families in the Konkan region), a very scared temple in Guhagar.
Quick guide to Guhagar
Where:
Guhagar is a coastal village in Maharashtra's Ratnagiri district. It is approximately 290km south of Mumbai.
How to reach
By Air: The closest airport to Guhagar is in Pune, around 280km away.
By Train: Chiplun is the closest railhead, and there are several overnight trains available from Mumbai.
By Road: Guhagar is 290 km or 5 hours south of Mumbai along NH17. The roads are very well-maintained and the stunning backdrop of the Sayhadris make for a memorable drive.
Best time to visit
The best time to visit is November to February because the weather is cooler than other months, making it the ideal time to laze about on Guhagar Beach. Those seeking solitude will enjoy a visit during the monsoon months as well.
Have you visited Guhagar Beach? Then help travellers by leaving a review of it here.