Talk to any Mumbaikar about Matheran and Khandala and they will have oodles to tell you about these wonderful hill stations near Mumbai. But, ask them about Igatpuri and you might find few confused faces, few happy faces, and yet still, few "Kidhar hai" faces. If you've come to this page, I am sure you are someone looking for a quiet weekend away from the buzzing circles of Mumbai or you just need to have some cool hill station adventure not far away from home. Igatpuri, unlike other hill stations which are popular and populous as well, gives you a tour of Maharashtra like you have never seen before.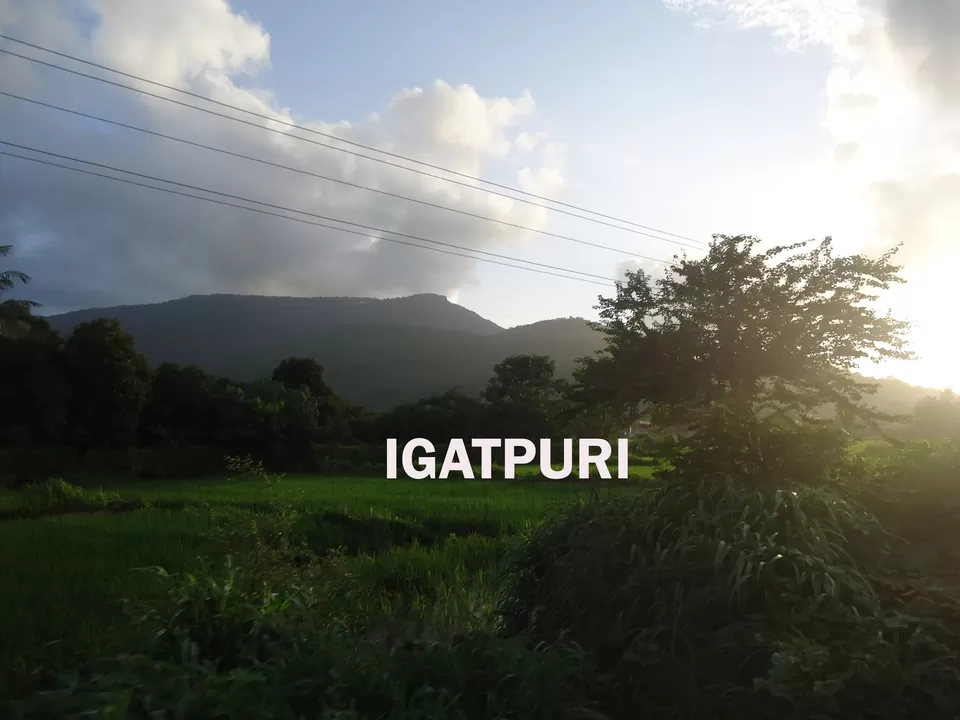 I have had the pleasure of roaming the little town of Igatpuri twice till date and each experience has had me captured. For those who frequent the many adventurous cities and towns of Maharashtra will surely tell you of how the land comes alive during the monsoons we experience. With a thick coat of lush greenery and fresh smell of mud, Maharashtra blooms from June till September, and there's no stopping it. My first rendezvous with Igatpuri was a pleasant experience as I went over to this exquisite piece of land. And, my second experience was elevated to exuberance. Enough said about this place, if you see it, you will believe.
How Do You Get There?
If you are traveling from Mumbai and have your private or commercial vehicle, you must carry on the Nashik highway till you find the detour to Igatpuri on the way. It will take you a close to 2 and half hours to reach the main municipal town.
If you wish to be more adventurous and need to take in all the picturesque scenes from the railway lines, you can hop onto the Central Railway from Mumbai and take the Howrah Mail or Devagiri Express from Dadar, Thane, or Kalyan Junction stations. Make sure to book confirmed seats if you wish to take a seat during the 3 hours of local railway journey.
Once you get off the Igatpuri station, you must be prepared for a whole new roller-coaster ride. The auto rickshaw, which don't run on meter, can take you to specific places around the town. We will have a look at the nature-bound attraction in a while. S.T. buses ply from near the station and can also take you to intended local locations.
Where Do You Stay?
My suggestions depend on my own stay and the reviews I have received from friends prior to my weekend trips. I have categorized them in this way.
Budget – I am mainly a budget-stay kind of person and these are a couple of hotels I have been to. If you are looking for a decent budget stay, I recommend you look to the following hotels:
• Hotel Ashwin – Located on the Old Agra road, Hotel Ashwin is a great budget stay and decent for a large group who want to have a cost-effective stay.
• Hotel Comfort Inn – another reasonable stay near the Old Agra highway, is an even more cost-effective hotel. I would recommend a stay here if you are on a day-long trek and don't want to hurry back to Mumbai the same day.
Resort – Igatpuri has a great string of resorts that can spark off a good weekend for you and your family. At great distance from each attraction, you can have a blissful start with a good outing. Here are a couple of them you need to consider:
• JenJon Lake Vaitarna Resort – ATV fans, listen up! This resort is a dream come true for you. This resort, overlooking the Vaitarna lake is a favorite for couples and families. Requesting your attention here.
• Rainforest Resort – This resort is also a fun place to be at or so I have been told and can give you a beautiful view of the Western Ghats at a distance. It is closed to the Tringalwadi fort and village. Have a look through before making bookings.
Top 5 Places You Need to Visit in Igatpuri
Igatpuri is complete with natural beauty that is pretty much untouched by humankind. The villages are swarming with farmers and cattle-herders, who know better about the region's beautiful and breath-taking terrains. But, including these naturally carved adventure portals, you will see a great deal of historic trends as well. Amid the misty atmosphere during the monsoons, Igatpuri can surely give you the chills once you set foot onto the turf of these 5 must-see places. In countdown mode, here we go!
#5 – Vaitarna Lake

I covered this lake during my first trip, and from the entrance pedestal, I was awestruck at the magnanimous lake sitting in the lap of mountain ranges. The Vaitarna Lake is a fresh water lake, supplying a great deal of water to nearby villages and Mumbai too. The scene is serene and quite calming if you want a good, long break from the hush and push of fast, city life. The greenery around heightens the sense and gives you a whiff of sweet nothings to cherish. The Lake also houses a gigantic dam, which you can reach through a slight climb. A vast must-see!
#4 – Tringalwadi Fort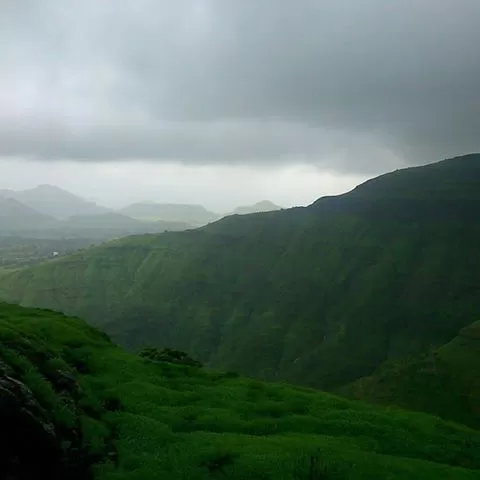 I have fond memories of the Tringalwadi fort as it was here that I partook in my first trek. The climb is challenging during the monsoons and novice trekkers are advised to go along with a group. The fort, in its state of ruins, still demands awe and the respect it deserves. The fort lies just behind a mandir devoted to Bhavani mata and at the foothills of the mountain the fort stand on, you will find 10th century caves, marveled with greatly chiseled sculptures of Rishabhanatha. At the highest point of the fort mountain, which has an elevation of 3,000 ft., you are sure to find yourself mesmerized at the scene of watching the Tringalwadi lake lying below along with the Tringalwadi village at its banks.
#3 – Ghatandevi Temple
Another iconic spot in Igatpuri, when you enter the area housing this beautiful temple, you can feel the spirituality oozing out of this cultural epicenter. Though it's a famous place to visit, the narrow road leading to the temple won't let out the enormity of the place. You will find the mandir just after crossing the Camel Valley, at the outskirts of Igatpuri. Situated near the Tringalwadi fort, you can enjoy a quiet place of solitude after your trek here. The temple houses Ghatandevi, or the goddess of the ghats, who watches over these Sahyadri mountain ranges around the region. She is a much-celebrated goddess and sculpted in polished white marble. Villagers and local folks pay their respects in the most profound manner to her and invoke her blessings on the natural beauty gifted to Igatpuri.
#2 – Bhatsa River Valley
My visit to this place was a bumpy ride, but the end-result was worth the pain. Bhatsa River Valley shines best during the monsoon and the lush green landscape can leave you to be a poet and philosopher in just a couple of minutes. While it isn't truly a tourist, vanity area, it is ideal for those who take notes while nature speaks. The valley runs deep and is home to small waterfalls as well, while it helps the Bhatsa river accelerate to unbelievable speeds below. The river valley is surely a place to find solace and to inhale the freshness Igatpuri offers; a true gem to behold.
#1 – The Five Waterfalls
Commonly referred to as the Igatpuri Waterfalls, this place is situated near the Ghatandevi temple and is vastly known to take away people's breath during the monsoon season. It is a collection of 5 roaring waterfalls that fall majestically, unleashing a mystical, yet, wonderfully exuberant atmosphere for those who take the ride to this collection of waterfalls. Very close to the railway line, the Igatpuri waterfalls hold promise of a perfect finish to your Igatpuri weekend escapades.
Igatpuri isn't a place far from home and it's quite inviting for those wanting to let go of all their weekday woes and trepidation. A 2.5-hour drive to calm, green areas in the heart of Maharashtra and you are sorted. So, pack your bags, head for the road and experience calm not far away from home.
Frequent searches leading to this page:-
maharashtra tourism resorts, maharashtra forest tourism, travel destinations in maharashtra, tourist places in maharashtra near mumbai, tourist places in south maharashtra