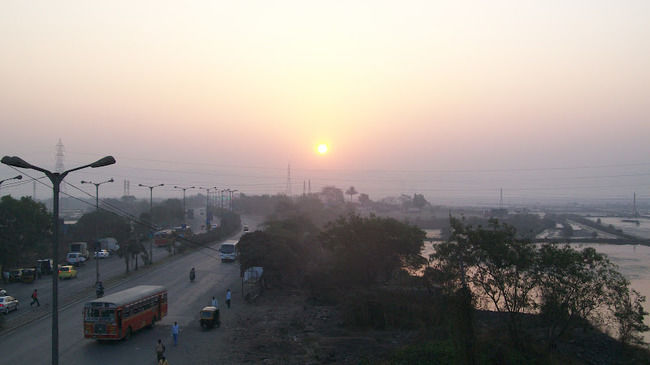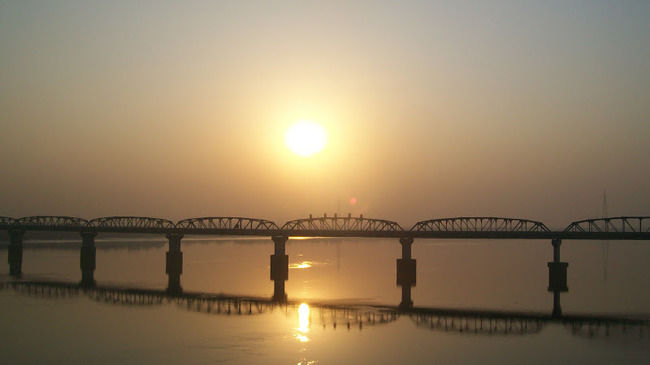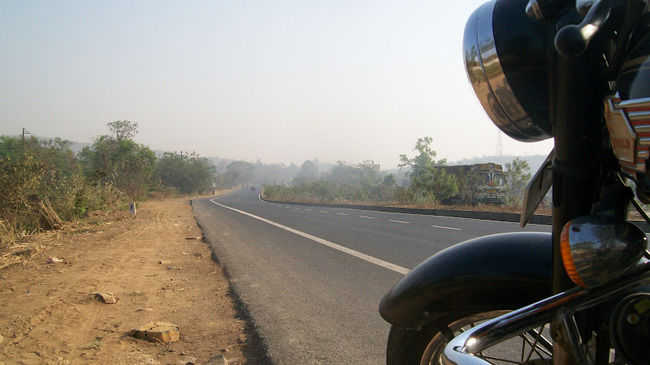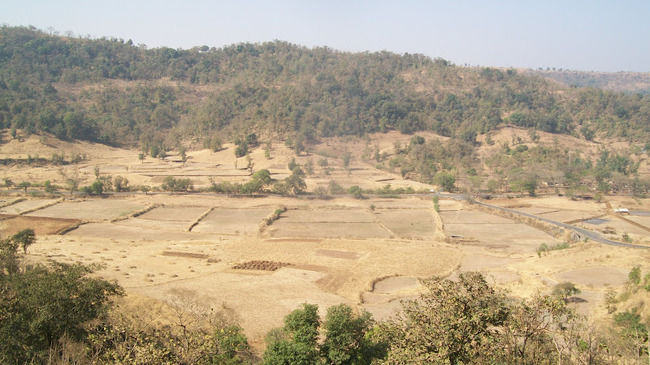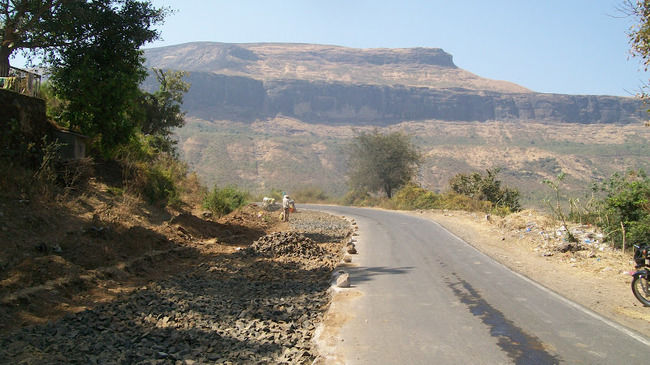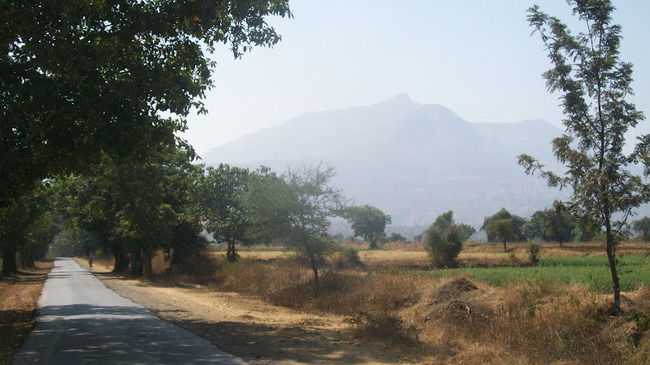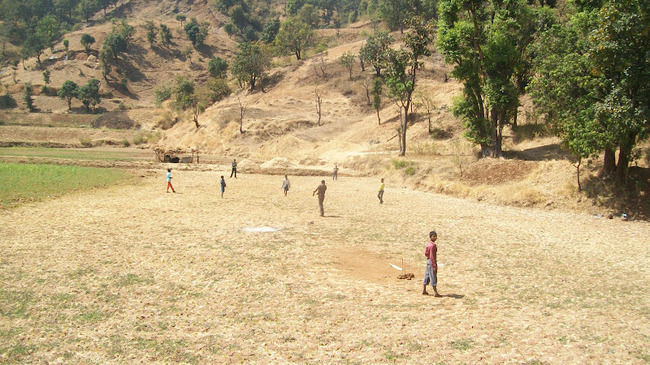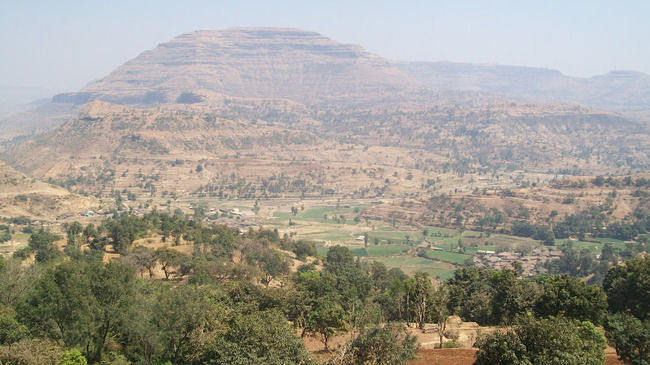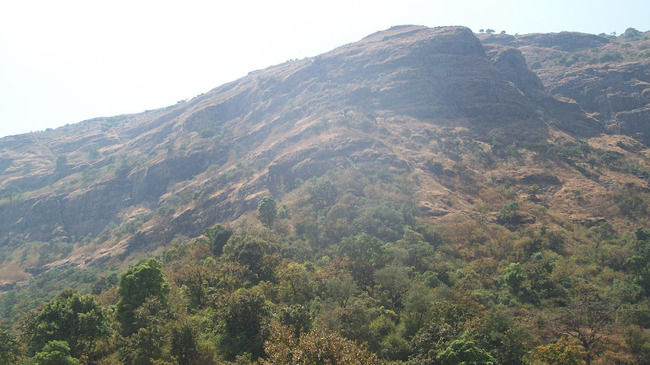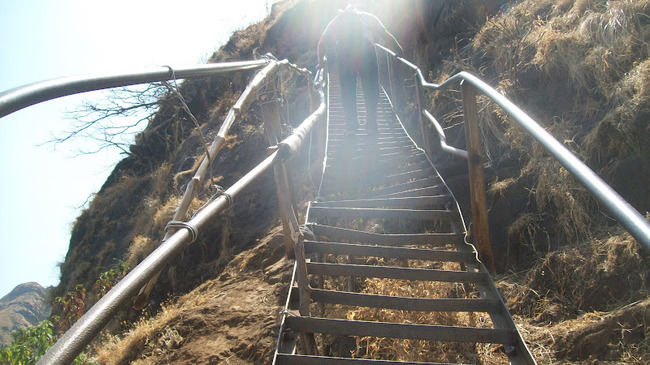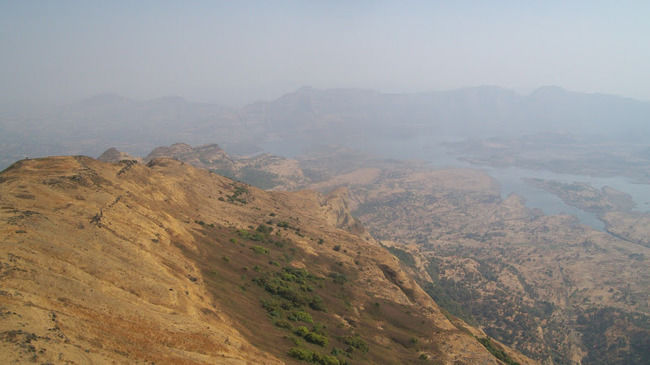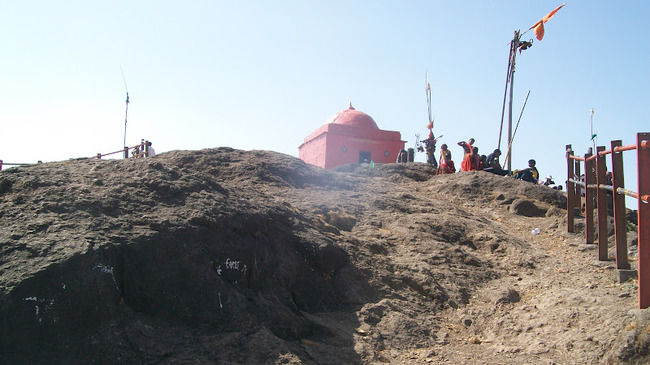 Just like in our bhimashankar trip, I could see the sunrise at my right side. It's indeed quite a view, regardless of how many times you see. Tushar and Avinash zoomed away, the moment we entered the highway, and I stopped at the mulund fly over to take a photo of the sunrise. Later on, I met them at the Mulund check post, they were waiting for me there. I didnt stop, and seeing me, they also sped up. From there, up to the Bhiwandi bypass road, we covered in one stretch. It's not much of a distance also, but the rising sun on my right side was getting more and more beautiful and brighter. When I crossed the IRB toll post, and reached the bridge, I could not control any longer. I stopped there to take a snap, and it indeed came as a very beautiful one. I had to cross the road to get a good shot. When I was coming back, I saw that Avinash and Tushar were chatting near the bikes, and Avinash was combing his hair. I wondered, he is going to put the helmet back in less than a minute, why is he doing this now??? But throughout the trip, my question remained unanswered, and Avinash kept doing this every time we stopped the bike.
After the photo session, we started moving again. I was feeling hungry, and so do other two. I suggested that we should have breakfast from a hotel named 'Dhara's zest', where we had during our Trimbakeshwar trip. It's the only good one I could remember in the nearly by area for nearly next 30 kms. Tushar and Avinash immediately accepted, since they have not been there before.
On the way, at Anjur phata, and at Temghar, where the road splits into Bhiwandi and Kalyan, both Tushar and Avinash were a bit doubtful about which way to be taken. But I knew the way very well up to Bhandardara, so, we did not have to ask anyone. After some 15 km from Temghar, came our 'Dhara's zest'. We occupied a seat nearer to the window, and asked for menu. Avinash was the one who first took the menu, and then with a disgusting smile he handed it over to me and Tushar. We looked at it, only to find there is no item which costs less than Rs. 40. I was wondering, three months back, the rate was nearly 10 - 15 rupees less, is this the new year bonanza??? Anyway, we decided to have our breakfast from there, and I ordered for poha, and Tushar and Avinash went for upma.
Forgot to tell you one more thing, this Avinash boy, came for the trip with just 20 rupees with him. I was wondering what does he think of himself??!! Luckily he didn't get lost anywhere, good for him. After having breakfast, I suggested that we should buy some water bottles, because we got a really hectic trek to be done. But Tushar and Avinash were already having two bottles of water, with each of them, so, we didn't have to pay for that.
After having breakfast, we started moving without delay. Avinash and Tushar went a little ahead of me, and I used to get very much behind because I stopped at one or two locations for taking photos. Then I start moving after photography, and in around four to five minutes, I used to come across Avinash, who stopped his bike for taking a 'urinal' break. Then after passing urine, he would take his comb from his bag, look at the rear view mirror, and the start adjusting his hair, as if, he is there for some photo shoot. Anyway, in the entire journey, Avinash had 'a lot of urine' to pass, which indeed left me and Tushar confused!
By around 10, we reached the beginning of Kasara ghats. Both of them were already waiting for me at a dhabba, and seems like we all three were sharing the common feeling, losing the sensitivity of one's ass. And indeed it was getting quite hot, which spiced up the feeling. We had a tea, and I and Avinash had some pakoda from there. Tushar was reluctant to have any oily food, since he had some throat infection.
To begin a conversation, I asked them, if they had been to any ghats before. And both of their reply was 'no'. And then Avinash said, he had been to Mahabaleshwar before, via Pune, and claimed that he did it in the night. It was hard for me to believe, but anyway, I suggested them to ride safe, especially Tushar, since it's his first experience. Then came Avinash's suggestion that we should have done this trip in night, and started our trek in the morning. Then I replied, I could have done it alone, but can't depend on you two to do this entire biking in night. Avinash wanted to counter it, but Tushar also supported me saying that he is too afraid to climb the ghats in night, and Avinash had no other option but to be quiet.
After the tea, we started climbing the ghats. Kasara is just wonderful as always, with deep twists and excelent road. I have been through this ghat for some 5-6 times, all at different seasons. The only wish I had, and I still have is, if this ghat has been a bit more lengthier, I would have been able to enjoy biking to a greater extent. Right now, if you manage to go at a speed of 50 kmph, withought stopping, the ghat will get over in nearly 5-6 mins.
At one location, where you can cross the railway tracks, I stopped, and since the other two were trailing, they too stopped. We managed to take a group photo from there, and later on, they zoomed away. I was still slow, stopped again at some one or two locations, and took some more photos. They were already waiting for me at the exit of the ghat, waiting for me to guide them through proper way. After some 20 km from the ghat's exit, came ghoti, and we took our right turn to Ghoti - Nagpur state highway, the same old route which we followed while we were going to Aurangabad. During our course, one Bulletteer overtook me, and he had all his baggage tied to his bike with rope, wearing a very nice biking jacket, and gloves, I thought he is the real tripper!
After crossing some 4 km through the same way, we took our right turn to Bhandardara. Till now, the route was by heart for me, but now, I had to ask. I stopped immediately after the turn, and asked route to a native. He said Kalsubai is nearly 20 km from there.
Time was almost 12.00, and my plan was to start the trek by 12.30. After some 10 km, Avinash stopped again, for a 'urinal' break. I wondered, from where does this fellow get so much of urine to pass?! During that time also, the renovation of roads were going on, and some half portion of the road was being renovated, which was started during my bhandardara trip. I told them that, this was the road by which we travelled during our bhandardara trip, that too at night 08.00 hrs. Then our 'baccha' Avinash interfered, and said, it's no big deal, I have climbed the entire mahabaleshwar ghat in night'. I didn't say anything against him, and just replied, 'good for you'.
When we started moving again, we started to cover the ghat to bhandardara. A small one, but it's quite dangerous for a beginner. Avinash was leading, and at one hair pin, one Innova came against him. Poor fellow, seems like he was quite terrified, and had almost lost the control, and the bike went outside road. Luckily, he didn't fall, and after the Innova crosses, he started again. I was right behind him, and could see the entire thing, and seeing his reaction, I thought, has he really covered that mahabaleshar thing or is it something else???
We went for nearly 22 kms, and since I stopped at two locations again to take photos, I was lagging behind. I was moving steadily, and then I found both of them are coming back, towards me. Immediately I knew that we took the wrong way, or went much farther from where we should have stopped. I took a u turn, and followed them. The village road to Kalsubai was nearly 4 km behind us, and we missed it, actually, anyone would have missed it, not just us, because there was no noticeable road, but just a small tarred passage. The only thing which would make it notice is that, the big entrance board kept at its beginning, but that was towards only one side, so when we were moving towards bhandardara, we missed it.
We took the village road, and were moving at our normal speed, but it was indeed quite high for that small way. I was in the middle with Avinash leading. Suddenly from nowhere, a small kid came in front of his bike, he very much applied brake, but the bike didn't stop immediately due to its momentum, and he turned left so as to avoid the kid. The kid then again, came to his left, right in front of his bike. He turned right, and the kid to right. At this, the bikes weight came onto his right hand, which has already gone through a 'break' history once, nearly 5 months ago. He had no other option but to let it go, by that time, I reached near him, parked my bike, and went to him, and asked him to drop his bike slowly. He dropped it, without causing any damage to the bike. I helped him to lift it again, and we checked if the kid is alright. All I could find was, some of the native had scolded him very badly, and he went to his home crying very heavily. We were lucky, that both the kid and the bike, and Avinash were safe.
Our destination was hardly a km from the accident spot. We placed our bikes at a dhabba, which claimed to be the parking lot. We ordered for food also from there, so that they can keep it ready when we come down.
The beginning spot of Kalsubai was a plain village. We had to cross the village to start our trekking. Since two of our bottles were empty by that time, we got the same filled from a house in the village itself, on our way. The dhabba fellow offered us the aid of a guide at a cost of Rs. 200, but I turned it down. We had plenty of time and it was only 12.35. We could find the way by ourselves.
Forgot to mention one thing here, Avinash wanted to have a pair of shoes very badly for trekking. A week before our trip, we had been to some shops, trying to find some shoes for him. But he is not ready to pay for anything and wanted a shoe at a range of Rs.400 - 500. I told him that he won't be getting any, but only thing he did was to waste my time also. Now that he couldn't find one, I had an old spare shoe, which I bought in college. I told him he could use it, if he wanted to. The day before the trek, he came to my home, and he liked my shoe and took it. So, when we started our journey, I and Tushar were expecting him to wear that shoe, but he came out with sandals. I asked him why, and he replied he would wear it when we do the actual trekking.
So, now the actual trekking started, we asked him, when he is going to wear the shoes. He said, after we climb a bit more height. Then we started throwing jokes at him, and the best was, Tushar said, after some time, he will wear the shoes on his hands, so as to get more grip!
When we started, our speed was indeed high. We could cover a lot of distance in a short time, and it was not so steep also. But as we proceeded, the steepness was increasing and we were getting tired. Mathematically speaking, if you draw a graph of energy against time, then the curve would be an asymptote to the time axis. Avinash was taking continuous breaks, and Tushar and I had to wait for him many times. But still, the trek was much easier compared to Ratangad, or at least that what I still feel.
After every 15-20 mins of climbing, we used to take a break of 5 mins, or put it in other words, we had to take a break of 5 mins. In between, there were people who were selling lemon juices, so as to quench your thirst, and to charge you up. Throughout the trek, Avinash was our best time pass, and me and Tushar stripped him to the maximum, that at one point, he straight up ran away from us. For the next one hour, he didn't talk to us, and was moving very lonely. He was not walking with us but either behind or in the front. But of course, being emotional is not something which was going to work on us, and I wondered, even after having a life at engineering college for four year, his ego hasn't come down....what a pity.....we both were and are damn sure he is going to come across much worse situation in BPCL, if he continues like this.
After an hour and half's trekking, we came to an open ground, which could be considered as a halfway to the top. Tushar was almost done and sat on the ground, and said he can move no more. I too was in the same condition, but the beauty was that, Avinash just stopped for a minute or not, and afterwards, went to a corner away from us, and then sat there. What a boy, we thought. After some 15 minutes, we started moving again. And after some five minutes, we came across a boy who was selling this lemon water. I wanted to have it, and when I asked Avinash, he said he also needs one. So, we ordered for two. The boy prepared it and gave us, not the lemon water, but just sugar water. Also, he hasn't cleaned the glass properly, so there were traces of leaves, and small sticks in the water. I filtered them, and drank it, and asked the boy to be more proper next time, while Avinash, scolded the boy, seems like he vented out his entire anger against us onto that boy, and threw the water away, and again scolded the boy. Woah! That was too much, he could have done it to us, but that small boy, and his face became so white, when I looked again.
Well, I wanted to console that boy, but that would not have helped him much. We walked again, and this time, we have to climb even a steeper way. The way was becoming almost vertical, and our trekking was getting the shape of rock climbing. Many times, we had to use both of hands also for the same purpose, and many times, the way was so slippery that finding balance was difficult for us. Anyway, after an hour long trekking again, we came to such a position that we could see the peak.
We again took some rest there, and there was a well in that area. We washed our face and hands, and needless to say, the water was so cool and refreshing, it indeed boosts our energy to many folds. We also filled a bottle with that water, and it was almost quite clear. I wanted to upload that photo, but the pose gave by my friend Avinash was so embarrassing that it was like he stepped into a pit full of shit.
After half an hour trekking more, we reached the top...top of Maharashtra....but we felt like top of the world...the view from there was splendid...we could see entire bhandardara, arthur lake, and the dam, and a lot more other places, which we didn't know the name. I hope I must have seen ratangad also from there, but I couldn't identify it. There is a small mandir of Goddess Kalsubai on the hill top. Also, there was a chain game in there. The chain, is metallic, and is something like 30 meter long. You throw it downward, with one end tied on to the hill top. Then you have to pull it back, in one stretch. Not so tough, since me and Avinash could do it very easily. Also, at the hill top, Avinash met his old 'tiger', the doggie which he left at raigad fort. (The dog was indeed different, but Avinash knows only one name for every dog and bitch he sees). I told him not to entertain the dog so much, because he something goes wrong, we were not even in a position to run. We will have to jump, but to where, and who will dare to?
Fortunately, nothing went wrong, and the dog was there with us till we reached the bottom. After spending some half an hour on the top, by 15.45, we started our way back to the bottom. Now we are already tired, we felt like every step we are taking, is a big hit to the head. Our legs were shaking and have lost the capacity to absorb shocks. We were really feeling that we were taking more time to get down, than to climb up. Once I fell, my feet slipped at the slop, and twice Avinash fell. Tushar was still standing tall, and was the toughest among us.
When we reached down, we moved to the parking lot, and asked the dhabbawala for the food which we ordered. He said that non-veg will take some time, since it has not been prepared yet. So, we all three had veg lunch only, at 17.30 hrs. The food was not so good, but not so bad, but it was highly rich in chillies, and Tushar was burning. He drank nearly two glasses of water. Later on we decided to have a slice from there, but they had some local brand. Upon drinking it, it tasted like the have crushed the mango bite candy and dissolved it in water to make a mango drink...!!!Well, the overall food and parking cost was Rs.200, quite high for the kind of food we had, I would say. Since it was already about to be six, and we had nearly 160 km to cover, we didn't delay ourselves much.
On the way from top itself, Avinash was saying, he feels a volcano is getting developed in his stomach, and need to attend the call. We both told him to get the job done in the open, and we still had nearly two bottle of water to spare. But he was not ready. He wanted a proper toilet. So, when we started our bikes, he said, wherever we stop to fill petrol, he would go for toilet. Because in highways, petrol pumps indeed have such facilities. And mine was about to get empty, but I was waiting it to become in reserve so that I can calculate the mileage.
When we started, I was trailing both of them, as it was getting dark. And in no time, Avinash very much zoomed away. As I already said, Tushar didn't want to cross the ghats in night, but when we reached Kasara, it was already night and I was right behind him. The way he was overtaking other vehicles was indeed very dangerous, he was not overtaking through right side, but through left side. And when he was trying to do it on right side, he was getting very slow to turn, that the vehicles behind him was creating a confusion for him. I could the this entire play right in front of me, so, I had no other option but to keep trailing him till the ghat ends. It seemed like he was very much afraid to travel in ghat, because his speed was in 30s, and after some two three minutes, we met Avinash also, whose speed was even less. I guess they were coming in 3rd gear, for so slow was their speed. Anyway, the point is, they made it safely, even if it's their skill or for the skill of other vehicle drivers.
After crossing the ghat, I found a good HP petrol pump, and stopped there, so that Avinash can release the pressure. When I went to the pump, he asked, 'why are you going there', and I said' for your job', and he was again asking, 'Don't you need to fill petrol?', and I said 'No, I am still in main'. He again asked, 'If you don't need to fill petrol, why have you stopped here?' And now I got angry, I asked him, 'Do you need to go to toilet, or not?' And he had to say 'Yes', because that was his inner condition. Even at this stage, he was shying to go to the petrol pump personnel and ask where the toilet is. I had to do it for him...what a boy! And after getting his job done, he said he had a great relief, of course, it happens to everyone, isn't it? But before we started from there, he also said, 'We did a very good job while coming down the ghat'. I didn't say anything, but just gave a very sarcastic smile.
Afterwards, within a km from there, my petrol tank got empty, and I had to put it in reserve. I calculated the mileage, and was happy to see that I got nearly 42 kmpl, the one which is claimed by company itself, I got it even after two years. I went on for another 60 more kilometer in reserve, and found another HP pump, and topped up my tank. Tushar and Avinash zoomed away again, seems like they have grown up in the entire 3 hour journey, and I reduced my speed further to 50 kmph, since I didn't have to keep up with anyone now.
We had a plan of having dinner at BTC, at Sanpada, one of my favourite, but later on, I thought, I would skip my food for something light. I reached home at around 22.00 hrs, and I guess Avinash and Tushar must have reached almost at the same time.
That was the end to the greatest trekking I ever had, but still, if someone ask me to rate which is tougher, I would say first is Ratangad, and second goes to Kalsubai, and Daualatabad fort for the third place, provided you do it in the month of April.
The more places I see, the more I want to see. It's always like that I guess, not just for me, but for everyone.
It's been a month, since we had our last trip, Bhimashankar. I was busy afterwards, and Murali was also busy. So we couldn't find an occasion together. It was on last Saturday, to be exact on 18-02-12, I was at the company canteen, having my lunch with Tushar. During our talk, I just casually asked him, 'What are you doing tomorrow?' He said, 'Nothing, I have not planned anything specific.' And then I asked, 'Why don't we have a trip to Kalsubai?' (Kalsubai or Mt. Kalsubai is the highest peak in Maharashtra, with a height of 1643 meters.)
Tushar agreed in the next second without even thinking, and said, its fine, and I was very much surprised! In fact, I myself didn't have the plan of going, I simply asked Tushar with a view that he may reject, but I just needed to satisfy myself. Now that, Tushar had agreed, I didn't want to back out.
We two are ready, and were more than enough for the trip to happen. But if the number increases for a trekking, so do the fun also. I messaged Murali, Avinash and Punit about the same. I wanted to inform Krunal, but he was put in some developmental job in Boiler house, so I knew very well that he cannot come, since he would have to attend office on the next day.
Punit was a bit hesitant first, because he wasn't so sure, if he could climb the mountain, but agreed upon compelling. Avinash was dangling here and there, and said, he is not feeling quite well, and will confirm on the next day morning. Murali immediately backed out, due to some family obligations. Also, his work schedule didn't allow him for the trip. But anyway, I thought we are three, and it's indeed a good company.
That day evening, I have been to my friend, Chetan's home, for a casual visit. Main purpose is to have some good dinner, and mostly once a week, you can see me at his home. The moment I told them about the plan, chetan and minal started bugging me that nothing is going to happen, people will back out, and etc etc. But I was confident. Later on, I and chetan went to R Mall, at mulund west in search of Caterpillar shoes. We couldn't find it, but I managed to buy a pair of trekking shoes of some other brand. Now it is time, I will be putting it into real testing.
While we were returning to Chetan's home, I got a call from Punit saying that he can't come due to some family program on tomorrow. Hmm, now it's only me and Tushar left, I guess, anyway, let's do the trip, that was my thought. I came back to my home at some 08.30 pm, and went to meet Avinash in the nearby building. I asked if he is alright, to join the trip. And his reply was quite demanding, or a kind of egotistic one. He said, 'Since its Kalsubai, I am coming without counting my fever, otherwise I wouldn't have.' I wanted to say, your presence or absence is least bothering me or Tushar, but 'bacchaa royega'. So, I left him to be in the elevated mood.
I told both Avinash and Tushar to be ready by 7 in the morning, and asked Tushar to come to govandi, since we had to take NH3 via Eastern express highway, then Avinash interfered, and said, 'No no no...it's already 160 Km away, and if we need to drive, we have to reach there before the sun gets high, we will leave at 6 am.' Me and Tushar agreed.
Next day morning, I got up at 05.20 hrs, messaged both of them that, 'I am in the toilet, don't bother calling me.' I finished my routines by 06.10, and found that I got a call from Avinash at 06.03 hrs. The moment I saw the call, I was sure that this boy has gotten up just now only, and is going to take another hour to apply perfume, comb his hair, apply cosmetics and powder so that his photo will look to his girlfriend. Anyway, Tushar reached govandi by 06.15 hrs, but he had to wait there for another 40 minutes, for Avinash to become ready. After all the kindergarten work, he got ready by 5 minutes before 7, and we left Govandi at exactly 07.00 hrs.