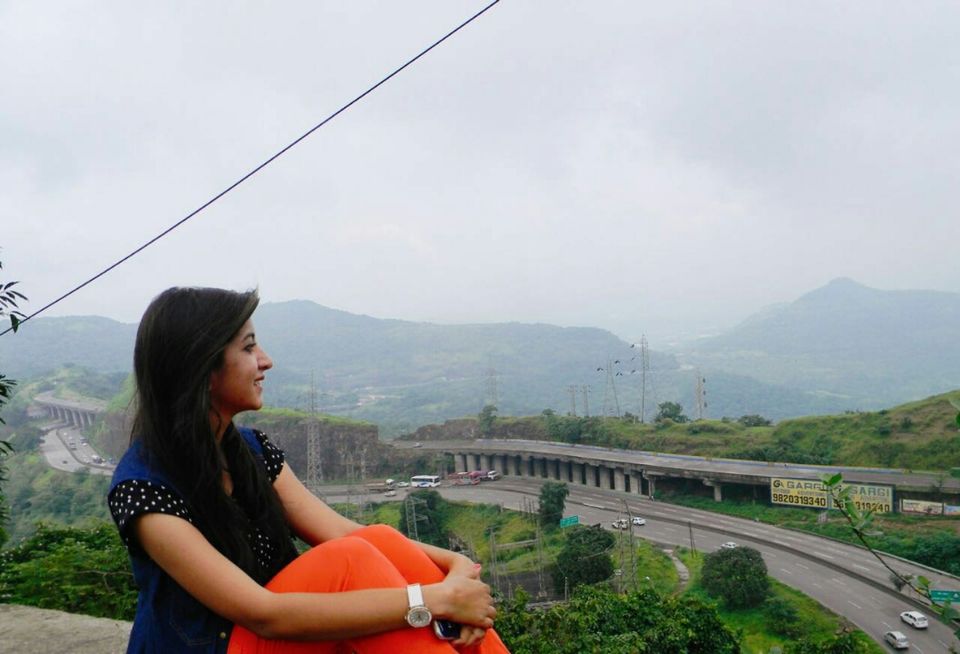 With a loud super irritating tone my alarm clock beckoned me, it was 4 am, I remember I was in Mumbai and had to wake up to get ready for Lonavala . I am not an early riser and especially not when I have slept around midnight in the previous night. But I woke up With all the excitement which is very usual in my case when the moment someone pronounce the word trek and a quick shower helped me to get into my senses. I packed my stuff and Fortunately taxi arrived at my hotel on time and I left for Lonavala. I reached Lonavla by 6.30, checked in and by the time I had breakfast it was 7. I decided to leave for ramjachi fort, but I was not aware about the fort so I decided to take help from the people at reception. After enquiry I took Tum Tum ( rickshaw ) to The point from where I had to ascend.
Idid a quick direction check with locals and started the climb. One of the advices from a local was not to follow cows and if you don't see too many cows that means you are on right track. But, "Jaisa har trek Mei hota h, koi Na koi Ek baar jarur khota hai"
After walking for a while I realised that I was on wrong track / lost. When you ask somebody about Rajmachi, many of people tell about the Rajmachi Point which is on the way to Pune Mumbai highway. It's basically valley view point on the way which gives spectacular views of waterfalls and greenery during Monsoon season. But wait, the place I will be talking here is not the Rajmachi point, but the Fort Rajmachi. This is bit of off road riding from Lonavala. The same about which I'm narrating my own experience of solo trekking.
As I got lost, I decided to backtrack to the point where I might have taken a wrong turn. Luckily i found a local on the way who guided me to the way to the village at the base of Rajmachi Fort. Climb was very steep and bit slippery. After few hours of rigorous workout I reached the village, Udhewadi. I was delighted to see a nimbu pani stall. I had generous dose of nimbu pain which helped me to revive my body fluids and also boost my spirit.
After walking for a while I was at the base of the fort.
Everything was lush green and super pretty in monsoon. Romance of the clouds with lush green mountain and thousand waterfalls around me reminded me what i miss in the modern concrete jungle and why it is super important to be with the nature to feel it at it's best. I decided to climb to the topOf the fort. After I reached there, I absorbed this breathtaking views of western ghats which amazed me. And standing there I realised "I Love not man the less, but nature more."The nature and surrounding of that location was so unique that, you'll just hear the bird singing, air whistling and nothing else. I was just wondering how about travelling at night on this road… woo.. I am sure it would be altogether different experience.
If you really want to experience you must visit Rajmachi fort once and then you will realize whatever I am talking is not exaggeration but the reality.
After spending relaxed time there we started climbing down and reached at the base. I had sweet corn from the stall(that's something you shouldn't miss if you go there)

All about it briefly, this Rajmachi fort is the strategically important fort during Shivaji Mahraj's time and played important role in keeping watch over Konkan region. This can be realized after reaching the top of the fort. In rainy season this region all the more beautiful with silvery water falls, streams and lust green forests and meadows.
Tips
•one must do trip.
• There's facility of food and stay at the base of the fort.
• Prefer going on feet than on vehicle.
HAPPY TRAVELLING! (In the BEAUTY of Wstern Ghats)