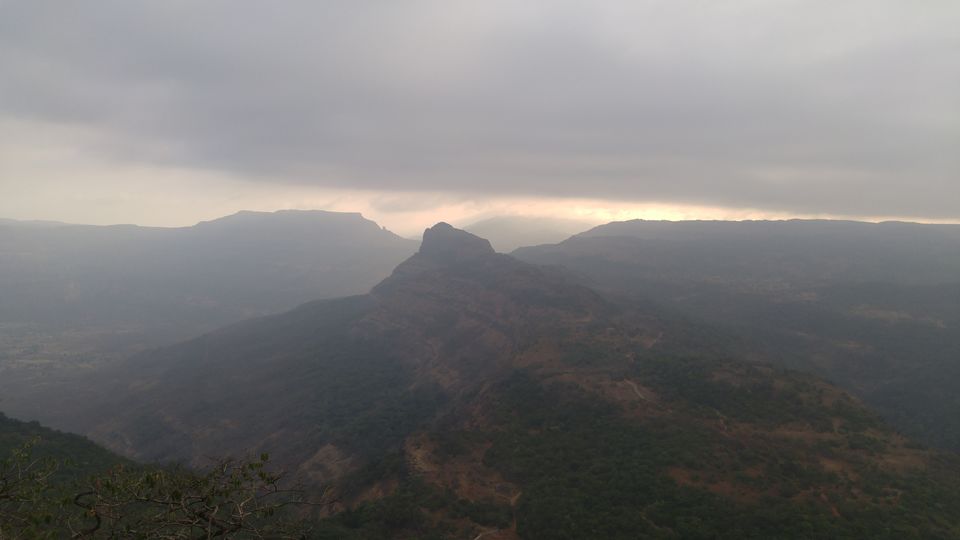 Mumbai to Rajmachi via Lonavala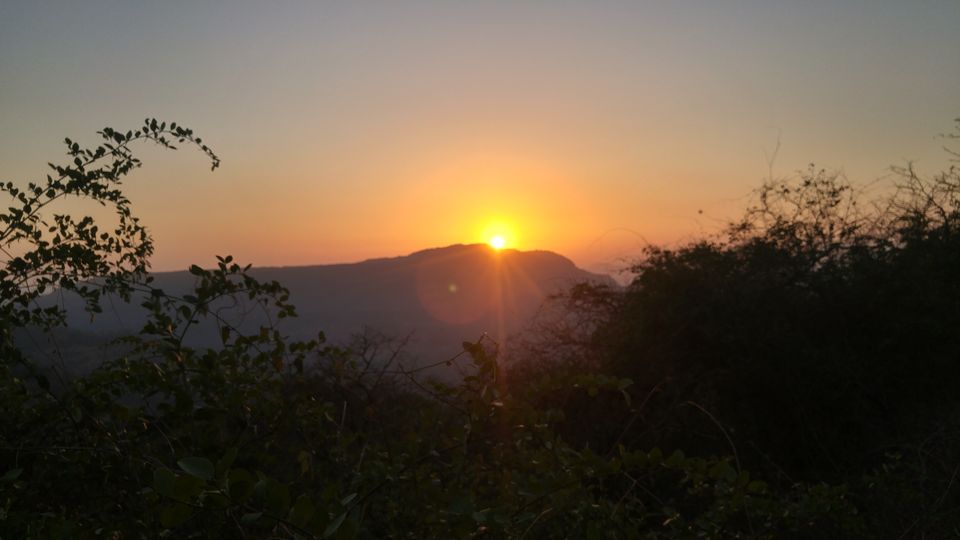 We started our trek as the sunset was just in front of us. Enthusiast since morning we actually didn't work a pinch in our respective offices as we had half day working and got to catch a 3.20 pm train from Dadar to Lonavala. Keeping work aside we were busy whatsapping each other on what to carry, should we do reservation(which we successfully did at the end moment- Rs. 130 pp), should we carry dinner and what not.
Finally we reached Lonavala by 5.40 pm and hired an auto till Della Adventures(costing Rs.150 per auto) and started our trek from there exactly at 06.15 pm. Endearing the sunset we were enjoying our trek as it was most awaited trek for my friend and mine would be some 5th or 6th time and hence I was the lead :)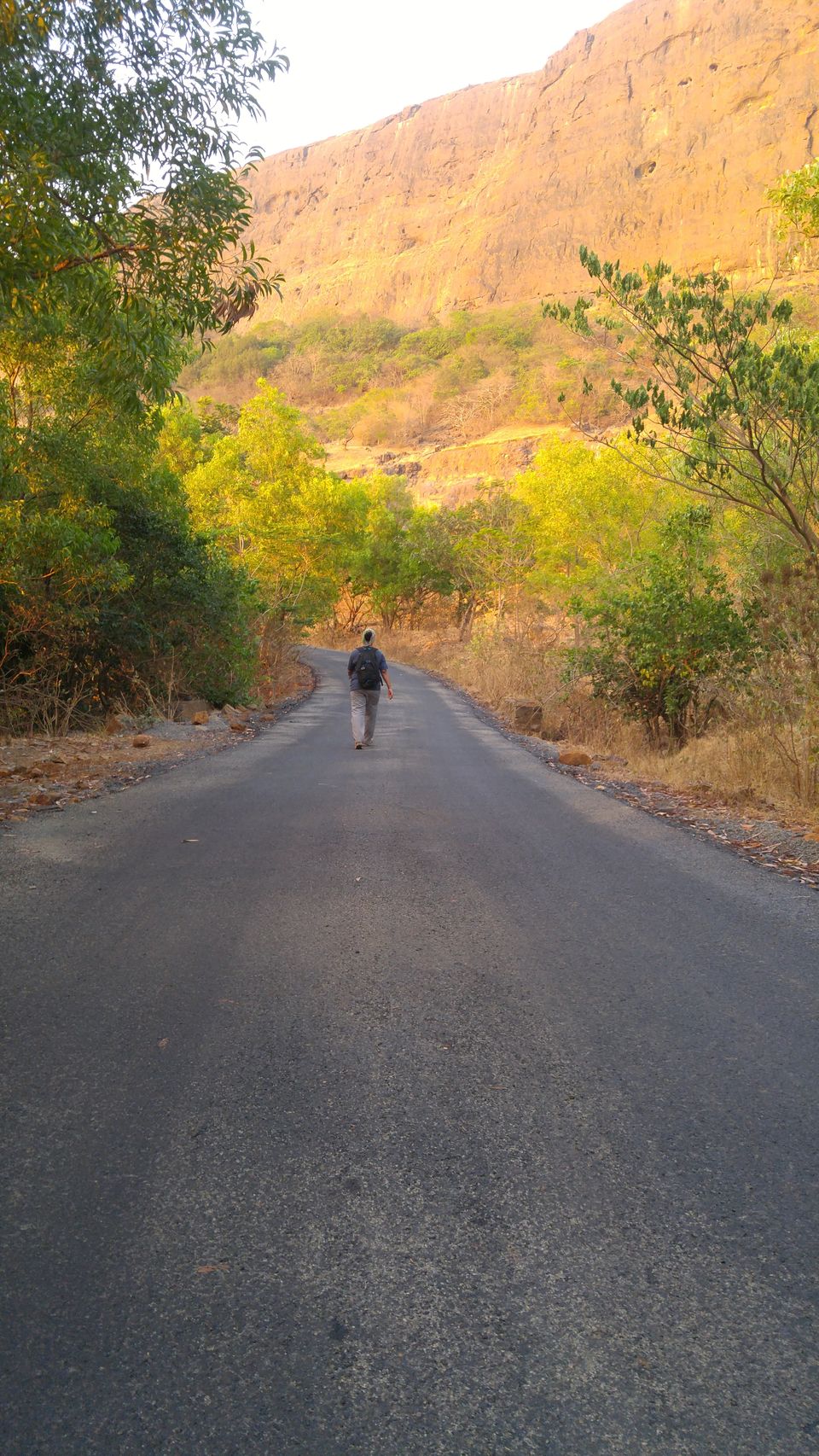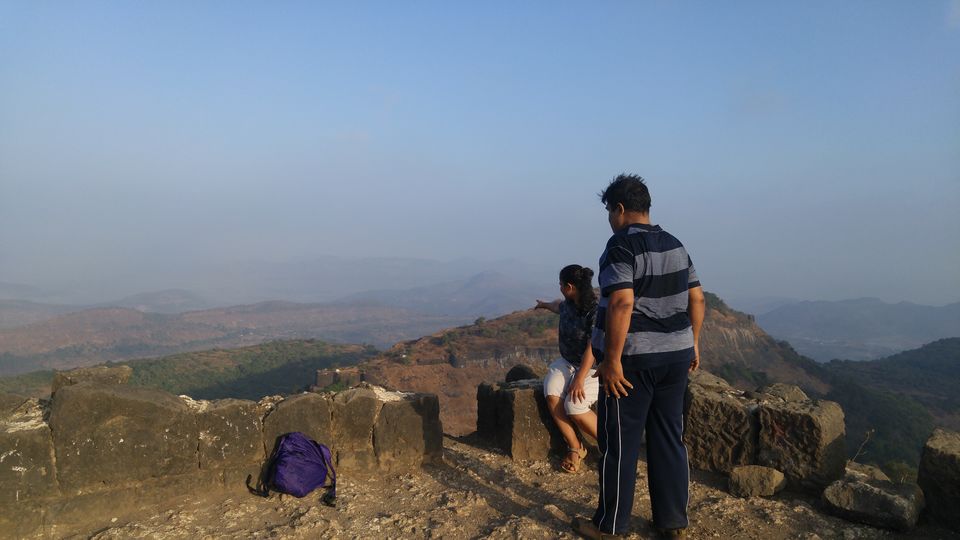 While we were busy looking at our destination which was visible but miles apart, suddenly we were attacked my huge bees (were not honeybees luckily but looked similar). For good 1 hr they were behind us till they bid goodbye when it became dark and we lit our headlamps, it was a huge sigh on relief though. Also we took them positively as they became our entertainment and our travel partners for some time ;)
I had definitely done night treks, I have already visited Rajmachi in the night as well as day time and lead the trek before too but this time it was a very different experience. I was alone with a friend who had no idea about the place, it was dark night and not a single creature visible back or front(which was not what I expected). Definitely I was lot more worried but also well versed with the area and sources of help but I had to show I'm strong , not afraid and everything was perfectly fine :p My only job at that time was to keep my worried friend engaged with some shit stories and like other trek-leads give her hopes that we are just about to reach even when we were 2 hrs away from our base village (Udhewadi- Base village for Shrivardhan and Manoranjan fort, fortification is together called as Rajmachi). Also for some more thrill we met few local guys on bike who offered us drop till the village which we politely declined and kept walking.
Right by 09.15 pm we finally reached the village with smiles from ear to ear. No feeling was as wonderful as that. Surely on the way I thought never a solo trek like this again, but first experience teaches us a lot and there will be more such treks again and again and AGAIN. We threw our bag at aunty's house where we always stay(Contact person for food and accommodation(tent/room). Nilesh Ware- 9922282388) and took some rest. We had our yummy dinner, explored some fireflies and went off to sleep as we planned to wake up early next day.
Next day we woke by at 05.30 am, got fresh and started trek for Shrivardhan fort. Fortunately, the climate was pleasant and cloudy. Within 1 hr we reach the peak with few clicks on the way. The clouds were playing hide and seek with the mountains which was fascinating. We stayed at the fort for 1.5 hrs and really didn't want to descend down, but the Rajmachi lake was calling us and typically we have to go :P We descended down and not at all hungry yet we headed directly towards the lake.
We cleared our bills at aunty's house(Rs. 200 pp for dinner, breakfast, 2 tea and stay) and post breakfast by 11.30 pm we headed back for Lonavala. It was a bit tiring 3 hrs treks as the sun was above our head and are feet were numb. We managed to reach Lonavala station at 03.15 pm and took Jaipur Express to Mumbai (halts at Kalyna Jnt.). We reached Kalyna at 06.30 and headed back home with amazing memories and built up confidence and of course a bag full of mangoes ;)
Frequent searches leading to this page:-
rajmachi fort night trek, girls in lonavala, rajmachi night camping, rajmachi stay
We reached the lake had some bath, visited the nearby Kalbhairav temple as well and headed back to fill our empty stomach. On the way we couldn't resist ourselves looking at the mango trees and took a halt to climb a tree and fill our bag with lots of mangoes. That was a real achievement without getting caught in the act.