Rajmachi Fort (Killa) is one of the many historical forts in the rugged hills of Sahyadri mountains (Western Ghats). It consists of two twin fortresses Shriwardhan Ballekilla and Manaranjan Balekilla, with a wide machi (plateau) surrounding the two Balekillas. Udhewadi is a small village of about 22 houses situated on the machi, at the southern foot of Manaranjan Balekilla of Rajmachi Fort.
Rajmachi Fort is a popular destination for nature lovers, trekkers and for outdoor campers. In the rainy season from mid-June to mid-October, this region is all the more beautiful with clouds, silvery water falls, streams, lush green forests and meadows.
Local families at Udhewadi on Fort Rajmachi welcome trekkers and nature lovers. The local families provide food and camping accommodation to the tourists. The tourism has enabled the local community to give up traditional occupations like agriculture and cattle rearing.
Historically, Rajmachi Fort was a strategic fort to control Borghat (the Ghat between Khopoli and Khandala on Mumbai-Pune route) which was a historical trade route. It was in the possession of Angre family, the head of the Maratha navy in the 18th century.
There are historical water reservoirs and ruins of fortifications, ramparts, and gateways on both the Ballekillas. A view from the top of the forts of the surrounding hills and valleys is quite mesmerizing. A Shiv Mandir built in the Hemdapanti style of architecture, approximately in the 8th century, on the west end of a big historical water reservoir is worth visiting. The water reservoir was constructed in 1780, by Ramrao Narayanrao Desmukh, Mamalatdar of Danda Rajpuri.
We were a bunch of 40 people travelling from Hyderabad, we catch the Mumbai Express
Itinerary Plan from Hyderabad:
Friday
08 PM: Start from Hyderabad by Mumbai Express(17032) (Approx 690 KM - 14 Hours Journey)
Boarding Points: Nampally, Begumpet and Lingampally.
Loads of Fun, Interacting with each of them
Saturday
After a long Journey we finally reached
12 PM: Reach Karjat, reach to base point by local transport and have lunch.
Map to Base Camp
https://goo.gl/maps/BxQcmY9EpU32
After we reached Karjat people got freshen up in platform, we came out of the station to have lunch.
Every one are starving for food, by the time we reached the hotel there was no food.
The cook from hotel have taken order from everyone and prepared instant for us. Frankly speaking biryani was not that great, you will find every where Misal Pav, Pav Bhaji Maharashtrian street food. trust me you will love it
@2;30 PM we have backpacked and each one us carried 2 liters of water with us
Took the local Transportation auto to base Camp, on the to your ride will pass the Ulhass river
All of them were dropped @Shri Ambajogai Ani Shri Vyadeshwar Devasthan , Small temple
Now it was the time to give there basic Intro in a short brief , and followed by warm up.
We started our Trek towards Kondane Caves which was our first Halt, it tool 1 hr 15 min to reach.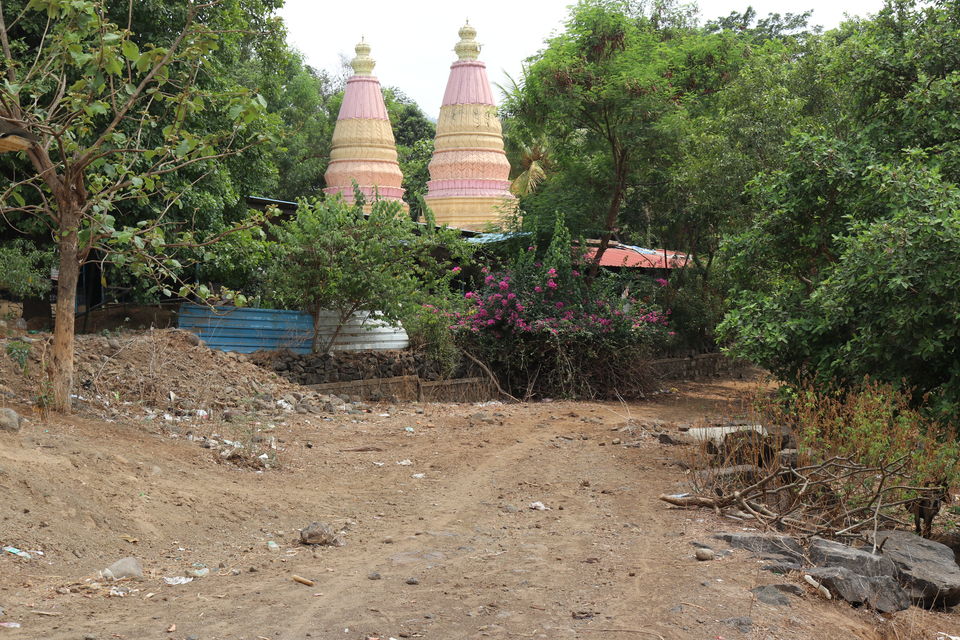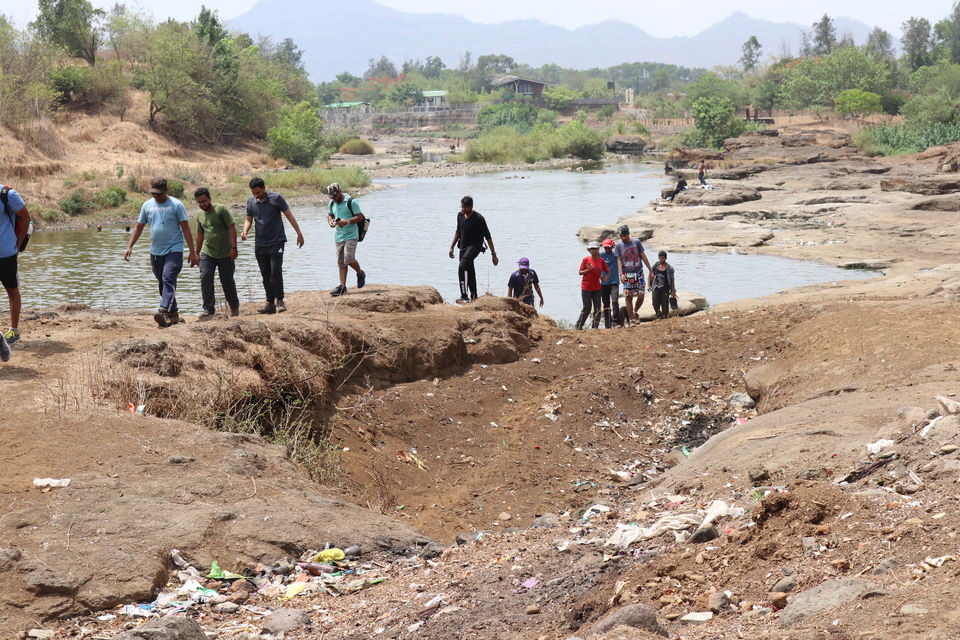 4:00 PM we reached Kondana Caves are located in the small village of Kondana, 33 km north of Lonavala and 16 km northwest of Karla Caves. This cave group has 16 Buddhist caves. The caves were excavated in first century B.C. The construction on wooden pattern is notabale.One can reach the cave by descending from Rajmachi village.
The cave only one inscription on the front of the Chaitya, which gives information about donors.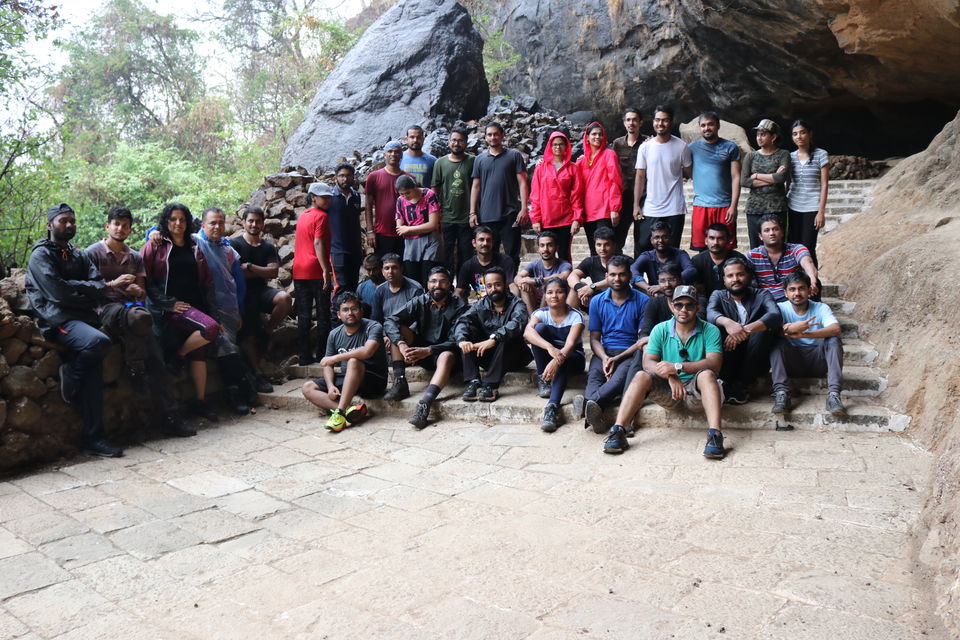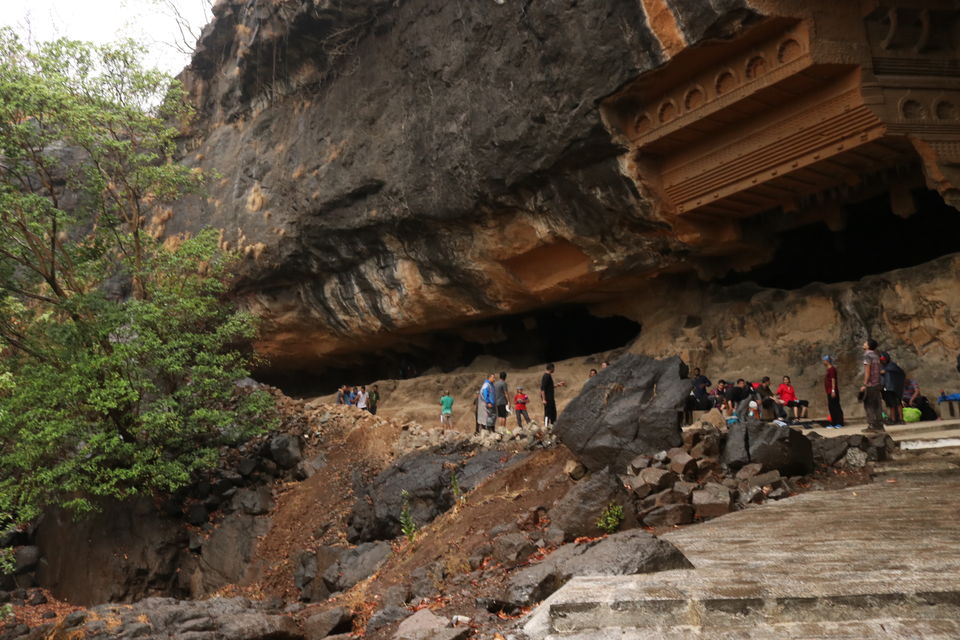 Most Exiting part of the journey would be the Rain trek, while going to kondana caves it got rained since we all carried rain coats, ponchos it helped us.
Our Target is to reach Udhewadi base camping village for Rajamachi Fort, before the light fail
On the way you will find two view points , one the best feeling you can ever experience Spot for all the Selfie/Nature lovers
https://goo.gl/maps/fFNH2MZjJQx
With Multiple halts we finally reached the camping spot by 7:30 PM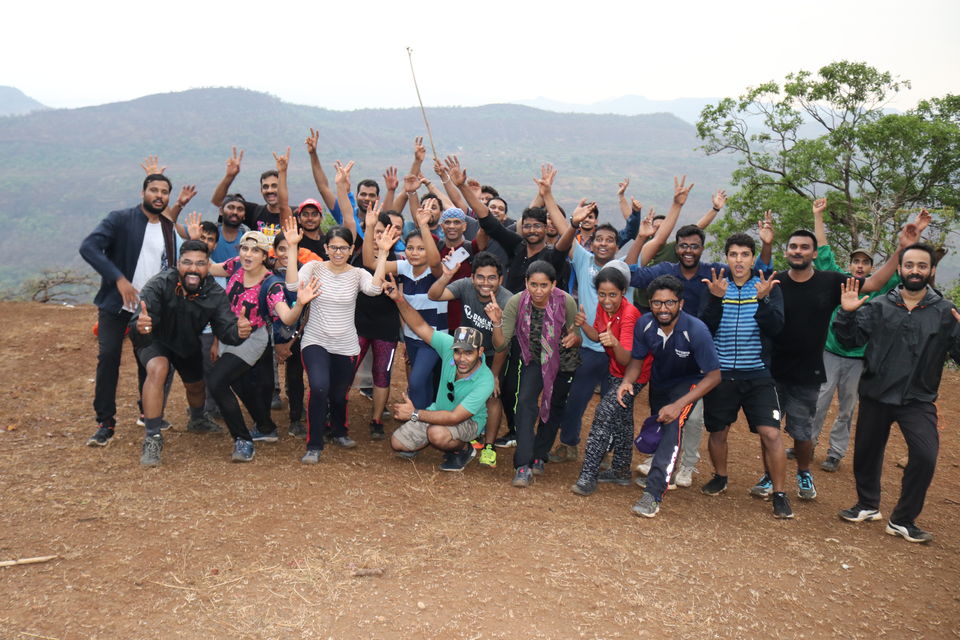 And not to forget highlight of the trek- fireflies!!!
Reaching the camping spot we found many fireflies, all together it was a superb feeling.
We settled down at accommodation which was provided, since it was 5-7km every one was lied on the floor.
After a while accommodation host have provided a yummy hot noodles and Tea, again it gave us an energy.
9:00 : We all got instructions to start night trek towards Manaranjan fort
11:00 pm : we fall back to accommodation spot
Our Dinner was ready Roti/Rice depends of the individual interest they had their food
12 AM: Now its time for us to sleep in one big single room
4 AM: Next morning, we trekked to the Rajmachi Shriwardhan Peak .
Time for the capturing the magical moments of everyone, While heading back, we walked on the wall of the fort and that was fun! We got back down. Packed our bags. Poha was the breakfast. After breakfast we started towards Lonavla. we took a Van which was roller coaster ride.
Reached lonavla Station had my bath settled at waiting hall
Our train to Hyderabad was at 3pm. Later on we found out that the train would be delayed by 2 hours. Catch up Hyderabad Express from Lonavala Station.
With that our Journey Completed
Two Ways to reach:
How to Reach from Lonvala
Train – Bus till Lonvala
Rickshaw till Tungarli Dam
Follow the Trail which is easy landmark on the way (Upperdeck Hotel – Half way through the trek you will reach a diversion which has a board installed with direction you need to take left – Right is to reach Dhak Bahiri)
Descending is medium grade via Karjat Route in Monsoon it becomes tricky there are many waterfall on the way which will hide the path.
Tum Tum Rickshaw are available from Kondivane village till Karjat Station you can ask villagers to arrange one if not available they normally have their numbers
How to Reach from Karjat
You can take sharing Rickshaw or State Transport bus till base village
Rickshaw will stop one village before Kondivane Village you need to inform them and negotiate rate till kondivane caves route.
You can either descend back from same route or walk till lonvala 16 km
You can also hire sumo till Lonavala village or Pune or Mumbai.
Places of Interest:
Kondana Caves
Bhairavnath Temple
Mahadev Temple
Rajmachi Dam
Shirvardhan Fort
Manoranjan Fort