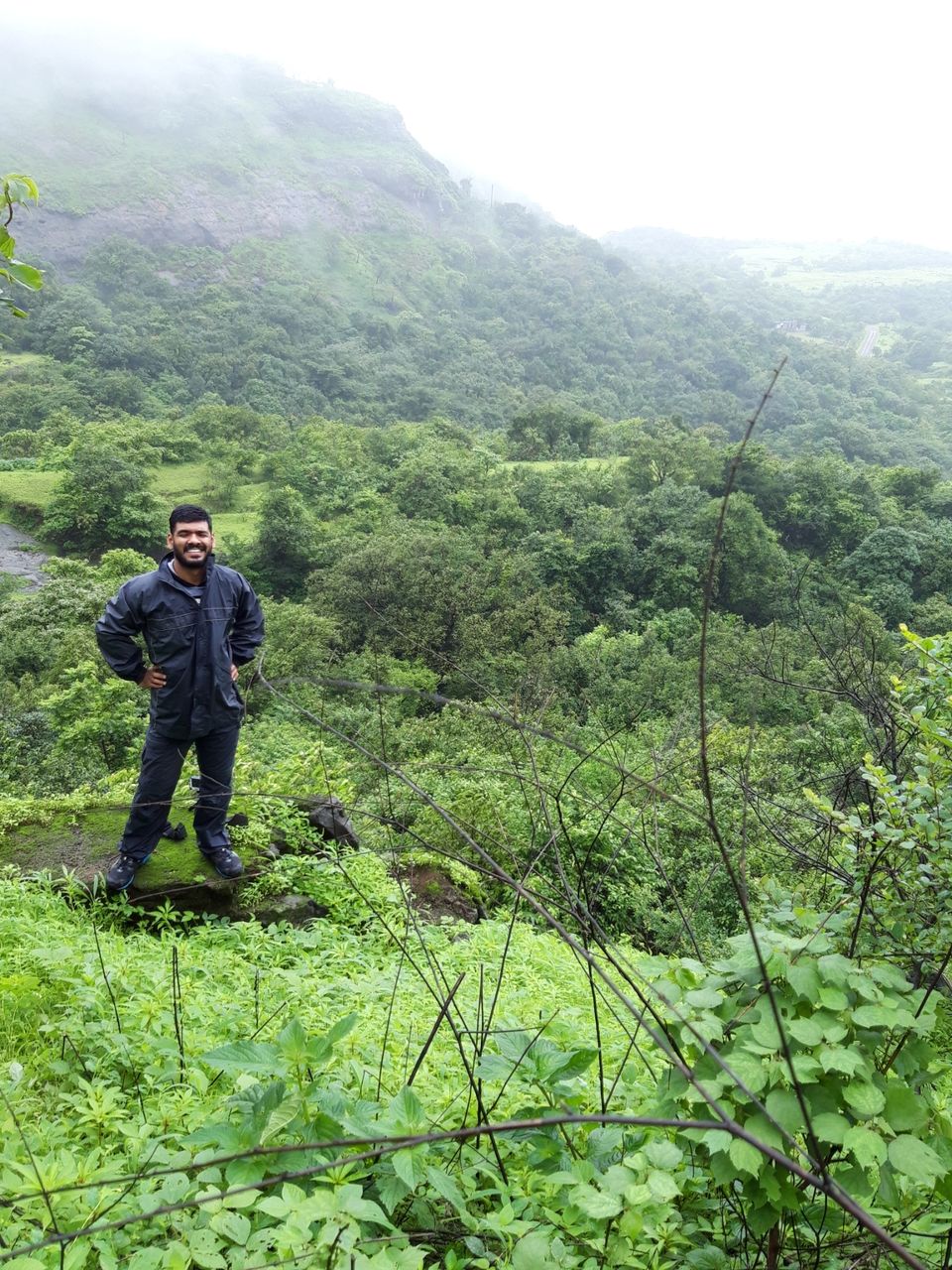 I may not call this as a trip. It was a monsoon trek. I had to do some practice trek before the bigger and mightier Himalayan trek coming on next month. Rajmachi is one of the most beautiful trek that you could during monsoon. I am not going to describe this in details because there is nothing to describe. To summarize it was two day trek. We were walking for the 90% of the time and it was pouring 100% of the time.
Since you managed to come this far I am not gonna disappoint you..
Trek started from Dombivali. We manged to wake at 5.30 and reached Kalyan railway station by 6.20. Had to catch Indrayani Express at 6.30. Fortunately/Unfortunately train was late and super duper crowded. There was hardly any space, not even to stand. We had to stand like this for 90 minutes. Almost all were travelling to Lonavla for some trek. We reached Lonavala at 8.15. Had breakfast which took another half an hour and we started trek at around 9. No need to say that it was completely muddy. We were having hard times walking plus the rain. It was not stopping at all. We almoat walked for 22-25 km that day in 5 hrs. If you can't walk this much distance you can hire an auto from Lonavala railway station or if you are a rider you can do off roading with your bike. Beware though because roads are muddy throughout.
Saw quiet a few rider slipped because of the mud. The trail was beautiful and scenic. There are lot of waterfalls get active during that period of time. Some of them are even huge.
Reached top at around 2.30. It was a village home stay. We had informed them earlier about our stay so they prepared enough food for us. When you ask locals or villagers to prepare food for you they will make sure that you wont sleep half stomached.
After having lunch we went to the small lake which is in front of a temple. It has cold water still it was soothing. By the time we came out of the lake it was dark. We came back, had heavy dinner and slept.
Rain was continuously pouring throughout night and it got heavier in the morning. We decided to go to one of the Balekillas(Balekilla is a highest point on the fort used for keeping an eye on the enemy.) it was 15 minutes climb but took more than half and hour. It was pouring continuously. Rain jacket was of no use. Near the entrance water was logged till the vest. We crossed that and reached at the top. It was fog everywhere. Couldn't see anything. We came down at homestay and started descending. The thing about Rajmachi it is connected to Lonavla and Karjat at the same time. You can ascend via Lonavala and descend via Karjat. We did the same thing and Oh Boy! it much more adventurous than ascend. The descend was steep plus due to rain soil was not tight. Some of us including me slipped and it was funny to witness. It took us around 3 to 3.5 hours to reach at the base. We took an auto from there and reached Karjat station to catch train back home.