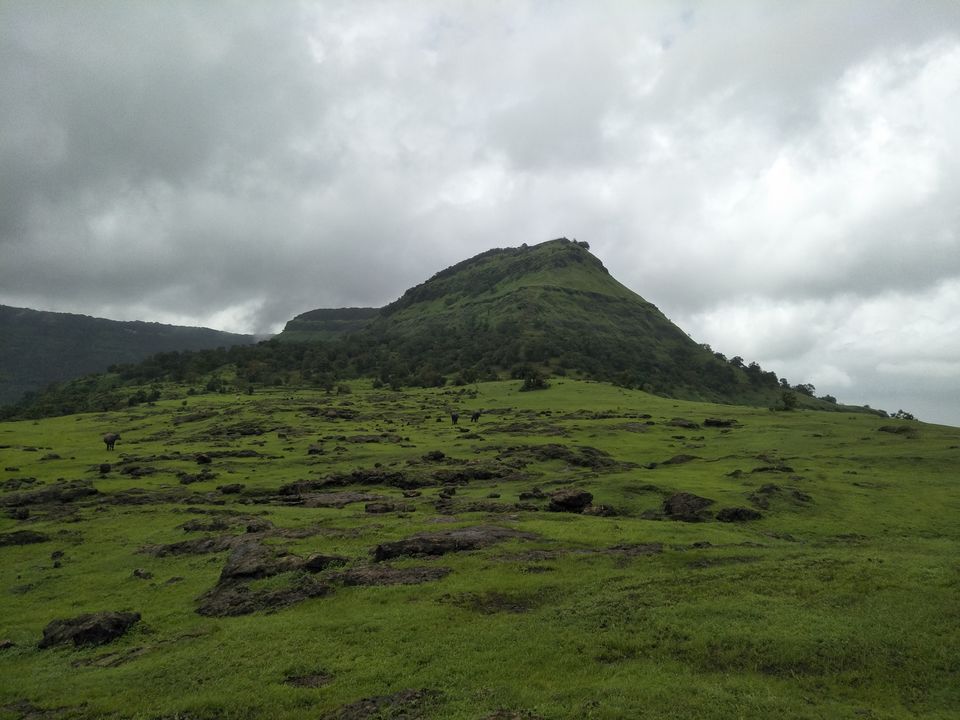 Mumbai and its weekend trek stories are common to hear. But it is unusual when it is your first weekend in Mumbai and in spite of going shopping to Colaba or a stroll at Marine Drive and Chaupati you head down to the Sahyadris. And when you have a friend as a trekker who goes to trekking every weekend what else you need to ask for.
It was on him to decide the location, only condition was it should be beautiful and less crowded and that's why we chose to trek on Saturday as Sundays be much crowded. Every place is beautiful in monsoons he exclaimed. With the list of essentials to carry and time and place to reach he messaged me. 2 days before i landed in Mumbai and was down with cold and cough, not sure if i should go this weekend or postpone it but i didn't want to postpone it so lets go for it.
First local in the morning, I headed to Bhivpuri road, we started out trek at 7:30 after a quick poha breakfast. I initially wore the wind cheater but whats the feel of monsoon trek without getting drenched so took it off.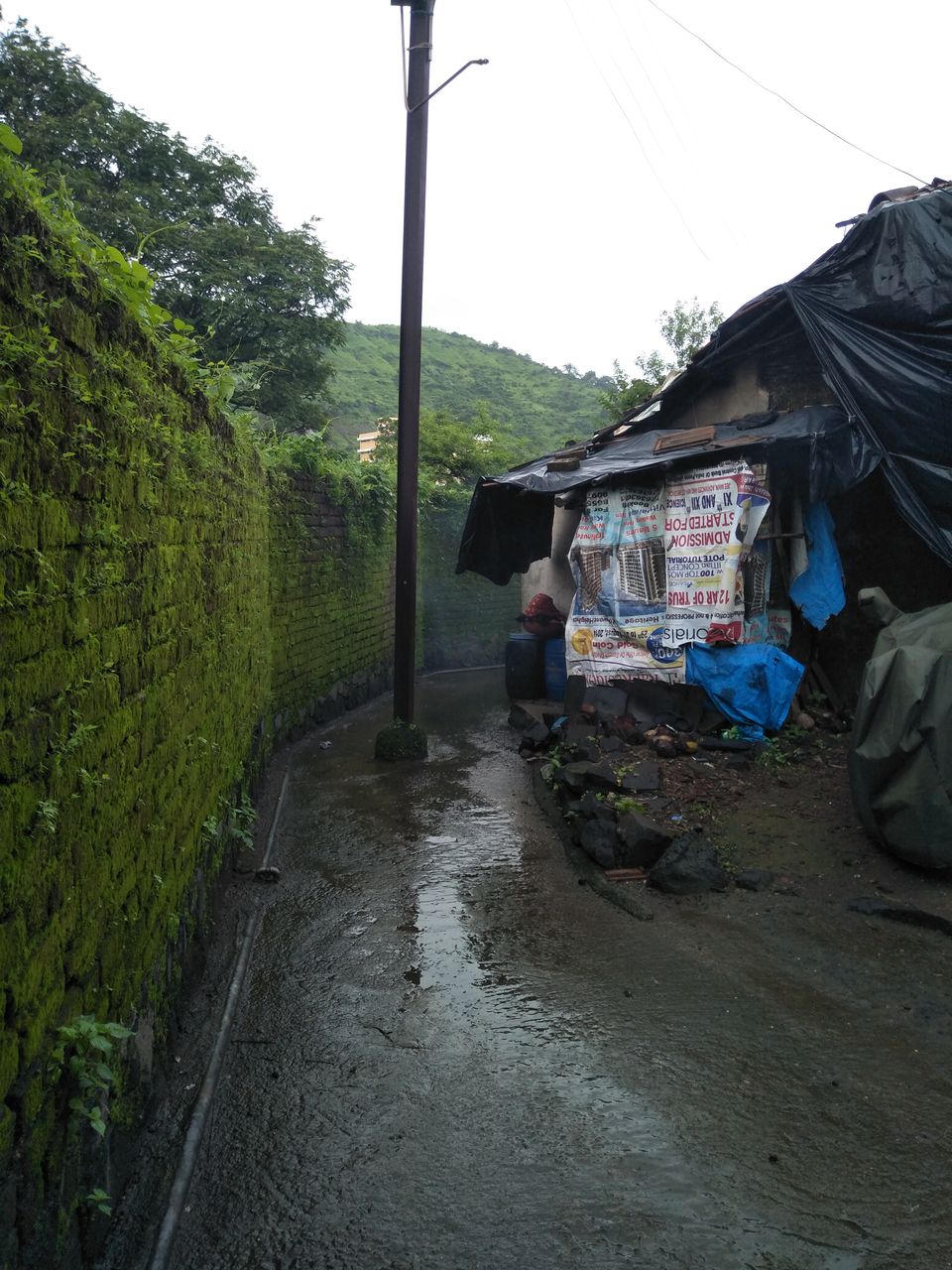 We headed down via Matheran which is down trek for another hour and took the shared taxi for Neral. My empty stomach couldn't wait for another second and so we had lunch and boarded the local from Neral.
Trek 1: Less crowded and beautiful. Check .
Basic information
How to reach
Route from Pune: Pune- Bhivpuri Road
Route from Mumbai: Take local for Karjat. Step down at Bhivpuri Road
Best time to trek
Monsoons are the best time to visit here as you can see waterfalls and streams of waters flowing.
Difficulty Level
It is beginners trek .
Time to Reach
It takes 4 hours to reach to the top and then you can trek down to matheran in an hour .From matheran you take sharing taxi for neral station which takes another half an hour.
Its a weekend / Day trek. One can return the same day or if you wish to stay at the top you need to stay in village or carry a tent.
What to carry
Make sure you wear something light and loose because sometimes you might have to take the big steps to climb and jeans won't allow to do that.
Carry sufficient water - Make sure you carry water specially when if you are not doing monsoon trek.
Food - Carrying snacks, fruits and energy bars is always the good idea while trekking. You never know when you might need them.
Sunscreen - If you don't want to get tanned.
After passing through the green walls of houses there came a point, where he suddenly blind folded me, said the movie is about to start. I just couldn't stop myself shouting and jumping in excitement with the beautiful sight and there was not a single person. Beautiful and less crowded was the condition. Less crowded may be because we started early and it was Saturday.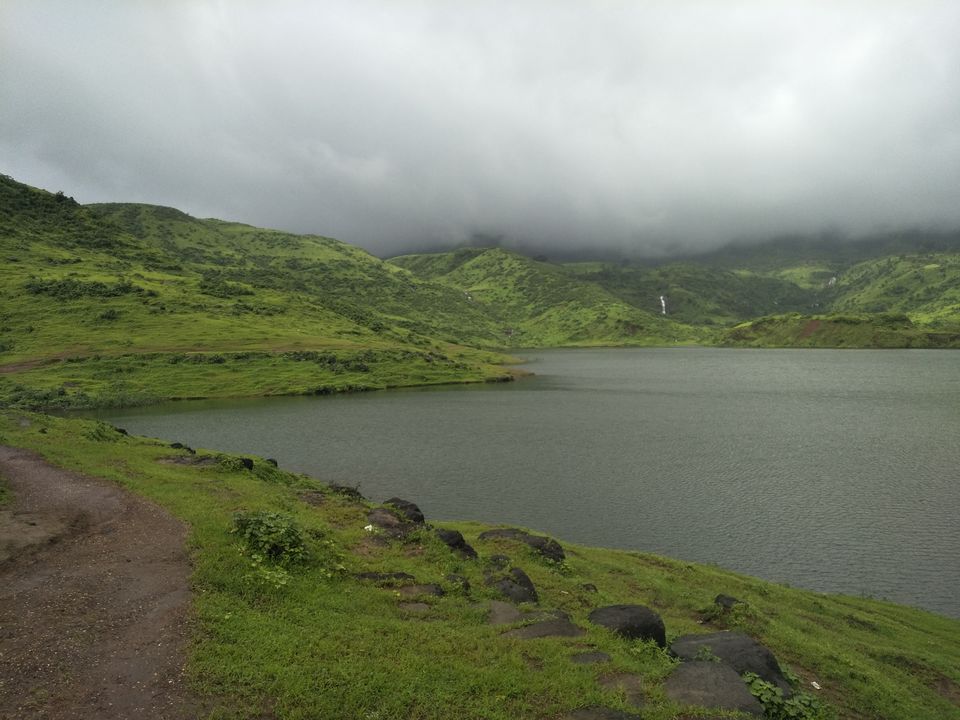 The path was lush green offering views of several waterfalls flowing through the mountains and streams of water crossing by. It was already raining while we started.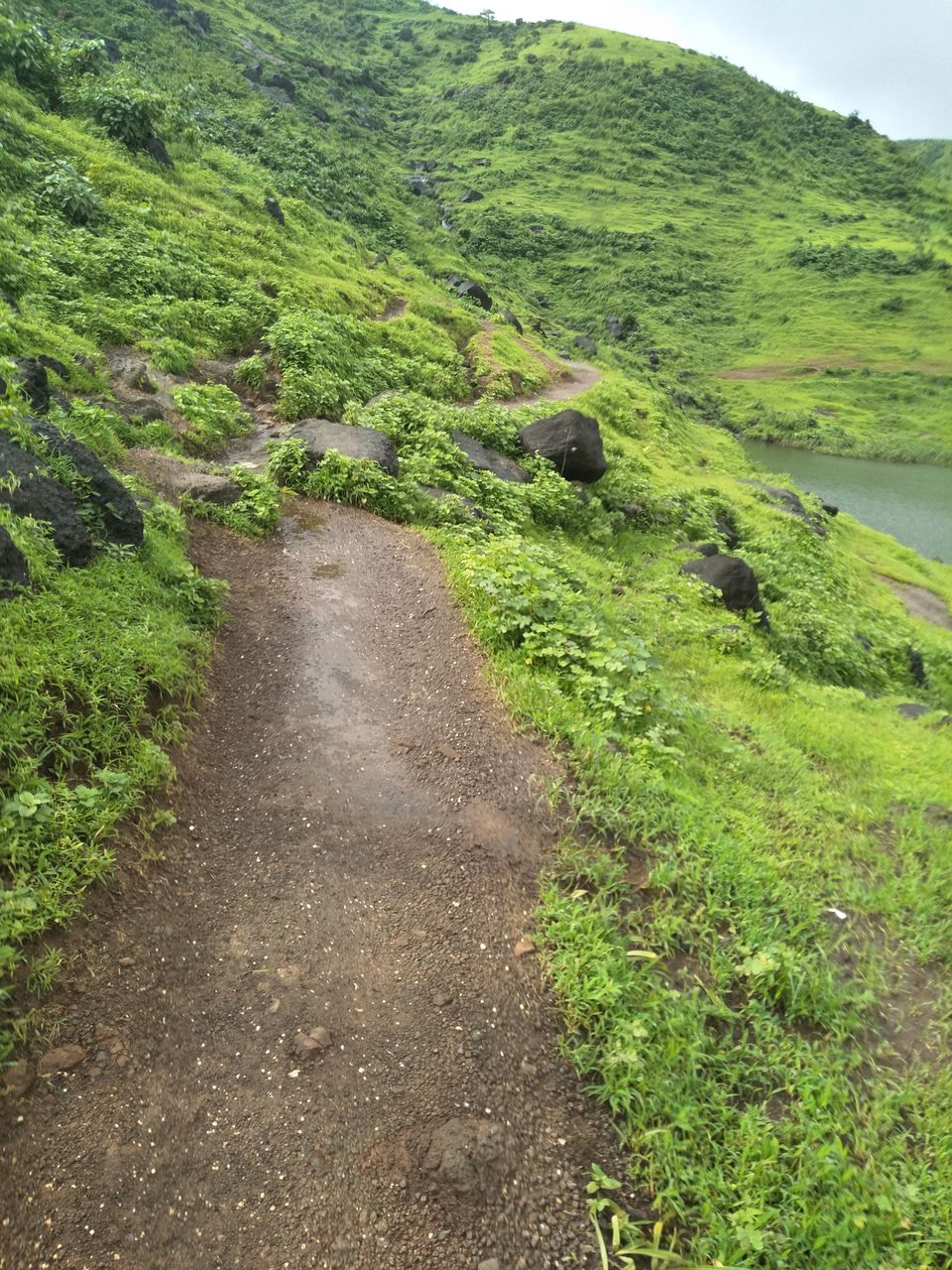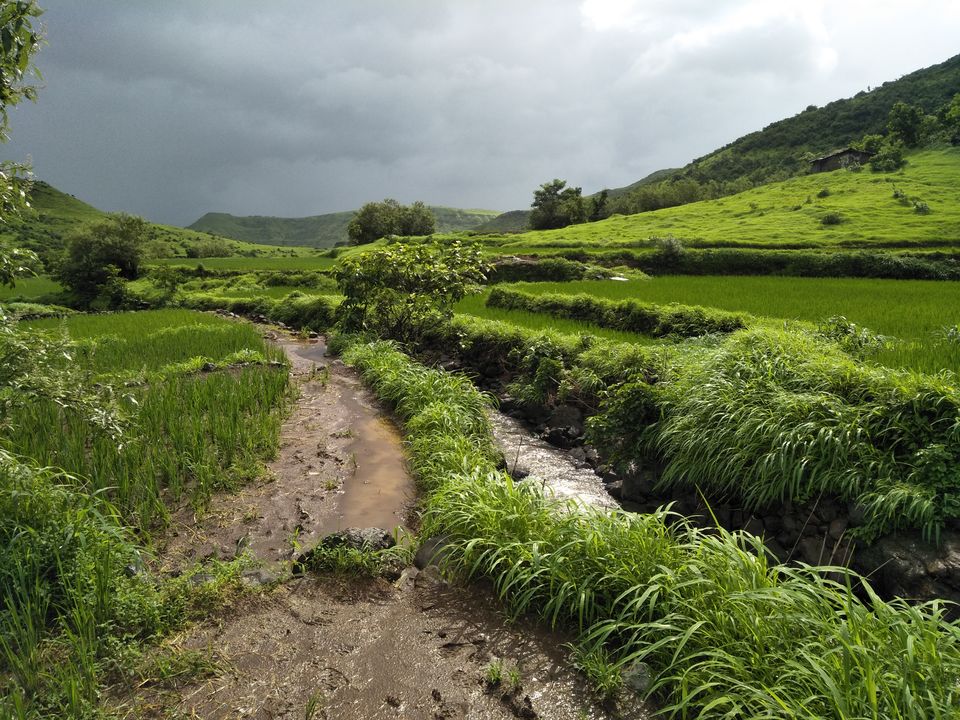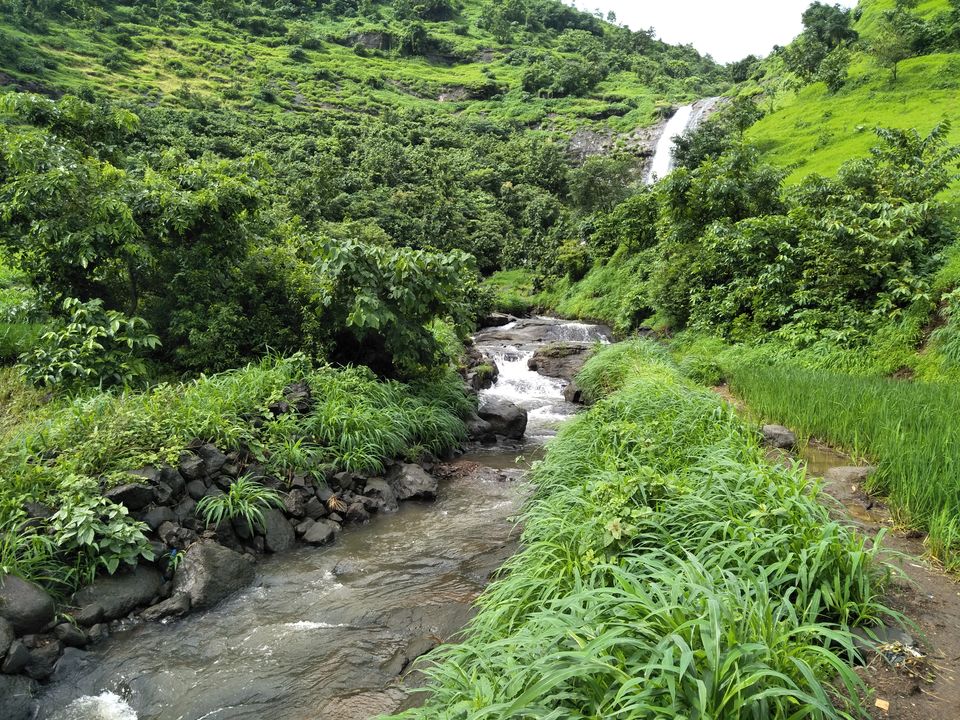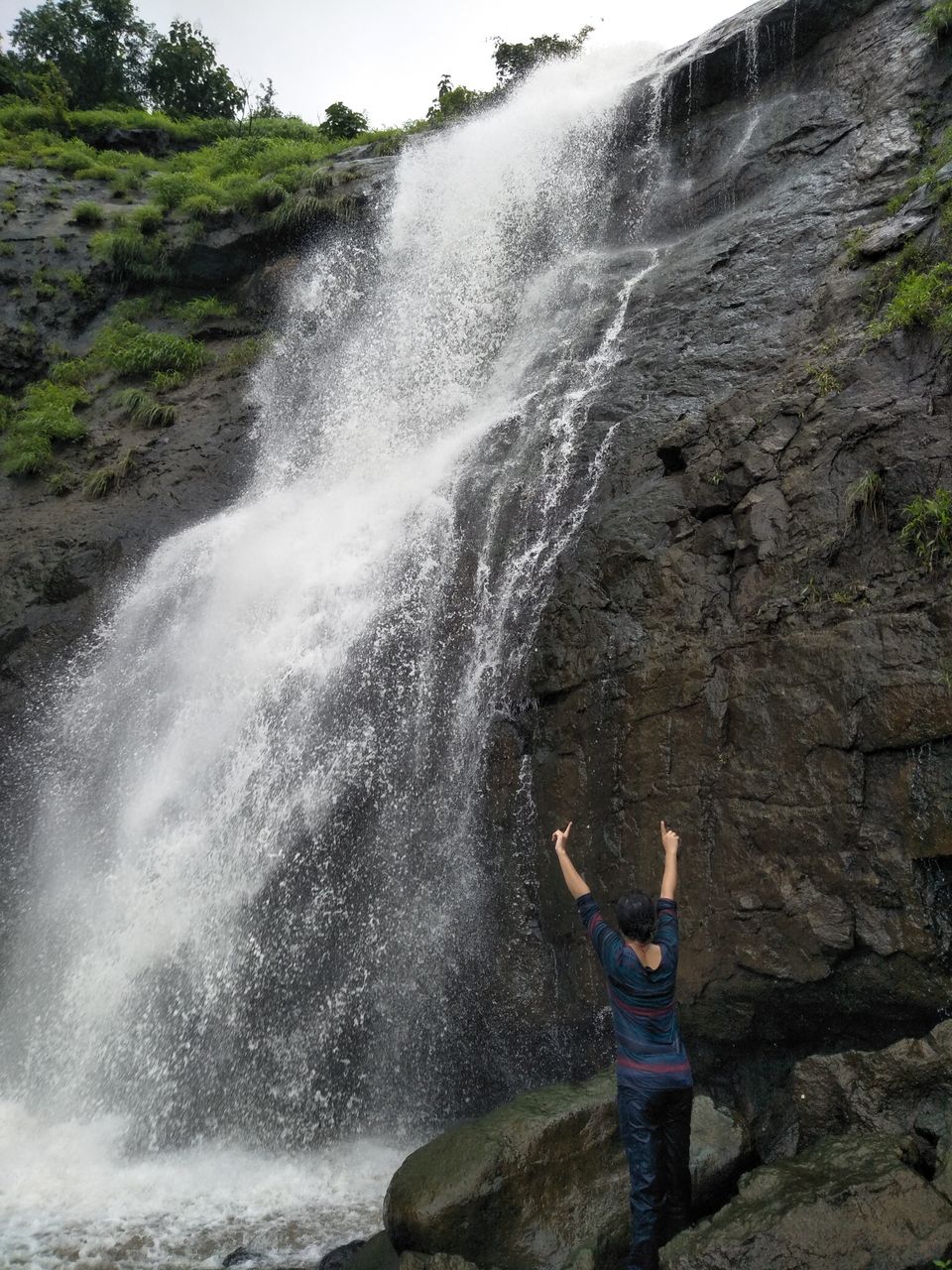 Initially i couldn't see the top from where it was falling downwards due to the heavy flow but after a time when i sat close to it it was the most beautiful sight to look at.
My friend exclaimed this being the first time when there was not a single person near the waterfall otherwise its very crowded.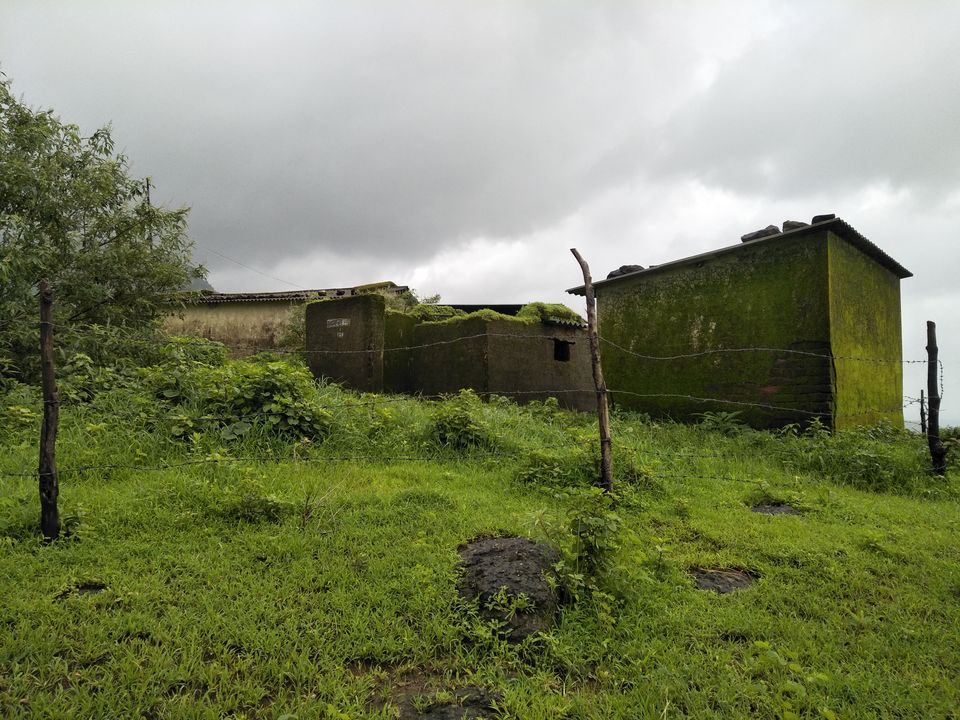 We reached a village and wave the kids.