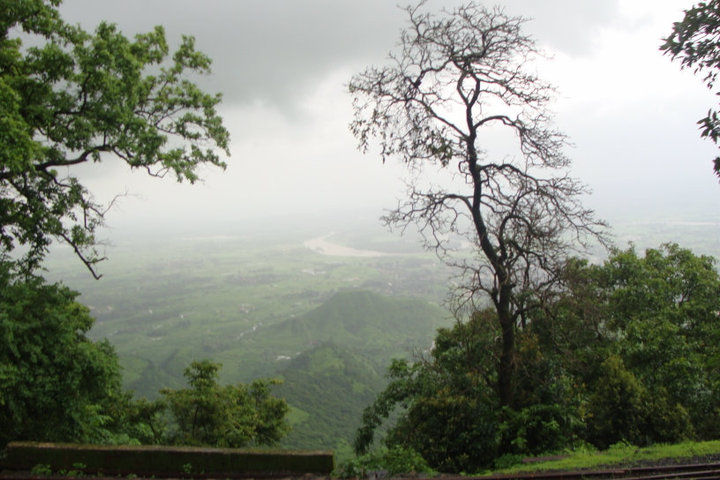 Just weeks had passed after my Pondicherry trip back in 2010 and already it was time for a fun family get-together at the beautiful hill-station of 'Matheran' in Maharashtra...
Almost everybody in and around Mumbai knows about this weekend getaway to one of the most picturesque hill stations in Maharashtra & that the best time to enjoy the beauty of this hill-station is the monsoons...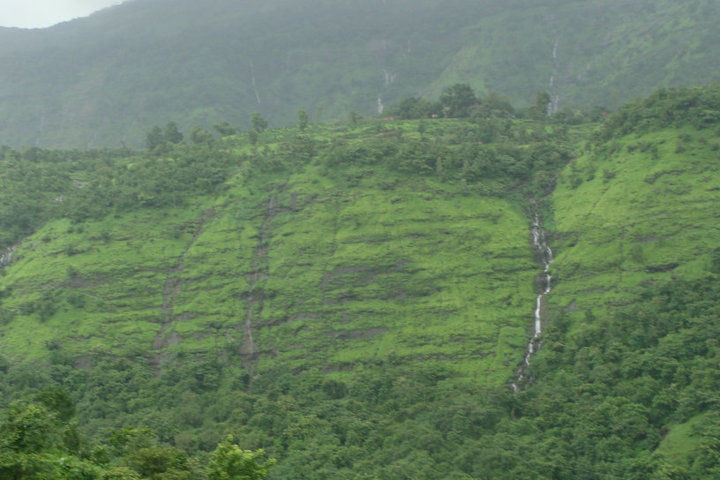 The next morning, we all tried the swimming pool in the hotel. Granted, it was still raining but because there was a pool, all of us wanted to take advantage of it! The water was cold, and there were cries from everyone who entered the pool and touched the cold, chilly water... But, later on we were happily playing in the pool and throwing around a plastic beach ball ( Courtesy - my dad, the organizer of the trip) Have you ever had hot tea in a cold swimming pool? We did that and let me tell you, the experience is out of this world...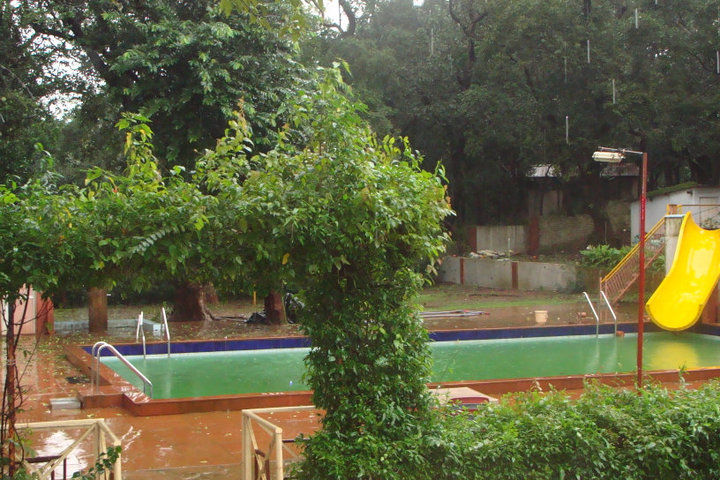 Now, I am not a big fan of rains. I agree that monsoon is extremely essential for the seasonal life cycle and the general well-being of agriculture in our country; but I don't tend to feel bad if one year the rains decide, not to make their presence felt. I would be delighted! People like getting wet in the rain... Why not??? When they show you in the movies, what awesome fun it is to dance around in the rain (especially when you are in love) who wouldn't like the idea of gallivanting through the rains, having not one care in the world! But sadly, the movies always have artificial showers and what they don't show is, the roads which get deteriorated every year, the train service which gets disrupted, the water logging in the streets, the over-flowing of the rivers and lakes leading to more water-logging, hours and hours of traffic caused by the in-general disruption of the transport services (I hope that was not bad enough, that you start hating rain altogether!) So, the idea of a trip in the monsoons did not thrill me that much in the beginning...
My uncle and his family had come down from US after many years and we couldn't think of a better way to enjoy, than to go on a trip with our entire extended family (which included aunts, uncles, grandmothers, cousins etc etc.) Now it is a given that, when a 'Marathi Manoos' from Mumbai has extended family, most of them are living in Pune. So, around 20 of us from Mumbai, Pune & US set out on a wonderful weekend trip to Matheran...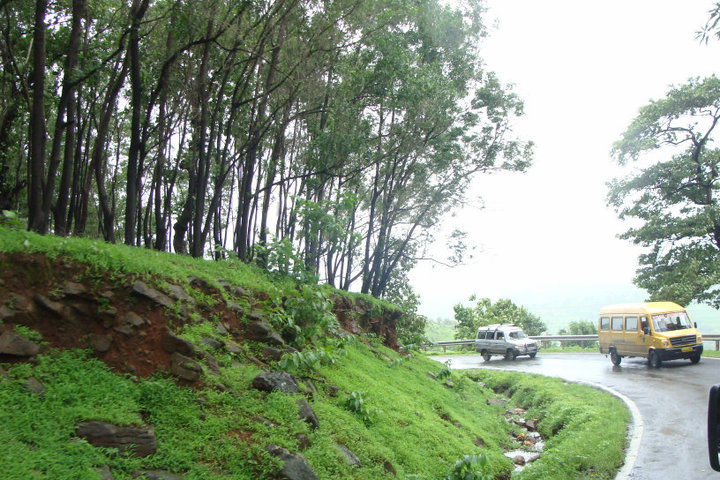 We hired a tempo traveller ( Yes.. those vehicles still exist!) to take us upto the main entrance of the hill station. The small town of Matheran is situated further up the hill where there is no proper road on which any vehicle can travel. The only forms of transport up the hill, into the main town are hand rickshaws and horses. Another option is, to take the mini-train from Neral, which can take you right upto Matheran station in the town square. But, the train service is closed during monsoons, so you are left with no other option but to walk up the hill or hire a hand rickshaw or better yet, let a nice brown/black horse do the walking for you... (Animal rights violation?? More like, source of income!!!)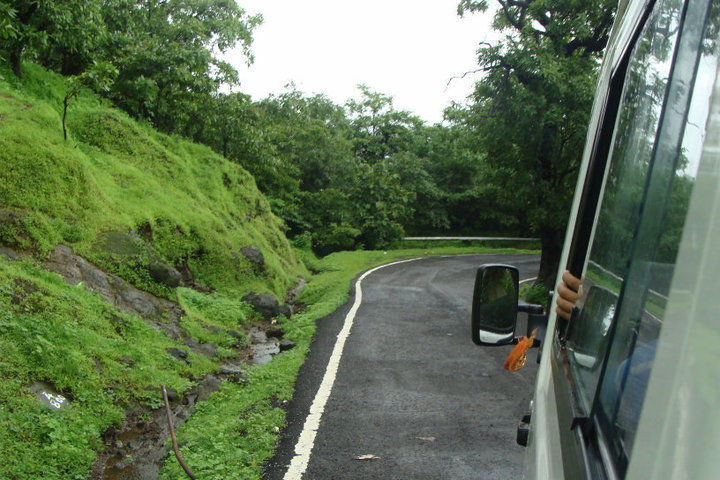 Reaching this main entrance was another gut-wrenching ride because of the steep slope of the mountain. We had hired a driver along with the tempo traveller, who turned out to be so young and so thin, that we began praying for our safety when he attempted to pull the tempo traveller and all of us, up the hill. At one point, I actually thought that the vehicle would just start sliding backwards, all the way down... But, thankfully after many twist and turns (Literally!) we managed to reached the top...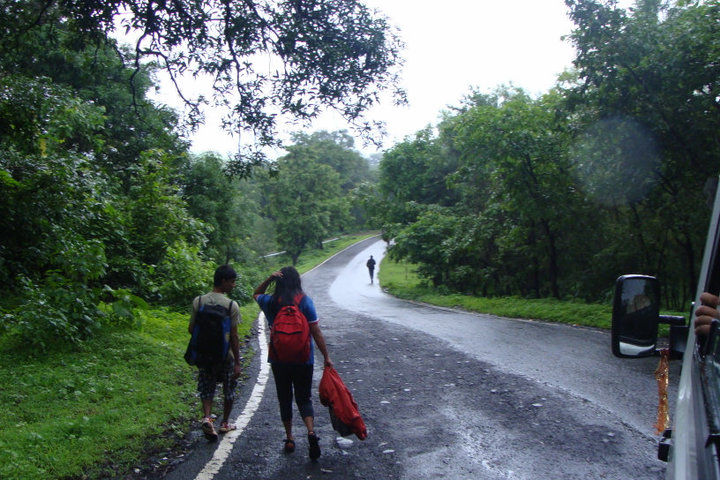 Here we let the senior citizens go ahead in hand rickshaws along with our luggage so they wouldn't have to tire themselves by walking all the way into the town which was another half an hour away... Like I said before, the road into the town is not a proper one; uneven and full of stones. Each hand rickshaw essentially had to have 2 people, because it was not possible for one person to pull the weight of a person sitting in the rickshaw, up the slope. The other person would often give him support by pushing from behind...
There are two routes which go into the town. The shorter route is the one which the mini train takes to reach the Matheran station. People usually take this route and follow the railway tracks to reach the main town square. The other, longer route is taken by hand rickshaws and horses, because it is not possible for them to travel on the railway tracks. We followed the shorter route and hiked our way into the town. It was raining continuously; a good sign, because half the fun was getting wet in the rains... ( Opinion of all the people, but me) On our way, we had corn on the cob, roasted over live hot coals. There is nothing that can beat the amazing taste of the spicy, tangy corn which has been roasted right in front of your eyes... Its just an essential part of monsoon fun... Corn in the rains!!! I really don't know how this delicacy became popular, especially in the rains, but I'm glad it did!
Now, Matheran has a dress code for the monsoons. It is worn by every other person to protect himself/herself from the rain and let me tell you, it is very effective. The 'protective gear' consists of a plain sheet of plastic which can cover your entire body and has a single opening so that you can pull it over your head. The second part of the dress code is a wide-brimmed plastic hat with an elastic buckle which goes around your chin and secures your head. So, you are taken care of from head to toe and there is no need to carry an umbrella. Delighted by this unusual way of dressing and foolproof way of avoiding the rains, we bought the plastic sheets and had fun selecting different colored hats to wear... Now, we were ready for the rains!!!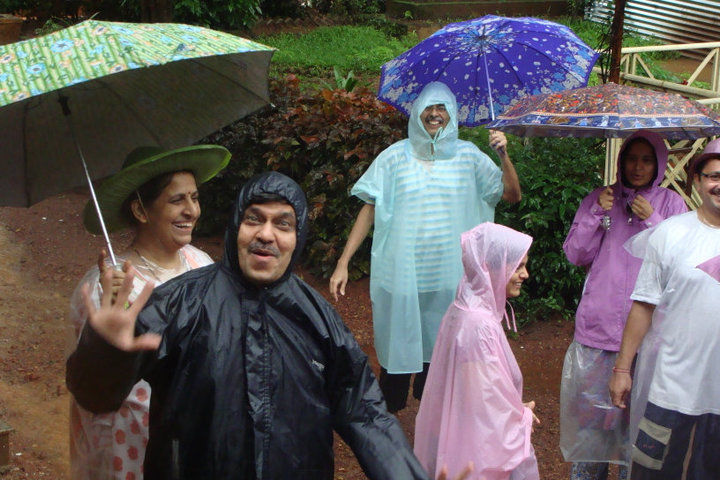 As soon as we reached our hotel, we rushed to the dining room because we were all famished! I have said this before and I will say it again.. Hot food is bliss! It makes you forget about your likes and dislikes and the only thought in your head is 'when will that yummy hot food go in my stomach?' (I particularly remember gobbling 'gulabjamuns' like I was starved for days)
After food, it was time for some sight seeing... Matheran, being the typical hill-station had sight seeing points, where people can watch and experience natural beauty at its best! We decided to go to a spot called, 'Echo point'. Good thing about Matheran is, there are directions and arrowheads at regular distance, so there is less chance of people getting lost. It was quite easy to navigate our way through the streets. We reached Echo point in no time and the beauty of the spot, amazed me! It is something which cannot be put down in words but I will try my best...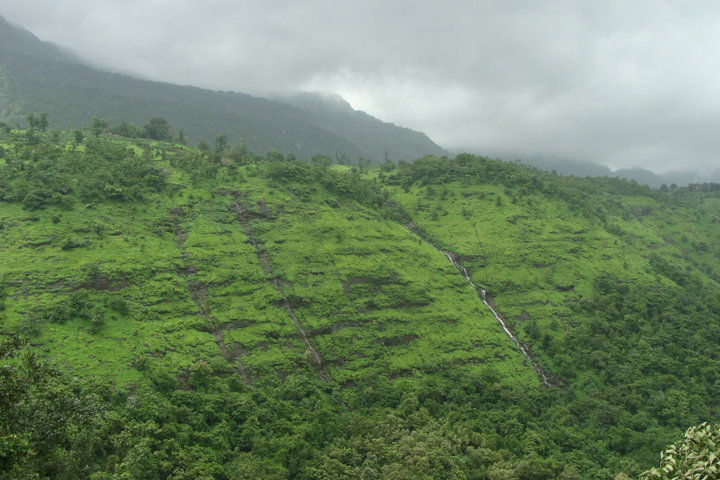 Echo point was at the edge of a cliff. It overlooked a deep valley and there were mountains looming ahead of us. But, the best part was the clouds which were at eye-level and obscuring everything in front of us. One moment, we could see the mountains in front of us and then, one gust of breeze was all it took and everything would be covered in soft white clouds... To top it up, it was raining all this while. The edge of the cliff was protected by a barrier for safety. We leaned against the barrier and shouted out our names and made mindless noise for some echo ... But sadly there was no echo that day, but we did watch, the clouds and the mountains playing a continuous game of hide and seek with us. My cousins were busy counting the no. of waterfalls which were making their way through the mountains. It was heaven all around us...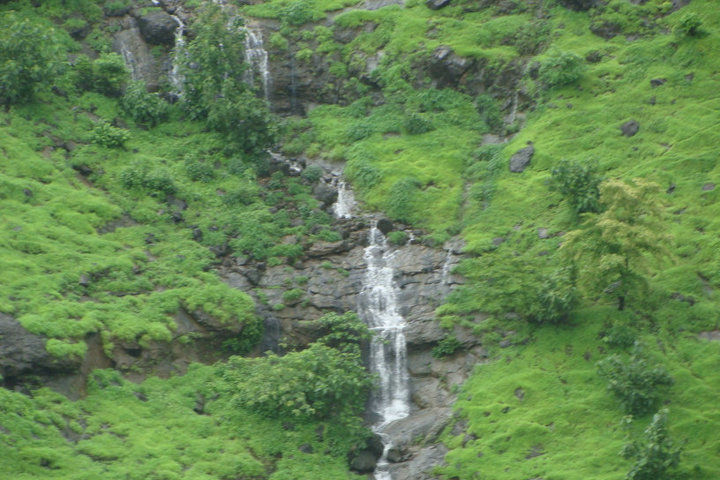 We just stood there mesmerized, because there is nothing much you can do when surrounded by something so majestic... Looking around, I remembered the words of the famous poet Firdaus, about Kashmir, "If there is paradise on earth, it is here, it is here, it is here!" The place didn't have to be Kashmir for those words to hold true! It was right there in front of me...
We literally dragged ourselves away from the clouds towards our next destination... Charlotte Lake! Perhaps there is a history behind all these places and why they are so named... But, I'm not gonna go into details because you can Google all that stuff; what you can't Google is probably the way you feel when you actually go and visit these places! That is something that you have to experience hands on!!!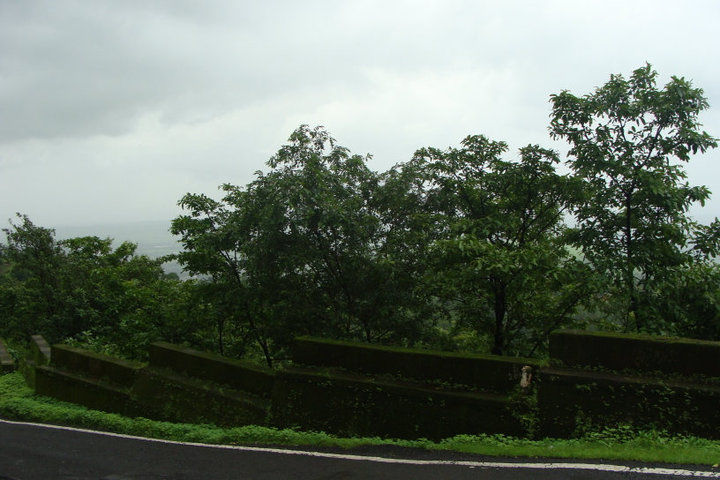 Well, Charlotte lake turned out to be quite a disappointment! Imagine finding a dried up piece of land instead of a lake... Yes, that is what the lake is now! Not disheartened, we had another round of corn at a nearby shop. I felt good sitting among them, my family, my loved ones and I realised that this was the point of the entire trip. How often do you meet your relatives? We are so caught up in our routine lives, that sometimes its even difficult for us to make that one phone call which will keep us connected. So, I was happy that, even if it was 2 days, I was with my family having fun, not thinking about my work or my studies... Isn't this what every person needs?? A break?? I got mine... and I was looking forward to some more!
After dinner, all of us gathered in a room and played games. We had had some fun before dinner in the form of 'Rum' and no wonder all of us were smiling and happy throughout... We talked, we laughed... My grandmothers shared stories from their childhood and we all listened! It was a memorable night.. All three generations gathered together, in that small hotel room. It was hard to believe that life could be so simple...The day ended, with my father telling everybody to get up early in the morning, to go and watch the sunrise... All of us laughed out loud!
After that, was time for some shopping and sight-seeing! Must-buy things in Matheran are jelly sweets, different types of chikki ( Peanut and groundnut... my favorites) and of course, the mouth-watering 'Fudge' ( And that too... chocolate walnut fudge... worth spending your money on!!!) After the ladies had taken care of the buys, we headed towards 'Alexander point'. This spot was a little far away and there was some whining from the kids ( and some adults too...hehehe) Basically, all the spots in Matheran are similar with regards to huge green mountains, little waterfalls running through them and the clouds! Each spot gives a different and wonderful view of the landscape... So, even if we were looking at the same mountains and the same clouds, it still managed to take our breath away! This spot is a photographer's delight... We saw an amateur trying to take a picture of the scene along with his assistants who tried hard to manage his equipments and battle against the wind and the rain. We watched his struggle for awhile but eventually he gave up in the face of nature! I bet, even if he couldn't get a decent picture, the mental image of the scenery, would be stuck in his mind's eye forever...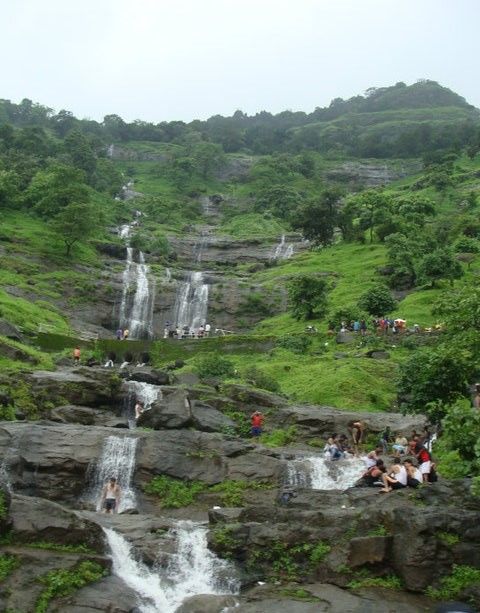 We walked back to our hotel, each one of us thinking the same thing, "We don't want this trip to end". It was time to get back to our lives in the city... Our weekend fun had come to an end! But, no trip to Matheran is complete without an encounter with the original inhabitants of the place... Monkeys! Yes, our ancestors are quite active in this small town... Beware of these creatures because if they get the slightest hint that you are carrying any eatables, they will attack! And when I say attack, I am not exaggerating! If your hotel room is on the ground floor, always make sure that your door is locked. We learned this lesson soon after we were done packing. We were all gathered in a room one last time to share gifts, sweets, take pictures, when we saw a bunch of monkeys heading towards the other room, which was left open. One of them managed to get inside the room and amidst all the luggage, snatched the only bag which had eatables in it! We couldn't do anything but watch, as the monkey and his friends enjoyed their little snack ( a treat from us) So, be extra careful when buying eatables. Always keep them covered and out of reach!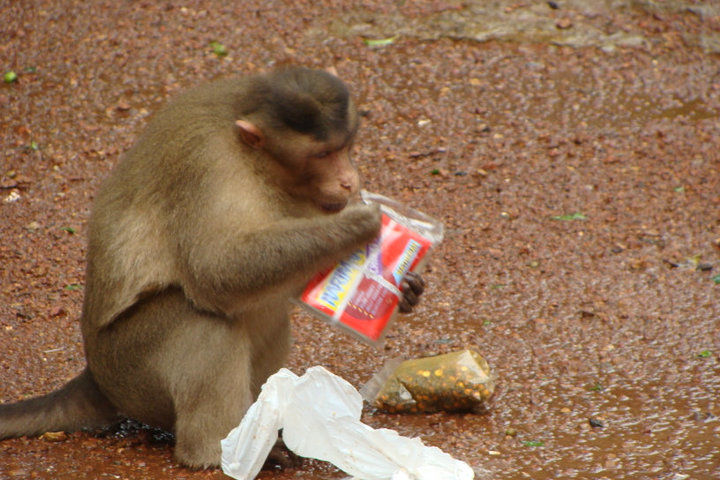 After watching the monkeys happily gulping down our food ( there was nothing we could do, so we watched, as the monkeys rejoiced yet another victory over man!) we headed off in the direction of the main entrance... the same way we had entered Matheran.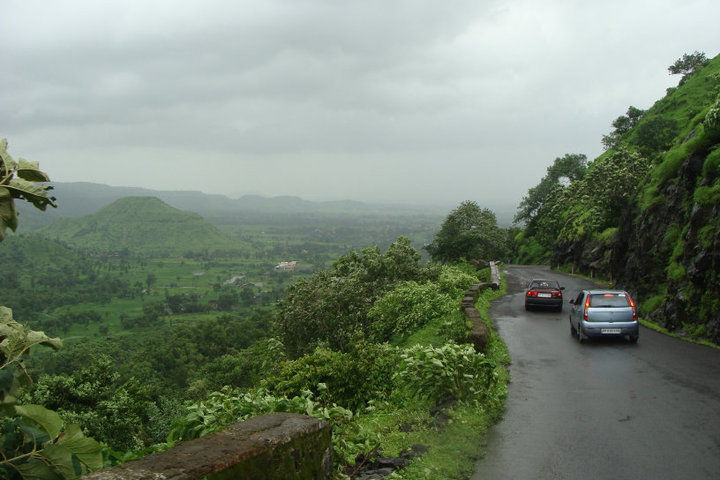 Two days in such a beautiful place was all it took for our entire family to re-unite and have some much needed fun! By the end of the trip, I had completely changed my mind and knew that, if not for the rains this trip would not have been as wonderful and as memorable, as it is right now... The way I remember it!