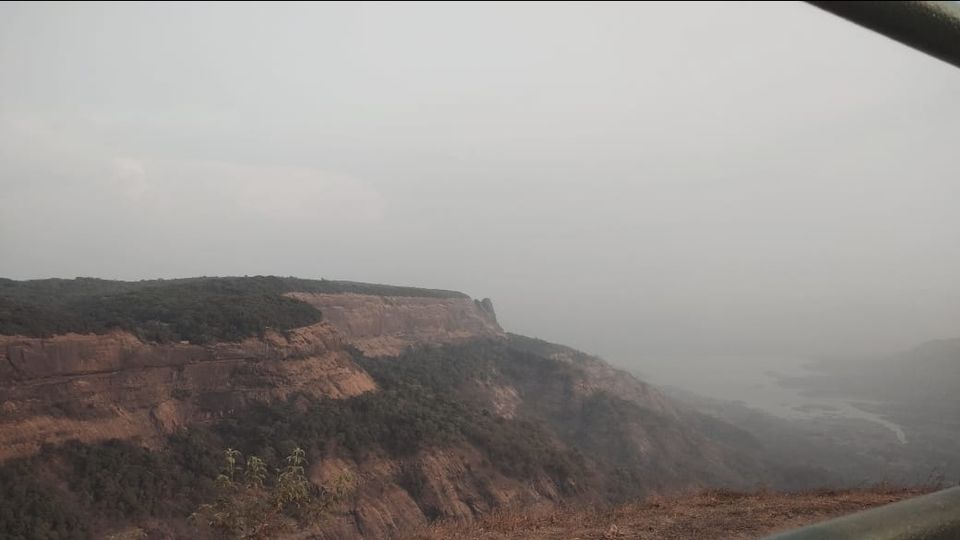 April 13th 2019, not the best time to visit yet its worth to visit Matheran mountain ranges ofcourse because of its green and hills. One who loves the forest and mountains can visit Matheran anytime. I started early morning to avoid the travel exhaustion. As am based in Mumbai, took metro from Versova to Ghatkopar. From Ghatkopar,took local train from central line Narel, in between I have crossed 10 stations 11th was Narel. It took me 1hr 10 mins to reach Narel. Narel is also a beautiful green town, from here there is a toy train for Matheran which goes inside the forest but unfortunately the toy train was delayed by 1 hr already. So decided to take road, asked the local people where could get a cab for Matheran, just outside of the station lots of cabs were available sharing and individual both and on the way to cab I had a quick bite of Mishael paw, it's Mumbai's famous food, other food options were also there like idli, dosa, juices.
I took sharing cab @ 80rs per head, didn't have to wait for much time as it get full within a minute and Cab took hardly 15 mins to reach at the gate of Matheran range where paid for entry fee of again 80rs per head. There I met two guys and took a company of them, in which one is visiting Matheran for second time. From the entrance you will get to see the beautiful and green and dense forest. Although I have googled and saw reviews of Matheran but experiencing with your own eyes was spectacular. At the entrance there were 7 to 8 Horses waiting for tourists, and some haath gadi (cart pulled by man) only one person can accommodate in cart. Those who don't want to trek they can avail horses and cart as no vehicles are allowed inside of the forest. Matheran is one big hill station so, you cannot complete all the points in one day. As I went for one day trip, I covered some of the famous points like Echo point, Charlottes Lake point, Monkey Point, Sunset point, Upper Louisa point. Information regarding the mentioned points, you can google it. The thing you cannot google is, the direction the way to reach the points because Internet may become faulty in the forest and there are high chances to get lost in the forest.
On the way to every point, you will see locals who earn their living through tourists like us. They were unlike from us, far away from android mobile, internet, technologies, advancement yet energetic and livelier than us. On the way there are fresh natural refreshments like lemon water, kokum sharbat, fruits. Must try is Kokum sharbat, it's sweet and salty fruit juice which good for acidic stomach. Since it was whole day trip and the summer month I was carrying 2 little of water to save myself from dehydration and it is the key thing one should carry in such trips, because once you get started for the points you cannot find any stall on the way.
I was little disappointed at first because the water in Charlottle lake is almost dried and there were no water falls but the tough rock scenic beauty was mesmerizing. At the sun set point there were lots of monkeys, some of them were friendly some were not. Superb landscapes, peaceful ambience. Finally the sunset made the day and stole the award of the best picture of the day.
On our way back at night, it gave us another experience of night life. It was darker than usual dark night we see in city, I can hear our footsteps, sounds coming from woods, which gave us little chills. Three of us walking down towards taxi stand, we were kind of lost a bit and there were yellow dim street lights which making the ambience more horrifying and when we were in dilemma that which direction we should move to, luckily a horse man came and we were saved, he guided us the right way to taxi stand and ofcourse thanks to one of my new friend because he carried a torch light, which proves to be very useful at that moment.
And finally we reached to Narel station, where we have begun our adventurous journey.
I left from Matharen carrying my dusty attire and tired body with lots of beautiful unforgettable memories and my two new friends.
Must carry -
Water
Wear Sports shoes
Torch light
Dry Snacks
Cap or Hat
Trip will be done @1000/- head (If you take horse, if not then cut it half).
Suggestion and warning –
I would suggest if one is planning to tour alone in Matheran ranges, would not be much of fun, a company will make the scenic beauty and the trip much more adventurous.
Trekkers do not wear white or light colour of clothes/ shoes as the soil of Matheran is red soil, highly fertilized soil good for plants but not good for our shoes and clothes, its super dusty.