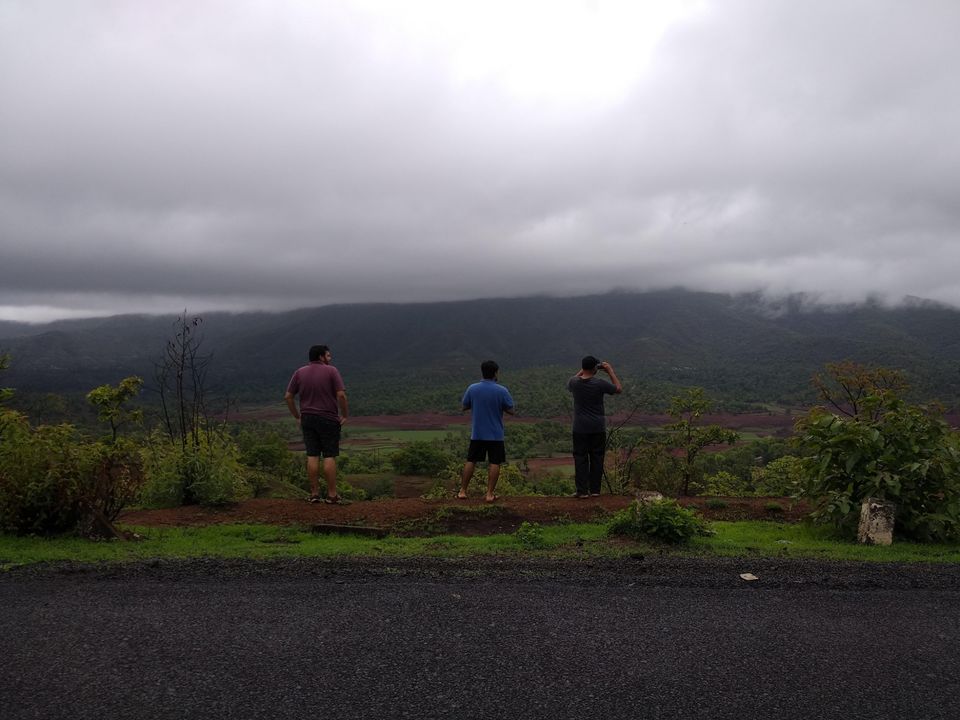 Pune - Wai - Mahabaleshwar - Tapola

It all started on one fine day when my school buddies had gone to Fortaleza (Korlai, Near Alibag). There was a small argument and 1 of us ended up getting hurt really bad.
So they decided that they should do a boys only patch up trip.. and they asked me if I could join, to which I said yes.
We were planning for Leh or Goa, but as it happens with all Leh / Goa trips, this one also got cancelled.
We decided to go to Tapola instead.
So I took an early bus from Mumbai to Pune. From Pune, we started our onward journey in the (Friend's) car.. it was around 11 in the morning when we left Pune. After having few breaks before Khandala (the one after Khed Shivapur) we reached Wai at around 4pm. There we had darshan of Dholya Ganapati (literally Fat Ganesha). It's an old temple with huge Ganesh idol.
From Wai we didn't really have any plan as such. We didn't even had our hotel booked at Tapola.
So we tried calling Godbole madam who had been around this place for awhile. But she didn't pick up. But I vaguely remembered she had told me that there's a place called Menavali near Wai at hardly 10-15 mins drive. It's famous for Nana Fadanvis Wada and a temple behind the Wada. The place has such a soothing effect on you.. and since we had not any plan to visit this place, it was really a pleasant surprise to all of us.
We really wanted to spend more time there, but since we didn't have our bookings done in Tapola, we wanted to reach there well in time..
So we resumed our journey towards Tapola.
Then we had one halt at Table Top point in Mahabaleshwar.. The cool (actually it was chill) breeze coming from Koyna river was really refreshing. Again we had to leave with heavy hearts.
By the time we all were really hungry so
we wanted to go to Mapro garden, but it was really crowded and bit heavy on our pocket. So we decided to have food in the small stall just before the Mapro garden (I can't recall it's name though) The taste was really good and it was pocket friendly as well..
But by the time we finished our lunch (?) it was already around 6pm. So we did a quick Google search, and called few resorts in Tapola. Out of which Garava Resort, Tapola looked nice, was available at the last minute and was in our budget as well. So we finally had booked the hotel.
The next stop was Mahabaleshwar market to pick up some snacks and 🍺.
Up to this point, the day had given us really awesome and pleasant surprises and we were really happy.
But then where was thrill in all of that?
Well thrill was waiting for us like Noddy, who gets its kills when it's least expecting it.
The road from Mahabaleshwar to Tapola, was really narrow and was full of turns. Since it was rainy season, the clouds and fog had covered the complete road. We were not able to see the road even with the headlights on. We were using GPS and Google maps to follow the road.
I don't know about others but I was shit scared and at the same time was enjoying the thrill (since I wasn't driving :p)
The road was really empty and after certain point, even mobile network was gone.. so we could not use the Google maps for navigation. We had to drive really slow.. I guess at one point we were driving even at 10 kmph.. But then a miracle happened.
A local tempo driver, who visibly knew the road really well (as if he had map along with each and every turn in his head) overtook us.. and we blindly started following him.
And we could travel at 30-40kmph, thanks to that stranger tempo driver.
At one turn, he then guided us towards Tapola and parted ways with us. And at this point, we had descended to lower level, so the fog was less and we could see the road..
Finally, we reached the Garava Resort. There we had an amazing food. Had some fun talks, found Omi, had beer, did archery even though we were bit high.
Then I went to sleep (I'm an early sleeper, plus had to wake up early tomorrow, to do some bird watching)
For me, the next day was really heavenly.
Resort is just a few meters away from Koyna bank. And opposite to it is mighty Sahyadri. The mountains were covered with clouds.
Also, just few mtrs away from resort, there is an open space with lots of trees in the surrounding. It's an ideal place for those who love bird watching. I could spot Golden leaf bird, Jerdons leaf bird, white cheeked barbet, yellow tits and few more right besides the resort.
After some time, other friends got up. We went for a boat ride. The boat was motorized. When we reached far end of the ride, we requested the boat man, to kill the engine for few minutes and just keep the boat in the middle of the water. These are the times when you can really feel the connection with the nature.
Just as we finished the boat ride, it started raining. We enjoyed the rains for some time.
Then hd some breakfast, came back to resort. And checked out, and we headed back to Mumbai /Pune.