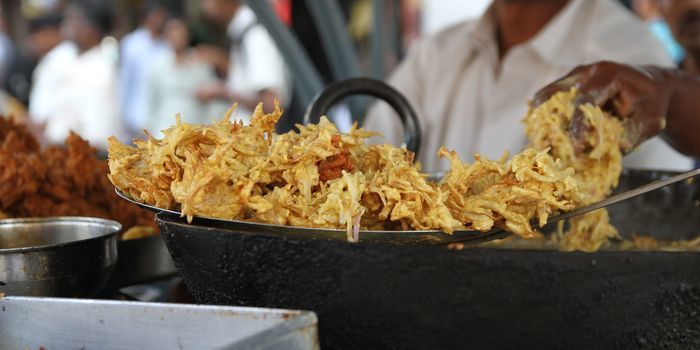 Mumbai or I should say 'Aamchi Mumbai' is not only known for the prolific film industry. The city of dreamers which have lots and lots of people, hard-labourers, starlets and gangsters, artists, crorepatis is also famous for its mouthwatering street food. Yes, you read it right. Whether it's a youngster, kid, a couple or a grandma, the street food of Mumbai is loved by all them.
Recently walked down the streets of Mumbai and I got a chance to have some exotic and mouthwatering street foods severed by Mumbaikars with all their heart and soul. The flavour of Gujarati, South Indian, Parsi, Maharashtra food have brought the culinary richness to the streets of Mumbai and if you have not experience this that too being in the city then you are really missing the real essence of the city.
So, for all my readers, especially who are ardent foodies, I have penned down few street food which can't be missed being in Mumbai.
Vada Pav
Synonym to Mumbai. Right? Vada Pav is one such street food which strikes in our mind as soon as we hear the word 'Mumbai'. This is the cheapest cusine you can get on the streets of Mumbai. Known as poor man's burger, Vada Pav is a bun bread and a fritter stuffed with mashed potato. Severed with spicy and sweet chutneys and fried chillies, Vada Pav tickle the taste buds leaving the craving of wanting more. Schezwan, cheese, grilled Vada Pav, Samosa Pav, Kheema Pav, and Dabeli are some of the most popular variants you can try.
Bhelpuri/Sevpuri
'Mumbai gaye or bhel nai khayi to kya khaya'? Mumbai Bhelpuri is famous all over India. A light must have Marathi street dish is chaat made out of puffed rice, vegetables, and a tangy tamarind sauce. Sev Puri is another must have variant which is made out of Puri loaded with diced potatoes, onions, tamarind, chilli, and garlic 3 chutneies and garnsihed with sev.
Pav Bhaji
Another mouthwatering dish you should have on the streets of Bombay is Pav Bhaaji. An assortment of mashed vegetables cooked with spices and seasonings (bhaaji) is served with bun bread (pav). Garnished with melted butter and coriander leaves act as cherry on the cake. You will find this exotic combination of bhaji and Pav at every nook and corner of the streets.
Mumbai Sandwich (Bombay Sandwich)
How can one miss the Bombay sandwich? With combination of most vibrant ingredients, Bombay Sandwich is made of three buttered white bread slices with slices of beetroot, boiled potatoes, cucumbers, onion rings, and mint chutney stuffed between them. Served with sev on top adds the flavour to your taste buds. You can also get this sandwich is grill or toasted form.
Kebabs and Rolls
Non-veg lovers can't miss the kebabs and rolls. In Mumbai you will find lot of stalls on streets offering these rolls and kebabs. These kebabs are usually made with boneless chicken which is cooked in a spice filled gravy. This gravy or I can say massala is wrapped within a rumali roti and severed hot with green chutney.
Pani Puri
Pani Puri or water balls is most famous street food of Mumbai. Puri are poked with a hole, filled with boiled chana (chick peas) and flavoured water. These little puri's force you to have more and more.
Chai
All the above mentioned street food is incomplete without 'Mumbai ki cutting Chai'. Yes, cutting chai or massala chai is something which people are crazy for. In every nook and corner of the street you will find a stall severing you hot chai.
So, next time whenever you are in Aamchi Mumbai, don't forget to have these yummy, mouthwatering street foods. Enjoy your stay at the city with these exotic street food!