Mumbai street food is as exciting as it is mouthwatering.Not only do you have a chance to taste some incredibly flavorful combinations of ingredients, but standing along the humid streets of Mumbai, watching countless people go by, is part of what adds to your experience.
Here are my top 10 street foods one must try in the "City of Dreams".
1. Vada Pav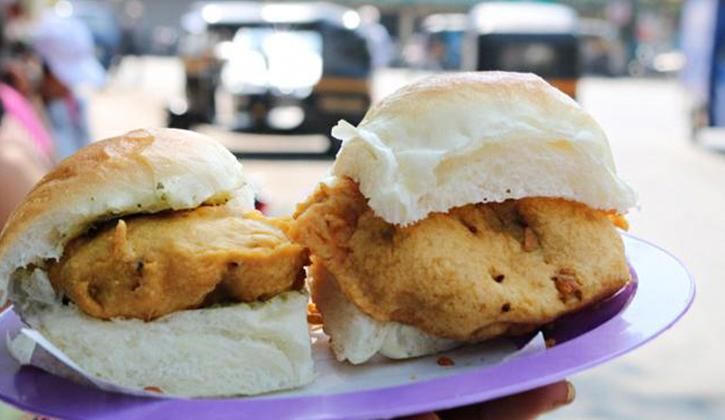 If you take a walk down any street in Mumbai, you're bound to quickly come across vada pav, one of Mumbai's most popular and widely available street food snacks. Also referred to as the "Mumbai vegetarian burger".
Vada pav consists of a spiced mashed potato mixture, which is deep fried into a patty, packed into a white fluffy bun, and garnished with a variety of different chutneys and spices for seasoning. Although it sounds rather simple, and it is, it's one of greatest tasting vegetarian burgers you'll likely ever eat. The chutney makes all the difference. And also, don't miss those fried chilies on the side to give you a kick of heat and flavor.
2. Bhel Puri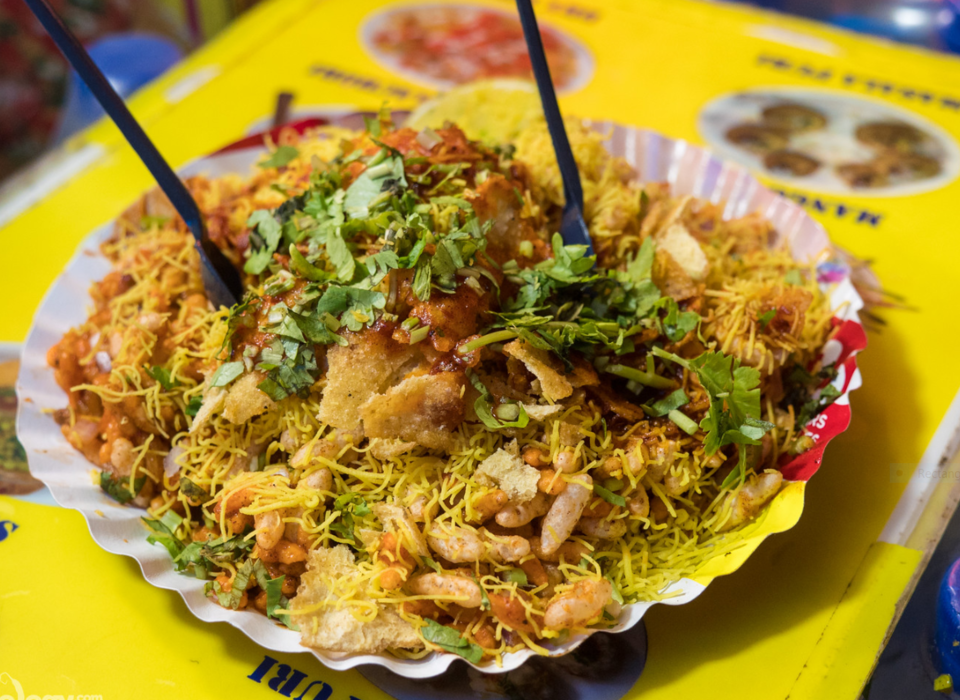 Another Mumbai street food you'll commonly find throughout the city, especially along the busy beaches like Girgaum Chowpatty and Juhu, is bhelpuri. Although it's common around India now with many variations, bhelpuri is one of the homegrown Indian snacks from Mumbai.
The basic recipe includes puffed rice and sev, which are mixed together with potatoes, onions, tomatoes, again a variety of chutney, and it's often topped with a handful of chopped cilantro. The result is a crunchy snack that's tangy, spicy, and sweet from all the sauces, with a wonderful balance of flavor. It's the type of Mumbai street food that once you start eating it, you can't stop.
3. Pav Bhaji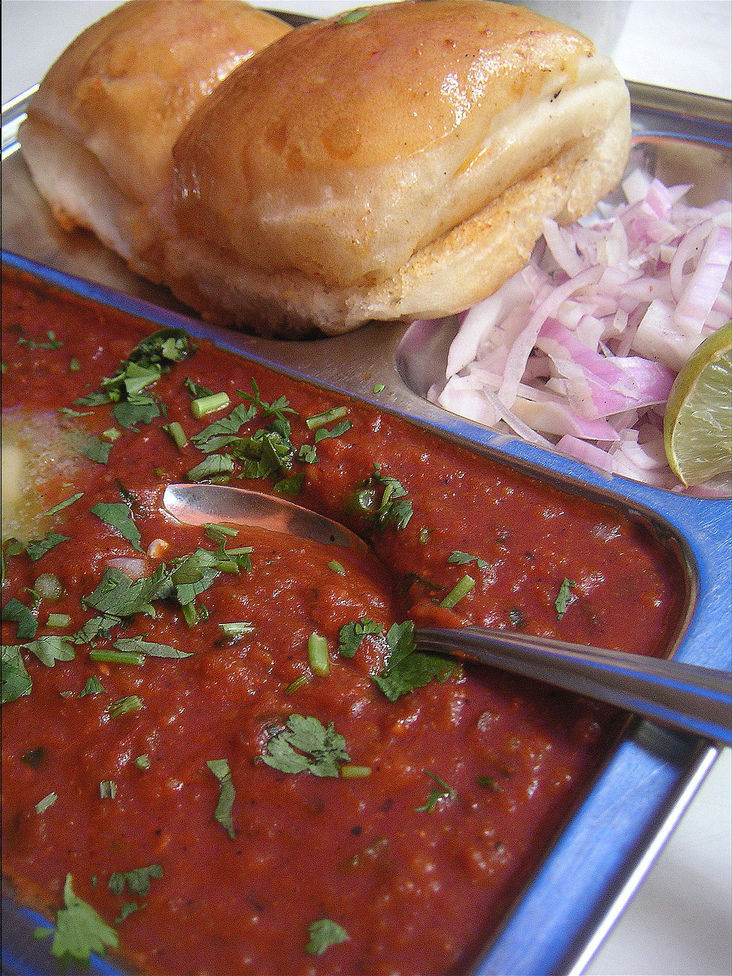 Pav Bhaji originated in Maharashtra, no wonder then that is has gained immense popularity with the people of Mumbai. The dish is commonly served with bread smeared with butter, onions on the side and a dollop of butter on the pav bhaji.
A spicy amalgamation of chopped, boiled and mashed vegetables mixed with spices, Pav Bhaji is the best street food in Mumbai. With a squeeze of lemon juice and freshly chopped onions, it is sold majorly by hawkers but is also available in hotels. Served with a bun, called Pav in Hindi, Pav Bhaji is a prime dish for people craving something spicy yet filling.
4. Sev Puri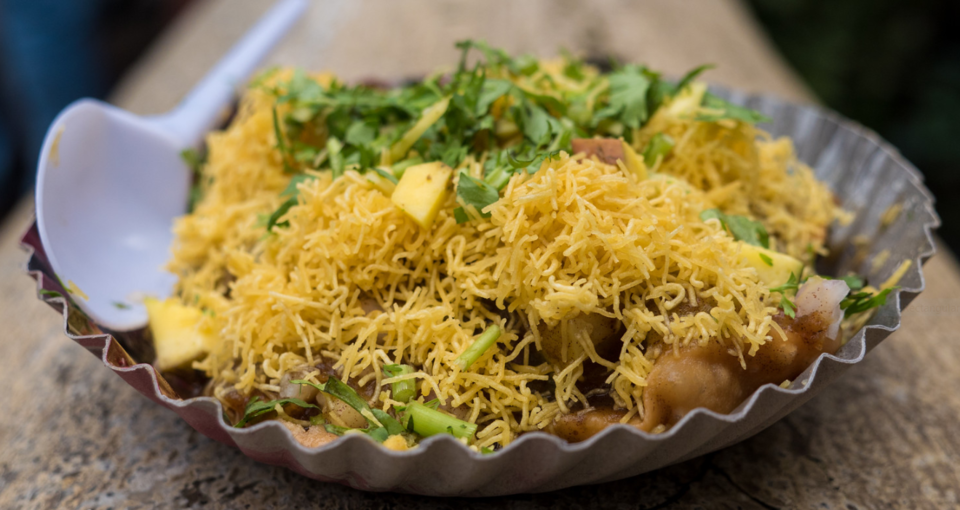 Chaat is a word that is used to describe a huge variety of mostly savory snacks and one of my personal favorites sev puri.
Sev puri begins with a flat puri, which is essentially a little round chip, topped with mashed potatoes, onions, cilantro, sev, and a trio of garlic, tamarind, and chili sauces to give it an incredible balance of flavor. Finally, sev puri is topped with a handful of sev, as the name suggests.
Take a full bite of sev puri, and the flavor explosion will overwhelm your mouth.
5. Dosa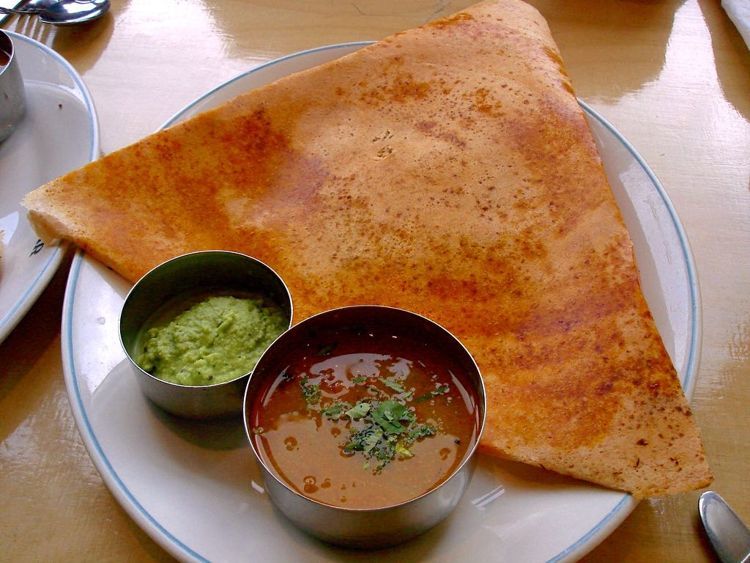 Although dosas are originally from South India, since Mumbai is such a melting pot of India, the dosa is also a very common street food in Mumbai.
A dosa is made from a batter of rice and urad bean flour which is lightly fermented, and then fried on a hot circular plate in a thin crepe like shape. Once it's golden and crispy on the bottom, any number of fillings can be added to the center. The traditional version is the masala dosa, where masala potatoes are added to the dosa, and it's served with sambar and coconut chutney on the side.
6. Tea/ Chai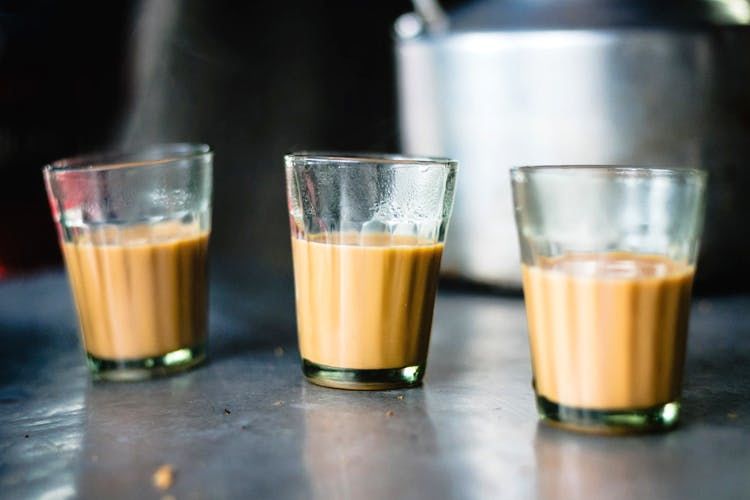 This is not really a food, but I had to include it on this list because of its importance and dominance in the street food arena not only in Mumbai but also in India. Tea in Hindi also known as Chai is not just a cup of tea, but it's a hot and soothing brew that offers a time to take a rest from the chaotic streets of the city, to slowly sip and enjoy.
Chai in Mumbai is just as delicious . The tea is usually brewed quite strong, then supplemented with plenty of creamy milk, and seasoned with cardamom, masala, or ginger to give it an extra kick of flavor and spice.
7. Sandwich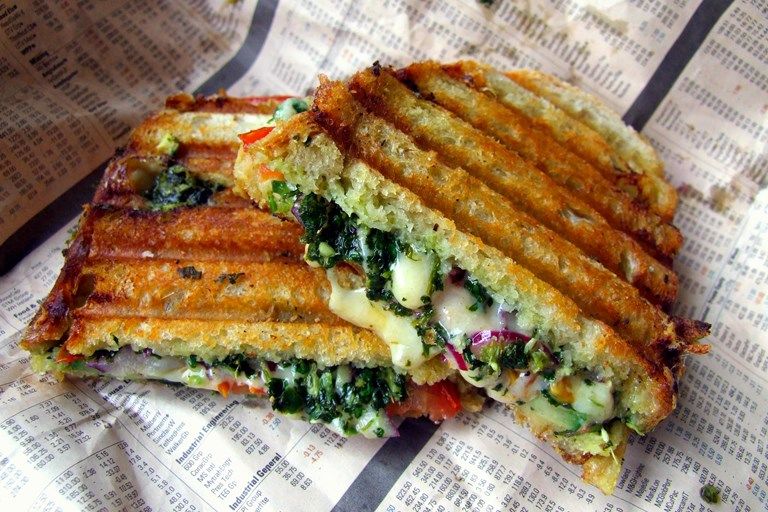 In Mumbai street food, a local favorite is the sandwich, and you find food vendors all over busy parts of the city whipping up grilled sandwiches with expertise.
Typically the sandwiches are vegetarian, and they all begin with a couple slices of white bread that are buttered on either side. Then in goes a combination of cilantro and mint chutney, with thin slices of vegetables that can include beetroot, onion, cucumber, tomato, and a layer of masala potatoes, followed by shredded cheese and a sprinkle of chili and cumin.
8. Kebabs and Rolls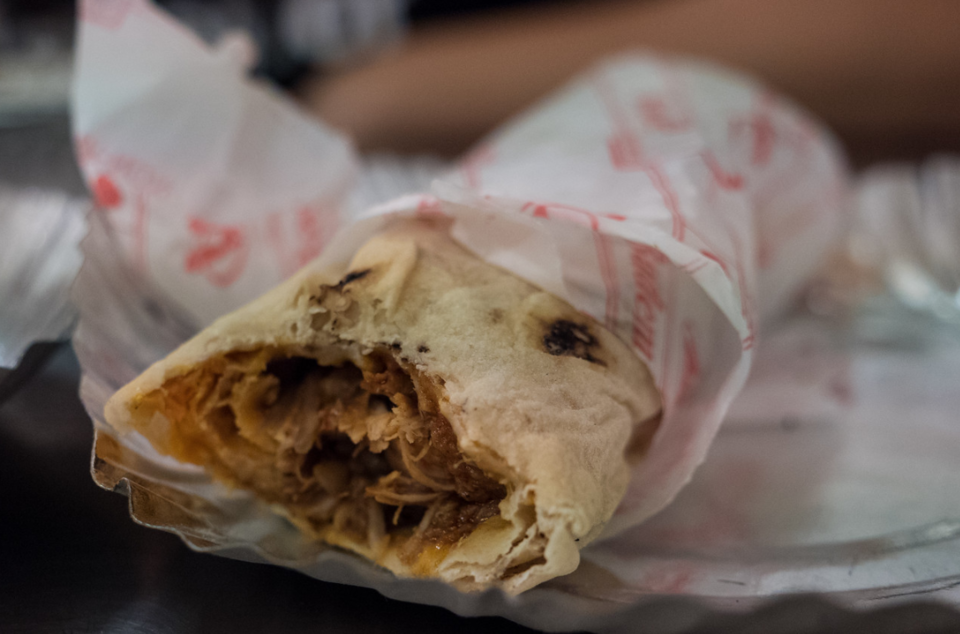 In Mumbai street food you find a lot of vegetarian food but kebabs and rolls are undoubtedly non-veg.
Mumbai has a number of legendary restaurants that serve delicious kebabs and rolls, and one of my personal favorites are the Bhuna rolls. Bhuna rolls are made with boneless chicken which is cooked in a spice filled gravy, and wrapped within a freshly cooked rumali roti, which is a thin roti that's very similar to a tortilla.
A bhuna roll is the perfect late night snack that you want to be eating at about 3 am in the morning, and feeling really good about it.
9. Keema Pav

A close relative of the vada pav, the Keema Pav is served with fresh buns slathered in butter and served with a side of minced meat dish, either chicken or mutton or any other meat of choice. It is a signature Parsi dish and is also very popular as a heavy breakfast or brunch item. The minced meat is cooked in tomato gravy and garlic for added flavor and is generously spiced. You simply cannot miss this dish if you are in Mumbai.
10. Falooda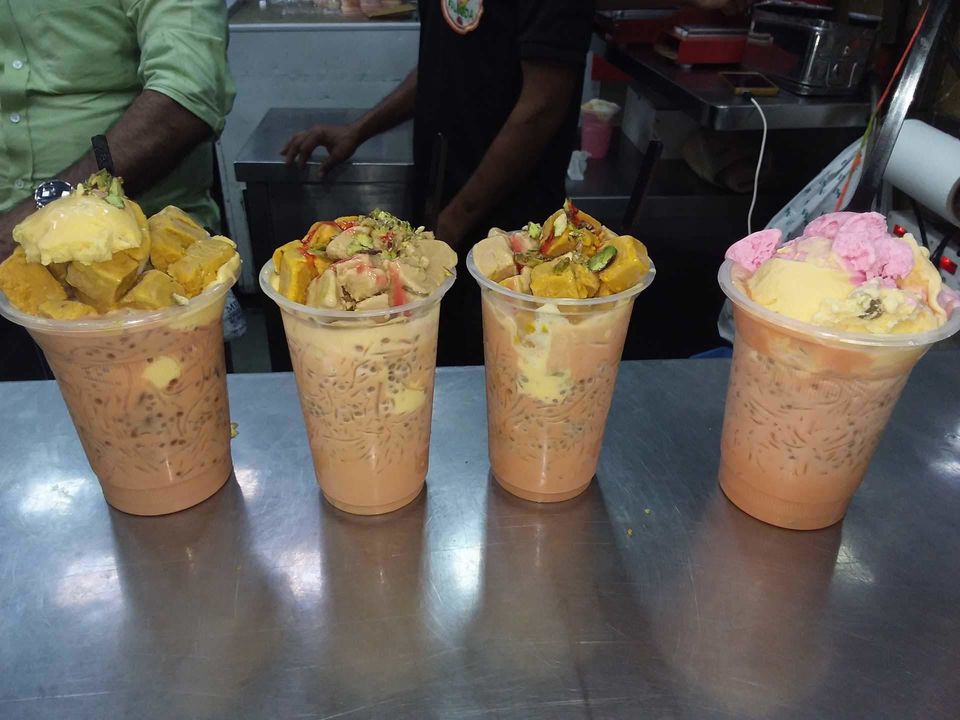 Although not a dish, Falooda, an Indian adaptation of the Persian dessert, is a rich drink of vermicelli mixed with milk, almonds, pistachios, rose syrup, and basil seeds, topped with ice-cream. This street food needs no introduction and is a perfect street food in Mumbai in summers to cool off heat.
These are my top 10 favourites thatI love to have in Mumbai .