Where do you expect a guy to be on a Saturday night? Breaking the hell loose, partying in some club, owned by the ecstasy of weekend, right? Well it was a little different for me this time around. Saturday, 11 in the night. I was standing on the edge of a really steep hill side. Rain was in it's full form, as if in a hurry to announce the arrival of Monsoons. The wind was picking up, making every step a task in itself. The jungle around us presenting different surprises in the form of crabs, snakes, toads, lizards and fireflies. And to top that, it was pitch dark. Zero visibility, with torches being our only ally.
This was the moment that defined this weekend of mine and marked one of the best treks I have been part of. Let me take you to a quick tour of how the Rajmachi Trek was amazing in its unique own ways and made it for us a weekend to remember.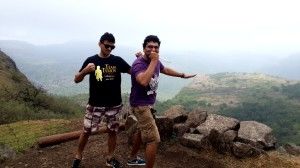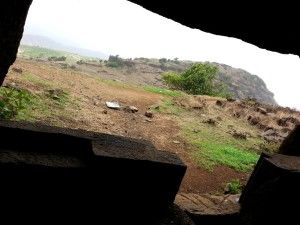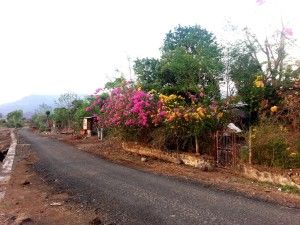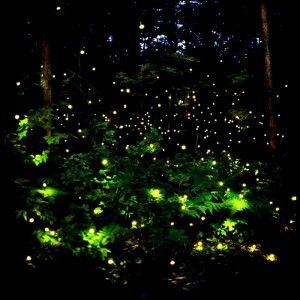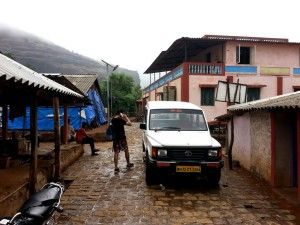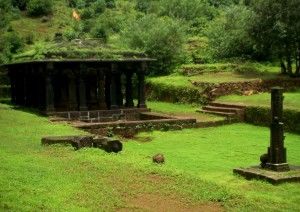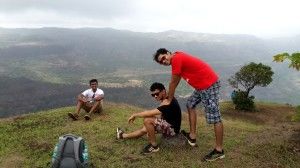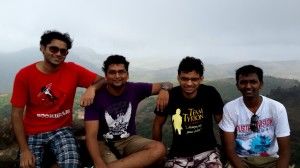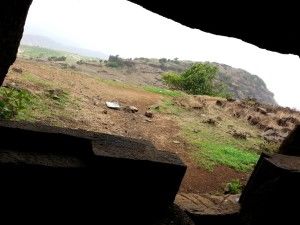 A view of Rajmachi from a cave near Srivardhan fort
Saturday, 3:00 PM
After being successful in dragging all the reluctant, hungover participants, the logistics was carefully planned. Ahh crap, nothing
This is what I was referring to when I said "Show Off"
was carefully planned and we just left with a spare set of clothes, something to eat along and few bottles. Bottles of water I mean :P :P And yes, one extra thing. One of the friends decided to take a knife along, just in case we strike some danger along the way. More than a danger repellent, it looked a show off to me, especially when he showed up with the knife's cover and decided to hook it in his trousers.
Nevertheless, we managed to leave by 4'o clock and it was a couple of hours drive to our first destination, the village of Kondhane, the place from where we had to leave on foot for our base village, Udhewadi.
4 guys, Mumbai Pune express Highway. And with Lord Indra and Lord Shiva showering their blessings together on us, we progressed to our destination.
6:30 PM
Kondhane Village - Rajmachi Trek
Thanks to the benevolent Mumbai traffic and some last minute decision to procure additional "stuff" we reached Udhewadi. After Kondhane Village - Rajmachi Trekhaving a little discussion with the locals, car was safely parked and we set across the path told to us. A well wisher strongly recommended to buy torches for the trail. In a way it was really stupid for us to set for a night trail even without a torch. I don't know what we were expecting, may be street lights all over the hill, or may be hoping the fireflies to light the jungle up.
Still, we are professionals and hence of all the things, we decided to do some cost cutting in the thing which was to prove our only lifeline that night. Only two torches were procured at 10 bucks each and one each was assigned to two guys. A short photo session was done, we managed to scare a few kids coz of my friend's extravagant display of knife and in no time, we were just at the start of the climb. The hill stared down at us and our eyes were fixed on the saffron flag that was proudly waving 2.5k feet over us.
7:30 PM
We were almost through the initial part of the trek. The path had started growing narrower by now and twilight was all set to leave us in the grace of darkness. All drenched in sweat, we had encountered another larger group by this time, and the narrower path ensured that our pace was determined by their speed. We were waiting for the first of the three plateaus en route to go ahead of this group. In the meantime, one of my friends whom I had convinced to come along by going all gaga about the Fireflies lighting up the forest, was continuously on my tail. In case no fireflies were seen that night, I was threatened to be ready for not so friendly circumstances.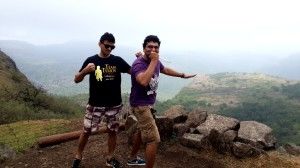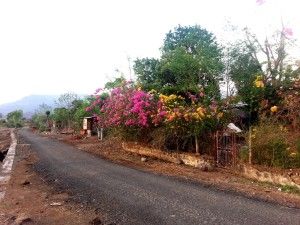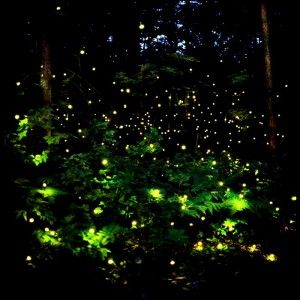 Thanks to our great collaborative strategy, we managed to find our way ahead of the snail paced group even before the plateau came. By the time we reached plateau, they were almost 10 minutes behind. And one of us was particularly happy. The plateau was shimmering with the little moonlight being filtered through the clouds, and the fireflies had surrounded us from every direction. It looked like stars have bypassed the clouds overhead and came over to greet us. We sat there just like that, some more time and the place was set to turn us into Socrates. Thankfully, the other group arrived the plateau by then and we again got set to continue.
8:40 PM
"Chhup Gaya Badli Main Jaa k Chaand Bhi Sharma Gaya". We were singing this song to mock the moon, and may be that's why he decided to let go of us. Clouds had completely blocked every part of sky by then and it was dead dark. Without the torches we would have been stranded there for eternity.
Few minutes back, someone from us said,"Baarish kyun nahi ho rahi BC (Why the hell it's not raining?)". Just at the time I could imagine Lord Indra standing up over the sky with a hosepipe, saying "Baarish Chhahiye? Le Baarish (You want rain? Take this)" before turning the tap on. In no time, the sweat all over us was replaced by fresh water. We are in 21st century, and the first reaction on encountering rain has turned from embracing it to embracing and providing Z plus security to our mobile phones. Ours was no different. After making sure that our little ones are safe, we sat there to be a part of the surroundings. Be a part of the tress around, the fireflies finding the shade, frogs struck by sudden amazement and the clouds smiling on us.
The rain continued, and so did the trail. And by this time we had figured out one thing. We had figured out that there is not a single way to a 4 hour uphill trek and getting lost was for real. We had made our way to the rocky part of the hill by then, and none of the five possible paths we explored was leading us somewhere. To put it in a nutshell, we were LOST and it was just a matter of minutes before someone of us panicked.
9:30 PM
Beating the bush for over half an hour, revising our paths like our exam sheets, only to find out that we know no better, we were unsure of what to do. It was at this moment, at this precise moment, that for the first time we were happy to hear a human voice around. The other group was at about 100m of horizontal distance on another trail and the torches going around made us believe that we can still survive. It was decided to somehow mark a displacement line and find our way to them. The rocks below our feet slid away every now and then, and the force with which rain was pouring on us, traversing this unconventional route was far from being a walk in the park.
But we had to do it at any cost. We knew that if we miss them this time, the only way out would be waiting for daylight and making our way down. The second plateau was just a little distance away and we had to catch them before they got past that.
10:30 PM
We were a part of the other group by then, which itself had split in three parts. The one with the local guide "Kaka" was too far ahead from us. We were the part of the middle group, which had lost contacts with Kaka. Fortunately, we still could communicate with the last group. The path had grown really narrow and one slip would have taken one down. With the rain not showing any relaxation, the chances of an accident were really high. Ever so slowly and carefully, we continued with this trail. Someone from behind inquired if we were lost. I could not think of anything but "I guess so".
And how could an adverse situation like this escape Murphy's law. My friend had stepped over a crab, who was know standing right in front of us with two of his friends. It looked all set to avenge this insult. There was hardly any room for a single line there and this guy had to stand up right then. We were pondering over parley when a voice from the last group took our attention. Looked like they also encountered something. And it was not a crab. It was Mr. Snake. This situation reminded me of the scene from "No Entry" where Anil Kapoor was motivating Salman Khan not to be scared of Snake - "Paani Waala Saanp Hoga, Kaatega Nahi (It must be a water snake. It won't bite". Something like this must have been going on there, we thought.
The last thing we wanted for someone to react coz of a sudden encounter. There was no doubt that slipping even a few meters at this point could have worsened things a lot for everyone.
11:00 PM
Hands in hand, moving precisely in a single file, we moved upward. And then came this point. Road Block. No way to go further. Some 15 odd guys standing in a line on a hillside, where a wrong step by even a feet would have taken one down, we were in the middle of nowhere with nowhere to go.
The cloud that day had no silver lining. But the forest did. The crickets started talking to us and fireflies again came back to meet us. It was no longer raining and the clouds had let go of the moonlight. And the best part was a person calling to us from some distant. Kaka was back and what appeared to be a block was a very steep rocky climb. But the circumstances had motivated us again and we set forward for this last and the most difficult part of the trek.
We reached the last plateau and the way to village was a flat route there on. It's June and it's almost 6 months to go for Christmas. Right? Not for us. Right in front of us, there was this tree fully covered with fireflies. It was not an X-Mas tree but the way it was glowing, we did not care if it wasn't.
12:30 AM
Udhewadi. Our host. We were finally there, seated inside a hut. We rented a room for 200 bucks for the night. All the spare clothes we brought were wet and it appeared to us as if we brought these clothes all the way here just to wash them. Anyways, next time the plastic bags would be used - Point noted. Still we applied a little science and worked it out. For the first time in the last 7 hours, we sat down and relaxed.
The rice chapatis and egg curry that was prepared for us tasted like nothing we were used to have. It was night. It was calm. We suited up and went for a post dinner walk around the forest. After all, we could not have left, without saying a goodbye to our companions throughout this trek, the fireflies. We talked, we sang and we became a part of the Nature.
2:00 AM
Everyone went to bed after I failed to motivate them to stay awake and explore. Stayed around for some more time, stared at the sky and kept on flying towards the moon. There was PEACE written all over me.
8:30 AM
One of us got up early and was directing us to that little bucket which we had to use one by one while we went to fields to do our stuff. We, on the other hand, did not show a lot of interest in waking up. But that was not an option, we were kicked awake and started preparing to visit the two forts which grace the backdrop of Udhewadi - Srivardhan and Manoranjan.
Udhewadi - Our host
11:00 AM
Sitting in the area surrounding the Srivardhan fort, we embraced the surroundings, discussed the marvel with which the fort was made and how simple the way to the fort was, compared to the one we had last night. The base of the hill was not visible from there. It reminded us that the way down was still there. We did not care though. The longer we stayed here, the better it was. The saffron flag was waving right in front of us.
The safron flag - our Lakshya - was finally there
12:30 AM
We had come down to the village and made our way to the beautiful lake that they call Uday Sagar Talav. We were excited to take a
Har Har Mahadev
dip in the same. It was a beautiful lake indeed, situated right next to the ancient temple of Lord Shiva. But unfortunately, we were not worthy enough to cherish this beauty. The plastic packets and empty bottles have caused much deterioration to it.
Lord Shiva. He finds us everywhere doesn't he. The magnificent snake statue greeted us there. Went to the back side of the temple. There was a Baba who was smoking chillum there. When asked where did he find this stuff, he said "Jahaan Chhah Wahaan Raah (where there is a will, there is a way)".
Had Lord Shiva's blessings and came back to the village. Had our lunch and went around the place for a while before we realized it was time to say goodbye.
Sunday, 2:00 PM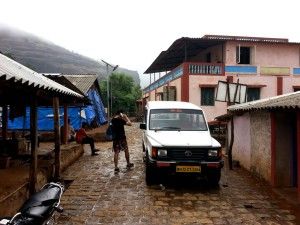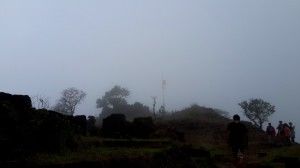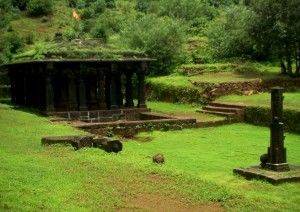 We started to descend and were really excited to see how the place looked like. After all, we didn't see a lot last night. It was just pushing each other forward and taking the next step was all what we thought of.
Encountered the beautiful legless lizard after a really long time. Magnificent creature, and quite intimidating at the same time. We usually call it "Saanp ki Mausi (Snake's Aunt)".
The way down was much easier. The Sun was gleaming on us. I don't remember when I sweated as much as I was sweating then, but no complaints. It took us 2 hours and 15 minutes to come down, and through out this we never lost our energy and kept on singing all this while. Lord Shiva's blessings? Maybe. And maybe it was just that the way down was much easier than the other way round.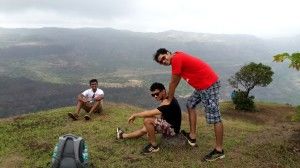 Reminded each other of the song we kept singing all the while the day before - The title song of Lakshya, It was time to say goodbye to Kondhane as well. We started for Mumbai. The destination not being our home, but our alma matter. We set forth for NITIE.
There are few things text books won't teach you - Team work and setting short term goals to reach long term are two of them
P.S. Few pics picked from Google images