So, it was the onset of monsoon season and the city had started turning into various shades of green. There are certain areas around Mumbai that are home to breeding fireflies in the initial monsoon weeks. One weekend we spontaneously planned on trekking up to Kothaligad peth to witness the beautiful phenomena of bioluminescence. And as it is said, spontaneous plans work the best! We had an amazing time and this has been a beautifully unique experience.
Kothaligad fort was basically a watch-tower in the golden times and Peth is its base village. The distance from Karjat station to Peth is about 27 km. We joined a local trekking group that happened to be trekking up the fort that night. So getting a conveyance from Karjat station was not a trouble. I would highly recommend going in groups for this kind of night treks and also getting your own vehicle would be a good option. The tam-tams in the area charge around 600-900 bucks for the ride.
The road from Karjat to Peth in itself is very intriguing and you get glimpses of trees glowing with fireflies on the way!! We just couldn't stop peeping out and emitting Wowws at each tree we saw! Our excitement was building up with each tree we saw. After reaching Peth, we stacked up our bags with snacks and water-bottles from a roadside stand as you don't get anything further on the trek except for another small shop on the way. But since it was night time we couldn't risk depending on that shop and got everything we needed. 
Then began our trek at around 11:30 pm. Initially it's an easy walk and you are surrounded by trees filled with fireflies. Do NOT flash your torches at them as they go dull instantly after these flashes. This also reminds me to recommend carrying one torch per person as there is no other source of light through the trek except probably on full moon nights. And the correct kind of shoes and clothing is also always beneficial. We stopped frequently to look at fireflies and absorb the beautiful scenery. Clicking pictures is not a very good idea because you need an immensely advanced camera to take a decent shot. Also, the flash of camera would disturb the fireflies.
After about 4 kilometers of walking begins the climb towards the fort. This should be done carefully and patiently as a lot of risk is involved. Large stairs lead up to the fort, but there also exist broken off patches where you yourself have to find your way through. The trek is of medium level. We were also lucky enough to spot a blue scorpion on our way up. The tiny little creature excited the whole group and scared a few too! 
By 4:20 am we had reached the caves near the fort. These are simple cut rock caves with a temple and bats can be easily found in here. We were supposed to rest there till dawn. All of us lied around on the floor, chatted and some dozed off for a while. We couldn't help but appreciate the beauty of each moment as the night turned to day, as the bats started flying back into the caves and birds began chirping, as all the dark shapes and shadows around us begun getting defined! Staying awake to witness all this was definitely a perfect decision, although I slept through the whole of next day!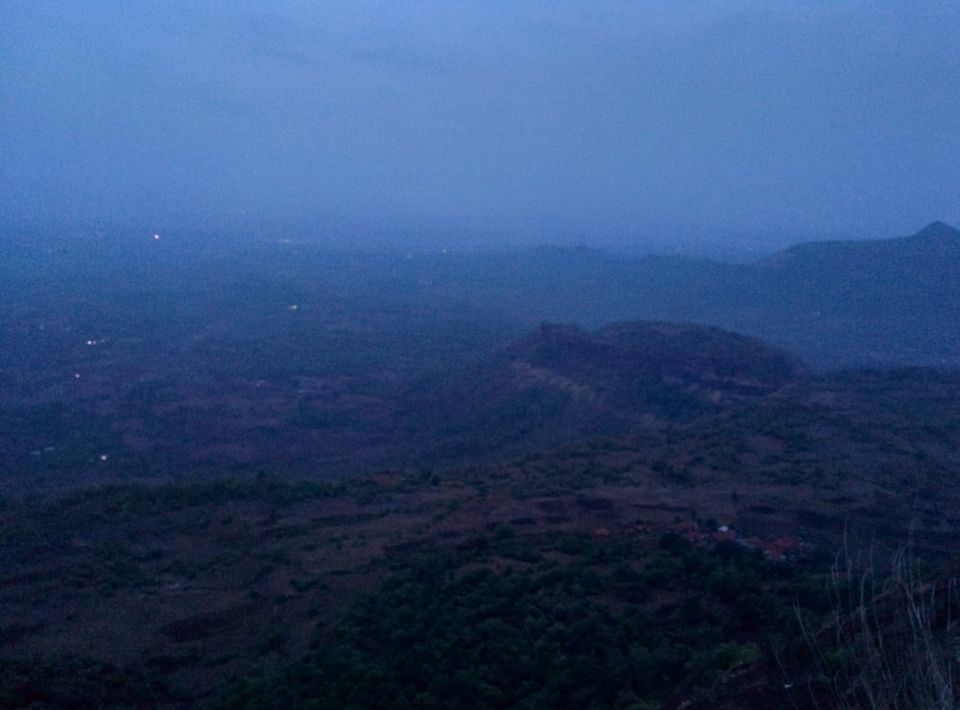 So, around 5:45 we had begun climbing further upwards to the top of the fort. It is a small half hour climb, but is the most tricky part. People who are afraid of heights are requested to avoid it. But once we reached at the top, the view was breathtaking! A 360 degree view of the surroundings with water bodies and lush greenery. We explored around a little bit. There is also a grave at the fort which is probably worshiped.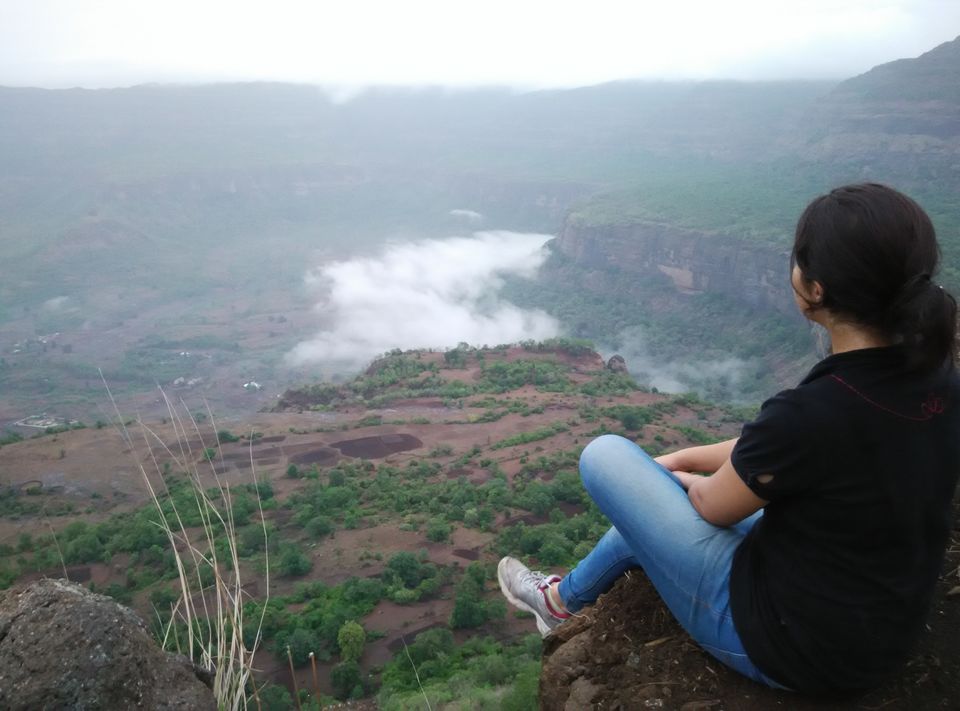 Finally we began trekking downward and our biggest motivation was our homes calling us back to sleep! Thankfully we had not faced any rains through the night but it started drizzling as we were on our way back. So, it is advisable to carry raincoats along with you. It seemed an entirely different place during the day than what we had seen in the night! Such is the glory of nature!