I used to see this restaurant Flavors while going to Vashi, near Sanpada Railway Station and I was planning to go there and finally it happened last Friday. We (Me and S) went for lunch to this place. We got the parking easily and it didn't seem to be an issue at that time. We went around 1 pm and the place was quite full.
I don't know why but I always judge the restaurant at first place by the ambiance which has not always been the right approach because I had some amazing food at average or no ambiance restaurants also. But, as usual, the place was analyzed again on this parameter and I liked it this time at the first place only because the beautiful decor, perfect lighting and comfortable sitting space impressed me.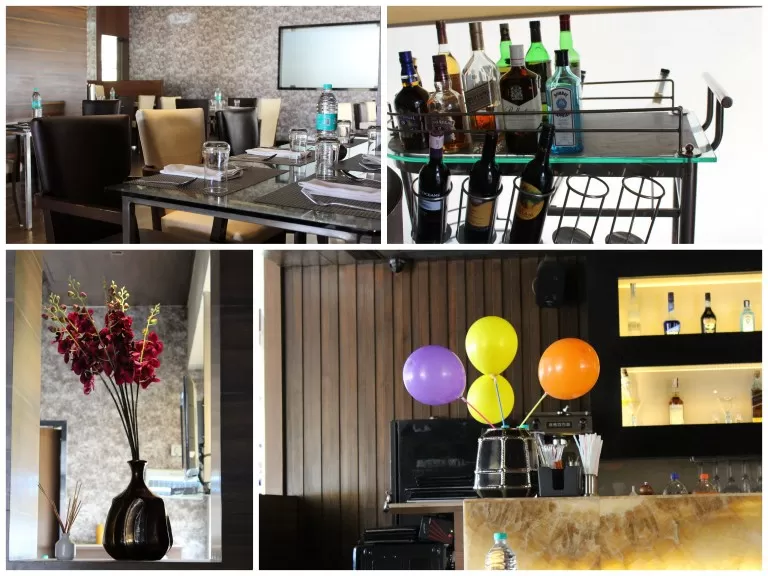 We started the meal with some beautiful looking and totally " Hatt-ke" (different) Mocktails.
Mocktails:
Icy Lemon was a beautiful blue colored mocktail and it had a very refreshing taste of lemons. It became my favorite in the first sip itself. Next was Chatka Mary ( interesting name .. isn't it?) This is a crazy spin to the Bloody Mary where the tomatoes are replaced by sweet- spicy guava juice with some lime. The rims were coated with salt and red chili powder and full "khatta-meetha-teekha" combo this one was. Kala Khatta Mojito was another beautiful colored mocktail which was served to us and was a notable combination of the kala khatta and mojito. I liked the taste of this mocktail and enjoyed sipping it. The last one was Green Chilli Mojito.. (Yes ! you read right) an attractive bright green color mocktail was is a unique combination of green chilies, lime, and mint.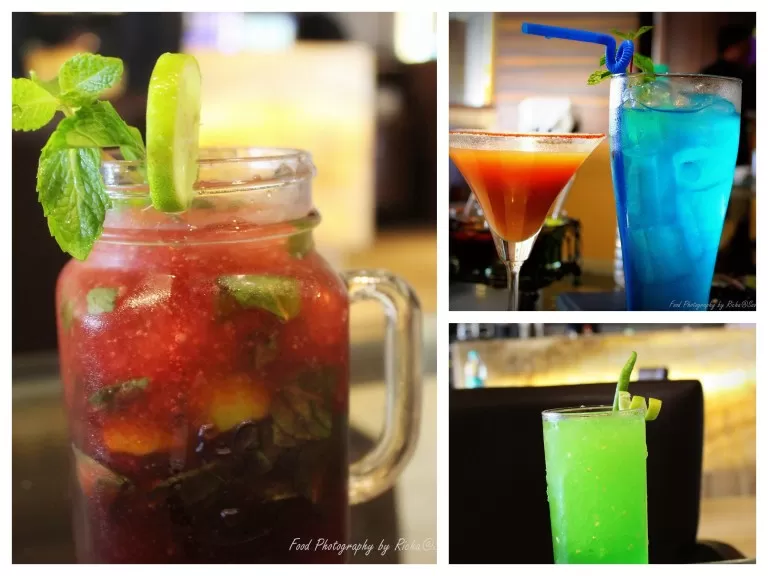 This is my favorite part of the meal because I am a big fan of dry and tandoor items more than the gravy dishes. The starters were served with a variety of dips and sauces. I liked the starters here more because they were beautifully presented. Murg Hazarvi Kebab was delicious pepper flavored chicken kebabs. The chicken pieces were succulent, spicy and perfectly cooked. Panner Hilltop was served on a BBQ equipped serveware were the paneer tikka was placed on top and the bottom section was filled with burning charcoal which was like a live BBQ. The paneer pieces were soft and this green colored tikka was stuffed with spinach and green peas filling. Veg Kurkure is something that you should not miss. Crispy fried vegetables served beautifully with honey and chilli sauce. Paneer Lotus was beautiful flower shaped fried pastry sheets stuffed with spicy paneer filling which was crispy and yummy. The BBQ chicken was tasty with chicken cooked in BBQ sauce. The Bikarneri Seekh Kebab is a good option for the vegetarian lovers but I found it a bit dry due to the cottage cheese I guess and you need some chutney or dip to accompany it.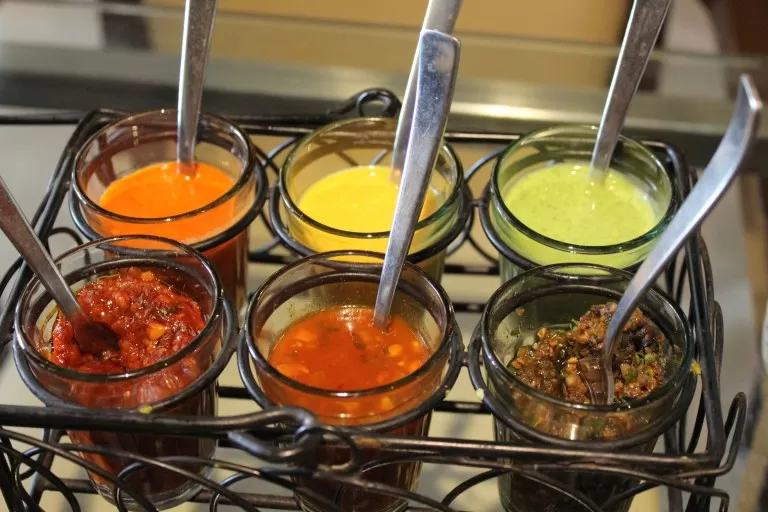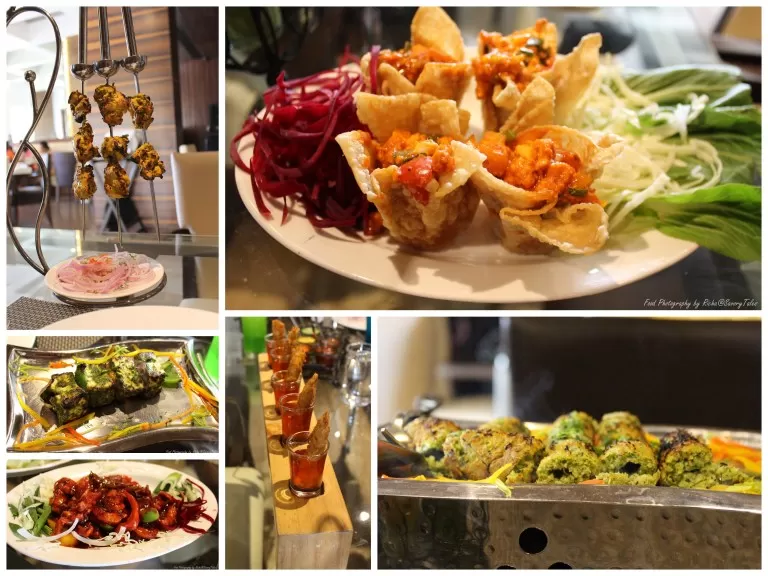 Main Course:
As I mentioned above I absolutely loved the way they presented the food and the quantity is fulfilling too. I would like to mention especially the Singaporian rice served with Prawns in Oyster sauce. The rice was nicely cooked, flavorful and it was presented in a bamboo container. I loved the Murg Musallam which was rich and creamy chicken gravy with minced chicken pieces and was downright delicious. The Subz Diwani Handi was good too and Paneer Lababdar was kind of ok nothing special. The meal was served with Roti ki tokri which had assorted bread right from missi roti, tandoori roti and naan.
Dessert:
I think this is the favorite part of the meal for everyone. Since we were already full after such an elaborate meal so we decided to conclude the meal with the hot sizzling brownie. I love that sizzling sound of the chocolate sauce and it's such a treat to eyes to watch it in front of you. It was absolutely delicious and with moist brownie, vanilla ice-cream and hot chocolate sauce.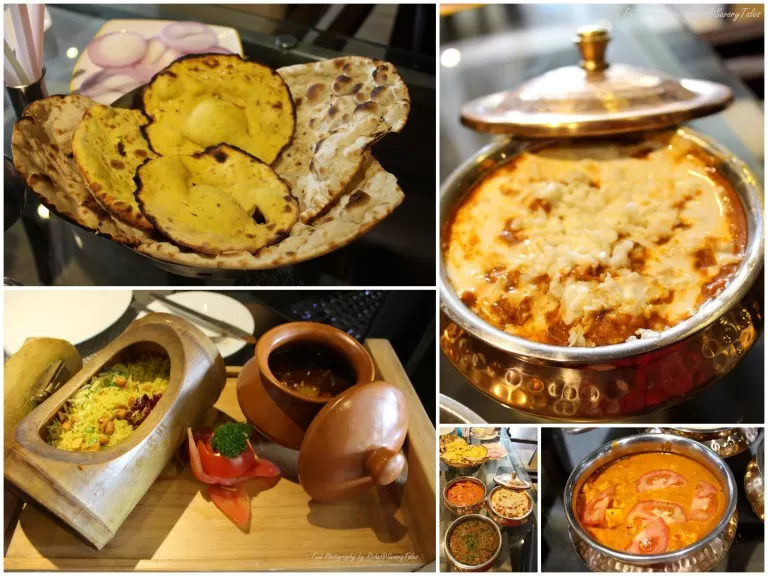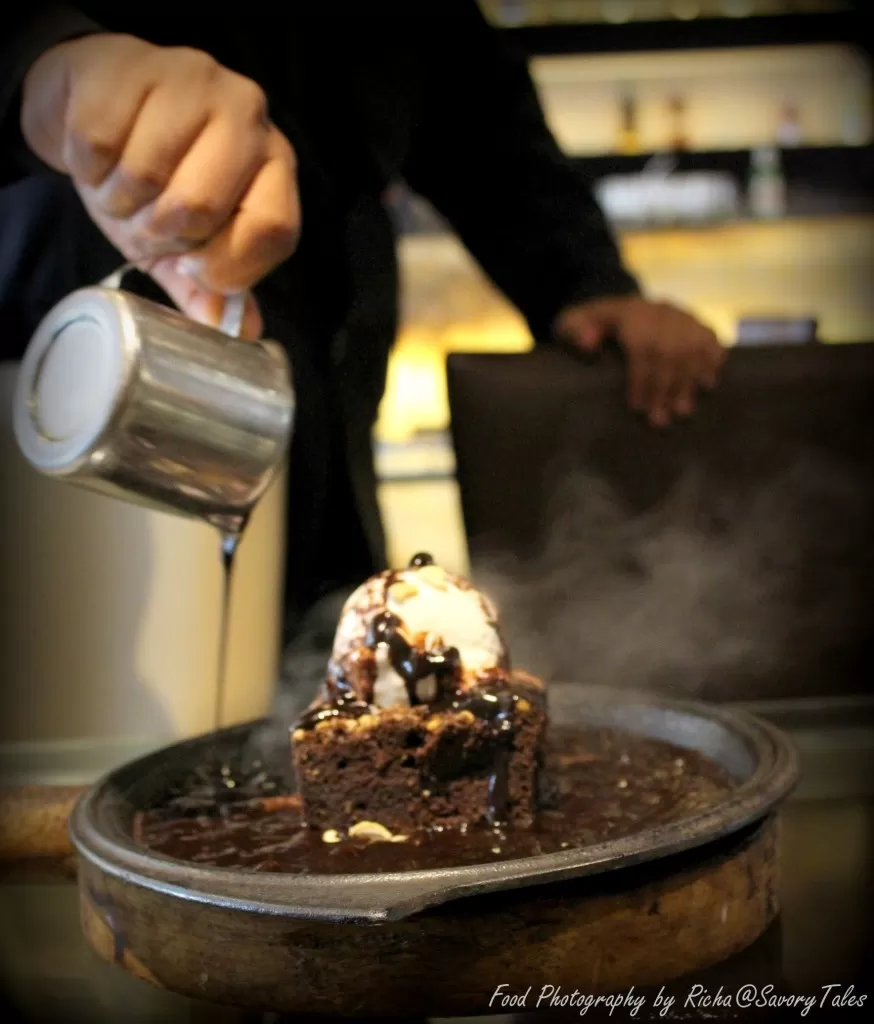 The service is another thing I would like to mention here. The staff were quick and well aware about the menu items. They left no stones unturned to give us the best service.
They have an ongoing BBQ festival so check out their Zomato and Facebook page for more details.
This place has an amazing variety to offer to all veg and non-veg food lovers. This restaurant is indeed a good option for the residents of Navi Mumbai or anyone who is visiting this part of the city.
"My opinion and words are not biased and the review is totally based on my experience at the restaurant. But rightly said, "Food is subjective and everyone has own taste" so kindly exercise your own discretion, with the understanding that this is reviewer's personal opinion."
This blog was originally published on Savory Tales.