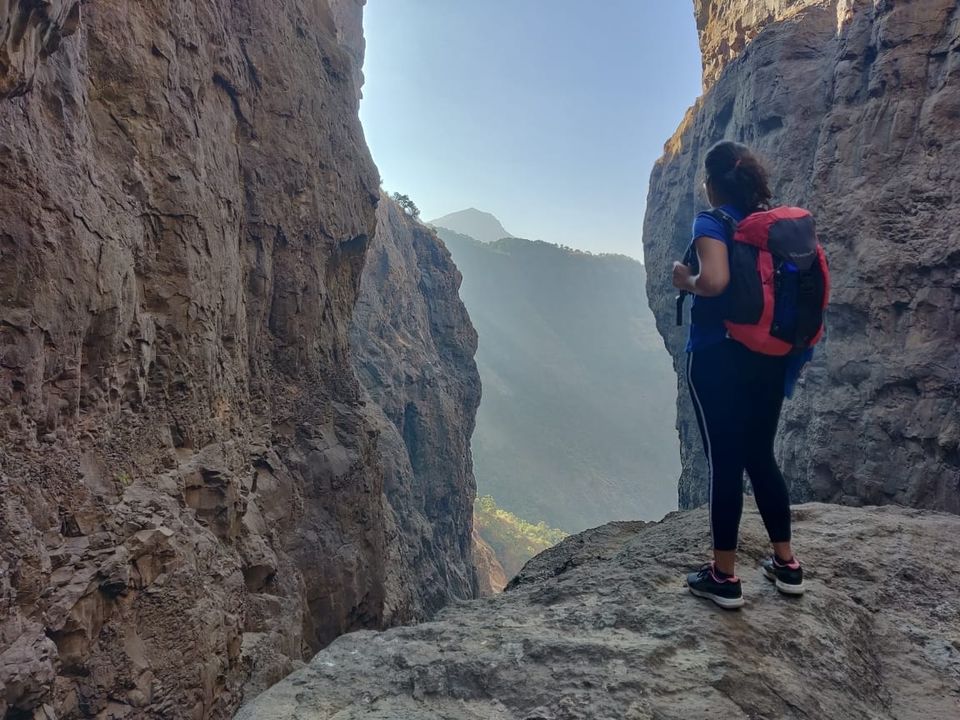 Night travel to the base village.
The day had arrived. My desire to spend the year end  away from the hustle of the city was finally going to be fulfilled.
We boarded the last train to Kasara where we were supposed to meet our trekking group. As an amateur trekker I really didn't know what I was getting myself into. But I had always been a sucker for unexpected adventures.
We reached Kasara at 1:30 am and were transferred to jeeps that would take us to our base village. Being a Mumbaikar, I had not experienced the temperature go below 22°.But as we were travelling towards the base village which is located on a hill, the temperature dropped to almost 12°. This was the first time I experienced vapour coming out of my mouth while trying to speak. The climate was like magic to me. It felt like I was experiencing actual winters for the first time in my life.
We arrived at the base village at 3:30am. The highlight of this night was the dark sky full of stars. It felt like a real life HD wallpaper. The sight was so mesmerising. We then relaxed and prepared ourselves for the trek to Sandhan valley.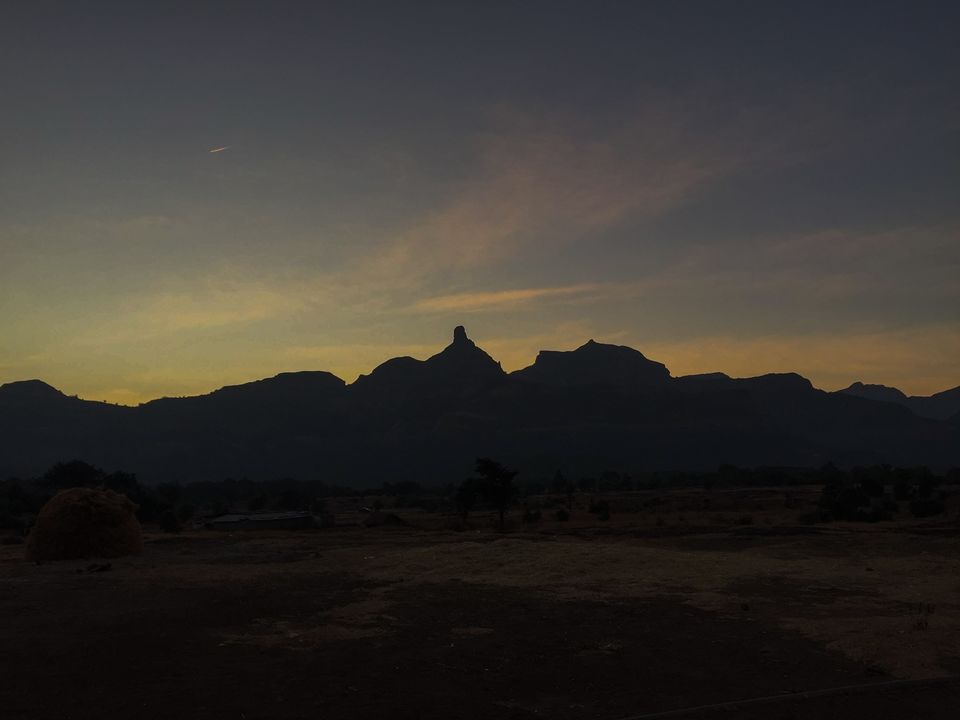 Trekking the so called 'Grand Canyon of Maharashtra'
We started our trek at 6 am in the morning after filling our tummies with the delicious local breakfast. Sandhan Valley is a deep natural crack in the scenic Sahyadri mountains of Maharashtra. Located 180 kms away from Mumbai, near the beautiful Bhandardara region, the spectacular valley is almost two and half kilometres long. Our paths were rocky. We came across a water patch which we had to cross. The water was freezing cold and came almost to my waist. After crossing this patch we moved ahead towards more rocky patches. We then had to go down rappelling- a height of 100 metres. This part gave me an adrenaline rush. We then took a break at 1pm and let our feet rest. After relaxing we resumed our trek. Our paths consisted of rocks of all size, small rappelling patches, cave patches etc. We completed our trek at around 6pm and reached our campsite. The campsite was quiet and peaceful. We then set up our tents and freshened up. It started getting dark and our growling stomachs needed it's fuel. We set up a bonfire as the climate was also getting chilly. We then had our dinner- which was food cooked at the campsite by the local villagers. After being re-energised we were all set for some bonding session - games Andheri stories by the bonfire. The sky was the highlight of the entire night. It was filled with stars. Staying in the city, we aren't as lucky to see a sky full of stars so we grabbed our sleeping bags and started stargazing. After a while of stargazing we went back to our tents to get some sleep.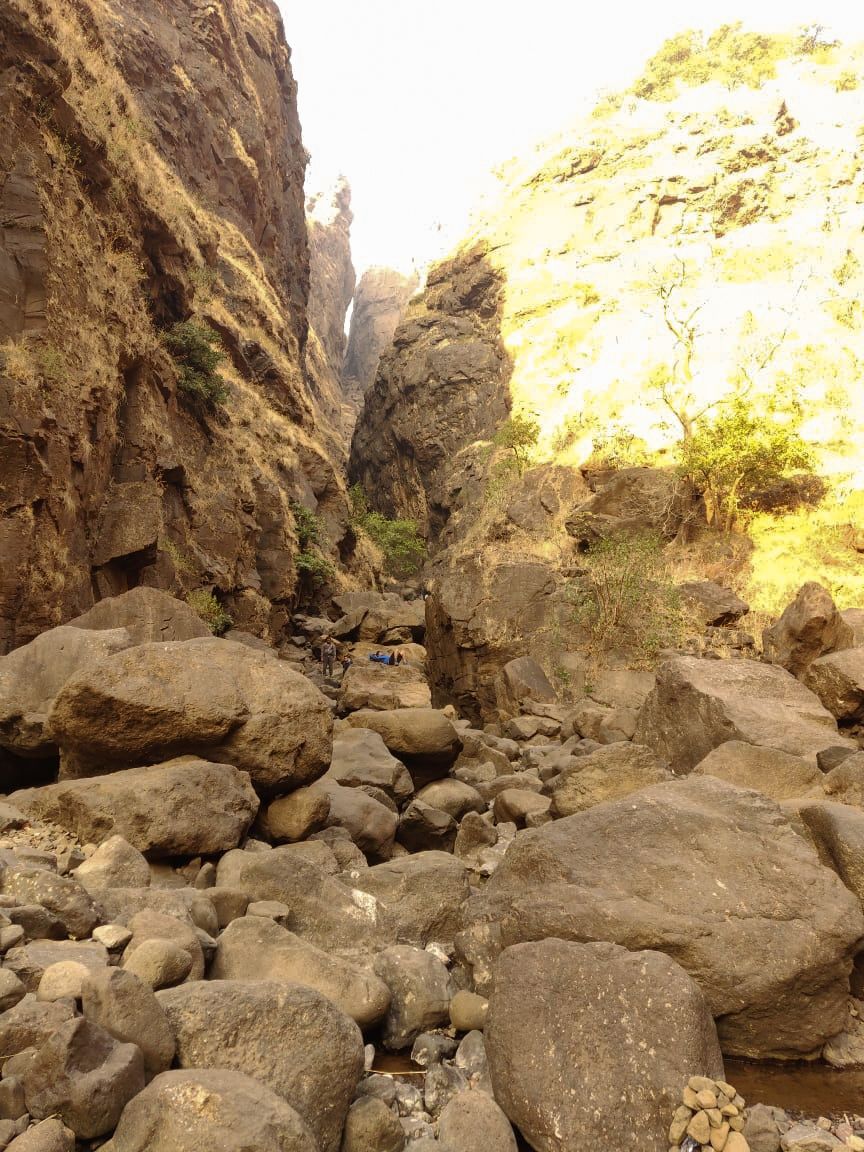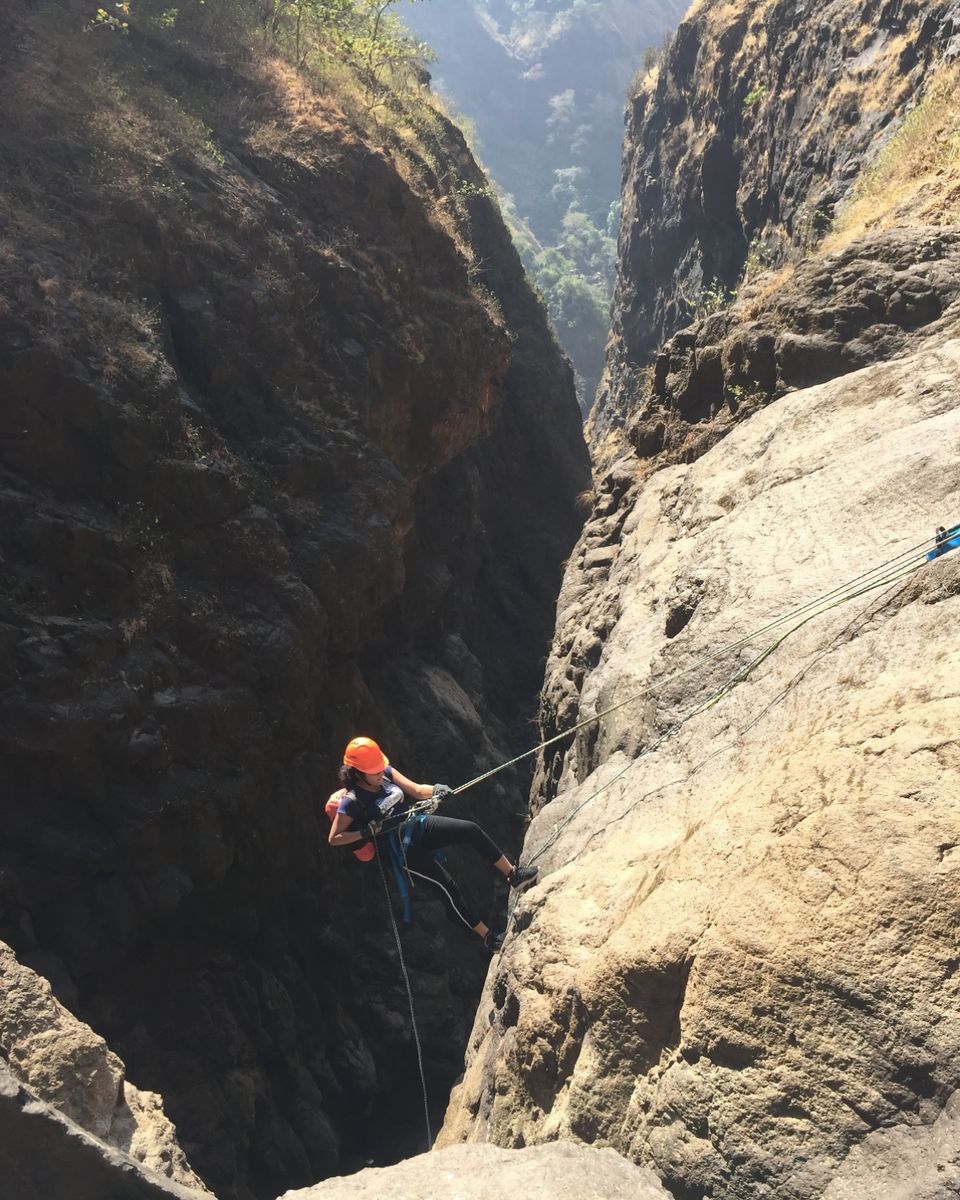 Waking up to Serenity!
We woke up at around 6am. The climate was cool and the campsite serene. We could hear the birds chirp, the wind blow - these are the kind of experiences we miss out in the city. We freshened up and packed up our tents as it was time for us to go hiking. We had our breakfast and 'garma garam chai' and were all set for the hike. We hiked our way through villages and barren lands to reach Asangaon. On our way we came across a stream. We spent some time by the stream, enjoyed dipping our feet in the clean cold water. We then started towards Asangaon. We reached Asangaon Railway Station and it was time to bid farewell to our fellow trekkers. This was a bittersweet feeling as we had bonded so well in the last couple of days.
Sandhan Valley trek is for people who are looking for a getaway away from the city with added adventure and thrill.I highly recommend this trek once in a lifetime.
Trek Difficulty: Intermediate to Moderately difficult
Trek Duration: 2 nights,2 days
Trek cost: 1600₹
Pick up point: Kasara Railway Station
Drop point: Asangaon Railway Station
Best time to visit: October to January