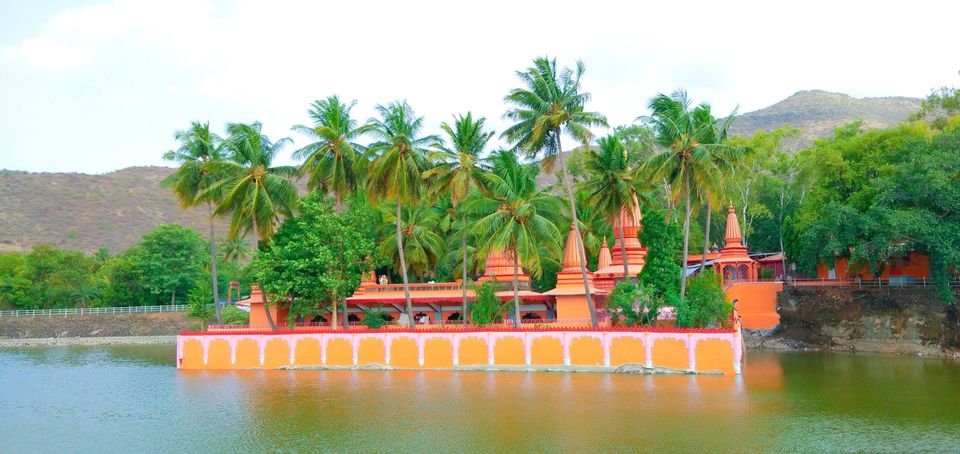 It is said that, "Traveling is not something you are good at. It is something yo do, Like breathing." Being a photographer by heart, Early morning trips always fascinate my soul.Pune is surrounded by Many beautiful places of different kind starting from forts, museums, waterfalls, sea, and places of religious importance. On last weekend we (Me & my Wifey) decided to visit Ramdara temple in early morning hours. Being a true Punekar, it was little difficult for me to get up early from the precious morning sleep, but somehow the 'Lust' towards photography & travel managed my mind to get up at 6.00 am. Ramdara temple is located at Loni kalbor village in outskirts of pune city, it is just 15 km drive from my place. We started our journey at 7:30 am. Since we started in early morning, It was an awesome drive without mundane hustle bustle of Pune city. Once the city limits are over, drive to Ramdara temple became more and more scenic. Farms on both sides of road, awesome landscapes, open blue sky, Marigold plantations and much more. It was just a perfect morning drive. Ramdara temple is not visible untill last minute as it is hidden within hills and the last turn took us to a big parking space covered by dense, shady banyan trees. Lake surrounded temple, calmly floating ducks, lotus flowers in lake, coconut & palm trees all around, beautiful reflections of temple in lake, for next few minutes we just stood there watching and enjoying beauty of nature. Gentle morning breezes added charm to the peace. We really understood the meaning of 'Love at first sight'. After walking few minutes we reached inside temple.The main temple is dedicated to lord Shiva and has a huge Nandi at the entrance,however the beautiful idols of Lord Rama, Sita maiya, Laxmana & Hanuman in inner shrine made this place more divine.There is sculptural representation of 'Dashavtaras' by lord Vishnu inside the temple. The temple was constructed 50-60 years ago. According to locals, there was an ancient temple and Lord Rama & Sita maiya visited this place during their period of exile.There is ashram of shri Devipuriji maharaj also known as Dhundi baba, he stayed at this place for many years. We spent around 3-4 hrs at this place and trust me it gave us feeling of inner peace and a complete satisfaction of our mind. Ramdara is a perfect blend of Nature, religion, history & tranquility.
Travel Tips:
1) How to reach : Reaching Ramdara is easy, GPS shows the exact location and almost all mobile operators have network there. 1.It is on pune-solapur highway, around 30km from swargate. 2.From swargate it takes around 1 hour by car. If you are planning to go with family, it is better to go by your own vehicle as public transport to this place is rarely available. 3. Once you cross Hadapsar proceed towards Loni kalbhor, after crossing toll booth, there is a small bridge,slow down your vehicle and look for a right turn. 4.Take right turn and proceed towards village, you will get a chowk. take right and go straight about 6 kms to your divine destination.
2. What to eat : There is only one stall in that premises, he serves garama garam Vada-Pav & Tea. Zunka & bhakari also available on some special occasions (mostly on weekends). But it is always better to take your lunch with you and have a experience of eating with your family in the vicinity of nature & the God. Some good pure veg & non veg restaurants are available on Pune-Solapur highway near toll booth.
3. Other attractions : It is also good for Bird watchers, you need to reach in early mornings for this experience.4.Other places to visit in vicinity : Shri chintamani Theur Ganesh ji temple is one of the important Ganesha temples in Maharashtra. It is just 14 km from Ramdara temple.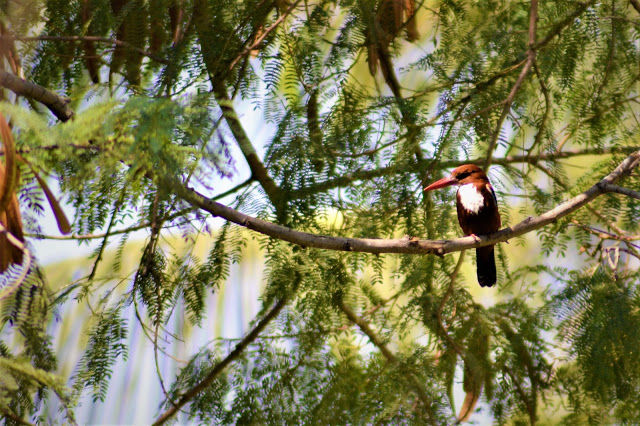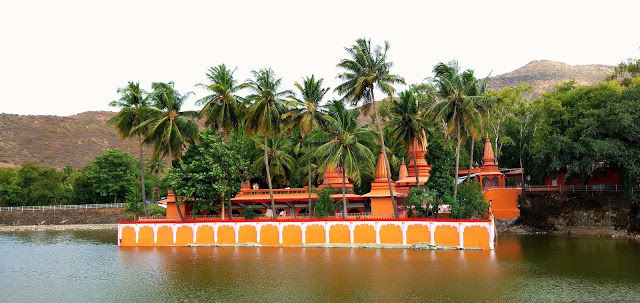 Ramdara Temple