I have visited Shirdi twice from Pune. First time I went to Shirdi by car with parents. There are lots of local travels available to reach Shirdi from Pune. These travels will charge around 3300-3800 excluding toll charges for a group of 3-4 people and they provide cars like Indica or Indigo. We started from Pune by 7 in the morning and reached Shirdi around 11 including a pitstop. As it was a weekday we had a very quick and a comfortable dharshan. We were able to get the dharshan of Swami within two hours. The cab package will also cover Shirdi and Sani Signapur which is located one and half hours away from Shirdi. Never miss this place if you are visiting Shirdi as this place has its own significance and it is also a renowned pilgrimage spot in India. We visited Sani Signapur on the way back to Pune. It was almost 5:30 in the evening to cover both Shirdi Sai dharshan and Shani Shingnapur. We left Shani Shingnapur around 6 o clock and we reached Pune by 10:30 pm. If we stay for a day in Shirdi we could have also visited Nashik as one day is not sufficient to visit both Shani Shingnapur and Nashik. If we want to visit Nashik the cab charges would cost up to 5500 rupees.
Second time I went to Shirdi by a private travels bus. Tickets will be available at any time and ticket rates starts from Rs.300. I reserved a ticket for 11 pm bus on a Tuesday and the bus left Pune 11 o clock sharp and it reached Shirdi by early morning 3:30 am, as these private travels will be having tie ups with some local private hotels, my bus stopped in front of a hotel. The bus driver did not take us to the center of the Shirdi town where the temple and the cloak rooms are available. I was impressed by the hotel's outlook and thought of taking a room for a day. But the persons available in the reception area recommended me to use the temporary refreshment rooms for Rs.50. The caretaker inside that hotel guided me to a place which looked like a waiting room in the railway stations. Both men and women have to use that place for refreshments, changeover, brushing and the bathrooms were that of the public toilet standards. I went back to the person in the counter and demanded for a room in the hotel assuming that the rooms would be better. But he told it will cost me Rs.100 for 2 hours and decided to take a room. To my surprise it was even more in a pathetic condition. The room maintenance was so poor that cigarette butts and beer bottles were scattered in the room and the toilet was awkward. Got annoyed and took my money back from the receptionist and went out of the hotel to reach out to a better place for refreshment.
After stepping out of that hotel I inquired a regular Shirdi visitor who told me that the refreshment washrooms and the cloak rooms maintained by the Shirdi temple trust are better than these private hotels and cheaper too. I reached that place by an auto, as it was shared by four persons I owed only 10 rupees. They maintain a separate bathroom for men and women which was convincing and it was quiet decent than the one where I got trapped earlier. They charge only 10 rupees to use the bathroom. We get hot water as well. But still it is not recommended for the people who are travelling from the longer distances with family and children. We can keep our bags there in a cloak room which cost only 3 rupees. Mobiles are not allowed inside the dharshan queue, only wallets can be carried inside. There are mobile lockers available in the same area which is maintained by the temple's trust. As it is a tourist/pilgrimage place don't fall a prey for the people those who deceive you. There are many people who will approach and insist you to keep your valuables in their shops and guide you for some rooms to stay, beware of them.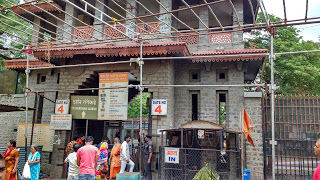 After taking bath and changing the clothes I kept my bag, mobile and sandals in the corresponding places maintained by the trust and went inside the free dharshan queue by 4.45 am. Even though it was a Wednesday there was a good amount of crowd from different parts of India. Most of the people were in a urge to see swami and hence most of them were particular in overtaking people walking before them, almost it was like a walking race, while most of them were involved themselves in reading Vishnu Sahasranama and chant slogas. It was really fun standing in the queue. By 6.15 am I had the dharshan of Sai Baba and came out of the queue.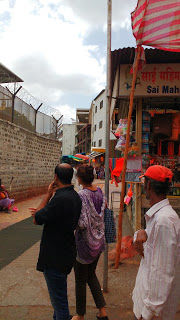 After visiting all sanctums inside the temple, I stepped out of the temple and had idlies for breakfast. There are counters available for tea and coffee for 2 and 3 rupees which is owned by the temple's trust, but again a long queue will be standing there. As I didn't had a good nap during the bus journey the previous night, I felt damn sleepy. I was looking for decent rooms, but everyone refused give room for a single person. But I managed to get a room which is in the market area adjacent to the Gate 4 of the temple. I paid 500 rupees to stay for 8 hours in that room.
After sleeping tight, it was 12 pm when I woke up, I realized that I couldn't make it to Sani Signapur as I booked a bus to Pune by 4 pm. Hence I decided to visit the nearby temples. After checking with the local people I hired an auto for 550 rupees, and informed the auto driver to take me to Panchamuki Vinayak temple (5 kms away from Shirdi), Datta mandir - Sakori, Veera badra mandir, Kopergaon Baba Tapo ( Approximately 15 kms away from Shirdi) and Janardhan Samadhi which is located on the way back to Shirdi from Kopergaon.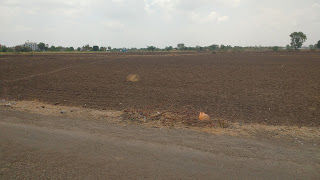 The auto drove across a few villages to reach Panchamuki Vinayaka temple. As I went on a summer the landscapes were very dry. But if it had been a monsoon it would have been greenish.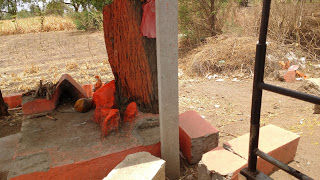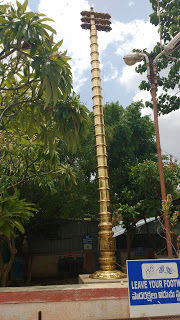 Datta mandir is a very peaceful place, the history of many saints, disciples of baba are scripted in the pillars and walls. Photos of many Maharajas and saints are hanged all over the hall. It is located in the place called Sakori.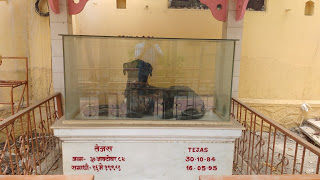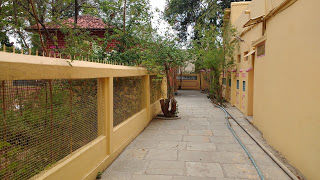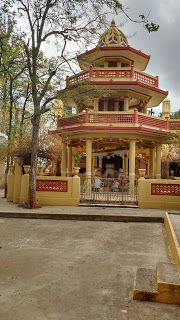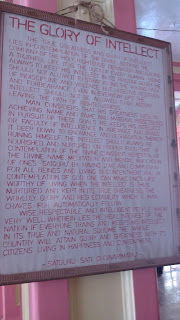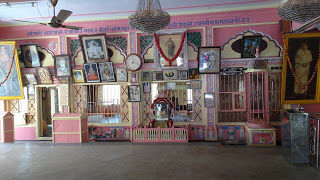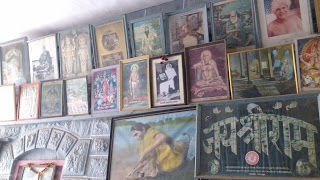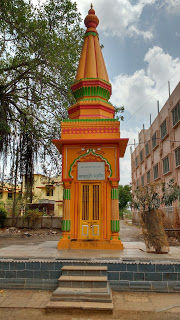 VirBadra mandir is located a 2 kms away from Datta mandir.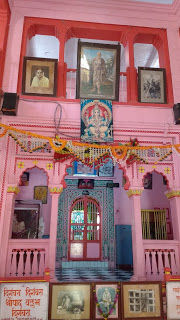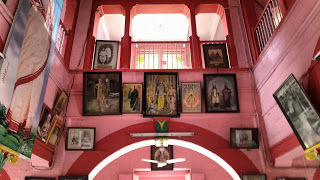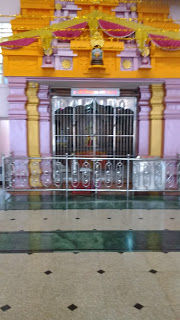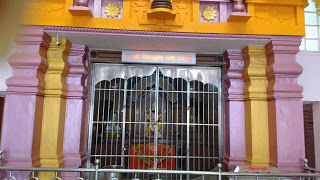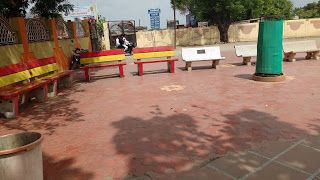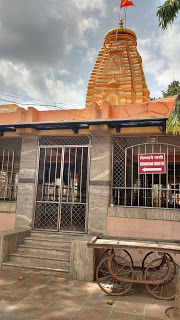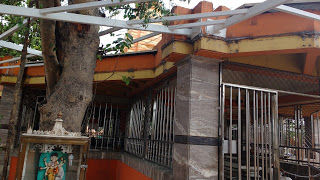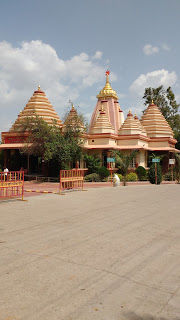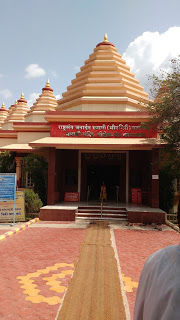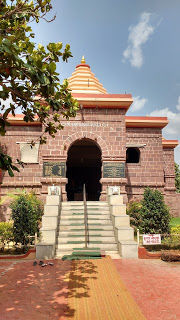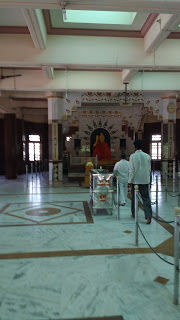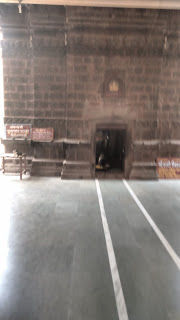 It was a great trip alone second time to Shirdi, except for the climate.