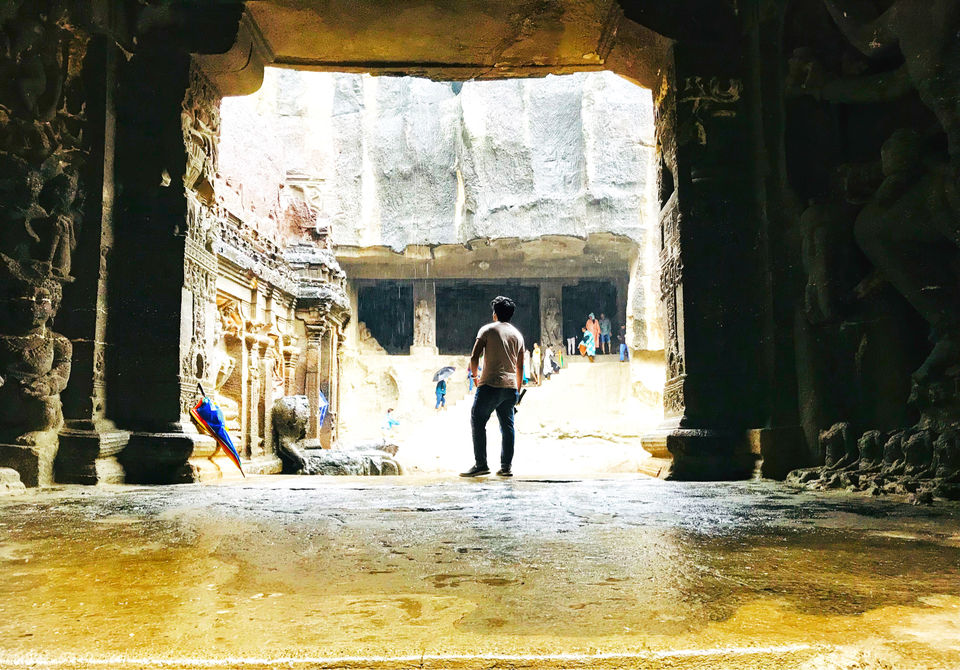 Mumbai to Aurangabad road trip consists of such scenic views that your heart will fill with nature love especially if you travel during monsoon season. One of the famous historical cities of India, Aurangabad is just a mixture of diverse culture, ethnicity, history and the famous caves. Rain is little scarce in this area, but surprisingly 2018 saw a good amount of demonstration of rain. Following are the 6 places which you cannot ever miss if you plan to visit this historic city.
#1 Grishneshwar Jyotirlinga Temple :-
Grishneshwar temple, sometimes referred to as the Ghrneshwar Jyotirlinga or Dhushmeshwar temple, is one of the 12 Jyotirlinga shrines mentioned in the Shiva Purana. If you are wondering what is Jyotirlinga, then I must tell you that it is the greatest devotional representation of the supreme god "Shiva". The temple is around 20 kms for Daulatabad which is neared to Aurangabad.
Three prohibitions of this Temple are -
-> No upper body clothes allowed for male devotees.
-> No leather products allowed like belt or wallets.
-> No footware allowed which is generally common in temples around India.
Photography is strictly prohibited in temple premises. Male devotees need to remove their upper clothing, leather products like belt, wallet and then they are allowed in the temple.
One tip for people to visit here is if you come by car then remove belt, wallets and t-shirts in the car itself.
This temple is believed to be very divine and prayers come true according to the locals living around here.
Entry fee - Free
Photography - Not Allowed
#2 Ellora Caves :-
Just situated near Grineshwar Temple, this is the destination you should visit next. Surrounded by breath taking sculptures and beautiful caves, Ellora is a true form of historic art. It is considered as one of the largest rock-cut monastery-temple cave complexes in the world, and a UNESCO World Heritage Site, featuring Buddhist, Hindu and Jain monuments, and artwork, dating from the 600-1000 CE period.
There is a small entry fee i.e. 40rs in which they gives you a coin token to scan at the entry gate. Losing that coin token can be quite expensive for you as the authorities charge 400rs while exiting the place. Photography is free in Ellora caves. You can see many tourists in this area.
There are over 100 caves at the site, all excavated from the basalt cliffs in the Charanandri Hills, 34 of which are open to public. These consist of 12 Buddhist (caves 1–12), 17 Hindu (caves 13–29) and 5 Jain (caves 30–34) caves. Each and every sculptures has a history and a story. I would recommend you to take a tour guide while going in to the caves. They have a very good knowledge regarding the sculptures and its history. They charge around 100rs for a certain amount of time as a guide in Ellora caves.
Entry fee - Rs. 40
Photography - Allowed
#3 Paithani Silk Mall :-
Paithani and Himroo are the 2 types of silk which are famous in Aurangabad. The beautiful patterns and colour combination of these silk items are just mind blowing. Paithani Silk Mall is situated on the way to the Ellora caves and has a large variety of designs in silk sarees, bags, scarfs, stoles and other items.
They provide a good amount of discounts in their products. The most important thing about this shop is that they provide genuine silk. They also give you a certificate of pure silk with their products. Customer service is good and they have good grip on the customer's choices.
All these products are hand made. Also you can see some manufacturing machines kept outside the shops. These are the machines which are used by the tailors to weave hand made silk products. They can even alter some designs in front of you on these machines as per your needs.
Weaving machine for hand made silk productsWeaving machine for hand made silk products
Weaving machine for hand made silk products
If you come by Ellora caves then you should definitely check out this silk mall.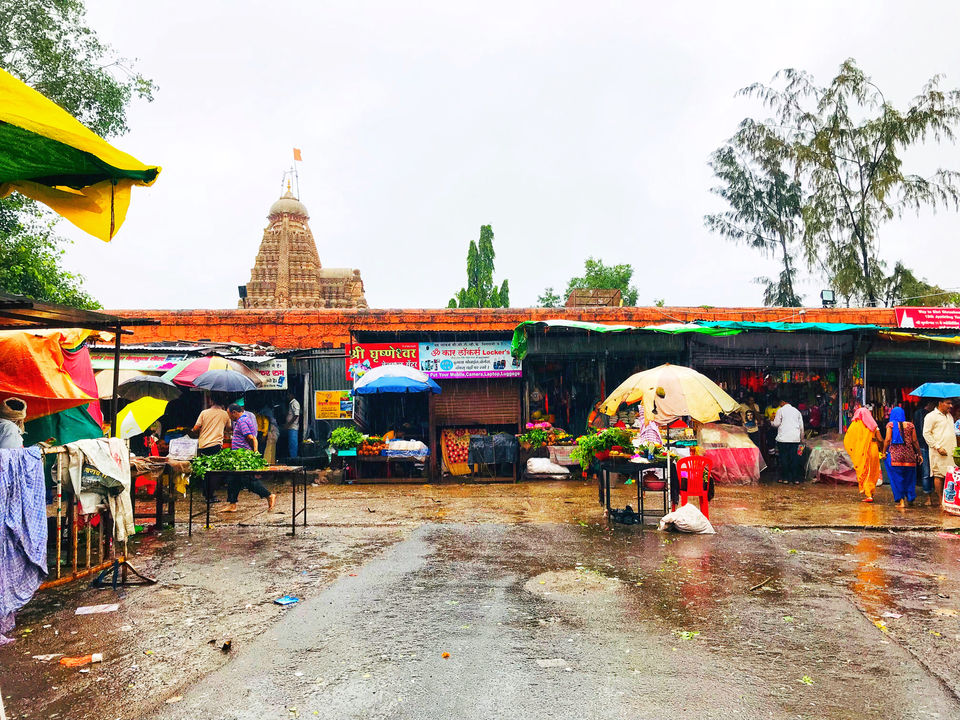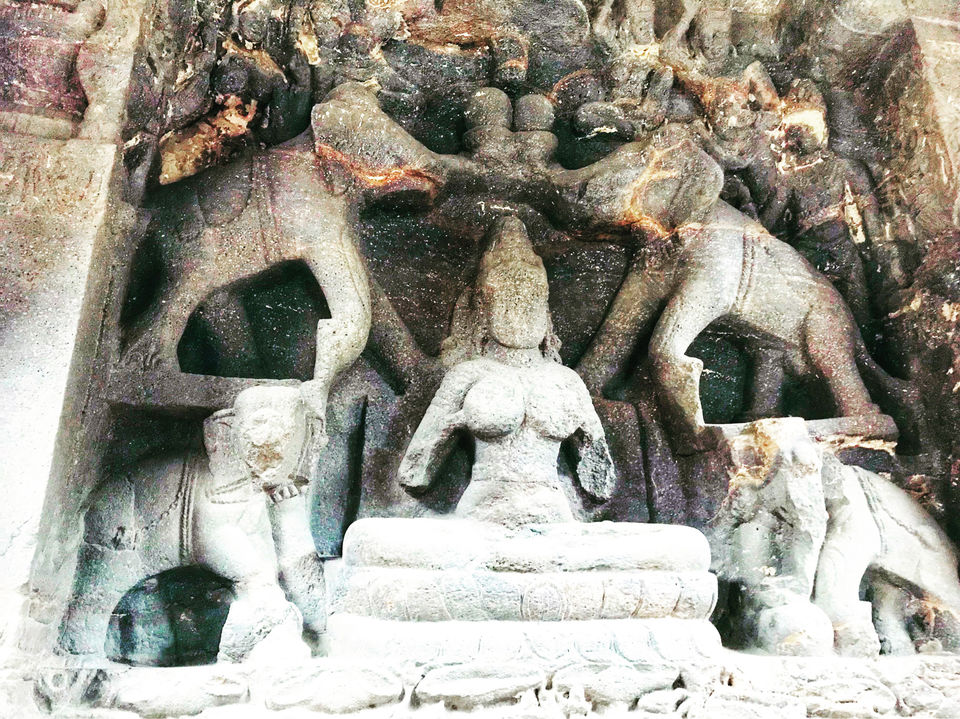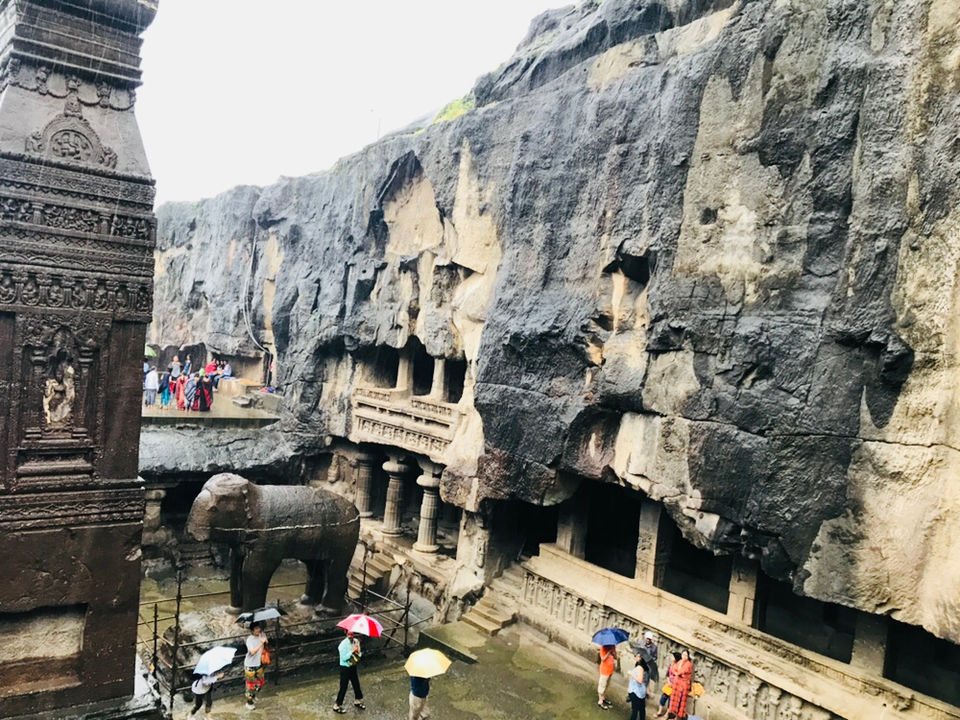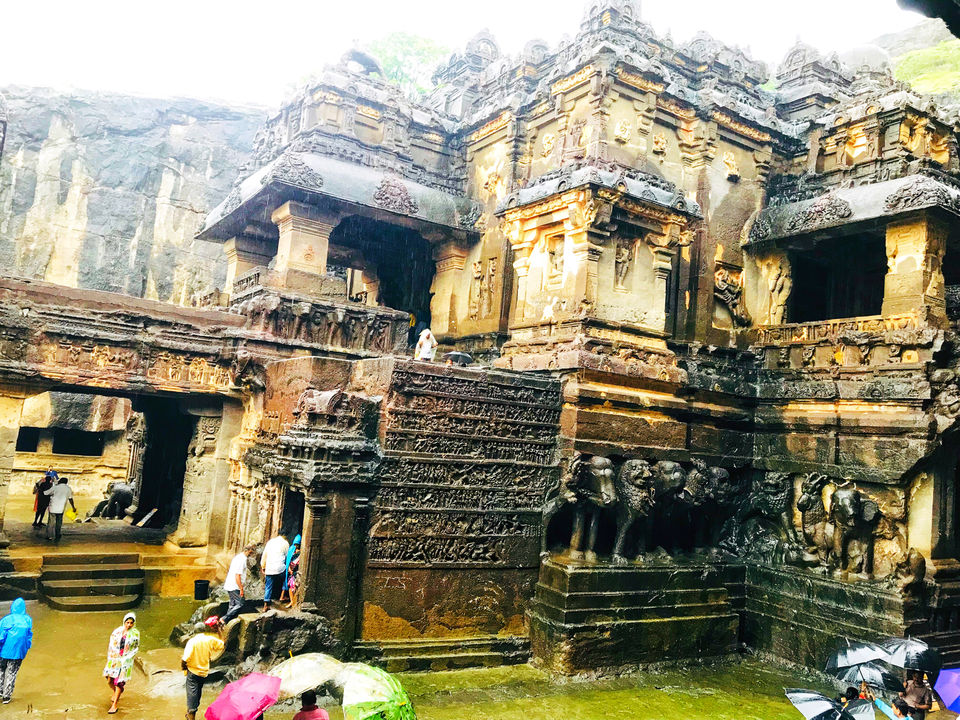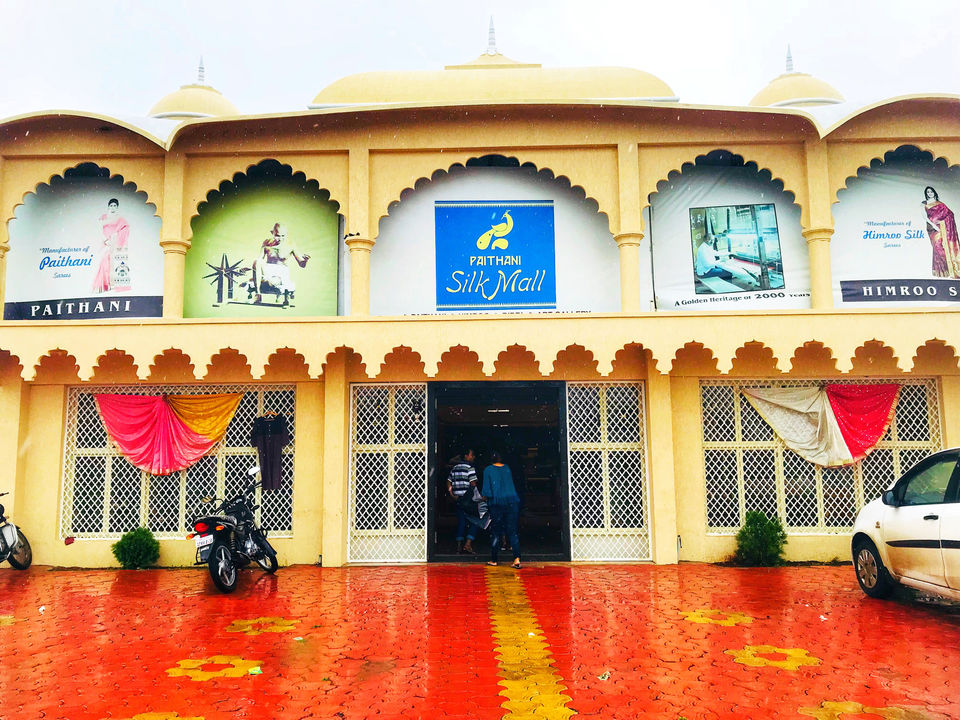 #4 Bibi Ka Maqbara :-
The Bibi Ka Maqbara is a tomb located in Aurangabad, Maharashtra, India. It was built by Mughal emperor Aurangzeb in the memory of his wife. It bears a striking resemblance to the famous Taj Mahal, the mausoleum of wife of Shah Jahan.
Located in the city premises, this monument is quite easy to reach to for tourists. It attracts a lot of foreign tourists in a day. You can see a lot of couple taking pictures with this monument as it represents the symbol of love from Aurangzeb towards his wife.
At the front there is a huge gate which consists of security checking and entry tokens. Token costs Rs. 25 and for camera it will cost you Rs. 25 more. Losing that token costs you Rs. 400 which is quite expensive. After entering the gate, you can see a stretch of water fountains and lawns till the Maqbara itself. You can hire a guide who can give you all the historic knowledge of the monument in just Rs. 100. The tomb is surrounded by four minarets and it looks just like the Taj Mahal.
One tip for people who does videography, Any kind of stabilisers, tripod or selfie stick is not allowed inside the monument. So go with camera having optical image stabilisation.
You can enter the Maqbara and can go all the way to the top. View from that place is very beautiful. The tomb of Aurangzeb's wife i.e. Rabia-ud-Daurani lies there inside the maqbara. Tourists can look at the tomb from the top and can even donate some money on the tomb by throwing from above.
Entry fee - Rs. 25
Photography - Allowed with Rs. 25 per camera.
#5 Ajanta Caves :-
The Ajanta Caves are approximately 30 rock-cut Buddhist cave monuments which date from the 2nd century BCE to about 480 CE in Aurangabad District of Maharashtra state of India. The caves include paintings and rock-cut sculptures described as among the finest surviving examples of ancient Indian art, particularly expressive paintings that present emotion through gesture, pose and form.
It takes around 2.5 hours to reach to Ajanta caves from Aurangabad. It is situated in Aurangabad district and is at a distance of 100 kms from the main city. Vehicles are allowed only till the parking area of the place. From there tourists need to take the buses to the caves which are run by the authority. Entry fee costs around Rs. 25 for the caves and the buses costs you Rs. 20 from main gate to the caves. Photography is allowed outside on the caves mountains, but on inside tourists cannot use camera flash and videography.
The view from the mountains are breathtaking and is a nice place for photography. The Ajanta Caves constitute ancient monasteries and worship-halls of different Buddhist traditions carved into a 250-feet wall of rock. The caves also present paintings depicting the past lives and rebirths of the Buddha, pictorial tales from Aryasura's Jatakamala, and rock-cut sculptures of Buddhist deities. Textual records suggest that these caves served as a monsoon retreat for monks, as well as a resting-site for merchants and pilgrims in ancient India. While vivid colours and mural wall-painting were abundant in Indian history as evidenced by historical records, Caves 16, 17, 1 and 2 of Ajanta form the largest corpus of surviving ancient Indian wall-painting.
Entry fee - Rs. 25
Photography - Allowed (without flash inside caves)
#6 Panchakki :-
Panchakki also known as the water mill, takes its name from the mill which used to grind grain for the pilgrims. This monument displays the scientific thought process put in medieval Indian architecture. Located in city premises of Aurangabad, this monument hosts hundreds of tourists on a daily basis.
The actual panchakki or the wheel is inside a small room which is powered by water flowing ouside the room which is then used to grind the grains.
Entry fee:- Rs. 10
Photography:- Allowed