It feels like something larger than life, something grand. To step into a giant cavernous space, hollowed and chiseled out from a gorge. To see the skill and artistry of the paintings old as time itself. When you walk the caves of Ajanta and marvel at the architectural wonder that is Ellora, you breathe History, and you cannot help but be awed by it.
Aurangabad has been on my travel list for a while now because of its proximity to Mumbai, and the range of things to do that it has to offer. We decided to see the Ajanta caves first and then travel to Aurangabad from there as it seemed the shortest way to see everything, with minimum amount of doubling back on the same roads. An overnight train journey from Mumbai saw us alighting at sunrise at the Jalgaon Station (nearest to Ajanta caves at 55 kms) From Jalgaon, there are state buses that leave every half an hour from the bus stand which drop you at the Ajanta caves entrance in about an hour. The day we had chosen had perfect weather for exploration and trekking- bracing, cold air topped with warm sunshine. We hitched up our back packs and ate our vada pavs (Typical mumbai Street food. Fried Mashed Potato balls in special buns with red chilli masala/chutney. Best when piping hot. During Rains. With chai. ) It was 10 am on a Saturday and we could already see the crowds arriving in buses and private vehicles. Nothing kills leisurely exploration like a horde of 'picnic-kers' and we hastened to be on our way before the trickle of tourists turned into a flood! From the entrance to the caves there is a 4 km track to the actual caves themselves for which the govt. plys special buses. Tickets have to be purchased at several points- for entry, for the bus, for the actual tour- but everything is well organized and easily explained.
We started our exploration by 10 30 am. In Ajanta the main attractions are the painting caves, and rightly so. The caves were made by Buddhist monks as prayer halls and places for stay, and the walls are covered in paintings depicting portraits of Buddha and Jataka Stories. The caves date back to 2nd century B.C. to 6th century A.D. The sculptures and beautiful carvings and the ornate pillars are not to be missed either. Every new cave we went to seemed to multiply my sense of astonishment and wonder at the skill and craftsmanship that went into the delicate carvings and in capturing that perfect expression and detail in a painting. It is advisable to purchase a guide-book, or hire a guide as it helps apprise you of the significance of the things you see which is not understood merely by looking. We took about 4 hours to explore everything to our satisfaction, even managing to get persuaded into buying 'souvenirs' from one of the many hawkers and shops dotting the place! Unregulated exposure and tourism has already eroded and damaged many of the paintings, and to curtail this govt. has created a replica of the paintings separately and the word is that trips to the actual caves may be stopped in the near future the interest of preservation.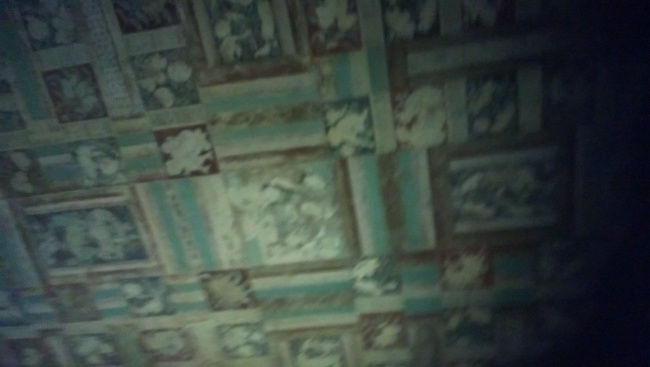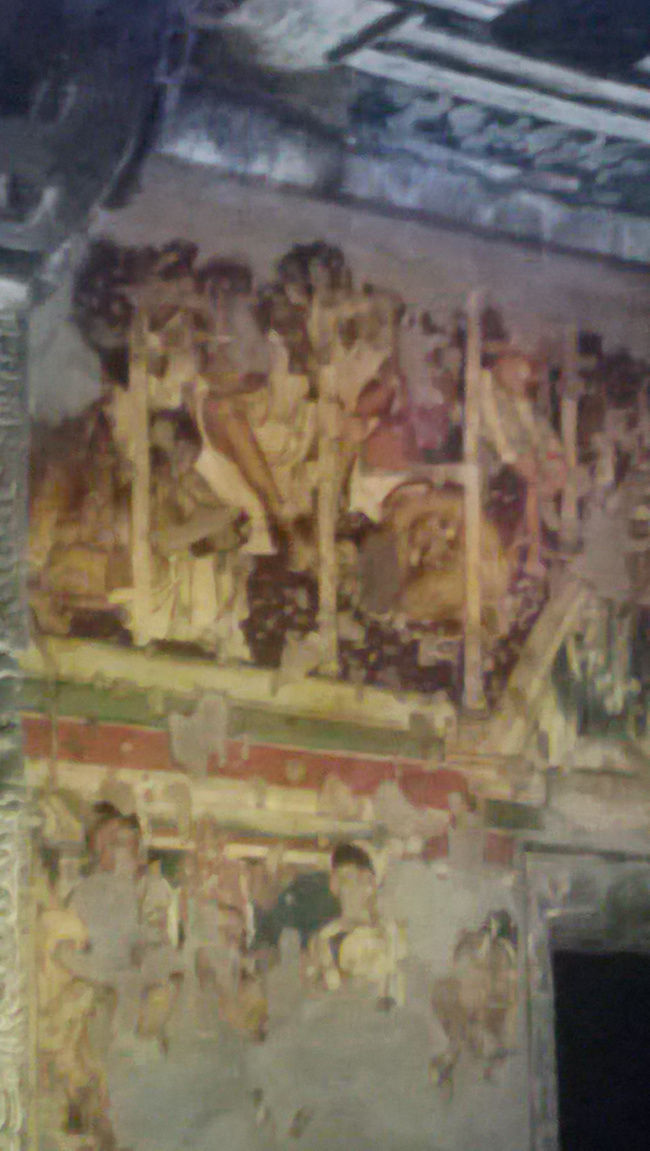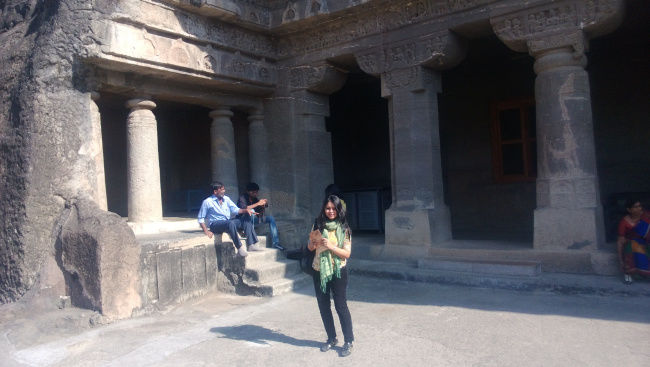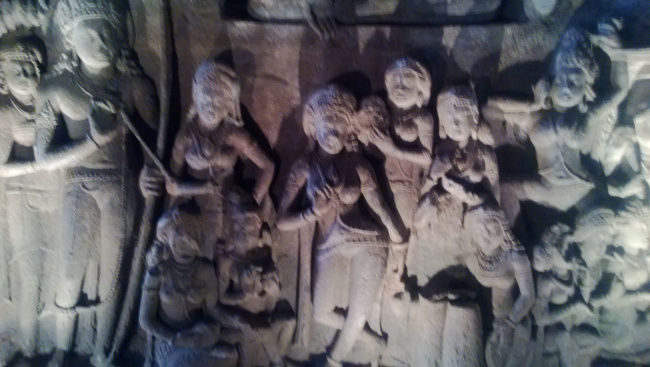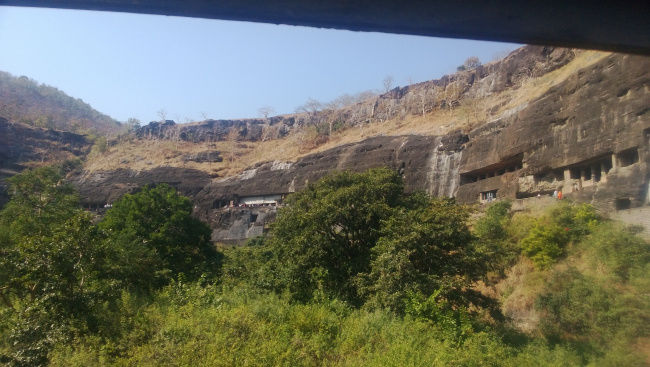 After lunch at the MTDC restaurant (which is the only place in the premise for food) we caught a bus to Aurangabad. The journey took around two and a half hours. We reached 'Bibi-ka-Maqbara' at sunset, capturing its beauty in the last pink rays of the dying sun. Bibi- ka- Maqbara, also called 'Mini- Taj' or 'Taj of the Deccan' is a beautiful mausoleum of Aurangzeb's wife, believed to have been constructed in circa 1651-1661 AD by Prince Azam Shah for his mother, Rubina. Architecturally, it resembles the Taj, with a domed structure in the centre and 4 minarets. Since we reached at sunset, the place was emptying out, however, the site remains open till 10:00 pm and it was very peaceful to just sit in the courtyard, surrounded by beautifully manicured lawns, and gaze at the monument glowing softly in the fading light. One can even go inside and pay respect to the grave- the tradition being to toss coins and ask for a token wish!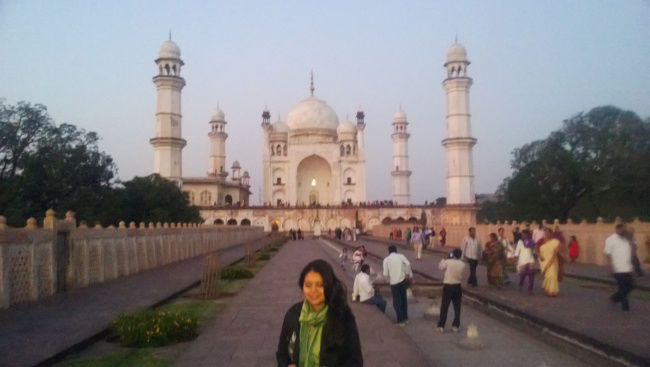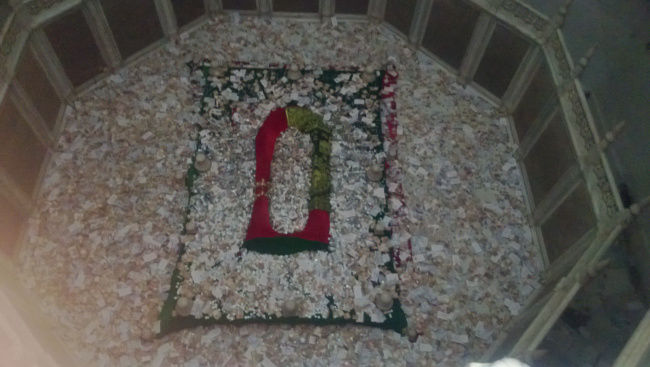 Ajanta and Ellora cannot both be fully explored in one day as they are 65 miles from each other. Also, to really appreciate them both, atleast a day has to be devoted to each. However, they may be paired with other attractions like Bibi-ka-maqbara. Ellora caves are only about 30 kms. i.e. half an hour from Aurangabad. A trip to Ellora should ideally be combined with the Daulatabad Fort and the Girneshwar temple. Just as Ajanta is known for its delicate sculptures and artwork, Ellora is magnificent for the sheer scale of its architecture. The caves are not just Buddhist, but also representative of Hindu and Jain religions- this is because the caves lie on what used to a popular trade route and enjoyed patronage by royalty of different dynasties. The Kailasa temple, which is it's biggest attraction, is the world's largest monolithic excavation- a mammoth temple complex which was hewn out of a single block of rock and is now thronged by hundreds who come here to gaze and marvel. Ellora caves, which date back to 6-7th Century AD to 11th-12th Century AD, are spread about over a large area, unlike the Ajanta caves, so a fair amount of trekking is required.
All in all, the places have an old- word charm and are remnants of history- alive and breathing and breathtaking. An ideal weekend getaway for art, sculpture and history buffs.
Location and How to get there: Aurangabad is around 375 kms from Mumbai and well connected by several trains, including Overnight trains. One may opt to alight at Jalgaon station if the destination is Ajanta caves as that is the closest railhead for the same.
Aurangabad also has an airport.
Distances
Ajanta caves to Aurangabad – 100 kms approx.
Aurangabad to Ellora Caves- 30 kms approx.
Ajanta to Ellora- 65 miles approx.
Best time to Visit: End of monsoon to February. Ellora caves are especially lush and beautiful during the monsoon season.
Timings:
Ajanta- 9 am -5 pm, Monday closed
Ellora- Sunrise to Sunset, Tuesday Closed
Bibi-ka-maqbara- 8 am to 10 pm. However, it is best viewed in daylight.
Tips:
Carry a flashlight for Ajanta caves to view pictures properly. Also carry enough water, once u enter there are no stalls to buy water. Only some taps arranged by the authorities outside cave no 10.
Buy a good guide book or hire a guide.
Buses are fast and readily available. However one may also hire a private car for trip to all the places in a combined package for comfort.
Aurangabad is ideal base to stay. All major hotels and good food restaurants are located here. Mughal darbar for non-vegetarians and Sagar hotel for vegetarians are said to be good.
Avoid weekends as they tend to be crowded. If going on a weekend, try to get to Ajanta and Ellora caves early as the real crowd starts arriving by noon.
This blog was originally published on 'VIRTUALLYBABBLING'