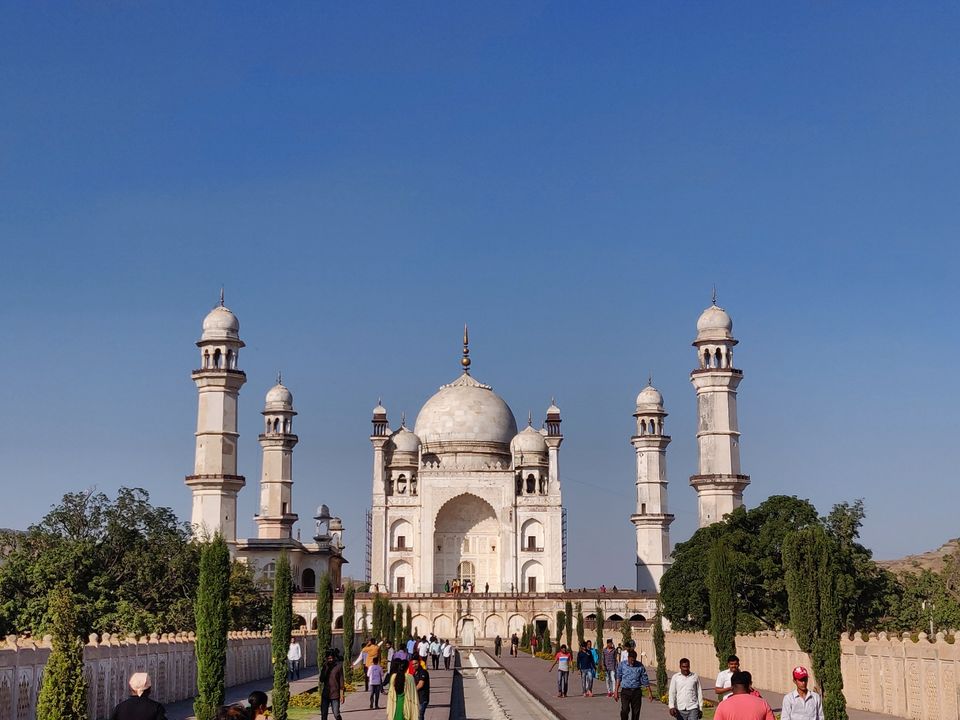 We love destination weddings. Because as a traveler, exploring a new place takes up more priority than the wedding itself, LOL.
When it comes to such fancy weddings, we always dream of marriages taking place in the grand palaces of Jaipur, Udaipur or Bali for that matter! If you are one of those lucky invitees, great for you. But if you are a little unfortunate, then don't fret because there's so much more you can still explore!
Two of our friends got married in Madhya Pradesh and a recent fellow, in Aurangabad. Places that weren't on our travel chart for so many years suddenly looked promising.
Here's sharing how we made the best of Aurangabad in a short trip, in December!
The wedding was on a Saturday and we decided to take a casual leave from work, on Friday. We had 2 full days to explore Aurangabad! (Friday and Sunday).
Leaving from Mumbai on Thursday after office, seemed to be the best decision because we saved so much on time. The Devagiri Express leaves Mumbai at 2100 hrs and reaches Aurangabad at about 0500 hrs. We took an Ola cab to reach our hotel, Treebo Royal Kourt, which was just about 20 mins from the railway station. After catching up on more sleep till 0900 hrs, we freshened up to leave the hotel and explore the city.
Before we go any further, let us tell you something:
Ajanta and Ellora Caves are 100kms away and need a full day each to explore.
Our first stop was at the famous Grishneshwar temple, one of the 12 Jyotirlinga shrines mentioned in the Shiva Purana. Photography isn't allowed inside the temple but you can take a seamless Darshan here.
We were more excited to see the Ellora Caves that followed next. History didn't look boring anymore as it came alive in front of us. Ellora is one of the largest rock-cut monastery-temple cave complexes in the world, and a UNESCO World Heritage Site, featuring Buddhist, Hindu and Jain monuments, from the 600-1000 CE period.
Ellora has 34 caves in total and it is impossible to cover all in one day. At least it looked difficult to us. After buying tickets, we simply passed by to look in awe at the massiveness of these bygone monasteries, temples and caves. Having a guide certainly helps but the local guides quoted insanely high charges and we depended on a printed book to guide us. It's essential that the authorities realise this and make it affordable for the aam junta. Otherwise, our generation will never value the importance of our own heritage sites.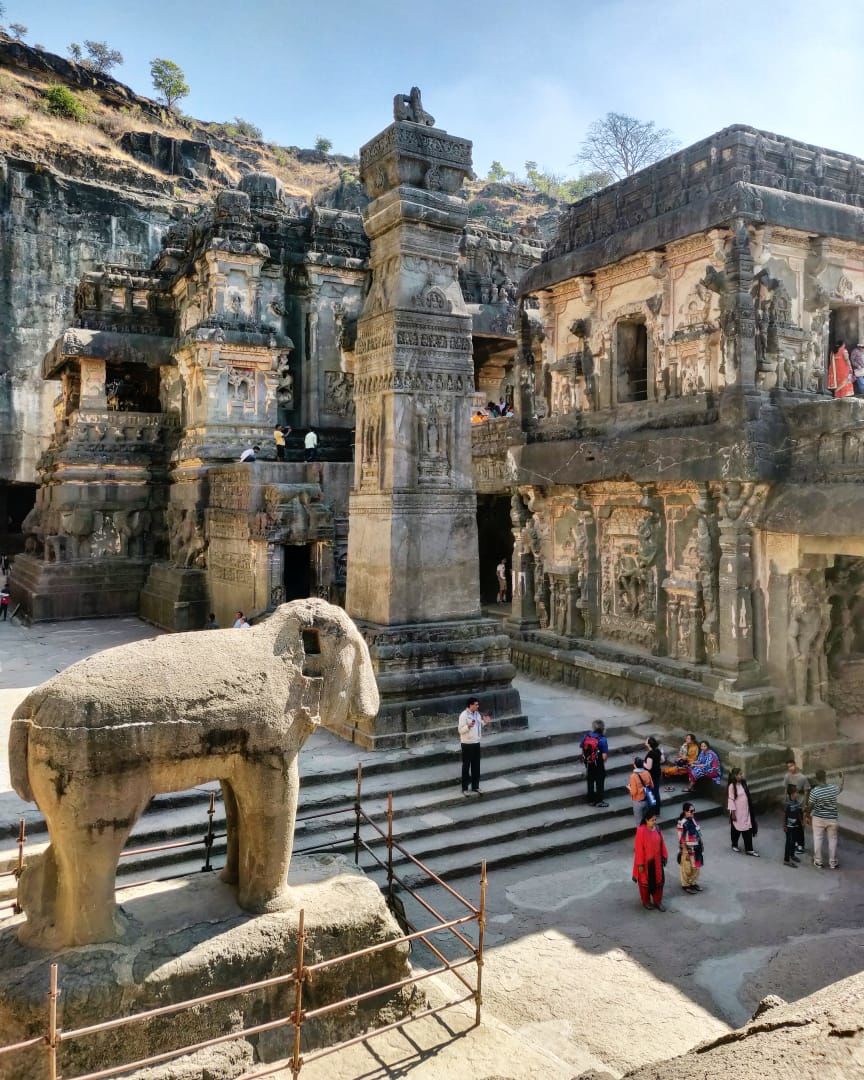 We visited the Kailasa temple (Cave 16) and Chhota Kailasha (Cave 30) and were astounded looking at larger than life sculptures of Hindu gods and goddesses. As any normal excited people, we got busy clicking pictures for Instagram without delving deeper into the history. But not for a long time because the vibe is such. It got us thinking about the world back then, without great technology but a whole lot of imagination, creativity and patience.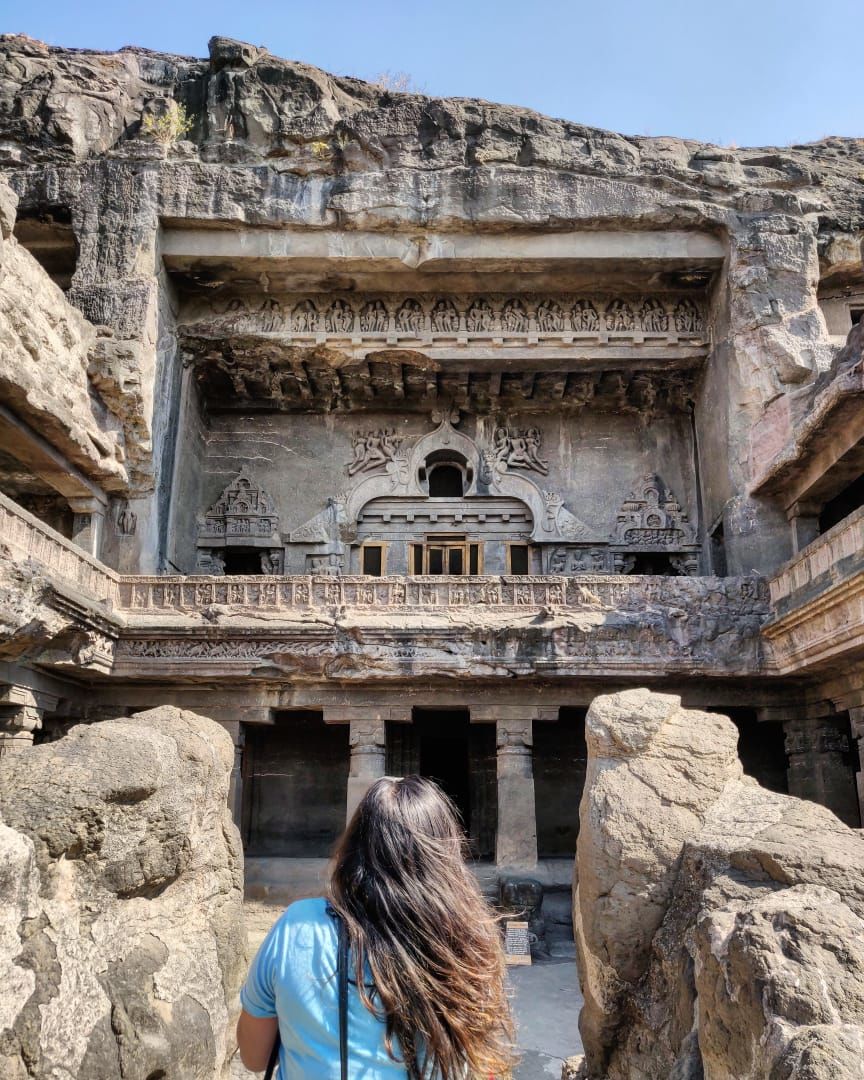 It made us think about the attitude of our ancestors, to except nothing less but the best. About the dedication towards creating something larger and greater enough that the world will remember. Or was that the thought really? It's a question perhaps only historians will have answer to.
There were so many stories right in front of us. A few we knew and most we didn't.
As we wandered aimlessly with no storyteller with us but a book to refer to, we were prompted by the security to check Cave no. 10. This cave happens to be a double storied Buddhist cathedral-cum-monastery – the only chaitya griha at Ellora, dating back to the 7th century A.D. The most remarkable feature is the Music Gallery (upper floor) and the beautiful carved façade.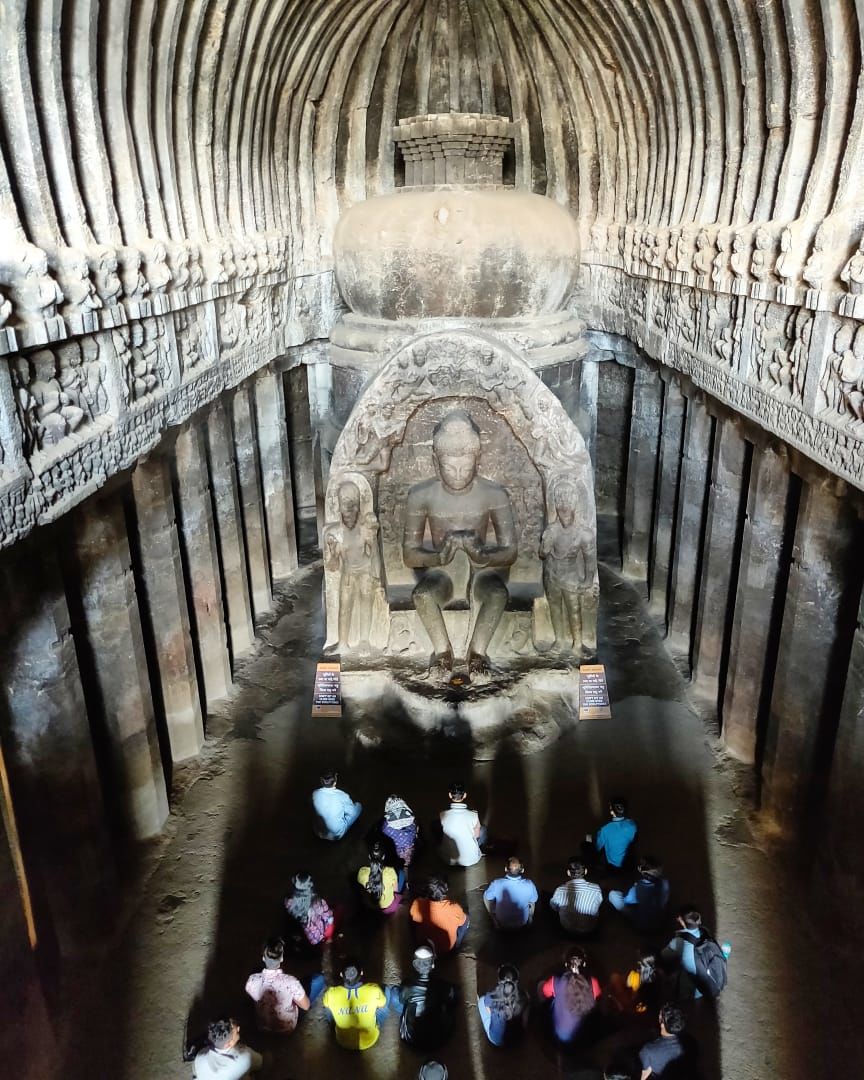 The spacious hall has thirty pillars and the object of worship is a seated idol of a preaching Buddha. The upper floor is approached by a flight of steps cut in to the sidewall of verandah.
By late noon, we were exhausted and opted to leave Ellora for some food. There are hardly any dhabas or restaurants worth mentioning and we laid our hands on whatever we could, at a local restaurant.
Our next plan was to explore the mini Taj Mahal – Bibi Ka Maqbara.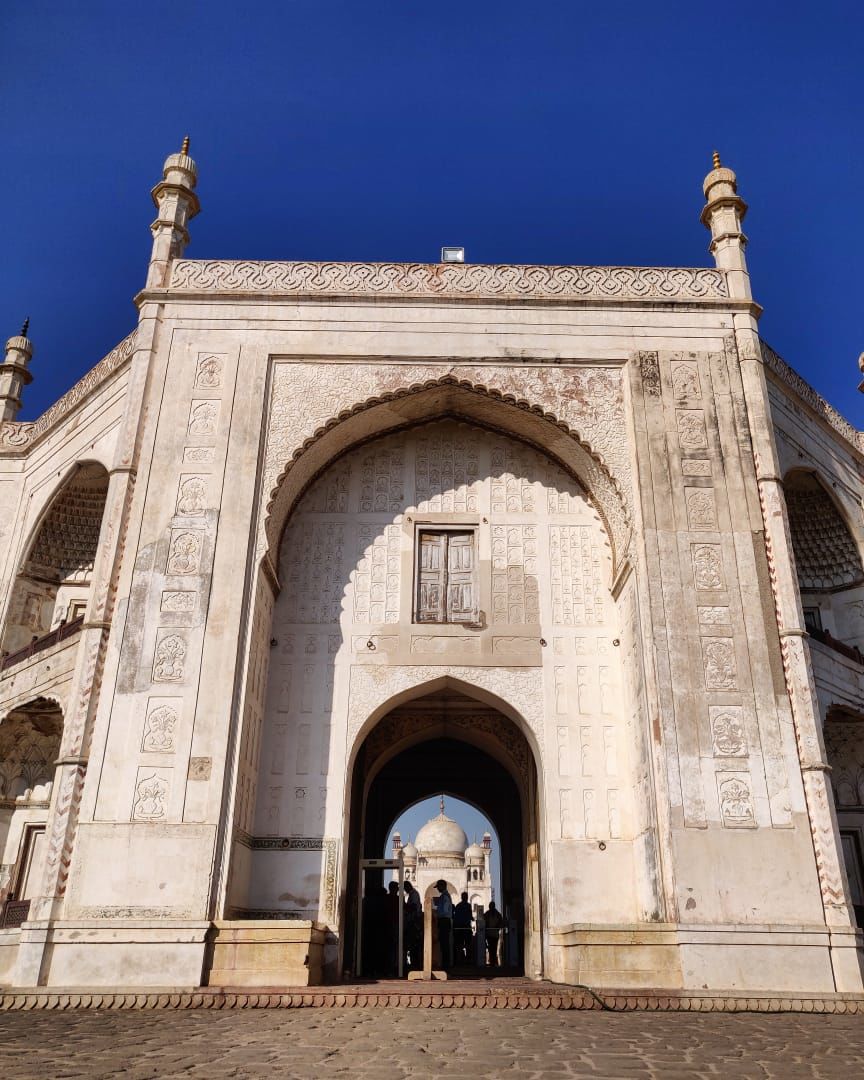 "Biwi nahi. Bi-bi" (it's not wife, it is mother), said our local 70 yr old Maharashtrian guide.
"Bibi mhanje aai, mother", he added. It was built by Mughal emperor Aurangzeb's son Azam Shah in the memory of his mother, Dilras Banu Begum. The Bibi Ka Maqbara is the principal monument of Aurangabad and its historic city.
Our guide didn't accompany us inside and for a quick 100 bucks, gave us some key information about this monument. Not having seen the famous Taj Mahal, we were genuinely appreciating the beauty of this Dakkhani Taj (Taj of the Deccan).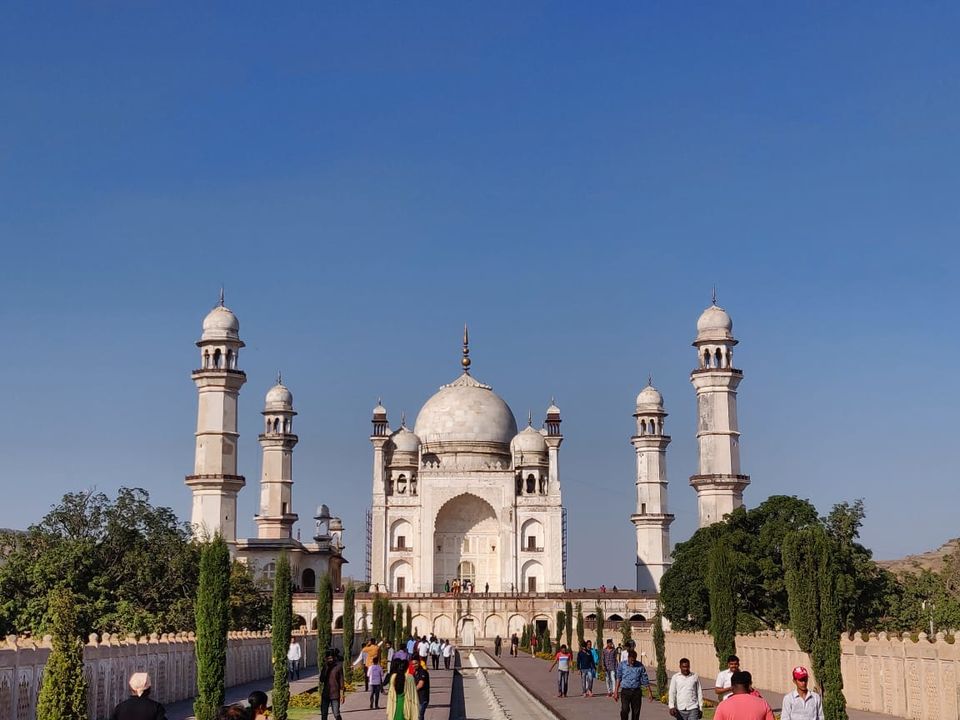 When you spend time at such historical monuments, you tend to drift away in your own thoughts. We personally like touching doors, looking at intricate designs, tracing motifs with our fingers and getting transported to those golden days for a few moments. Sounds filmy but it does help to slow down if you sit at one place and simply soak in the vibe of such places.
By evening, we finally met our friend who was getting married the next day! Our hotel bookings for 2 days were taken care of by him and Saturday looked merrier with lots of decking up, dancing and relishing shaadi ka khaana.
Sunday was reserved for Ajanta Caves but we ended up booking an afternoon train to Mumbai as we got too tired.
Looking back, Aurangabad deserved much better attention from us.
How we wish we had read more about our history than simply going picture-crazy for Instagram.
There's so much to explore in this little town that prides itself on the world famous Paithani sarees. Besides, Devgiri fort, Panchakki lake, Chand Minar, Makai Gate, so much to see and feel!
Our journey back home was fun with innumerable rounds of Uno to pass time. Not to forget some piping hot vadas and bhajiyas at Igatpuri station. Memories are made of this!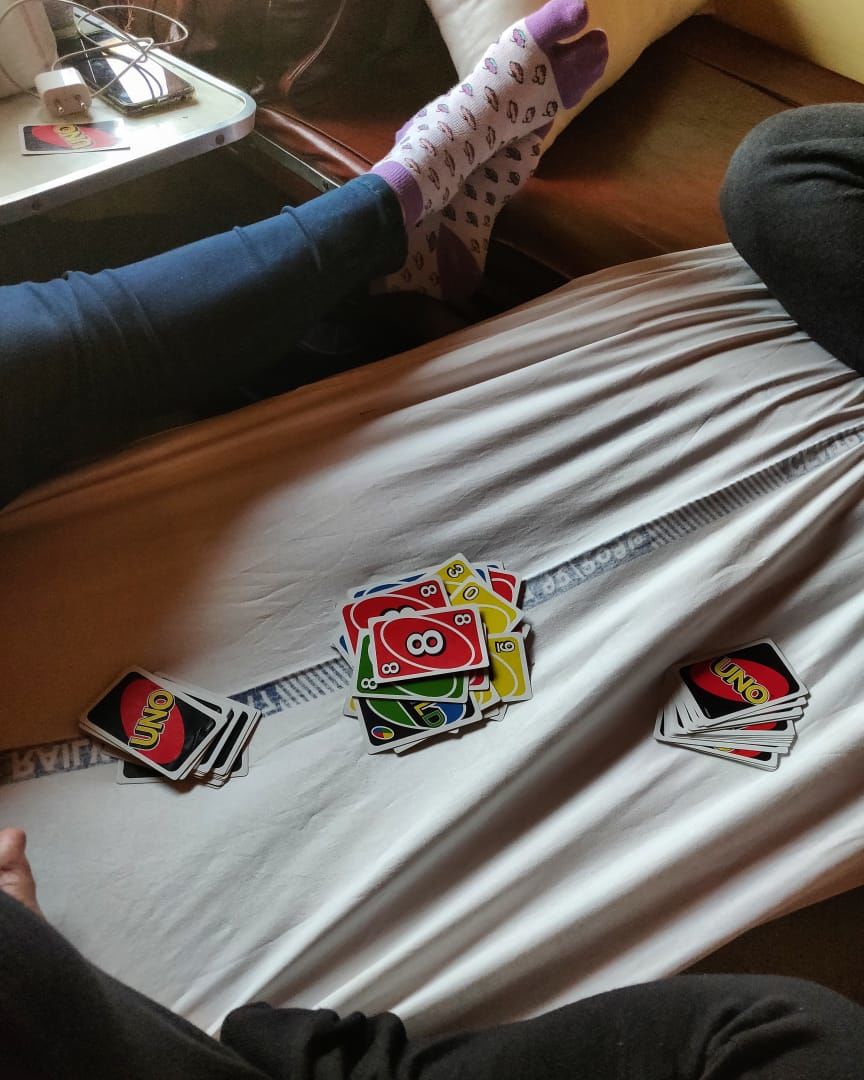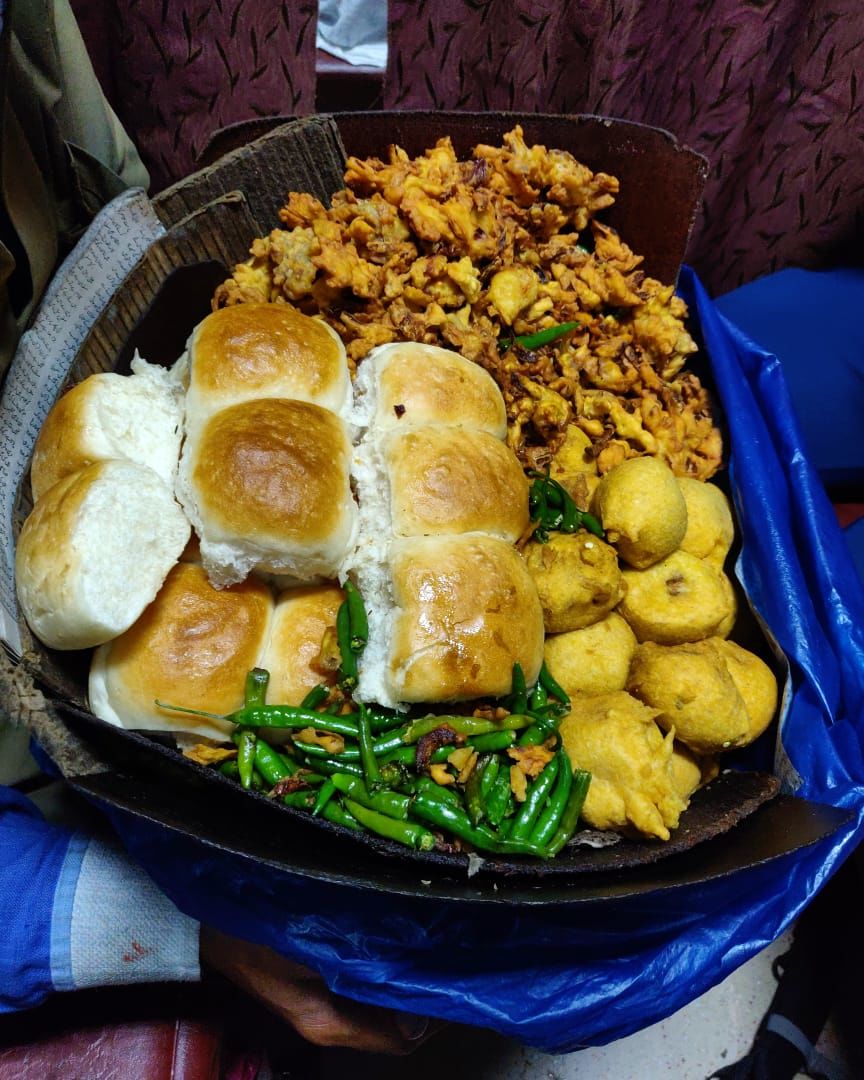 Isn't it true that one lifetime isn't enough to explore our beautiful country – India?
Next time, don't wait for anyone's wedding. Just pack your bags and take off.
Cheers
Instagram.com/thisfamilylovestotravel