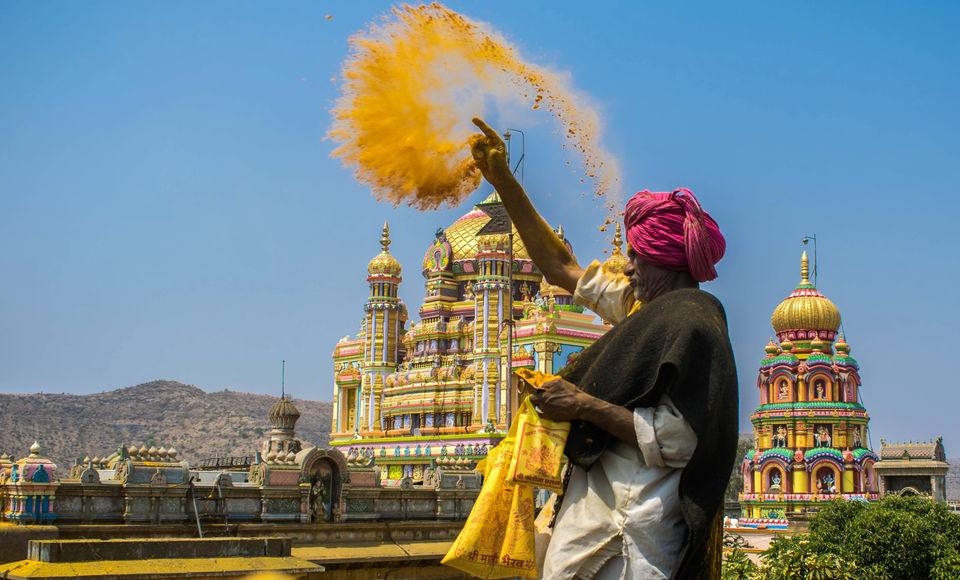 Hidden away in the hills of Pune in Maharashtra, is a small town that goes by the name of Jejuri. 52km away from the main city of Pune and more than 200km from Mumbai, this town comes alive every year during the Somavati Amavasya when people from all over Maharashtra, Karnataka and other states gather in the Khandoba Temple on top of a hill to get their wishes fulfilled. Known as the Bhandara festival, it is celebrated on the New Moon day which falls on Monday (Somavati - Monday, Amavasya - New Moon).
Bhandara in marathi means Turmeric, which is used for the worship of Khandoba, the ancestral god to many marathis. For the devotees at Jejuri, turmeric signifies gold. So throwing turmeric around symbolizes the gold and riches that Lord Khandoba should bless them with and hence the popular name Sonyachi Jejuri (Golden Jejuri).
Lord Khandoba, widely known as a descendant of the sun, is worshipped to celebrate his victory over the demons Mani and Malla. It is a popular belief among the marathis that a newly wed couple should always pay a visit to this temple and lord to seek his divine blessings. Some also perform strange rituals like lashing themselves when they want to make a wish to the lord for a child as lord Khandoba is widely believed to be a god of fertility.
On the holi day, the deity is brought out on a palquin and is taken round the city with thousands of devotees following it. Along with turmeric which is offered, many devotees on the way also offer bel fruit leaves, puran poli and vegetables.
Every Somavati Amavasya, a sea of devotees come to this place drenched in love and emotion to purify their souls. With the continuous chant "Yelkot Yelkot Jai Malhar" this unique festival of faith and belief turns an otherwise quiet town into a fortress of gold.
Next date: 30th May 2022
How to travel:
The nearest airport is Pune Airport from where one can take a cab directly to Jejuri (approx 44km). Or from Pune Airport one can come to Swargate bus stand and then take a Jejuri bound bus (Swargate to Jejuri fare was around inr 50 in 2019)
The nearest railway station is Jejuri (code: JJR) from where one can get an auto to the temple.
Where to stay:
There are many hotels available at a kilometre or two's distance from the temple if one is planning to spend the night there. Can be booked through various websites.
Food:
There are multiple small and medium restaurants present near Jejuri bus stand which serve both vegeterian and non-vegeterian food. Also the popular marathi snacks like vada pav, misal pav, dabeli are widely available.