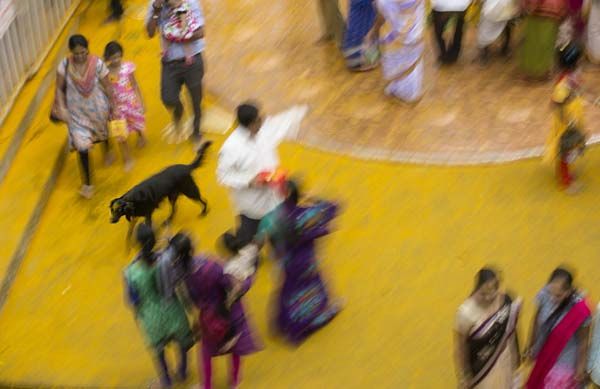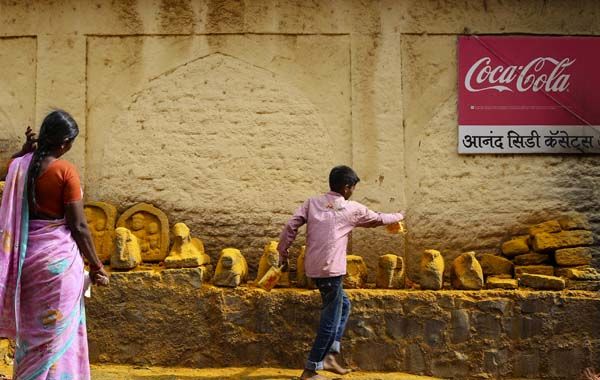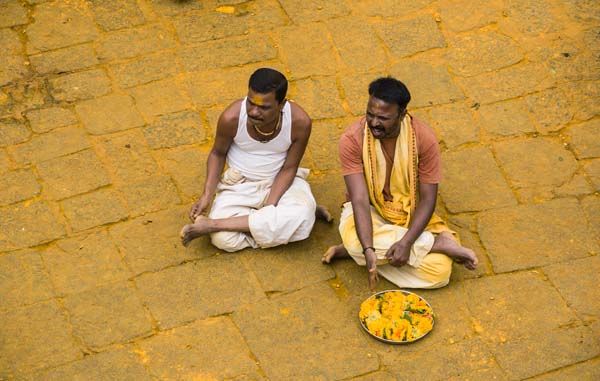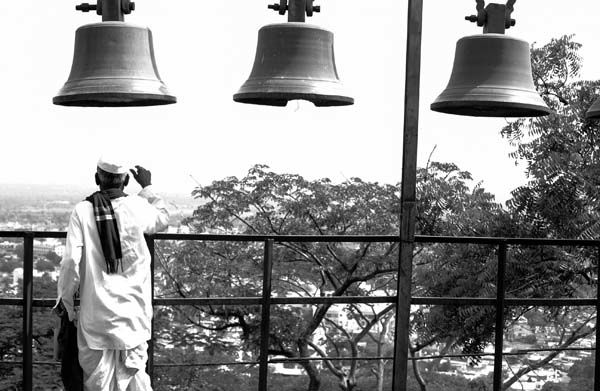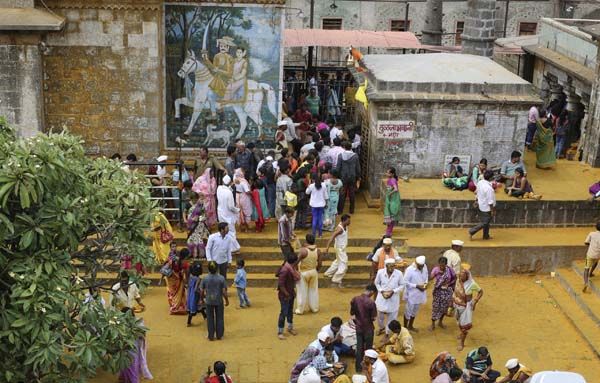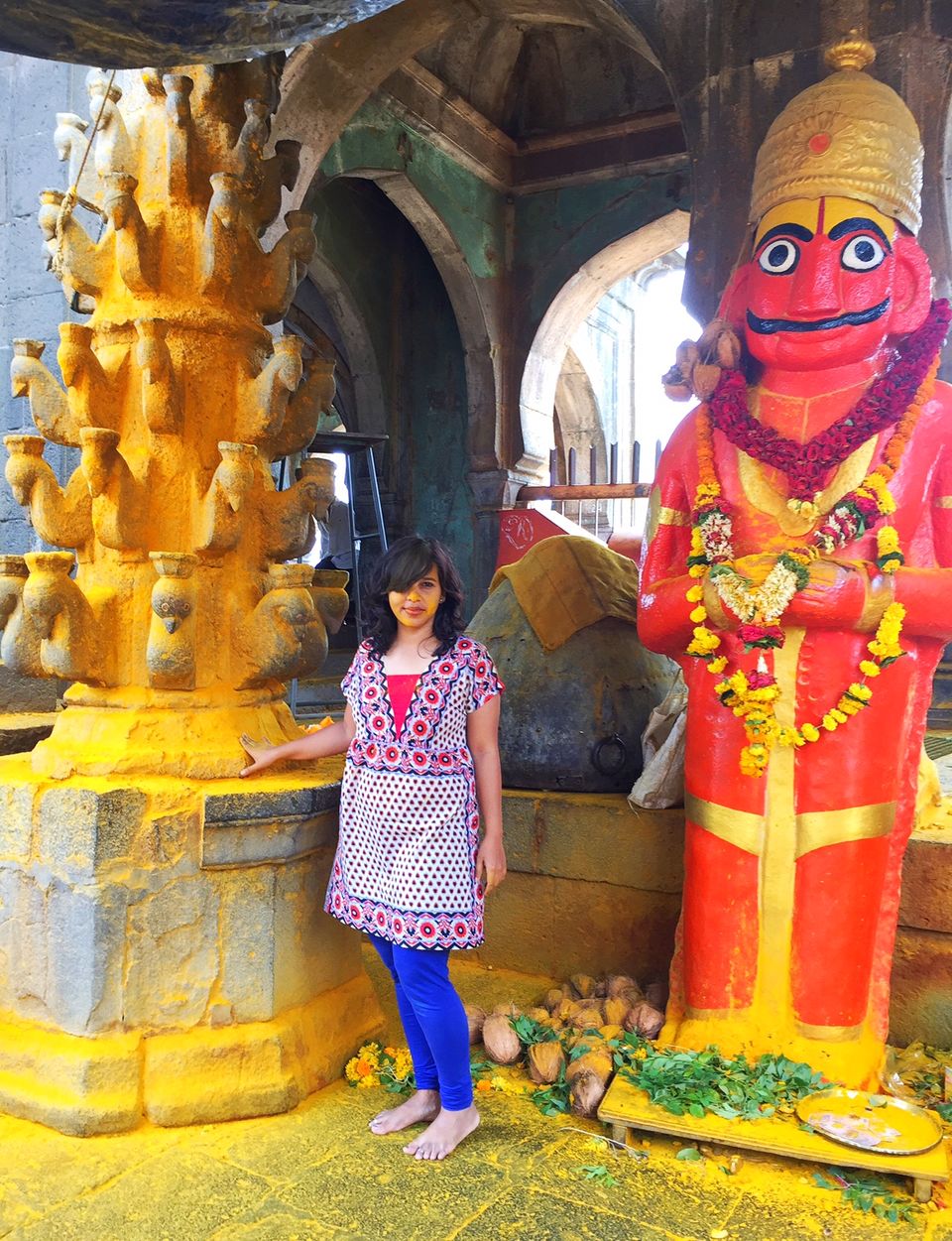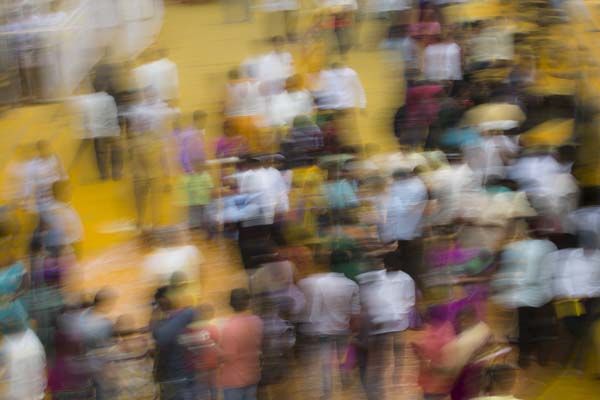 Visiting a religious place is soul satisfying if you be back as a happier person, soaked in the folk tales and sees a new streak of reverence. But I also brought lots of yellows on my hands and feet after playing turmeric Holi at Jejuri temple, in Pune district. This temple reminded me of Vrindavan at every step as we passed down the narrow streets, shops of flowers, sweets, the shinning temple and puja essentials at both side of street. Standing in front of this glorious fort of medieval times with almost 300 stairs to climb was a perfect place to hike on a cloudy monsoon day. The floors were yellow by turmeric or also called Bhandara, which is considered auspicious here. The root of turmeric is said to be in the shape of a linga, which represents Lord Shiva . As is the belief, the Lord manifested himself as turmeric before a group of shepherds that were frequenting this hillock. So everyone had a traditional tilak of 'Chandan' and a yellow stamp of turmeric on their head.
The temple is situated on top of hill and after each level the view is just magnificent, there were pillar on both sides which are called deepmalas. But the main attraction is always people dressed in traditional Maharashtrian style with Gandhi cap and ladies in colorful saree with full hand bangles. Khandoba is the tribal deity, is considered as the giver of fertility; so Maharashtrian Hindu couples are expected to visit a Khandoba temple to obtain Khandoba's blessing on consummation of marriage. As husbands lift their respective wife on stairs to walk together, it was so much fun to watch these shy ladies.
The 300 steps seemed nothing as there was something interesting occurring at every step. There is bifurcation of route in midway to right hand side which is comparatively a quieter place with a great view and probably was my favorite spot to appreciate the legends of this place. The contrast of colors on yellow background kept me and camera captivated all throughout. It was a perfect place to understand the Maharashtrian culture and people. In spite of being crowded the conduct of people was so peaceful and happy. We all ended up playing Holi as we stand in the main arena of temple in front of Lord and also had fantastic aerial view after seeking the permission to climb up another floor at the temple.
This temple also has a story of 'good winning over bad'. As the mythology goes, Lord Shiva assumed the form of Martand Bhairava to vanquish two asuras by the names of Mani and Malla. Because the lord slew the demon using a sword called Khanda, he has come to be known as Khandoba. Khandoba is usually shown riding a white horse. This horse is said to be an offering to the lord by the dying demon Mani as his gesture of repentance. Khandoba is a tribal deity and the temple is on a hillock originally called Jayadri and now is known as Jejuri.
The place is very significant historically, and there are many stories associated with it. The story begins with Aurangazeb raiding the temple during one of his campaigns when he conquered another fort, Daulat Mangal Fort which is near to this place. He saw the Jejuri fort (which was enclosing the temple) after conquering Daulat Mangal fort. He wanted to conquer the Jejuri Fort. He reached with his army to this fort but found that sturdy gates were closed. So he wanted to break the walls of the fort and come inside. He then ordered to make a hole in the wall by putting a dynamite exactly at the place where the Savalaksha Bhunga lies now. Does Khandoba like this kind of thing to happen? No. Suddenly there emerged from the hole lot of honey bees one after the other in quick succession. The honey bees attacked the army of Aurangazeb with great noise covering each soldier's body completely. So the soldiers told about this to Aurangazeb. Then one of the Hindu solder told him that Lord Khandoba is very powerful and ever vigilant to protect his devotees. And he did become a devotee who probably led to the deity being worshiped by Muslims as well and known by the name Mallu or Ajmat Khan.
Jejuri is situated 48 km from Pune in Maharashtra State. Jejuri can be reached is by Road or Rail from Pune or Mumbai. There are over 600 temples dedicated to Khandoba in the Deccan. His temples stretch from Nasik, Maharashtra in the north to Hubli, Karnataka in the south, Konkan, Maharashtra in the west to western Andhra Pradesh in the east. There are decent hotels if you want to make a night stay and can relish the local food in this quaint city. Explore this gem of a place and you wouldn't feel like coming back from its mystifying ambience.
You may find more related articles and pictures on datravelography.com