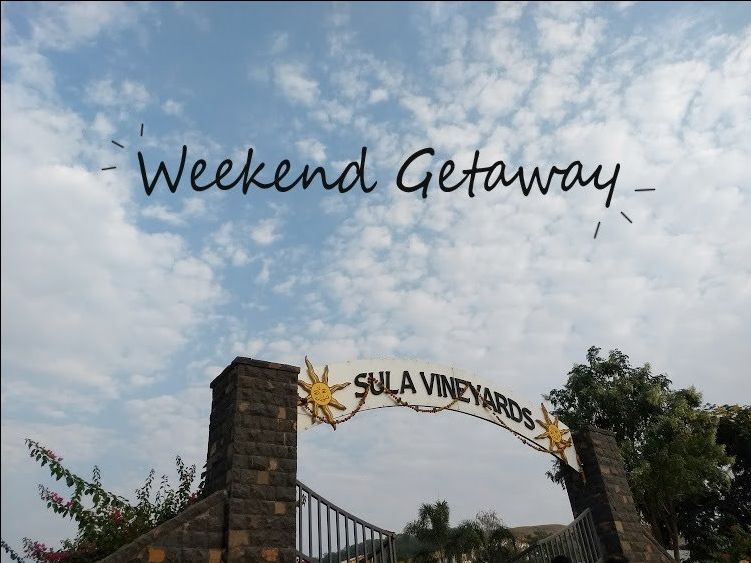 A wine a day keeps the doctor away!!! … so grab your glass of wine and be healthy..
Hello peeps, last weekend I was on a road trip to explore the vineyards in the alluring and calming city of Nashik, which is renowned all over the world for producing the finest wines and I just can't stop flattering about it. If you are a True Wine lover than this place is just for you! Though Nashik is considered as a wine hub, it is also known for its beautiful historical temples and ancient monuments which are much known among tourists. living in a city like Mumbai where pollution and traffic is considered customary, this place gave us some relaxing and rejuvenating experience as a weekend getaway!
How to reach??
- The driving distance between Mumbai and Nashik is 165 km, i.e. almost 3-4 hrs. depending upon the road traffic and the time of commute.
- we departed from Mumbai at around 12 noon and reached Nashik at around 3.30 in the evening, but if you start early in the morning you might reach in approx. 3 hrs.
We started off with Sula vineyard, which is 14 km from Nashik city and approx. 170 kms from Mumbai. It's one of the most prevalent vineyards in the world and first ever winery in India. An ideal place to spend some leisure time with your friends and family. The surroundings of the vineyard is picturesque and soothing. The best time to visit is from Jan to march which is harvest and the crush season, also the most happening Sula fest takes place within this period, the country's premier gourmet world music festival, with great music, amazing food followed by the most exhilarating grape stomping activity as well.
they do offer wine tasting sessions for seven days a week throughout the year, where they will charge 400 bucks per person and will brief you about the history of Sula, entire process of wine making, followed by a wine tasting session. And yes let me tell you.. this was something really exciting and fun filled though!!
First of all, people were divided into groups where in there were 4-5 people in each group, and the crystal clear wine glasses are kept in front of us and the curiosity twitches. There are about 6 wines and you got to taste all of them one by one. Each and every wine has its own unique taste, essence and a way of having it. One is sweet, other is sour, one is smoky and the sparkling one, you just can't stop gazing at.
You have to follow the 5S while you are having a wine, be it white or red or rose (mixture of white and red). The first S is to see.. just hold your glass in 45 degree angle towards your opposite direction and see the beautiful colour and texture of the wine. Then swirl the wine, it seemed like an art to me, next step is to sniff the wine, n this one is so tempting you can't wait to just gulp it down your throat. Then comes the best part, i.e. to sip….. wait..hold the sip, swish in your mouth you will feel the actual and spellbound taste of the wine and I bet you would love this, if you have enough patience though!! Haha.. And the last step is to spit the wine, coz it's a wine tasting session!!! (no we didn't followed this step..)
After the delightful wine tasting experience, we had some snacks to redeem our entry coupon..ohh yes I forgot to inform..my bad! At the entrance you have to pay 100 bucks entry fees per person and that coupon you can redeem with snacks or wine. They also have a gift shop and a wine shop, from where you can buy the finest Sula wine bottles. A visit to Sula vineyard is definitely recommended.
I would suggest you to book your stay prior to your visit coz it's quite hectic task to search hotels which are up to the mark and in budget once you reach there. Anyways we finally found a hotel which was cheap but the food and rooms were average. After a day full of excitements and sipping on the wine bottles which we bought from Sula vineyard, we crashed on our bed.
Next day we had our breakfast and left our hotel to explore another vineyard, Vallone which is an alternative to Sula. Vallone Vineyard is located in the Sanjegaon district on the way to Mumbai from Nashik. Though we didn't went through the wine tasting process again, we had an amazing gourmet food at the famous malaka Spice kitchen that offers some exotic and authentic food from different parts of the world. The restaurant overlooks a clear blue water Mukhne lake and the lush green vineyards.
There are many other vineyards in Nashik like Soma vine village, York winery, Grover Zampa, Chateau d'Ori, as we didn't had enough time, we explored Sula and Vallone vineyards. At our way home we couldn't afford to miss this beautiful and serene mukhne lake, the road leading to this lake is quite bumpy though, but once you reach here you will enjoy the peaceful environment around the lake. Since it was noon the place seemed isolated, if you are in Nashik don't miss this.
If you are not a wine lover then Nashik also comprises n number of tourist spots owning cultural heritage such as ancient temples, caves, hills, Museums, also it is famed for Gangapur dam and waterfalls during monsoons.
Points to Remember;
Places to visit : Sula vineyards, Vallone Vineyard, Soma wine village, Mukhne Lake, Gangapur dam, temples, waterfalls, etc
Sula vineyard entry – Rs. 100, Wine tasting session Rs. 400.. all cost per person
Vallone vineyard no entry fees, wine tasting session Rs. 450 per person.
Hotel stay Rs. 1200 – two person.
Food – Approx 4000 – 4 people (gourmet restaurant)