Being a nature lover, I am always attracted to less crowded & isolated places. I get a great amount of peace and stress relief from places which are far away from human civilization. Planning for a short trip begins once you see those red marked dates on the calendar. And if it's a long weekend, trip to banta hai.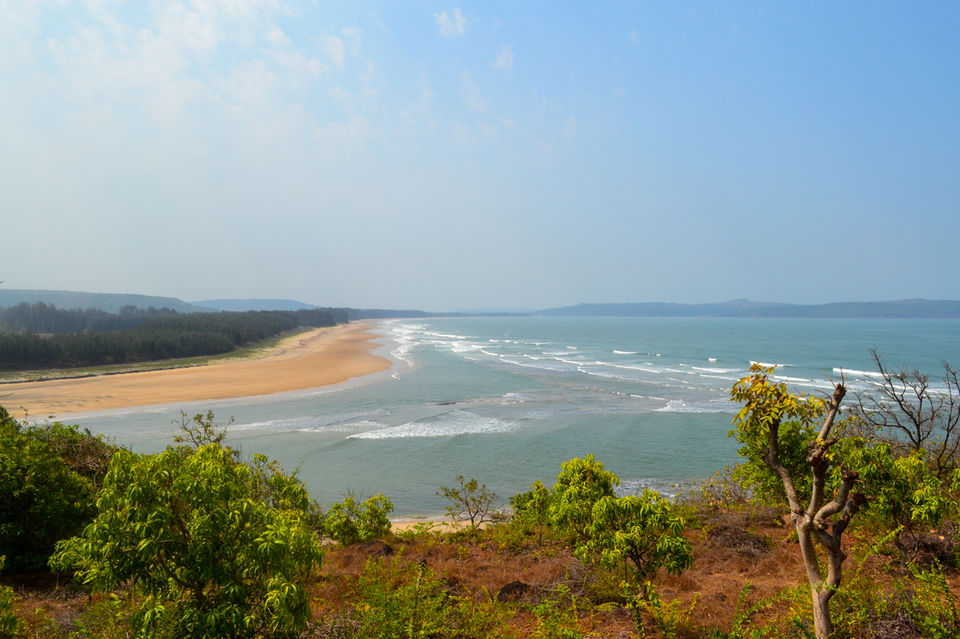 Maharashtra is blessed with a 700 km long coast line stretching from Dahanu in the north upto Vengurla in the south. Magic unfolds when the white sand, powerful waves, gushing wind and setting sun add a flavour to the landscape. To experience this, one must travel.
A couple of years back, very few would have known about a coastal village called Tarkarli situated in Southern Maharashtra. Apart from its white beaches and Malvan fort, this place is known for its corals and fishes that rest on the shallow ocean floor. It is an ideal destination for a short budget trip. One can reach Tarkarli by rail/road. The nearest railway station is Kudal. From Kudal there are state transport buses to Malvan. Tarkarli is barely 6 kms from here. Having said that, I and my friend booked ourselves on 22115 Dn LTT-Karmali AC express leaving at 01.10 am from Lokmanya Tilak Terminus. Travelling on Konkan Railway is always a pleasurable experience. It is fun to stand at the door while the train passes through tunnels, bridges and small country side stations at high speed. Majority of the crowd in our train was bound for Goa, Tarkarli and Ratnagiri. We reached Kudal at 10.00 am the next morning. Kudal bus stand is 10-12 min walk from the railway station. Auto walas charge Rs.20 per seat. We had breakfast near the bus stand and waited for the state transport bus to Malvan. Buses are available at a frequency of 30-45 min from Kudal depot. One can also take direct auto to Tarkarli which costs around Rs.600. But being a budget traveller, we chose the first option. Kudal to Malvan is about 30 km which takes around 1 hour owing to brilliant quality roads. As we reached Malvan, there was a shuttle service to Tarkarli awaiting departure. We quickly boarded it and were outside our hotel in next 15 minutes.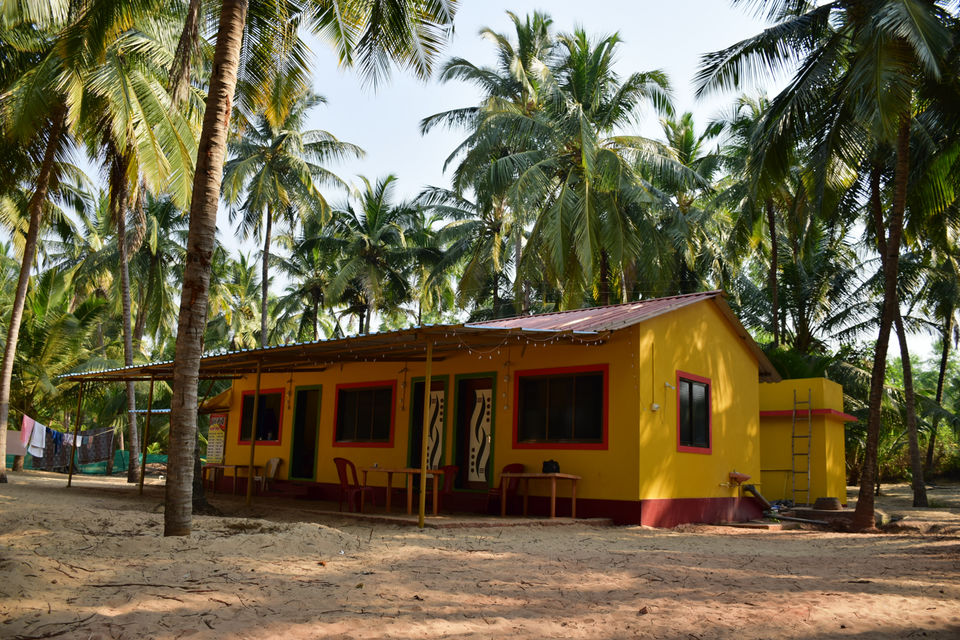 We had pre booked this place called 'Tanmay Nyahari Niwas'. It is a home stay at Wairy bhutnath, a kilometre before Tarkarli. The place is pretty decent with 3 double bed rooms and clean wash rooms. A beach access is available at the property. The best part I liked about this place was it had hammocks and sand on the porch area. Relaxing on the hammock with a beer under the shade of huge palm trees sums up the entire experience of a coastal trip.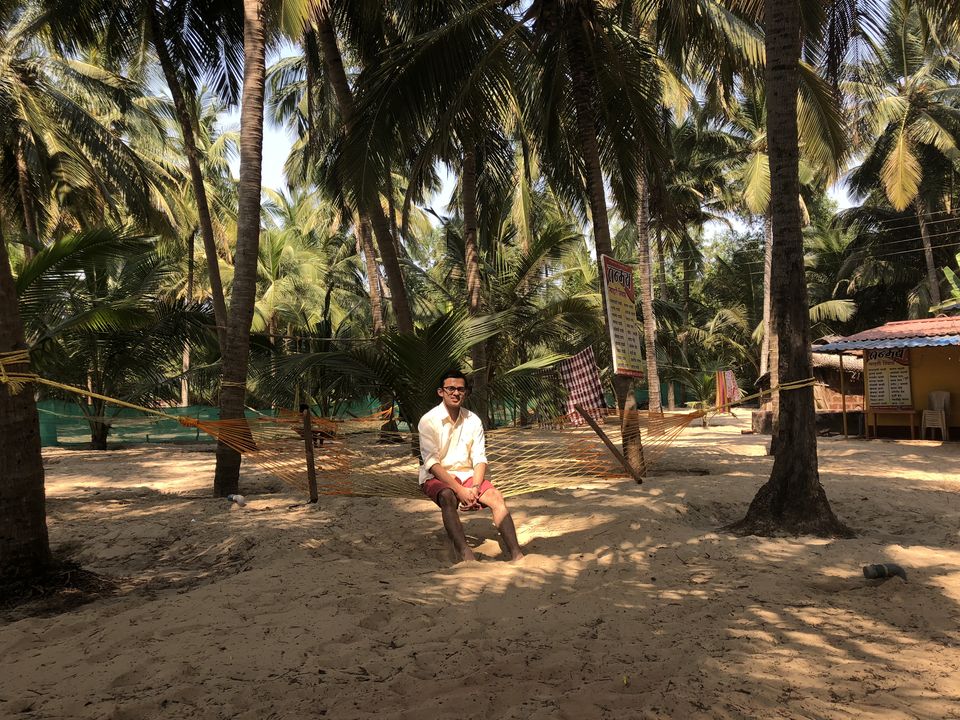 Our hosts stayed in the house right next to our rooms. A warm friendly couple, they asked if we would be having lunch. We ordered for Surmai thali. By the time we got freshened up, the fish was ready. Surmai fry, Fish curry, Chapati, Rice and Salad was on the menu. The aroma of freshly cooked sea food is mouth-watering. After a heavy lunch, we decided to rest for a while before heading to Devbaug in the evening. We hired an Activa for local commute. Bikes are easily available just like Goa and are charged Rs.350 per day. It gives you a great amount of flexibility when you have a vehicle at your disposal while exploring such places.
We left for Devbaug around 4.30 pm which is around 10 km from our place. The narrow road leading to this peninsula passes through palm fields and traditional village houses. Not to mention, numerous hotels and resorts that have sprung up on the way. One would find boards and banners of different hotels at every nook and corner of the road from Tarkarli to Devbaug. It took 20-25 min to reach Devbaug. There are boat rides available which take you to different beaches and islands nearby. We opted for one and our rower took us to Bhogwe beach, Tsunami Island and Sea bird Island. An interesting thing about these small islands is that they get submerged during high tide. These islands were formed after 2004 and are hence named Tsunami Island. One can try different water activities at Tsunami Island. The point where Karli river meets the Arabian sea is called as Devbaug Sangam. By now, the sun was in its setting mode and filled the sky with orange hue. After an hour of boat ride we spent the rest of the time observing the sky turn amber to dark blue.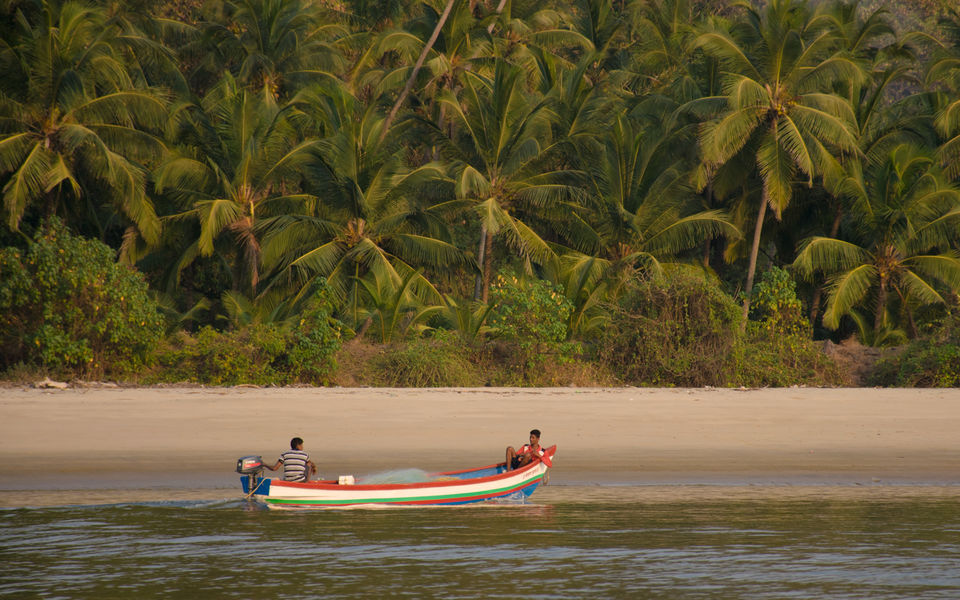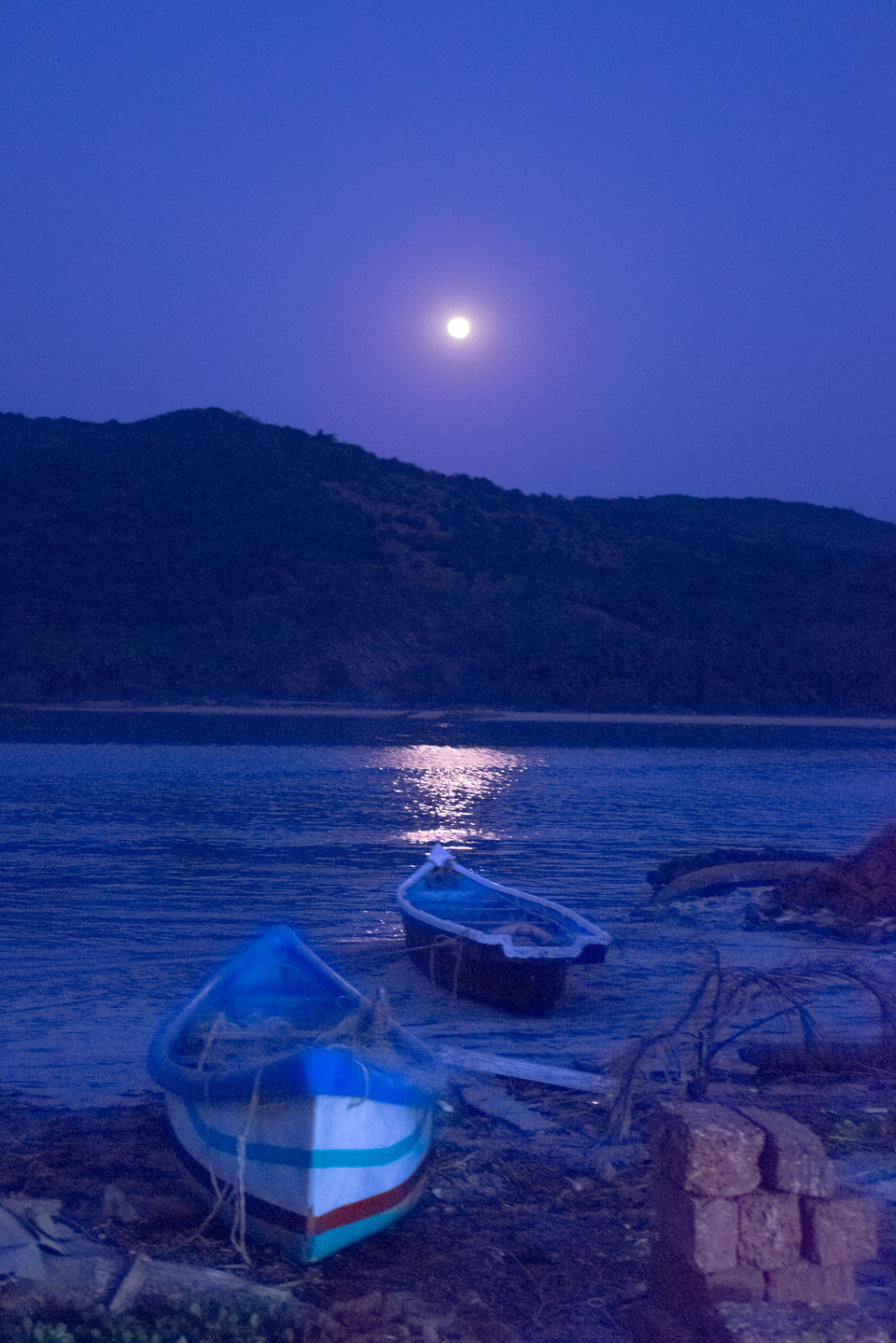 We returned to our hotel at 8 pm. It was the festival of Holi that night. Maharashtrains usually prepare 'Puran Poli' (An Indian bread stuffed with lentil & Jaggery paste) to celebrate Holi. After feasting on home cooked Puran Poli dinner, we spent rest of the time on the hammock chit chatting while the sound of waves splashing on the shore continued in the back ground. The next morning, it was time for Scuba diving. This activity happens near Malvan fort into the sea. We booked a scuba ride through a local agent (There are many shops offering Scuba and water sport activities at Malvan beach. The average cost is Rs. 800 for Scuba, Rs. 600 for parasailing and Rs.500 for water sports). The cost can be reduced based on your bargaining skills.
They take you a little inside the sea in a boat. Knowledge of swimming is not mandatory. The total time for which you are inside the water is 15-20 mins. Trainers give you instructions on how to use the scuba gear and take you one by one for the tour of the sea floor. They click your pictures and video while you enjoy the corals and beautiful fishes swimming next to you.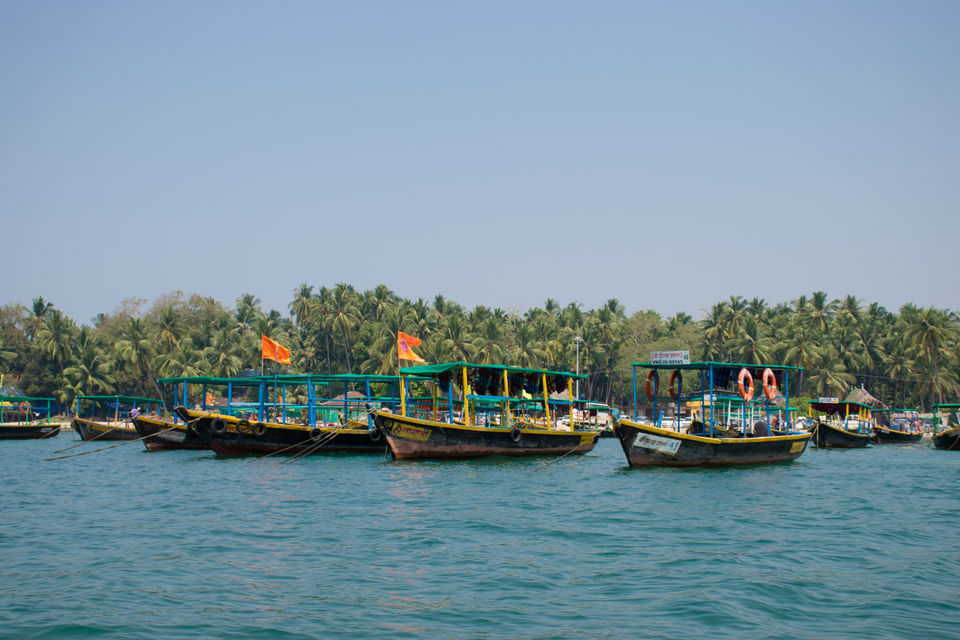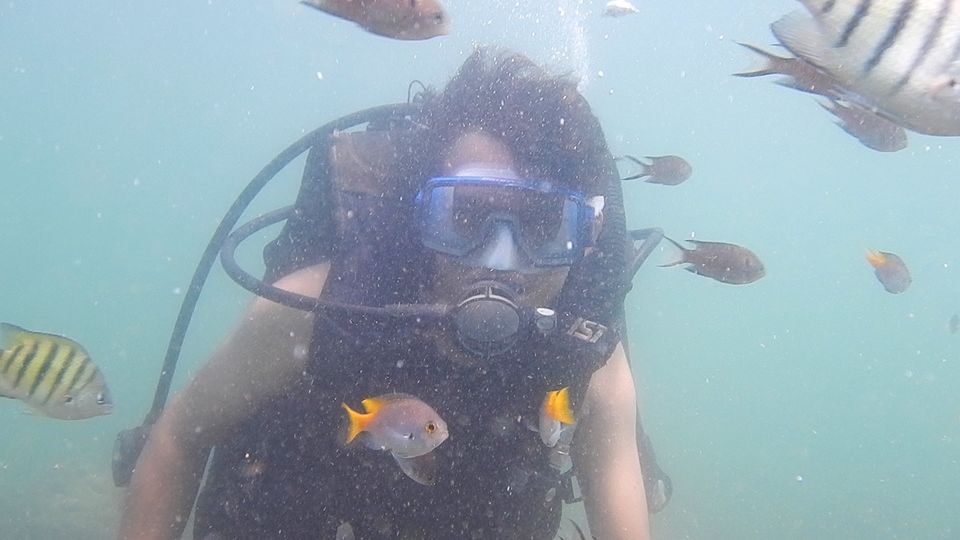 By the time we returned to the shore it was lunch time. This time we feasted on Pomfret Thali. The food here is tasty and home cooked. So where ever you eat it will be fresh and yummy. Again after a heavy fish lunch we proceeded for Para sailing to a different part of the beach. Here, they load you into a speed boat and take you deep into the water. 3-4 minutes is the total time for which you are in the air while the speed boat drives you. It is a fun activity to do.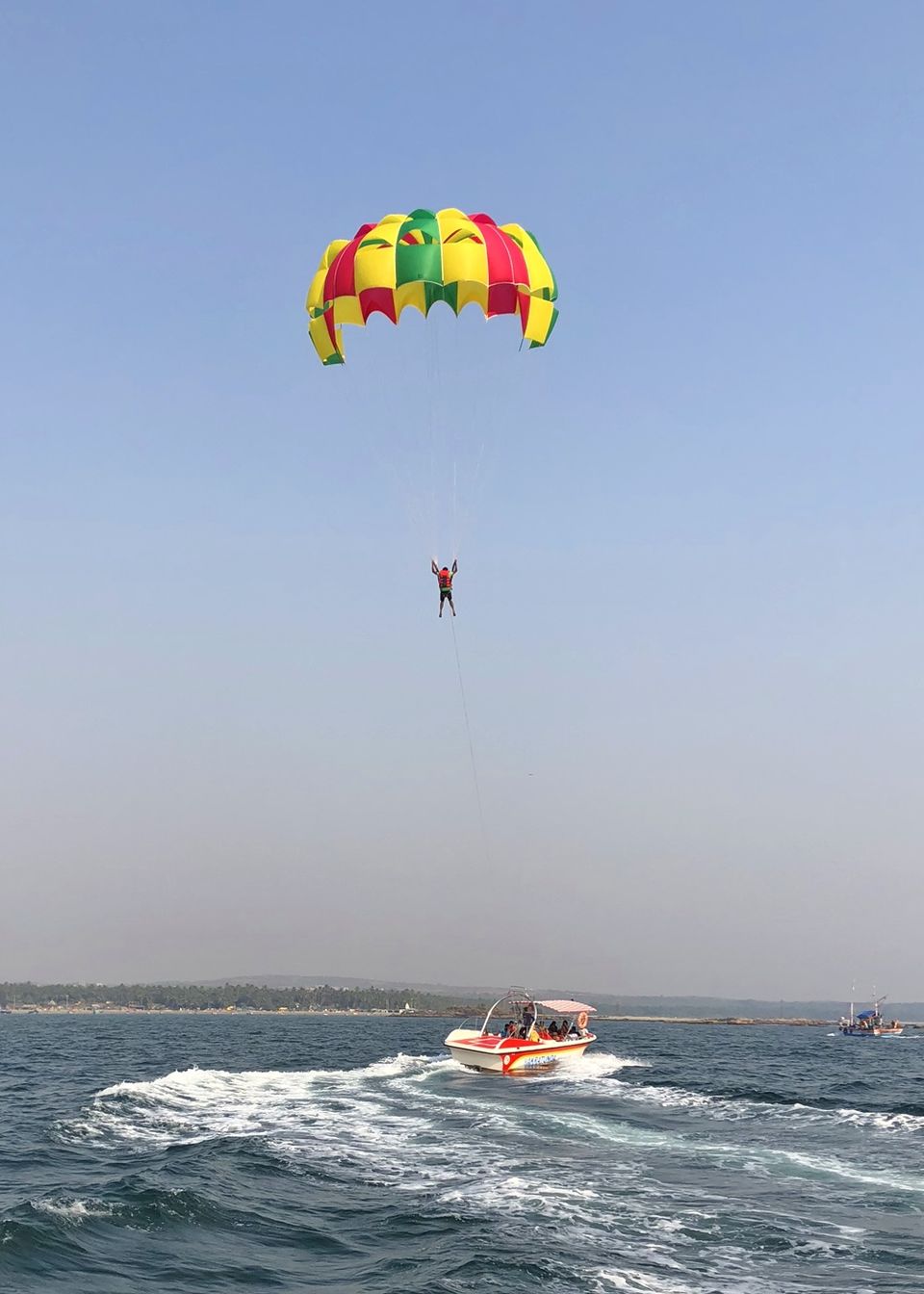 It was 4 pm when we returned back from para sailing. We had plans to go to Tondavali beach to capture sunset which is around 18 km from Malvan. But we had to first shower before we went there. So we decided to head back to our hotel. This time instead of taking the usual road, we drove on the beach. Malvan to Tarkarli is a single coast line so one can drive on the beach as well.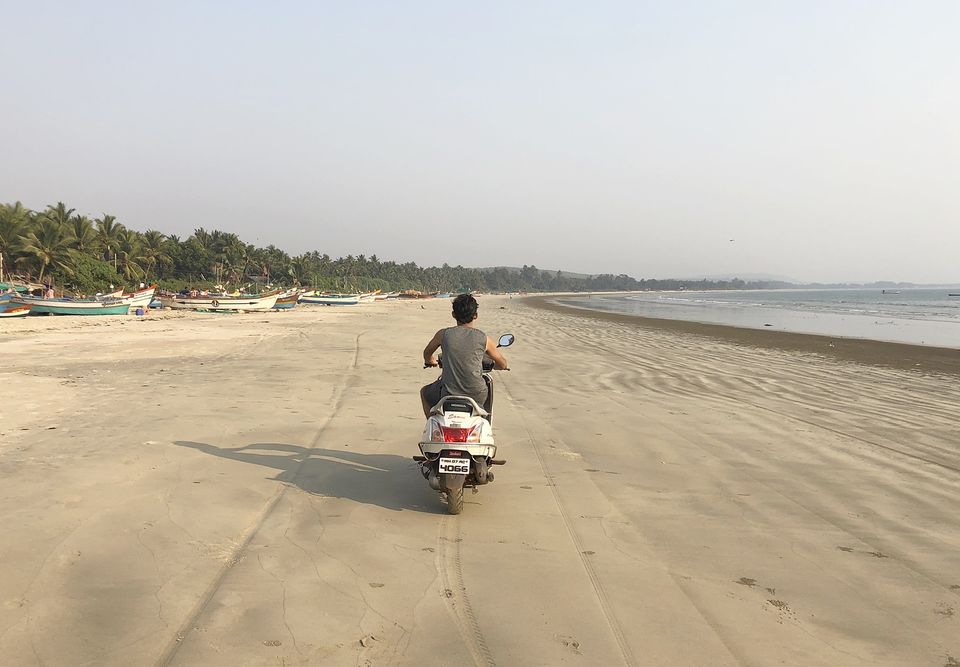 It was completely different experience to ride a scooter on the beach. After a quick cup of chai and shower we were ready to ride to Tondavli. Soon we realised that we would not be able to reach by sunset time as Tondavli beach was a good 40 min drive from our place. Modifying our plan we were now headed to Kolamb beach; a 20 min drive. This is a small beach to the north of Malvan inhabited by the fisherman community. There were kids playing on the shore while other folks were busy cleaning their fishing nets and doing regular maintenance of their fishing vessels. The sunset was more picturesque in this ambient set up. After spending an hour on that beach, we decided to take a leisure ride towards Tondavali. As darkness sets it, driving on these roads gives you a spooky feeling. 20 minutes later we stopped on a bridge on Gad river. The road was completely dark. A bike or an auto rickshaw would shatter the silence at some interval. Standing near the railing we witnessed moon rise. The orange ball was rising behind the horizon. Moments later we could see its white reflection illuminating the river. What a beautiful sight it was. None of us had a tripod to capture such a low light shot. But I think such magical moments have a deep imprint in your mind than any photo could give you.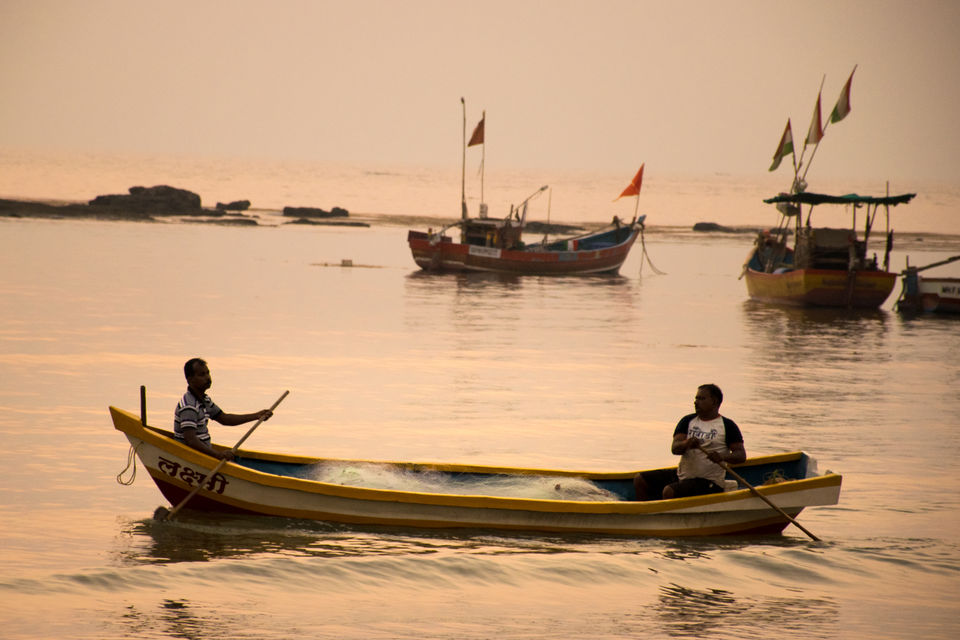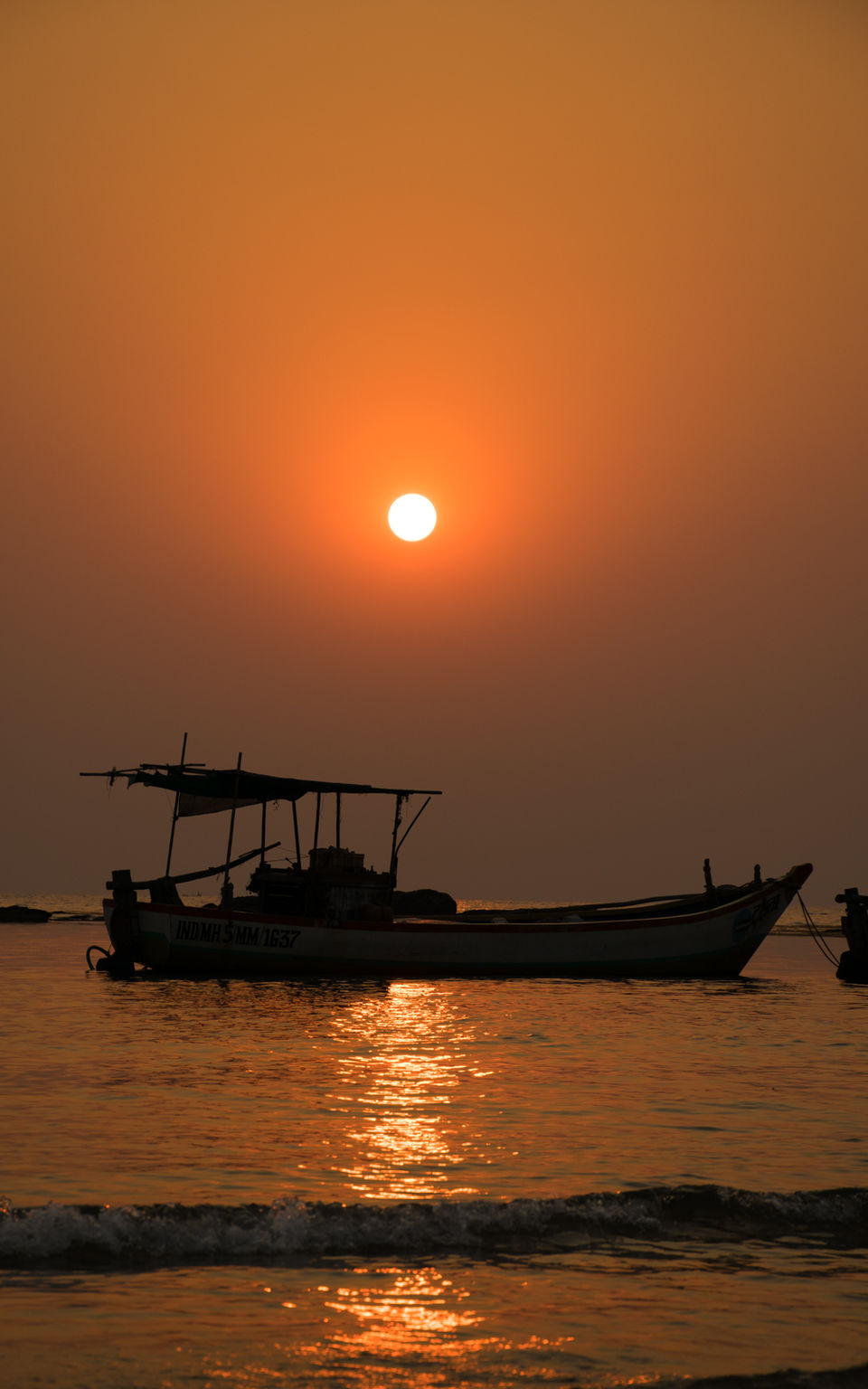 City dwellers are habitual to drive in bumper to bumper traffic with mad honking but this ride was exactly opposite. Fry Kolambi and Fish curry were awaiting our arrival at the hotel. Being a coastal village sea food is plenty. It's a heaven for sea food lovers. Our every meal included some sort of fish recipe. The next day it was time to say good bye to our host's warm hospitality and head back to Mumbai. But we had few hours at our disposal before our train left from Kudal. So we decided to visit Salgaonkar Ganpati mandir and Rock garden in Malvan. It is a nice place to visit especially in the evening. The garden is well maintained by Malvan Nagarparishad. After visiting these two places and roaming through the rusty by lanes of this old fisherman's town we headed to Malvan ST depot for riding back to Kudal. An hour's journey to Kudal and further an hour waiting for our train,we left Kudal at 5 pm. Standing at the door enjoying the breeze all the beautiful moments of last 2 days flashed through my eyes as stations like Kankavali, Vaibhavwadi, Rajapur passed by.
My rating on the key aspects of the trip:
Location 4/5
Food 4.5/5
Stay 4/5
Scuba & Para sailing 4/5