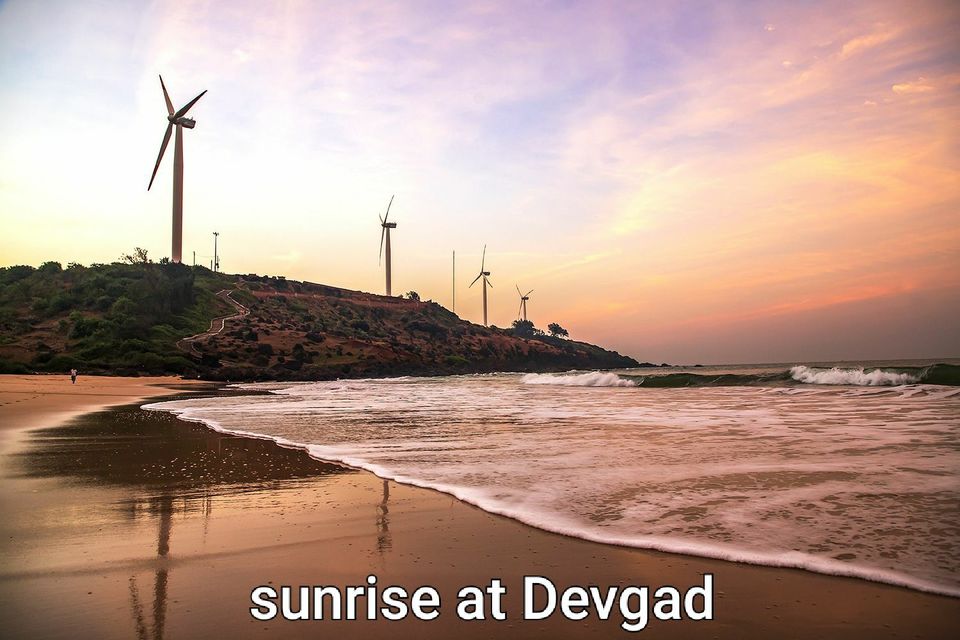 We started from the Mumbai today. We done breakfast after Panvel on Panvel-Goa highway and our first destination was Revdanda beach. Here we spend time for capturing photos and videos. we reached at Murud at afternoon and we stopped here for our lunch at Patil khanaval on murud beach side road.
After lunch we leaved murud and after 4 km we saw mesmerizing view of Janjira fort.
Then we gone towards our first jetty dighi jetty where we take our bike on jetty and crossed the river, here we spend 40 rupees for bike and 10 rupees for each person. After crossing the river the road was awesome just side by side of beach or sea. I lived this road, we stopped lot of time to take pictures and the feeling on this road was awesome. The road was not pretty good but because of the scenic views we forget about road conditions. But we tired for the speed breakers on the roads. Actually my plan was to stay today in harnai beach and do some street photography of market on beach. But if plan go as per our plan then how the trip will be. We actually reached at Shrivardhan beach at sunset. So we decided to take first stay in Harihareshwar. Here we stayed at Vandana homestay in 800 rupees. And had dinner at one hotel and we ate prawns and promplet thali of 660 rupees.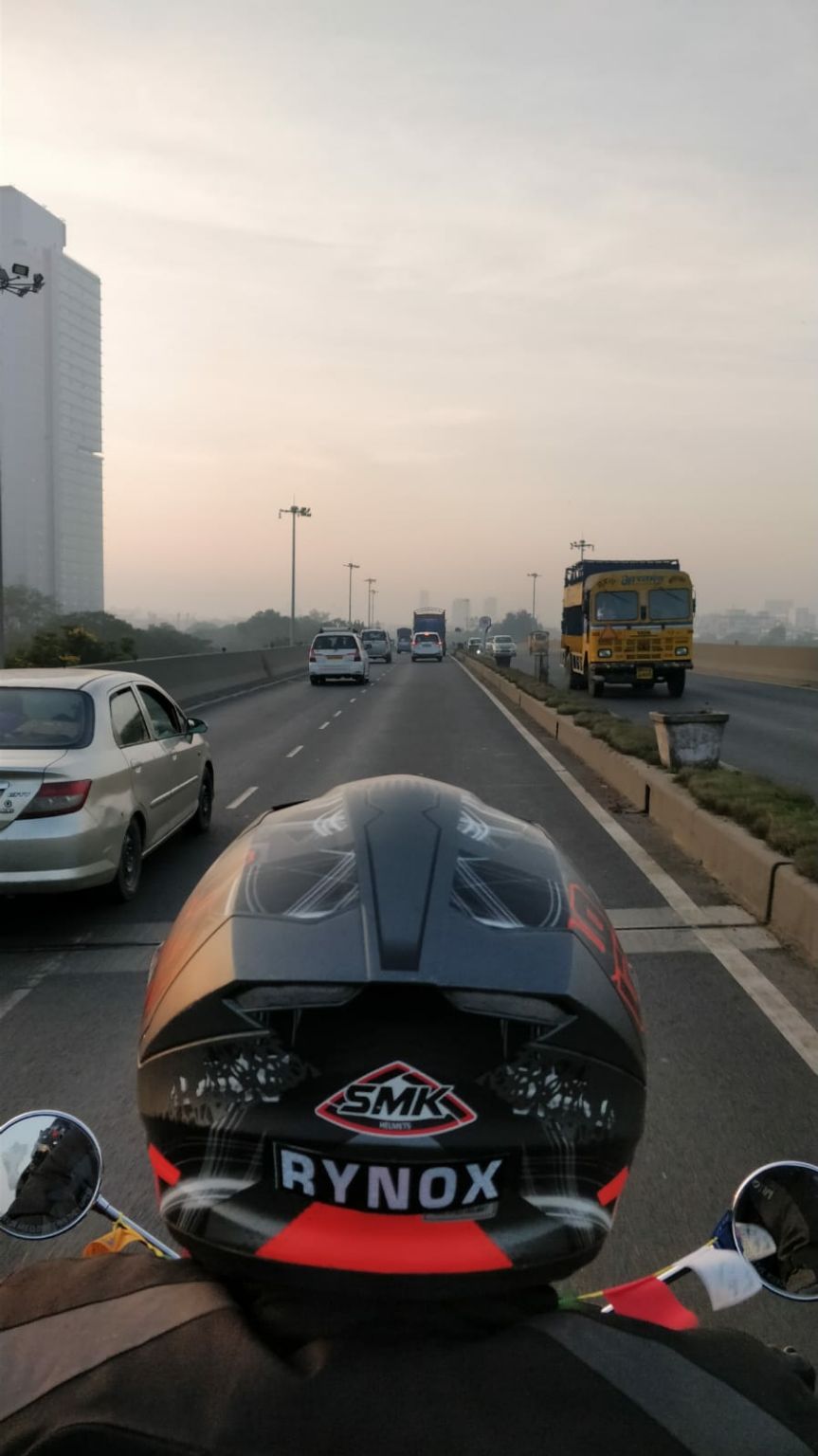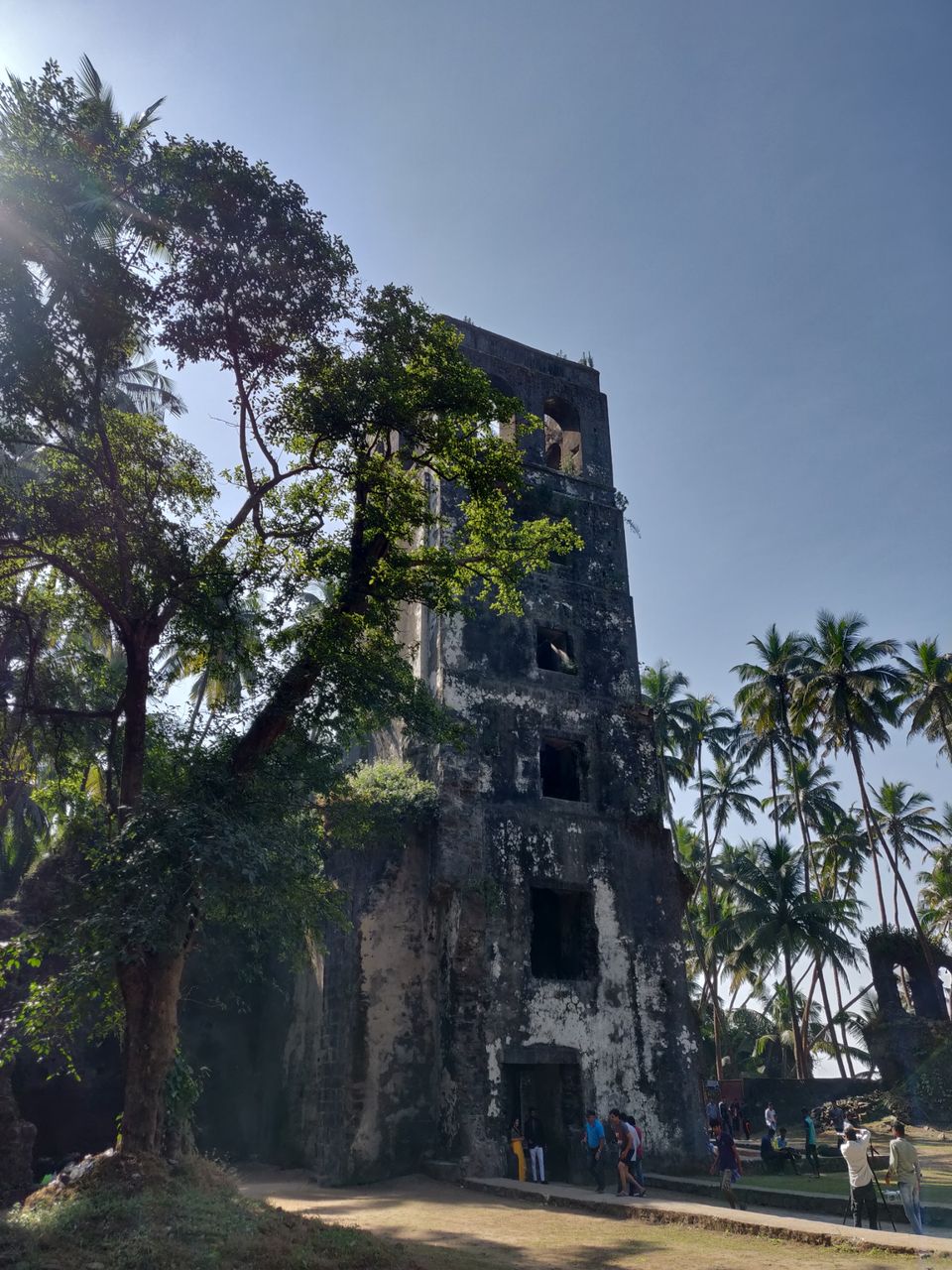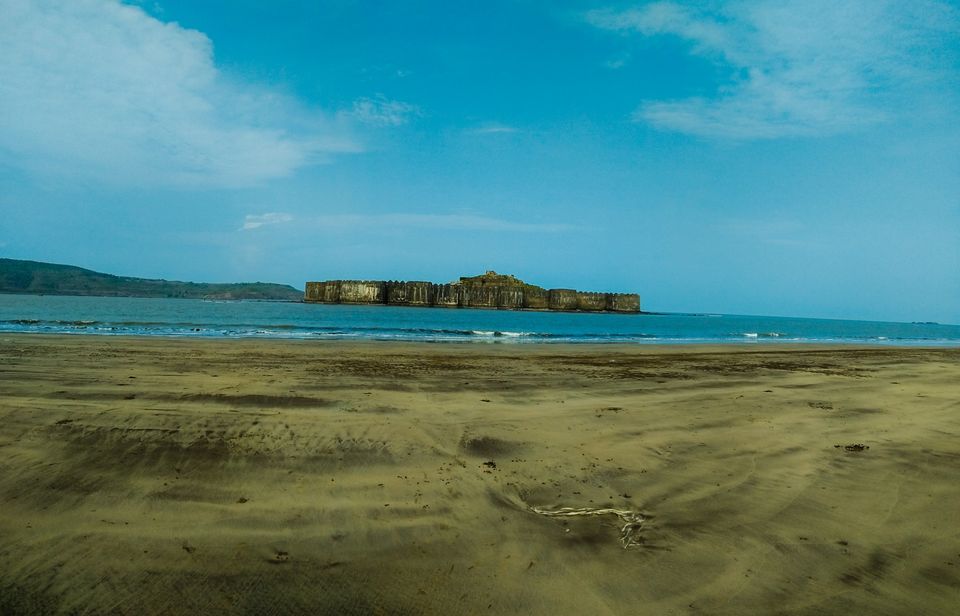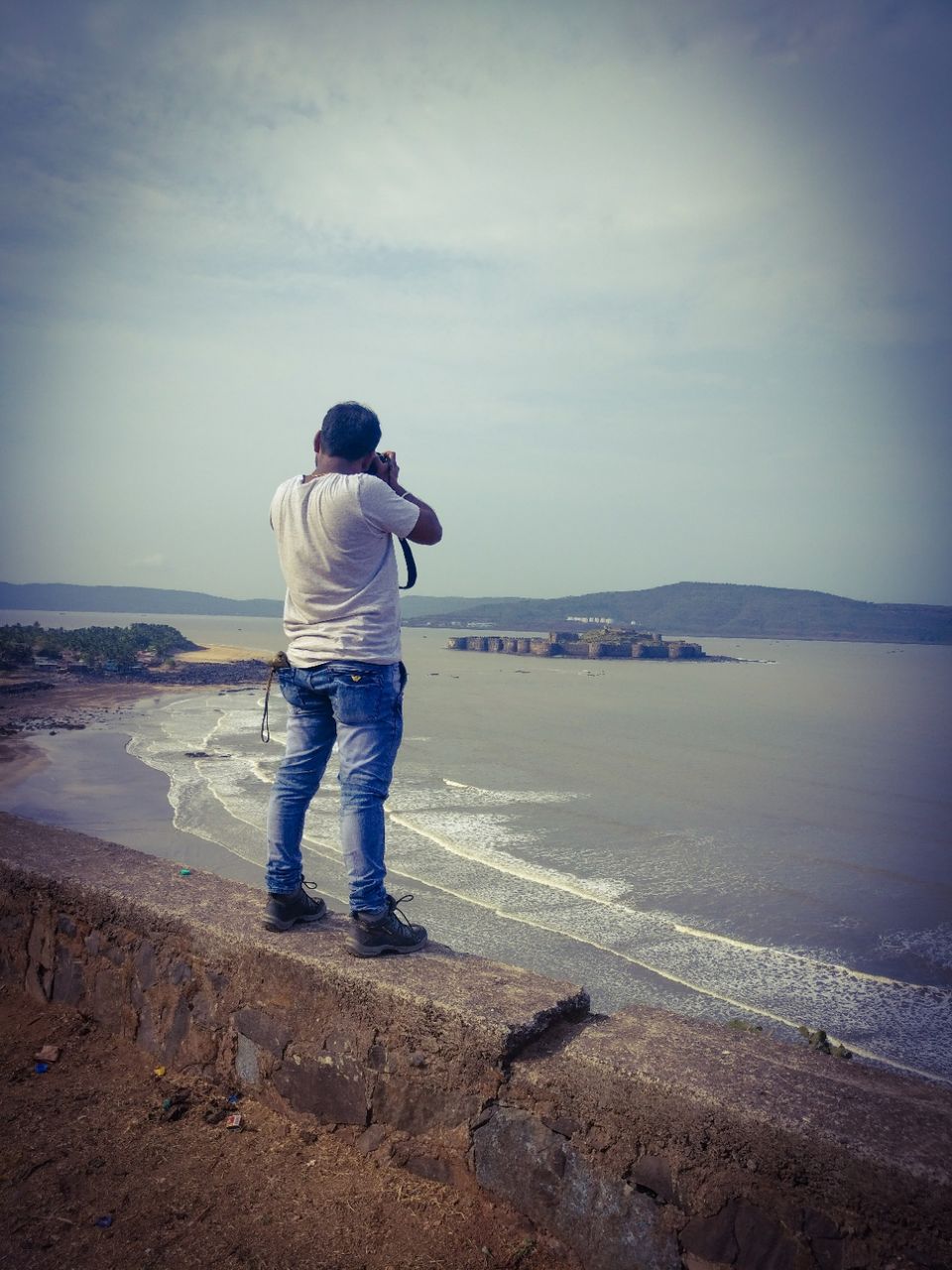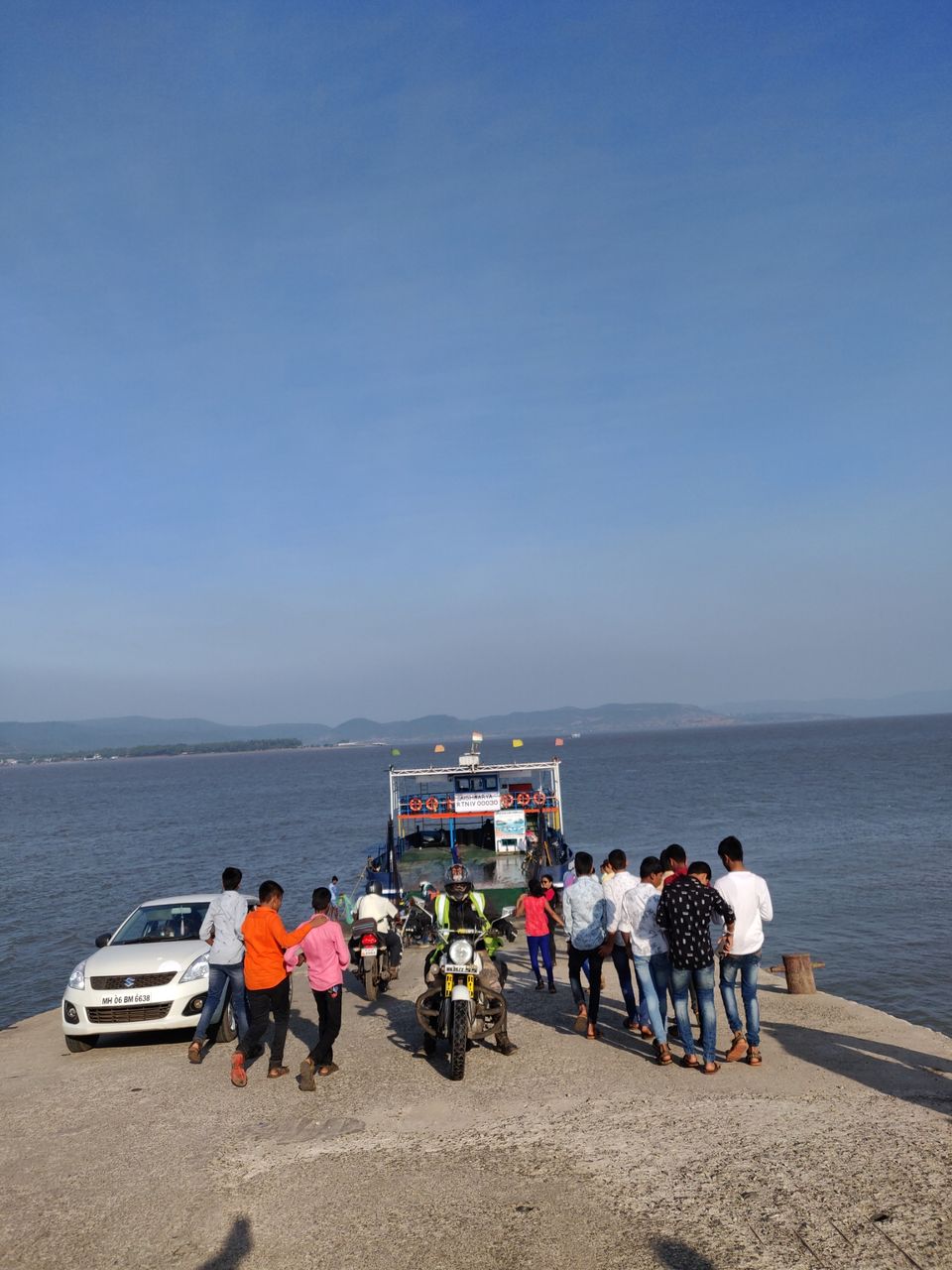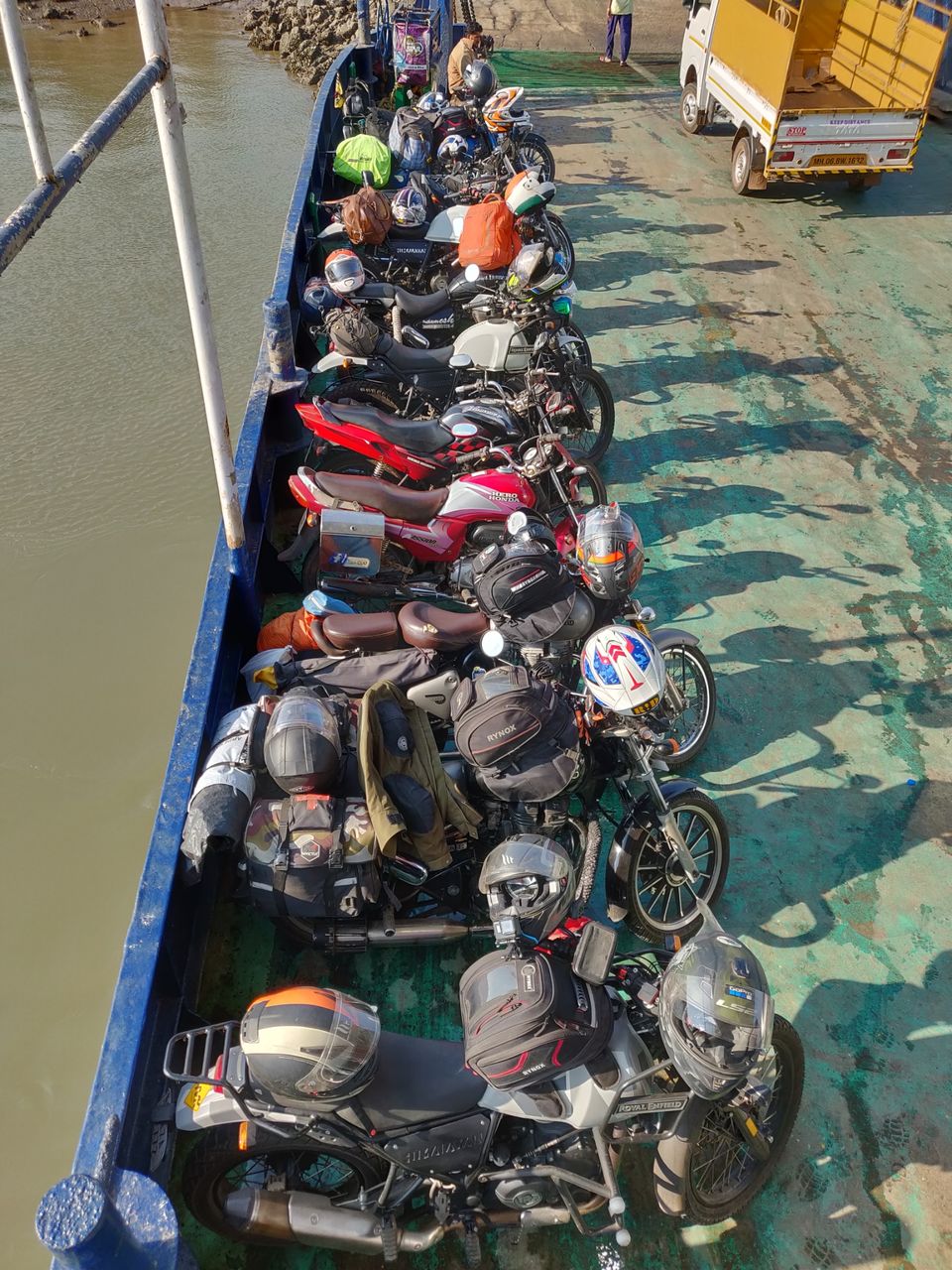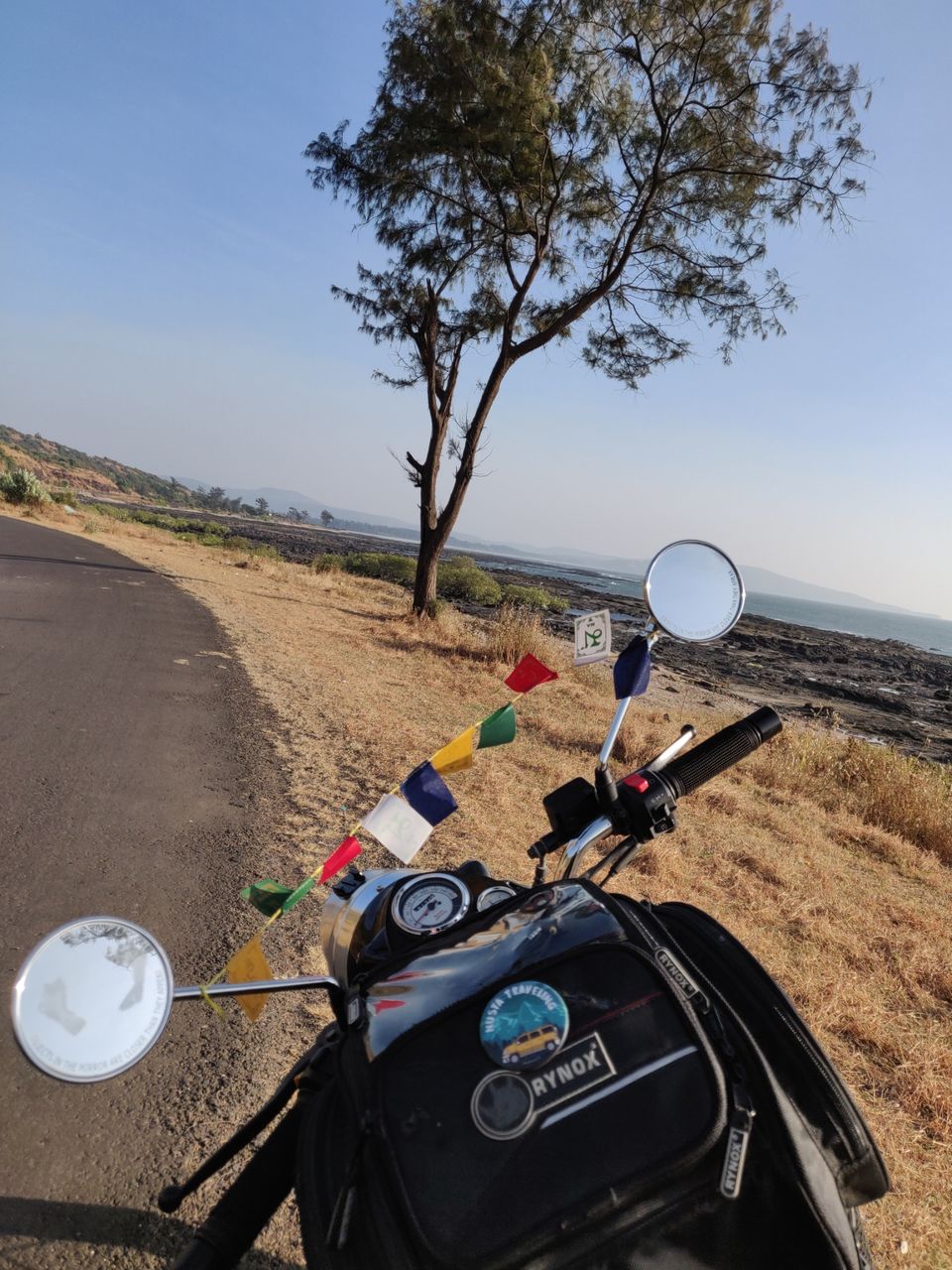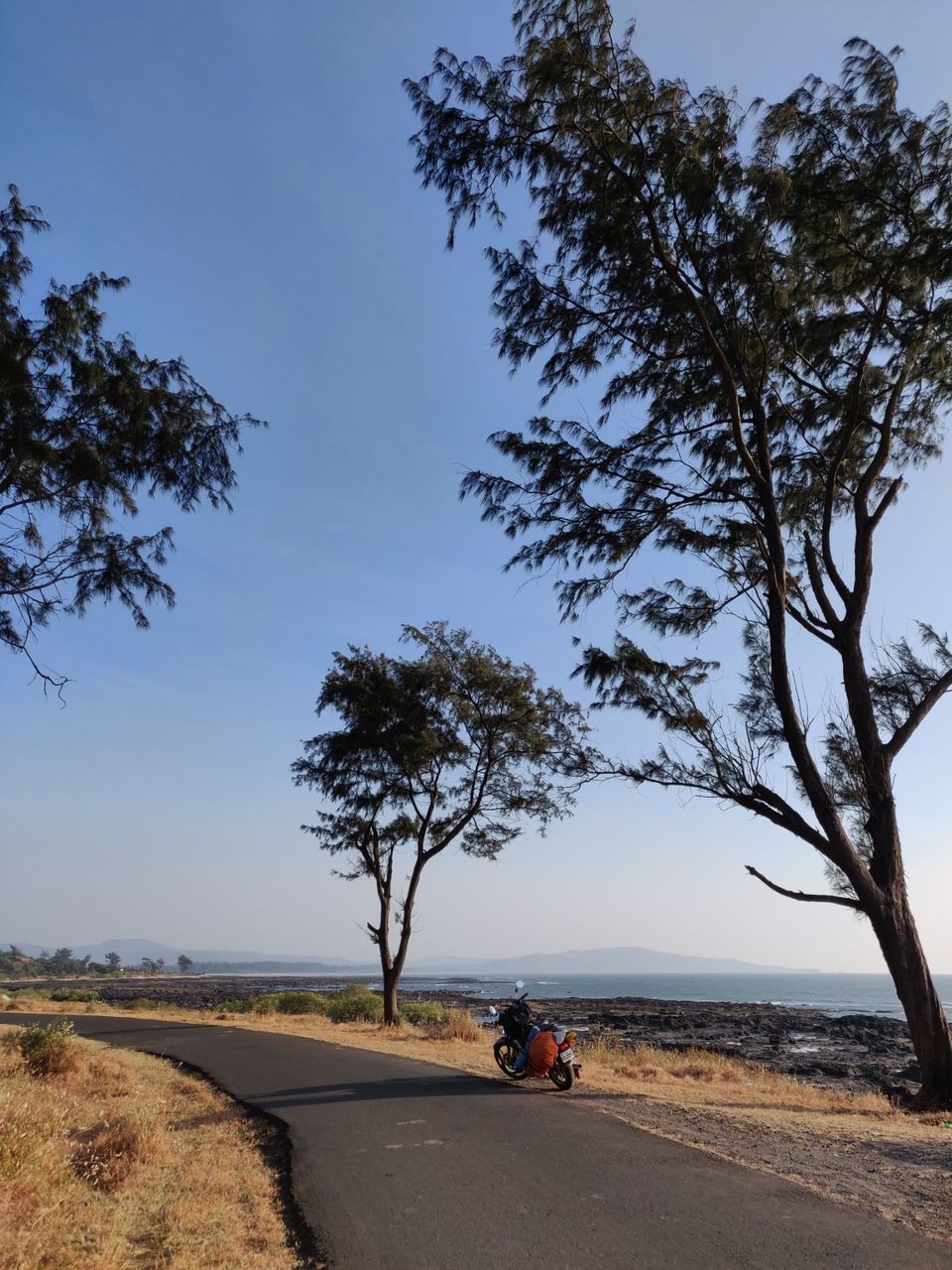 Good morning..!! Day 2 of trip.
We woke up at 6.30 am and refreshed and take a bath then went to the temple. We take tea on the road of temple and take blessings from the god. The Harihareshwar temple is old temple not new building but Shivlinga was so nice. Then we went for the beach from the temple. There was road from the backside of temple and there is small hill to climb actually there were steps made. Some kind of forest like appearance on hill then we saw the rocky beach where way made by cutting hill and made valley to go the beach. It was just awesome route to go on beach. The beach was completely rocky and beautiful. We reached at sunrise we got beautiful view of the beach.
Then we came again front of the temple by walking on that rocky beach then we saw beautiful sandy beach from side. We did breakfast in one hotel on the way of temple and came to room.
We packed our all stuffs and baggage then fasten on bike again. It was difficult task on trip. We went for our second jetty from Hariharehshwar. The jetty was just 7 to 8 km from there. We reached there and we got jetty instantly there was no need to wait. We drive our bike on jetty and after 10 min jetty started. Here we spend about 50 rupees for bike and us. We reached other side of Bankot jetty. After that jestty moving forward we saw one beautiful beach where way go inside the sea ans there was small island of rocks but the road was awesome. We take our bike there and shoot videos and photos. Where our bike at middle and sea at both of side.
Then On the road we saw one house which was so beautiful, typical kokani house so we stopped there and take some pictures and make some conversation with the owner of house. He was very kind person do his farming there also has coconut, mango trees behind the house.
Then moved towards our next destination Harnai. We reached there at 11 am. The market of beach was closing that time. But we get some time to send there and take photos. Here fish market open on beach directly and auction takes place in morning and evening. We spend here lot of time and then went for the lunch. There was one hotel outside the harnai village. We ate fish here also because harnai is famous for fish. Here we spend about 700 rupees on food. It was already 2 pm and we were late. We started towards next destination and there was another one jetty on road after 40 km and after that another one after about 20 km from there. We reached there there at 4 pm at Dabhol jetty. Then we reached at Guhagar take break for the tea. There was no any petrol pump on the road so I was little worried about it. Cause my bike was already on reserver and next petrol pump was 35 km from Guhagar at Jaigad. Guhagar is also best destination for the vacation it has very clean sea and beach, white sand and clear water. Not more crowded very silent and beautiful. We didn't stop there on beach but I know there was one place from which we can sea best view of beach. So we went from Guhagar and reached that place it was on mountain on the road towards Jaigad. The road was made half of the way after that full off roads started. After that mountain and off-road directly show us another side beach. There was road side by side beach. We reached at Jaigad jetty at 6 pm. After we reach another side i asked people's for petrol pump first. Just side the petrol pump was present we full our tank and gone toward Jaigad fort. It was small for made for keep watch on sea. We spend time there just for peace and rest. Then again moved towards Ganapatipule. In the starting of the Ganapatipule we saw one hotel and go to ask rates . But rates was little high so we checked on OYO and got one hotel just side of that hotel in just 450 rupees. We go there and refreshed and keep all baggage in room and took bath. Then we went to Temple of Ganesh ji. Where we reached at Aarti time it was best moment. Then again came to room and took rest and had dinner.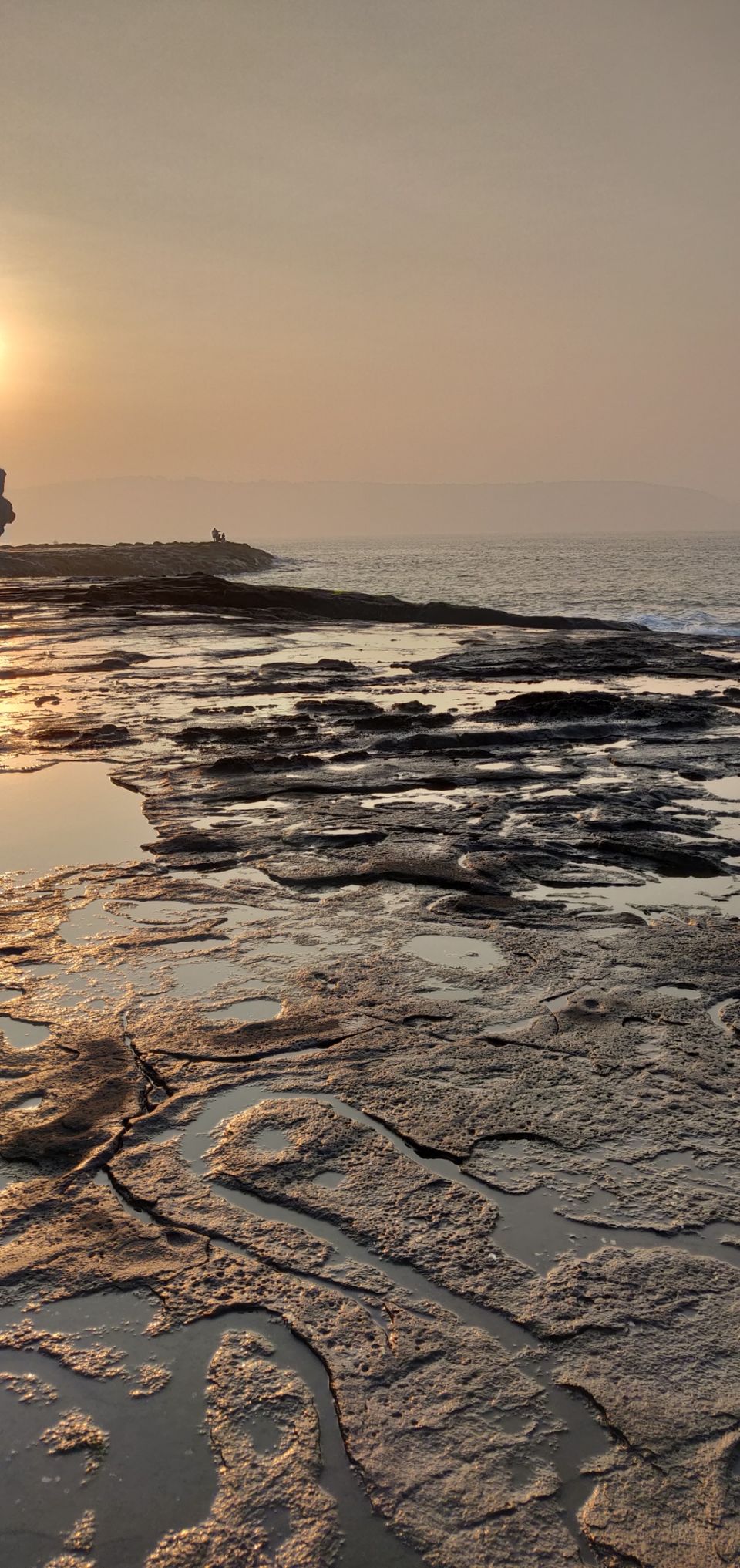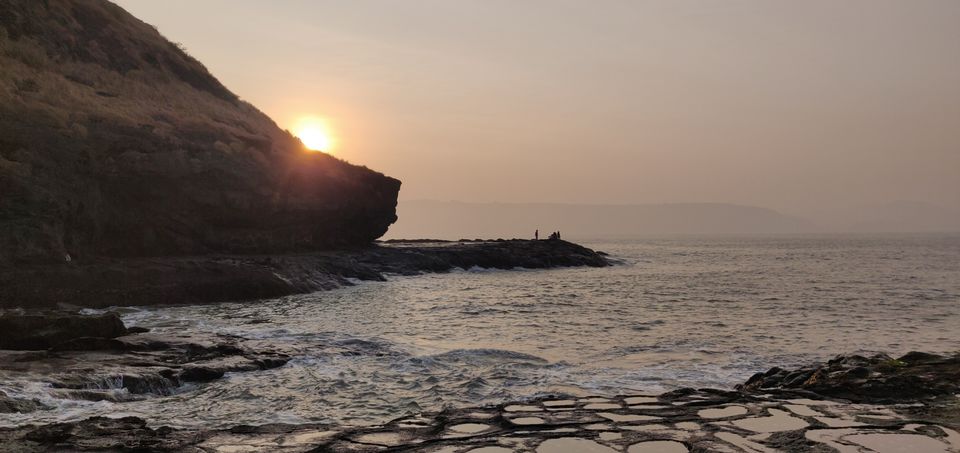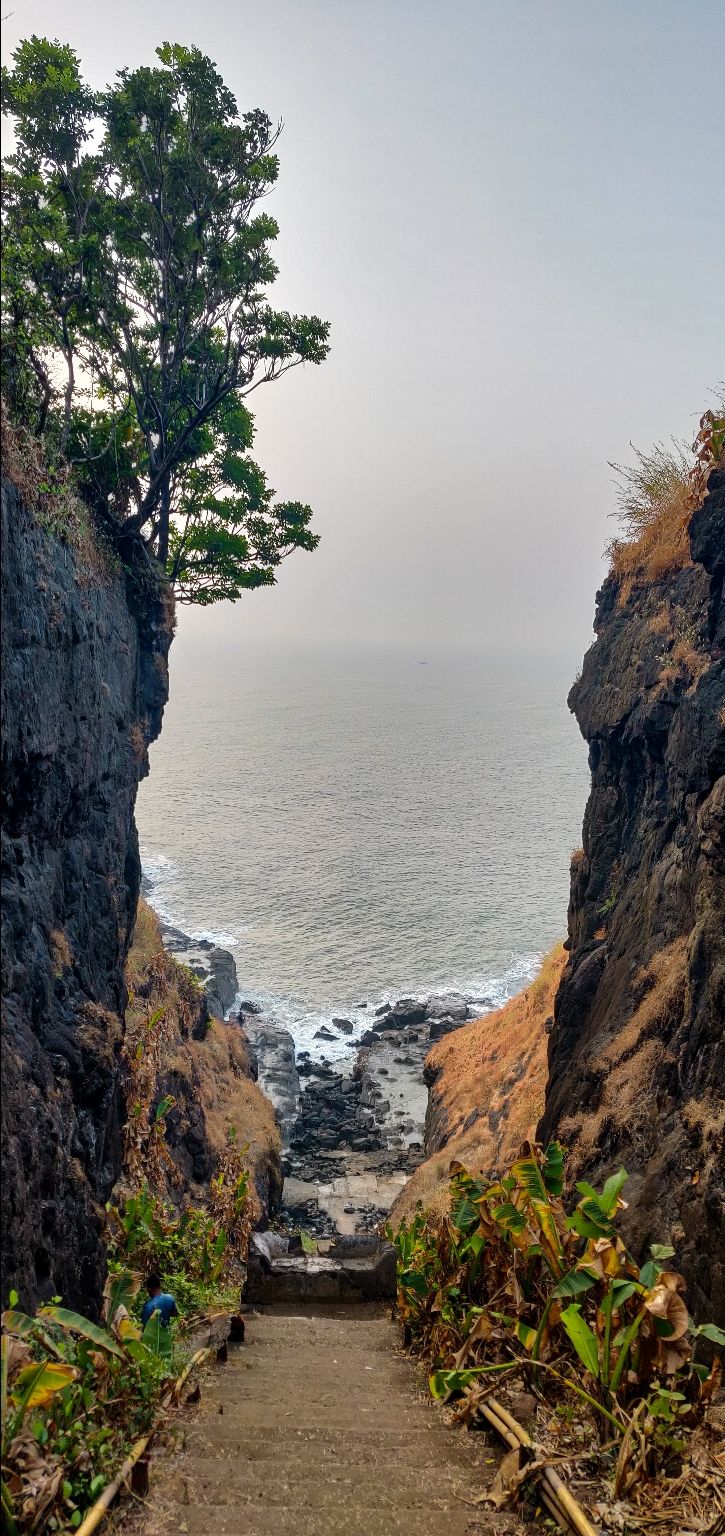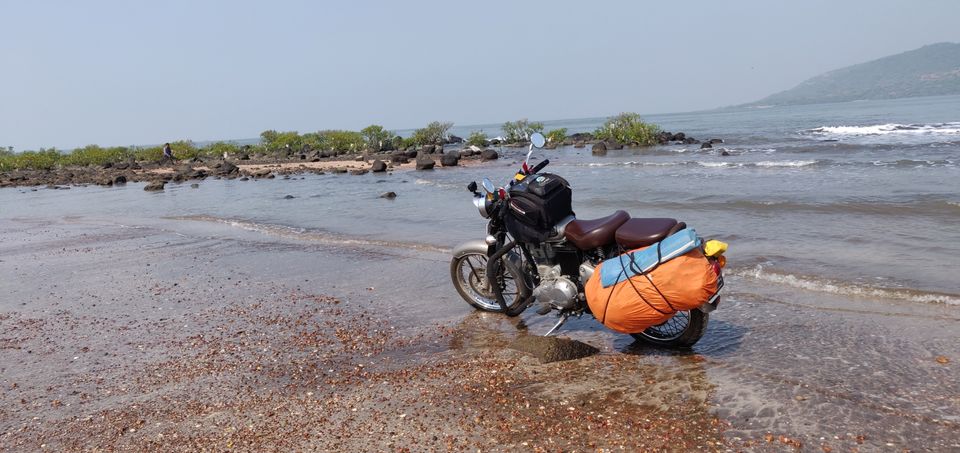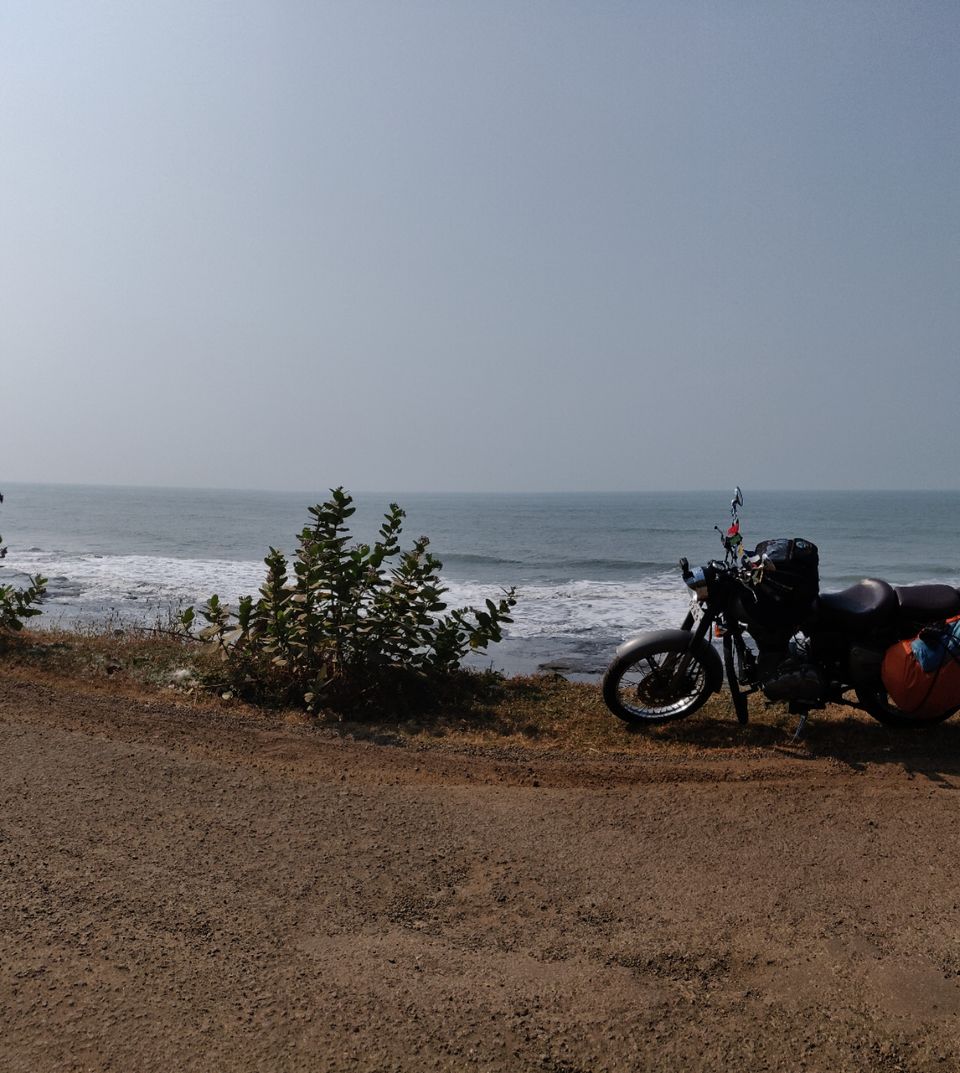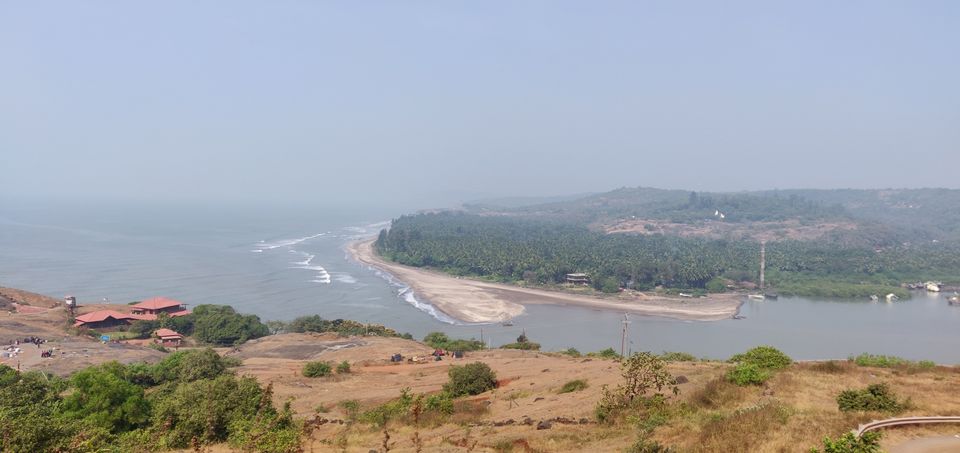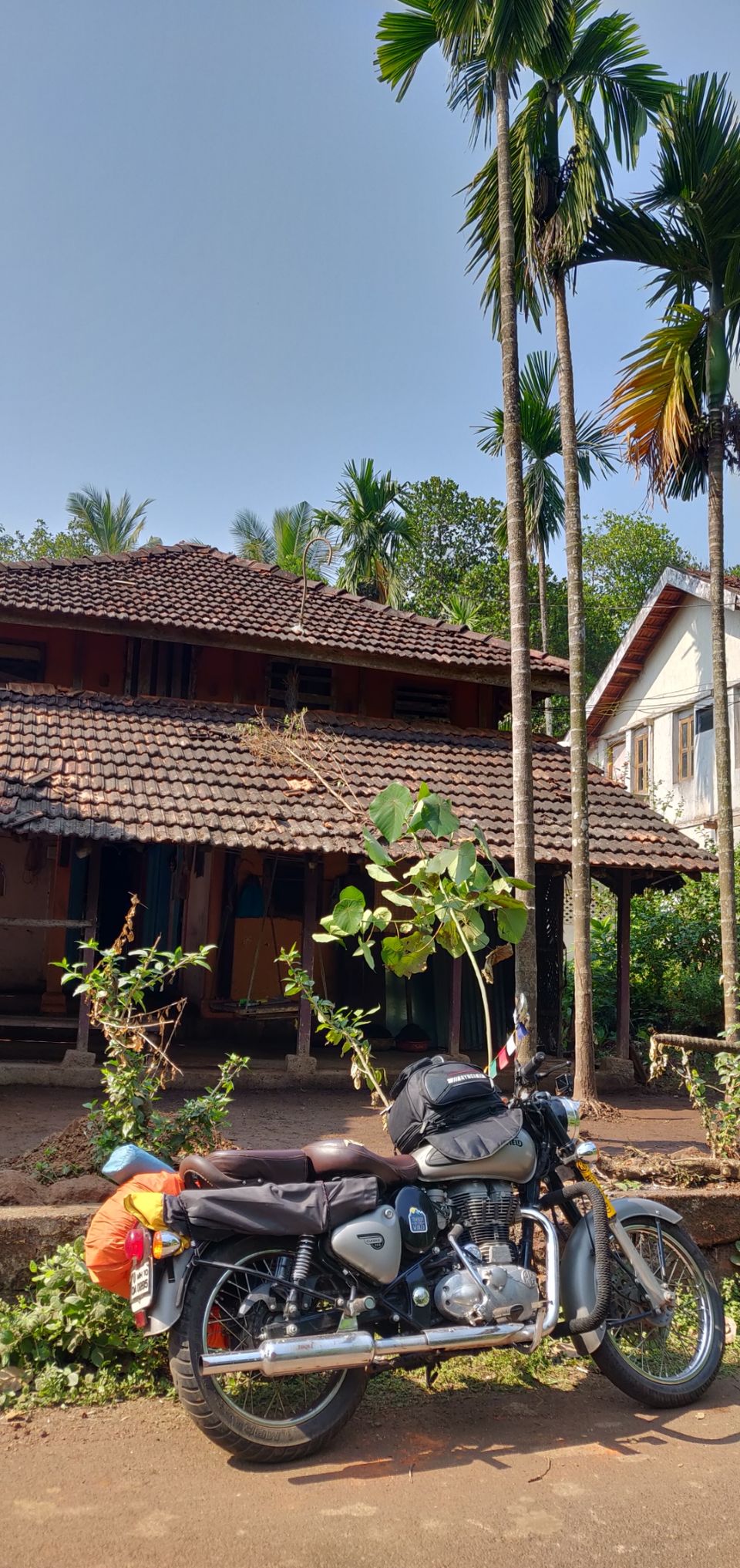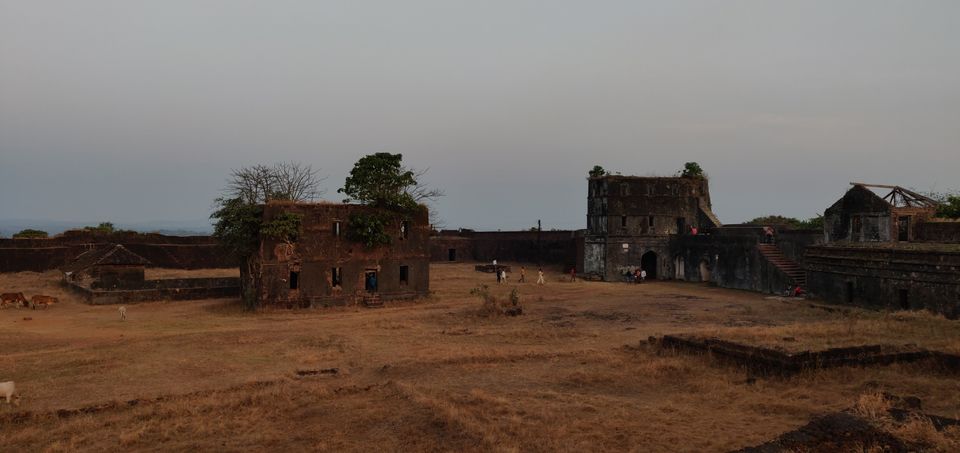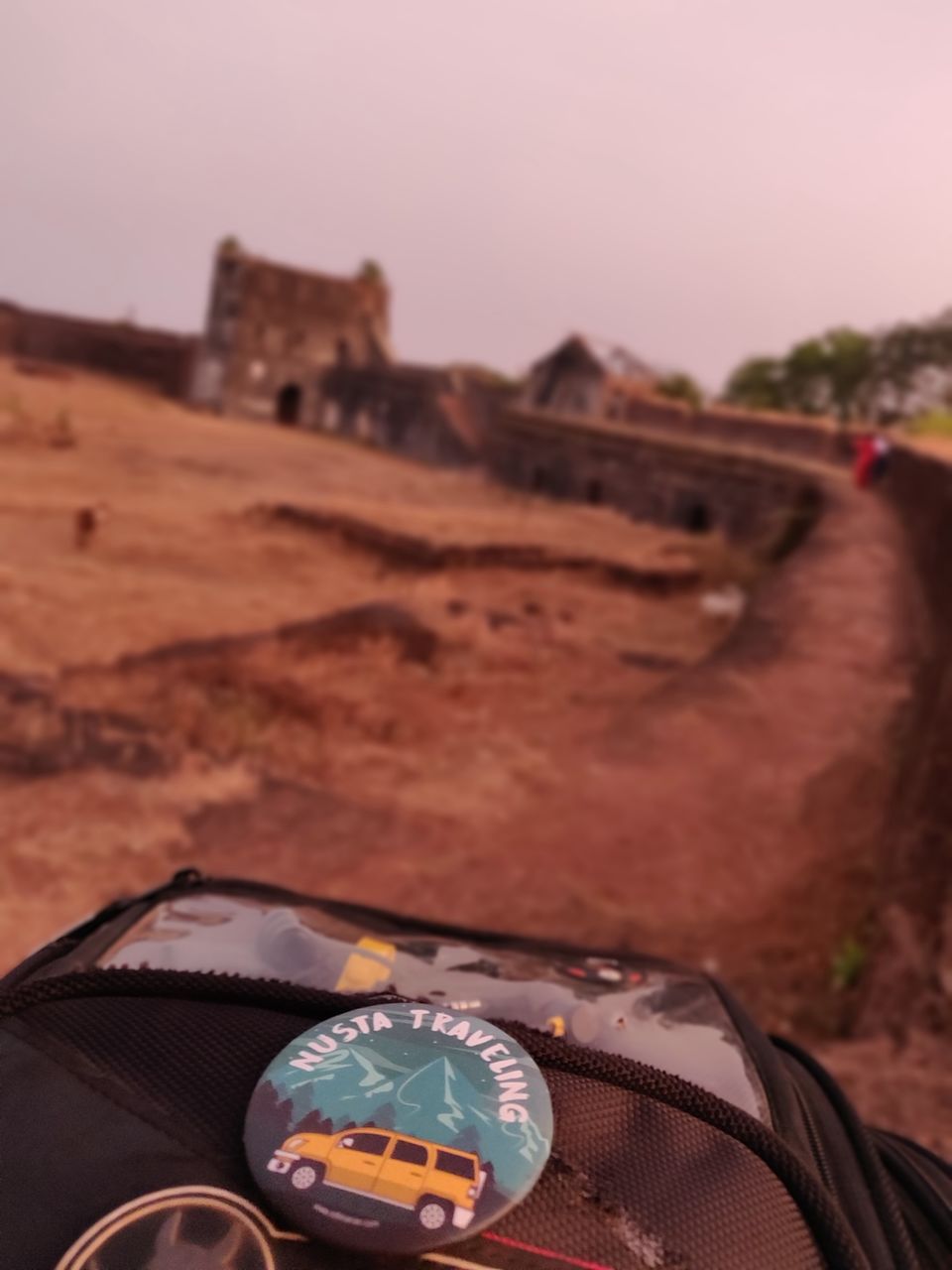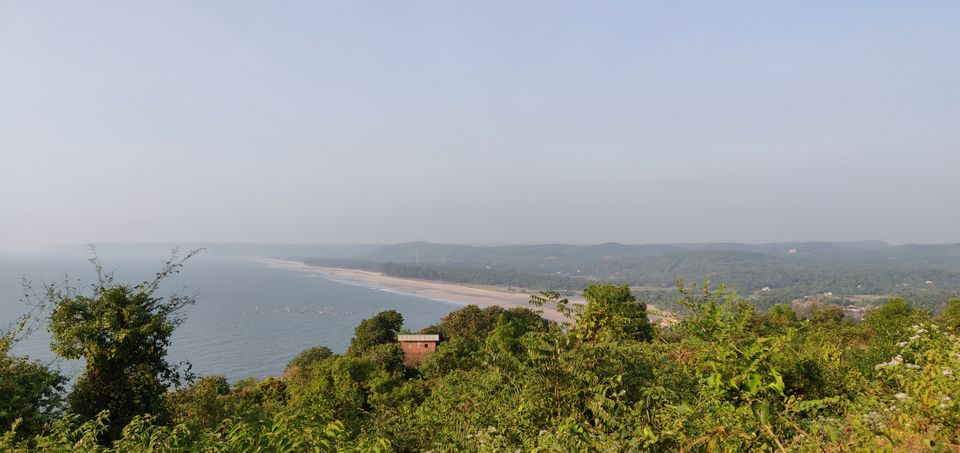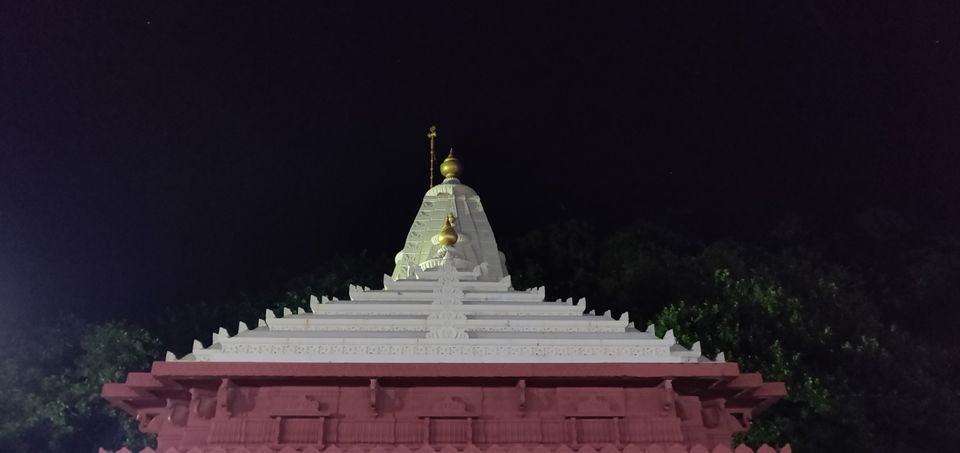 We woke up early mornings and took bath and get ready for next journey. Now from here all road was well known to me and road is pretty good. We took tea in Ganapatipule and moved ahead. After just 5 to 7 minute we reached at one of the beautiful road and beach of Maharashtra that is Aare ware beach. Where all road goes by hill and at left side all over sea face. Here sea looks more beautiful because of white sand and clear water.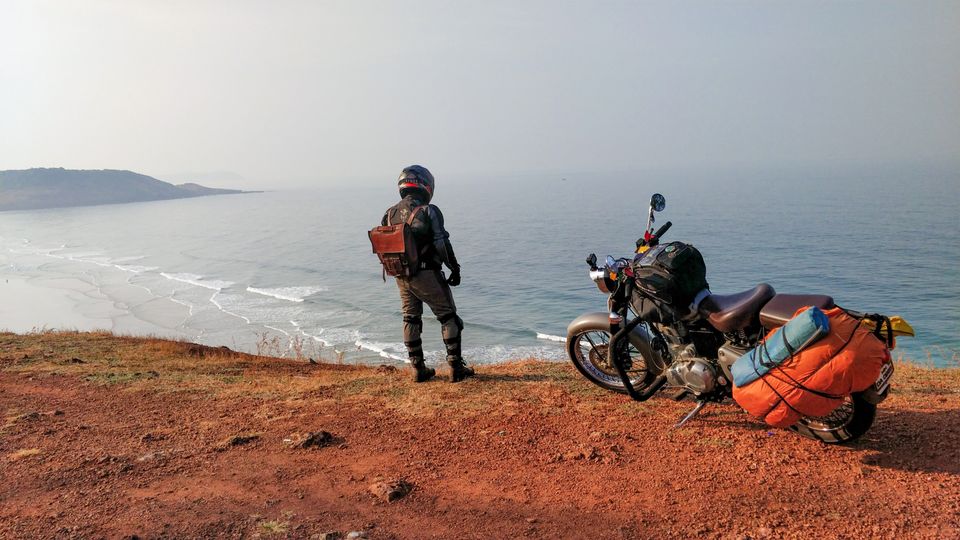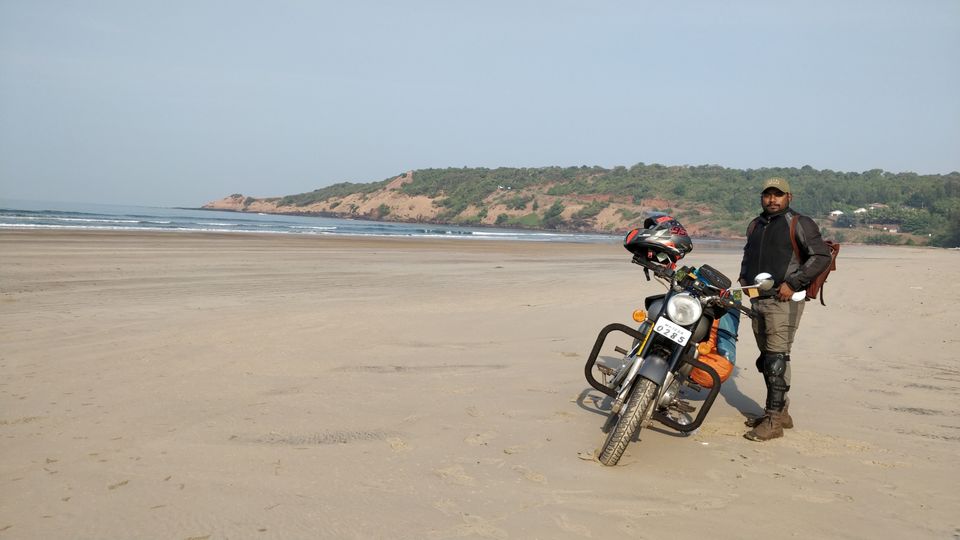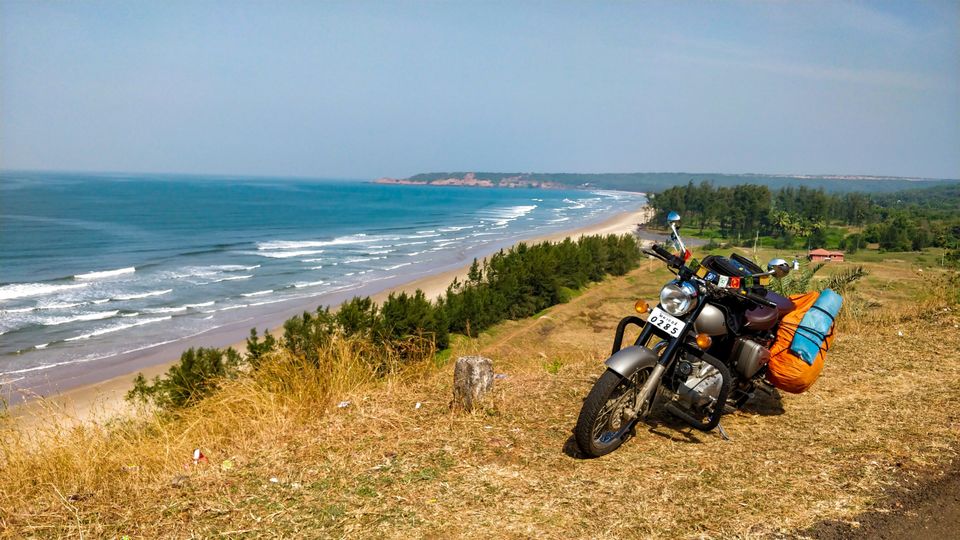 We were passing this road after clicking photos but my partner said shall we go on beach..?? I said ok. Then I took bike directly on beach where climate was so good and beautiful. Here we spend more than 2 hours. We enjoyed beach there was nothing else than us. Only we two on beach and our bike. So we took lot of pictures and videos.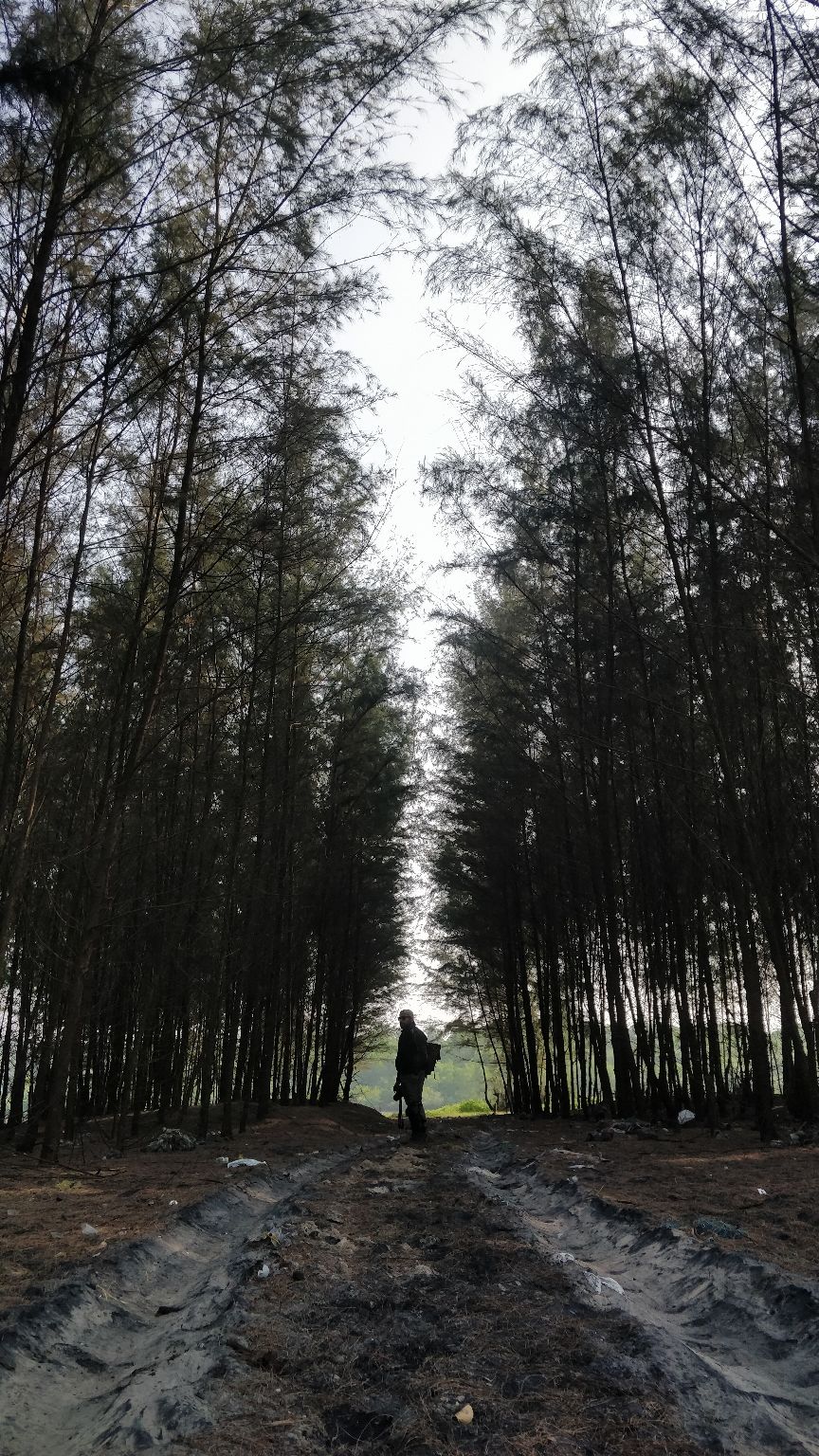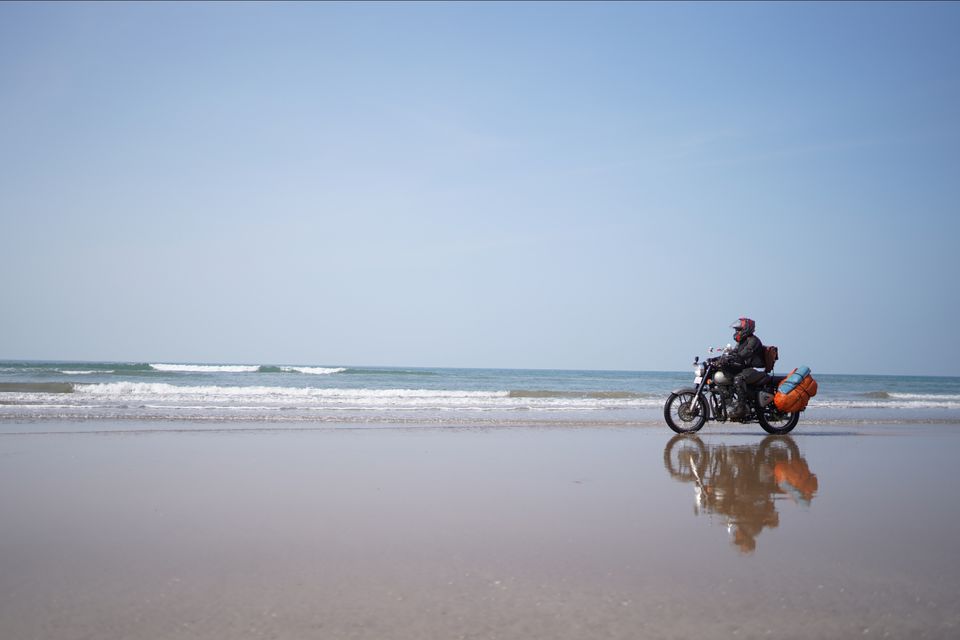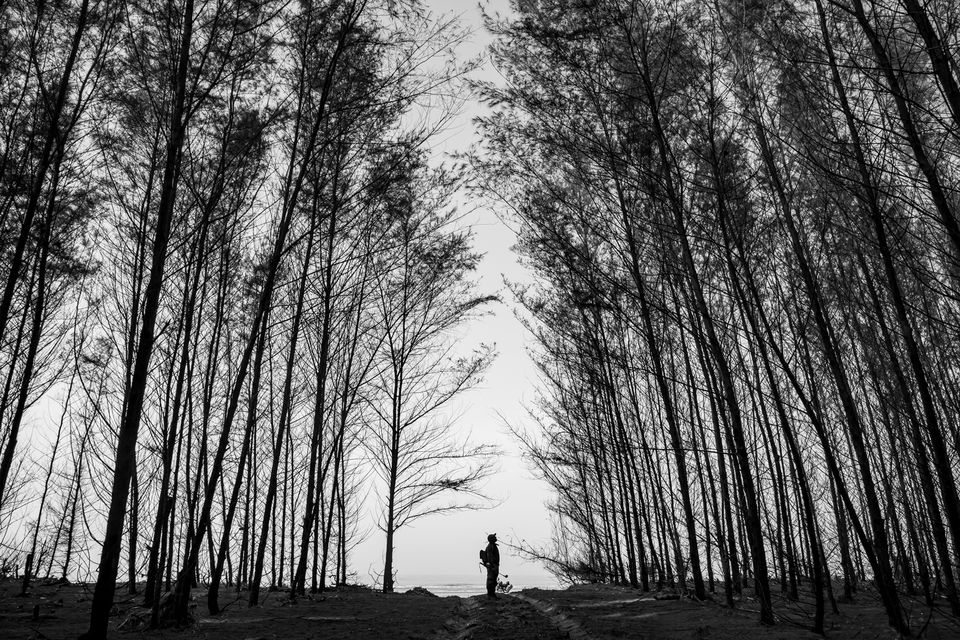 Then at 10 am we moved towards Ratnagiri and there my one friend came to meet us. We did breakfast there and go to Royal Enfield showroom because my bikes back rest was cracked. So we go there and assemble new back rest. We went from there, there was beautiful road from ratnagiri towards south. Beautiful beaches seen and all trees all over and one side beach. It was amazing road at one place which I known very well we decided to stop for 10 min. Then I checked my mobile where 3 missed calls from someone or new number. So I again call back so someone was other side said, "where are you?". I said, just moved from ratnagiri going south. Then he said, check your wallet is there..?? I checked, but I could not found, i said I am not able to find it. Then he said it was dropped at Ratnagiri and I given to one colleges pion where from i passed. Then again I go back 30 km. Then meet than pion and took my wallet return. That person was so honest I thank him on phone and returned.
We reached Devgad in evening, and now searching for rooms. Room rates was so high there so we took help of Google and found one room in cheap rates. We go there and negotiate rates so they ready for the 600 rupees. Actually that was lodge running by one old couple they actually they surprised that we came from mumbai on bike. We get refreshed and went outside for dinner. One of my friend suggested me on hotel in Devgad that was Vasant vijay hotel. We reached there and took our dinner it was delicious. The fish was so awesome and very tasty. We returned to the room and gone sleep.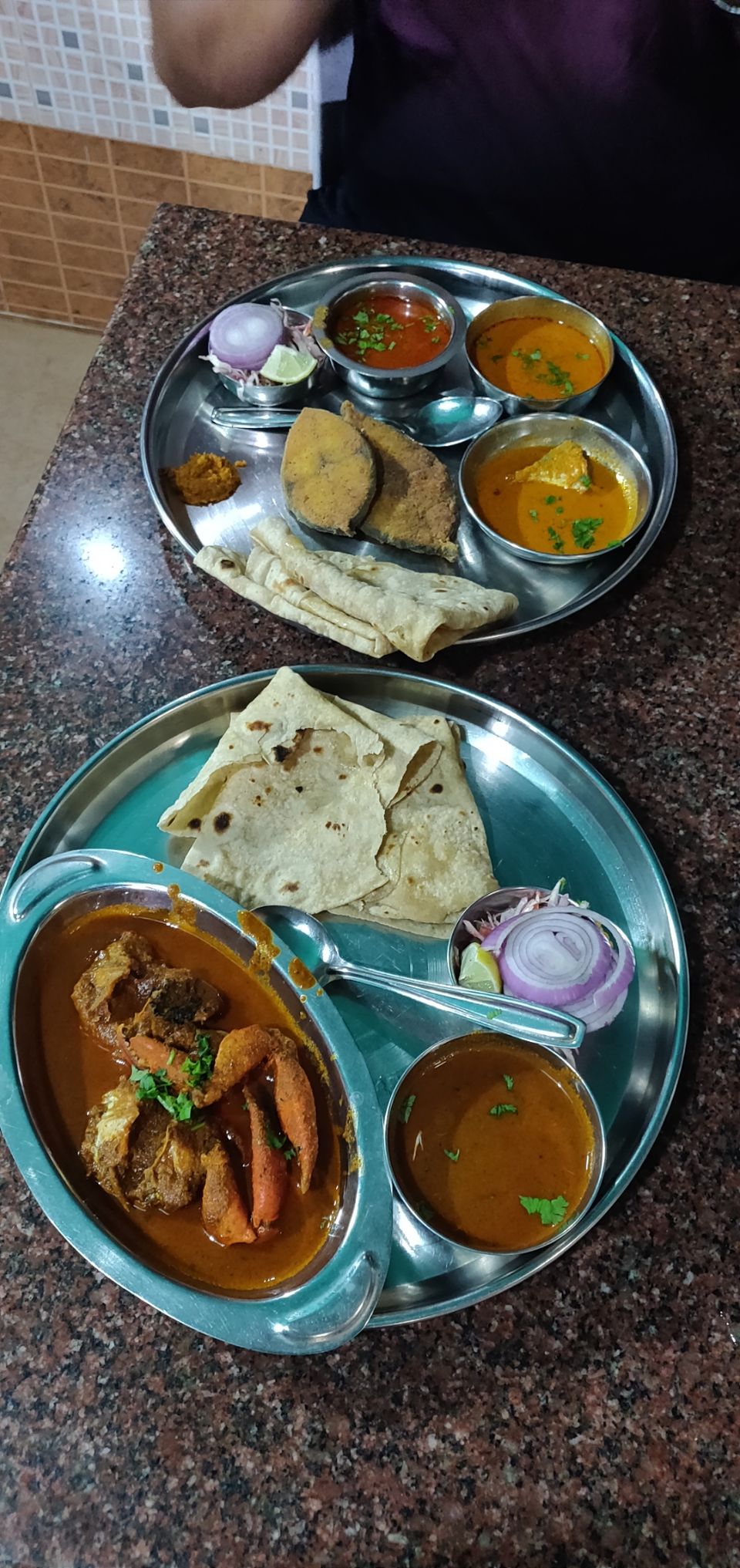 We woke up early morning and took cameras and went towards beach. Devgad beach is also so beautiful. There are some windmills on hill just side of the beach. We reached before sunrise and we got colorful sky so got beautiful pictures. This beach was very clean, beautiful and white sanded.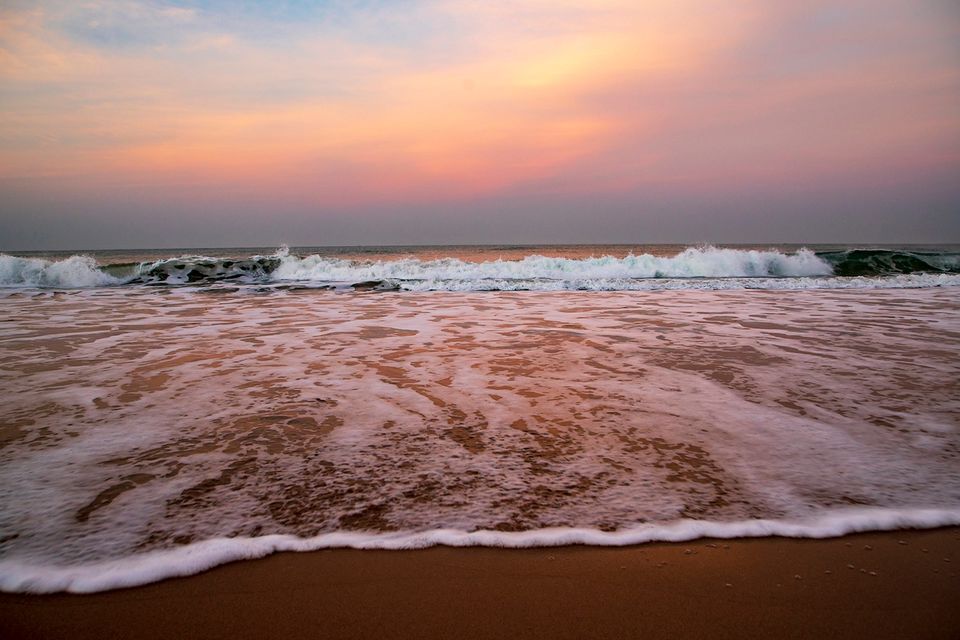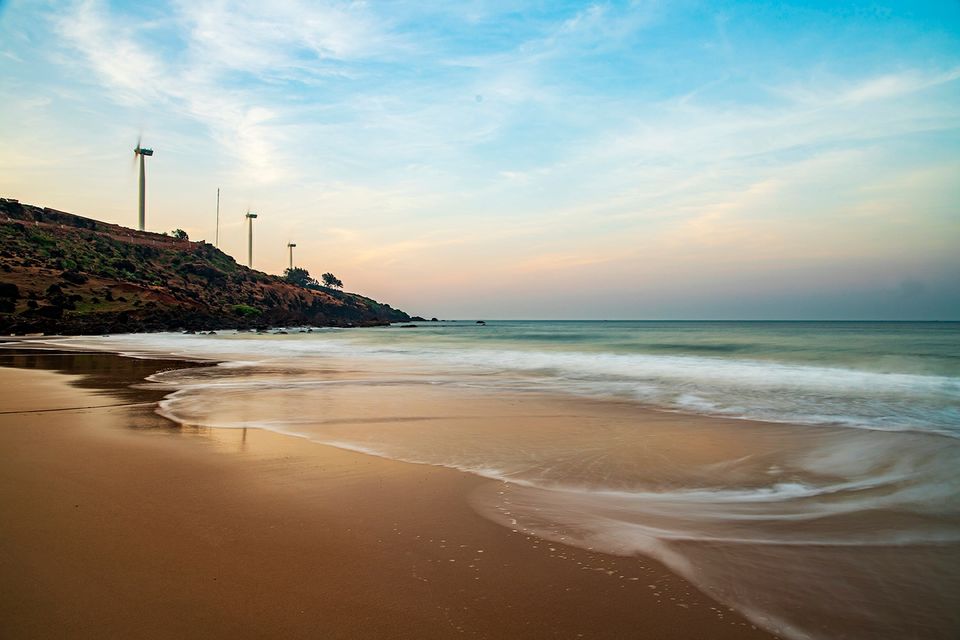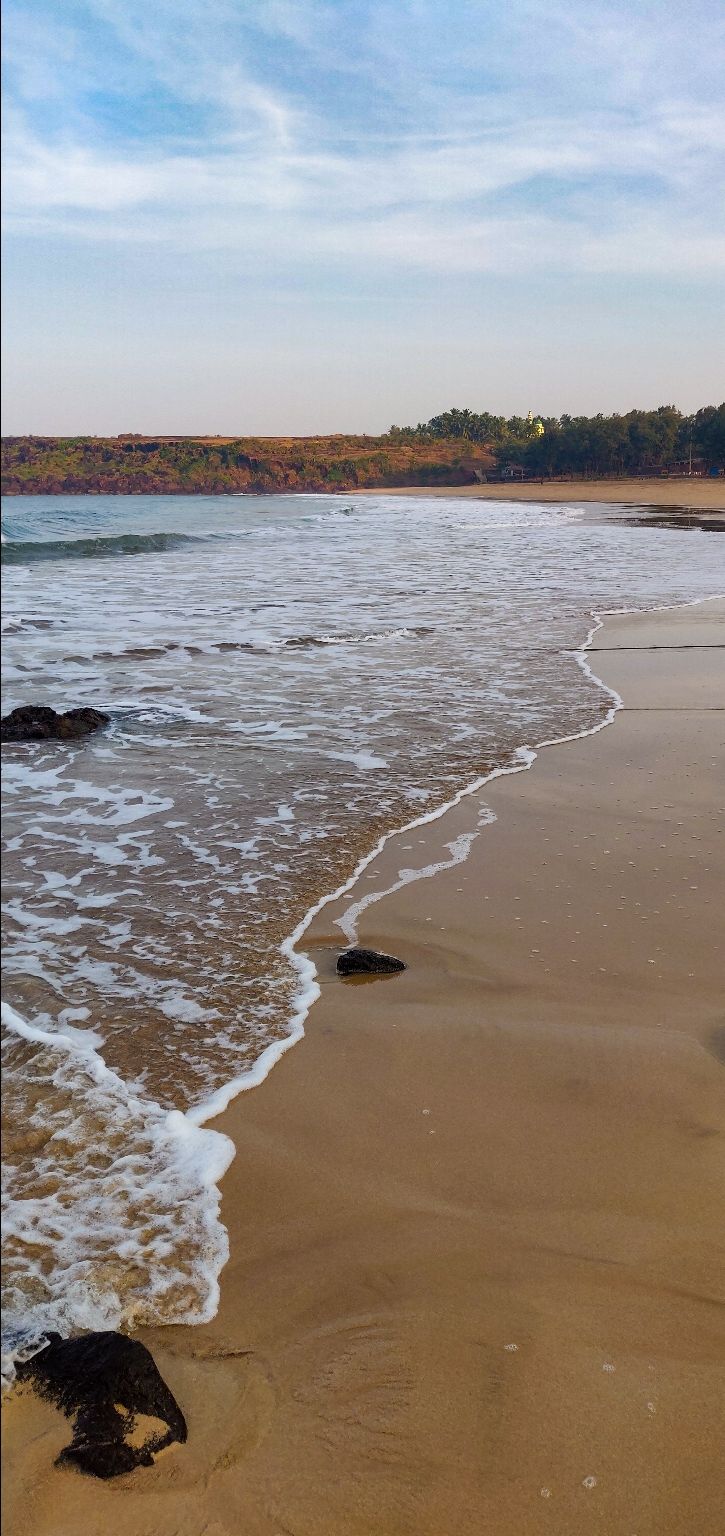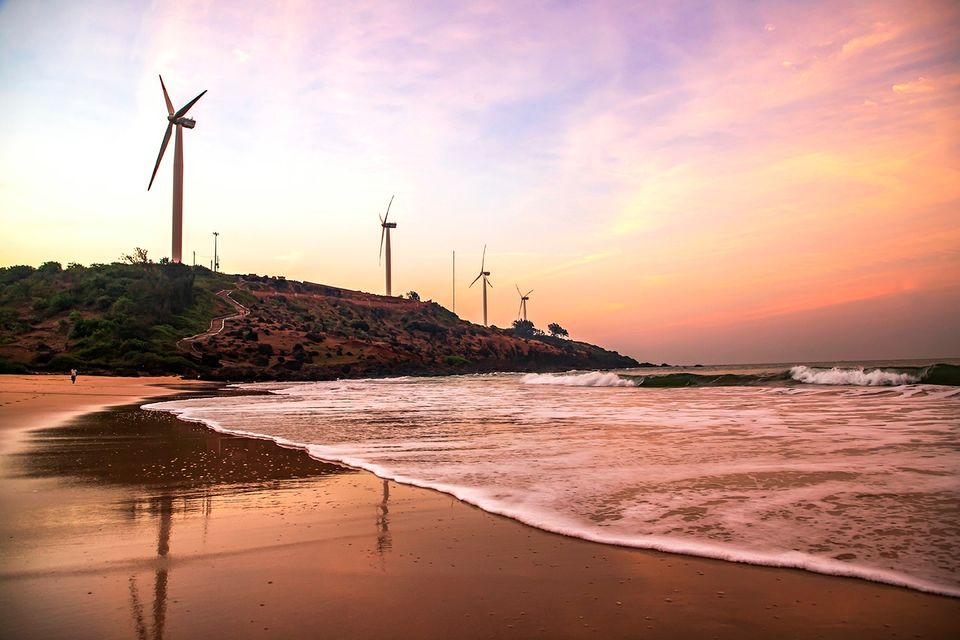 Then we ate breakfast at Devgad and gone to room, refreshed and leaves from there. We took shortcut as said by that lodge owner towards Kunkeshwar. That road was amazing so beautiful and I loved that road. We stop thrice their for take pictures. There was one beautiful beach called as Mithmumbari beach. It was just beautiful I can't explain I felt there that I came to Australia ❤️.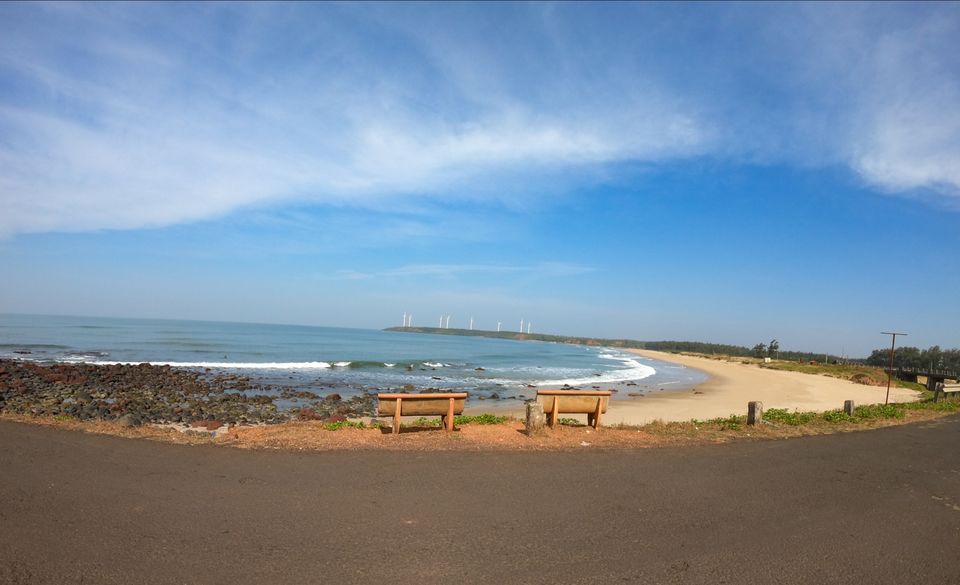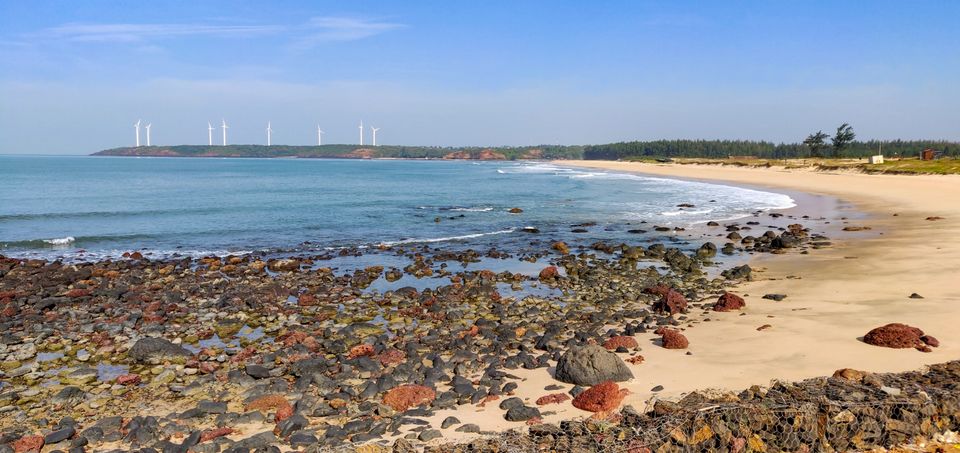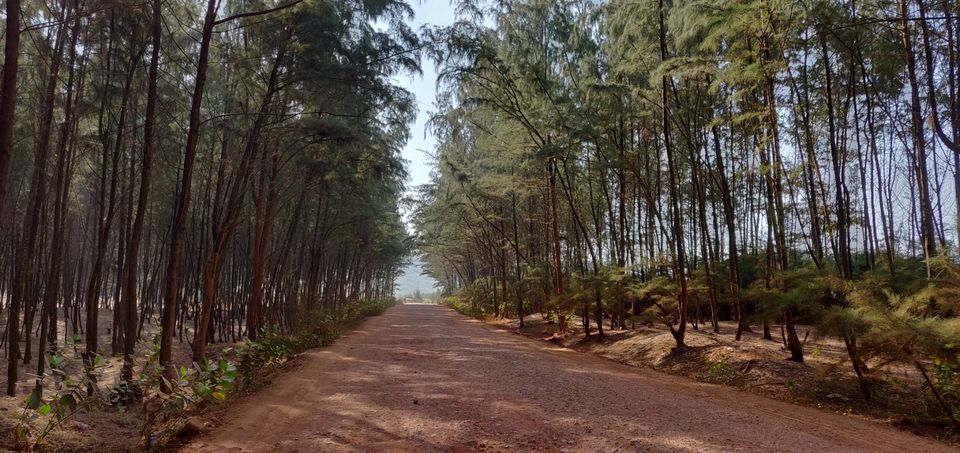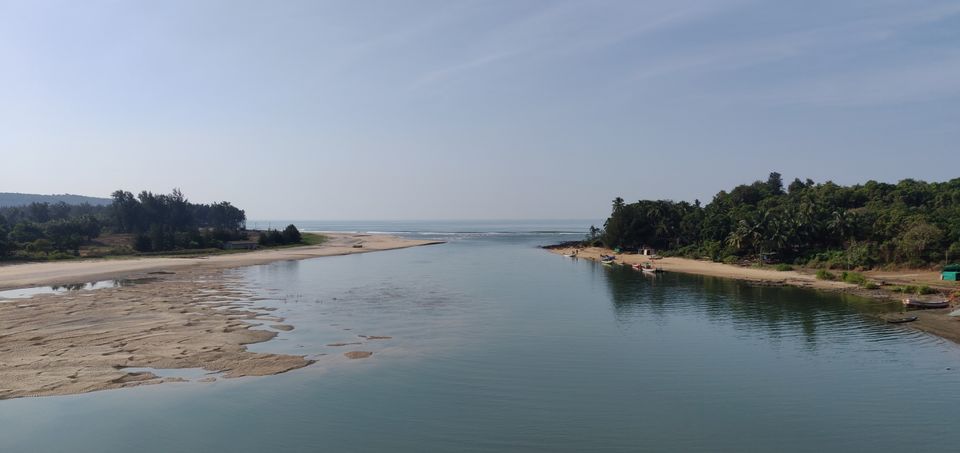 from there just after 5 min we reached at Kunkeshwar. Where Lord Shiva temple on beach side. Which is most famous Shiva temple in kokan.
We spend here in temple 10 min and then left from there. Then we reached malvan in afternoon. We had lunch at Atithi bamboo hotel which is one of the famous hotel of Malvan for sea food. Here we ordered prawns fry thali, In our entire trip we never get that much quantity of food in this price. Here one thali is 350 rupees. There was one stall of scuba diving so my partner said we will do it. But already we were running late so I said let's go to goa and we will do it later. So we left Malvan and riding towards Goa but in between i felt sleepy so we stopped one place took some rest and I had one nap. Then after that again we started journey towards goa. After some time we reached at Shiroda beach I was searching for boatmans taking there boat in sea. But they said it will take time so we left from the Shiroda beach also. We reached at Terekhol river where or last jetty was. That jetty free by government of goa. When we reached at river jetty came there and we only two bikes on boat. They took us in Goa, finally we reached at goa. We took coffee break here. That was very beautiful moment. Actually we were seated just side of the river with sunset. There was that terekhol river meets ocean. After some time we left towards the Vasco d gama and we reached there at 8 Pm. We passed through heavy traffic it was very boring an hectic drive to Vasco d gama. We reached to our friends home.
Next day early morning we woke up and went for photography of sunrise. We got lovely photos at Heart shape lake of goa. Then we did breakfast there, we ate omletedosa here. In afternoon we went to another friend house there he took us on Goa ride. He took us one best hotel in North Goa that is copper leaf. Here we did our lunch in which we ate fish. Then in evening also we did sunset photography. And stay at his place next morning we left from there towards home. Finally we reached at home that evening but our experience was awesome.