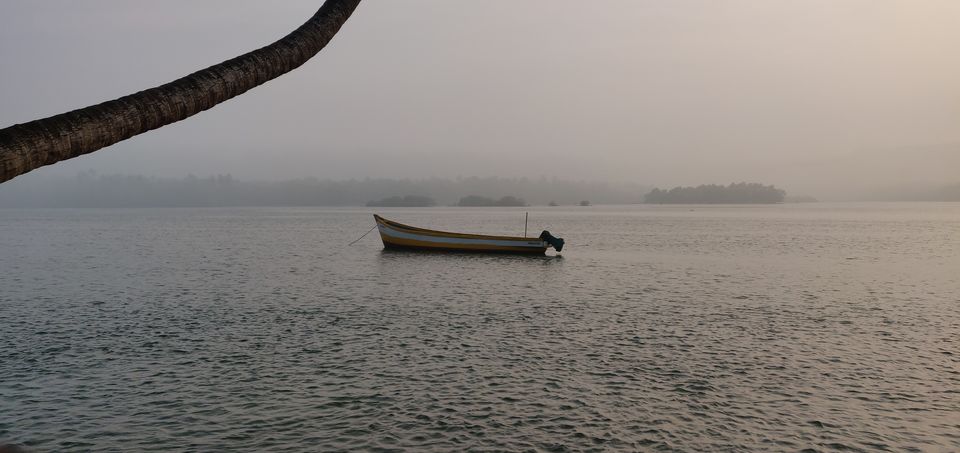 I have been planning for a short, relaxing and peaceful trip anywhere nearby to take a break after quitting my 12-14 hours a day hectic, stressful IT job and my wish was granted!! One of my friends suggested to visit Malvan ,a place where people give immense love and the best possible hospitality you can get . So without any fixed itinerary for two and half days, I just booked train tickets and hopped on to this awesome trip to Malvan!!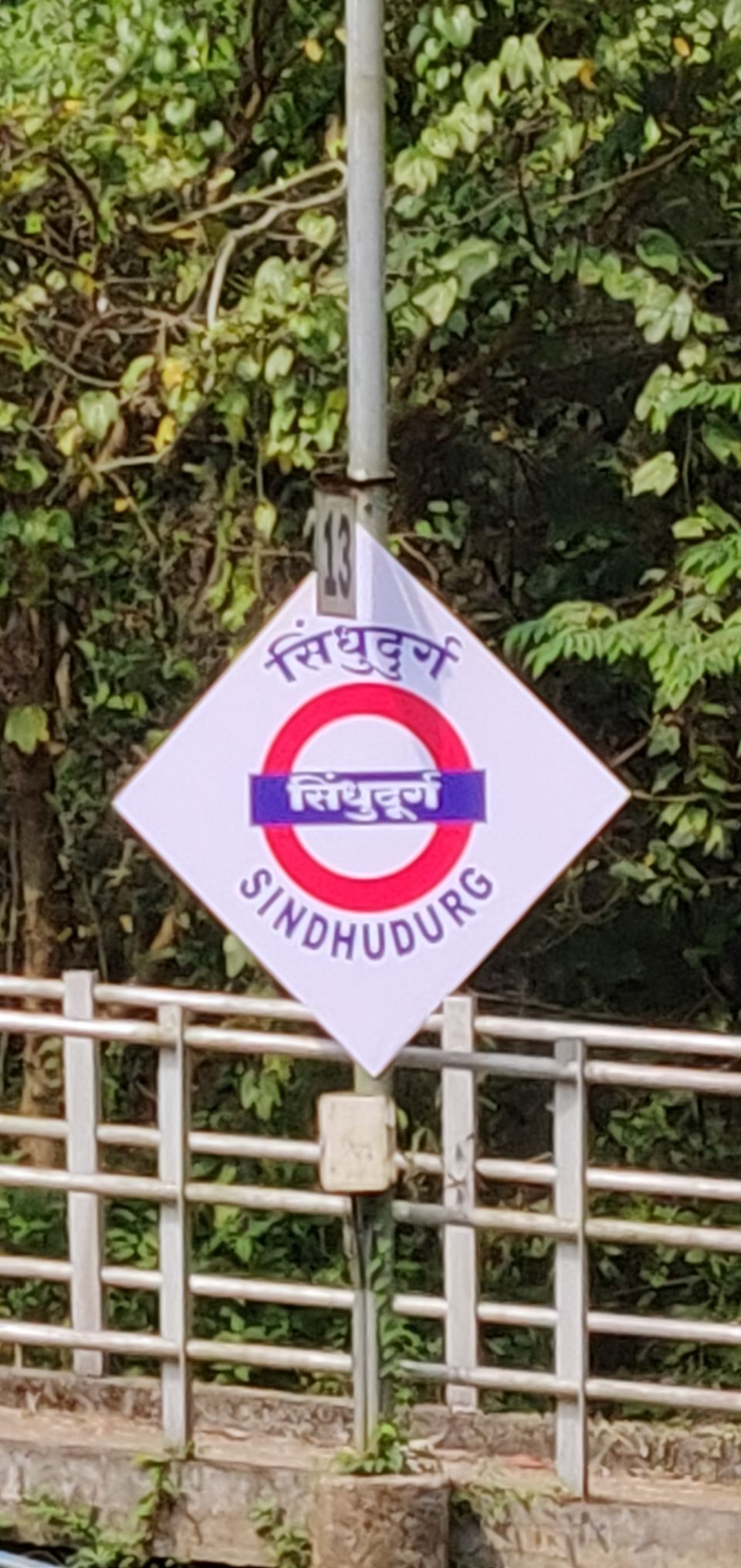 Day 1: And the journey begins!
The trip started on 12th October 2018 via train at 11.03 PM from CST, Mumbai to Kudal which an approx. 13 hrs long journey but I have got down one station before Kudal at Sindhudurg station as suggested by the cab driver who came to pick me up from station to transfer to resort.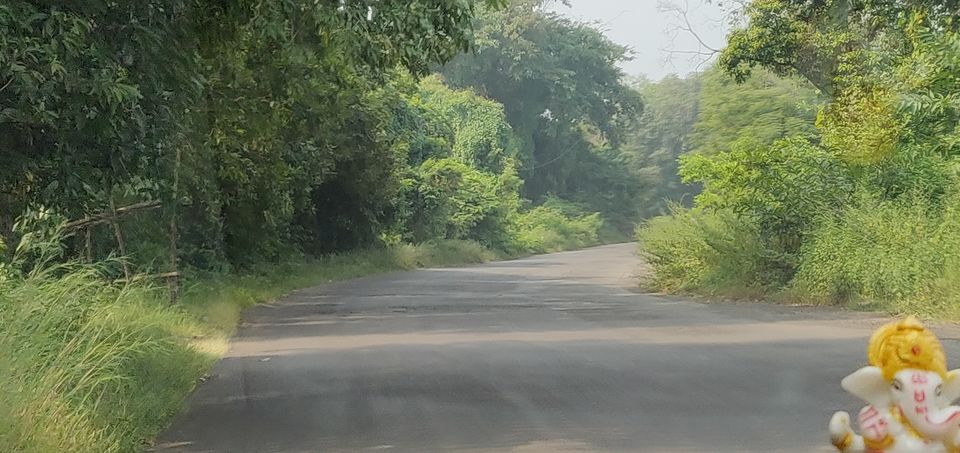 I had Breakfast consisting of Egg bhurji, Gavine, Chai at a small road side café run by the cab driver's family situated on the way to Malvan.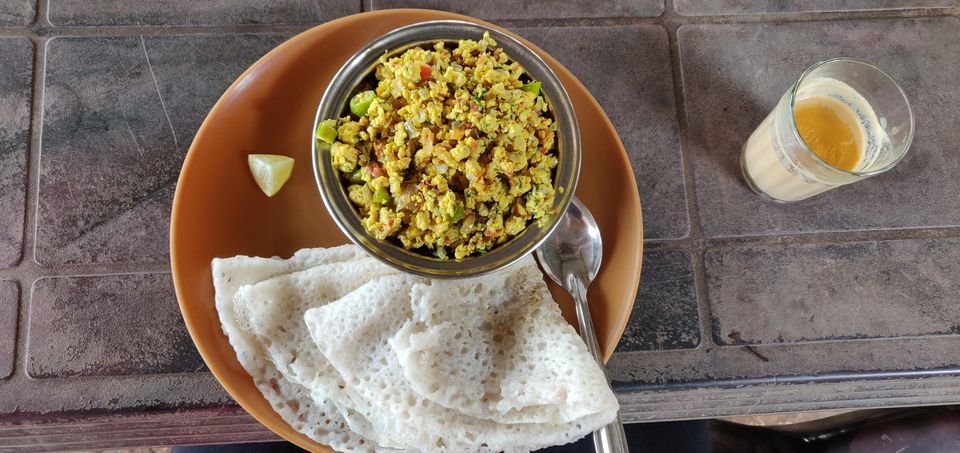 After breakfast, I continued my journey for another 1 hour to the resort at Devbaug beach.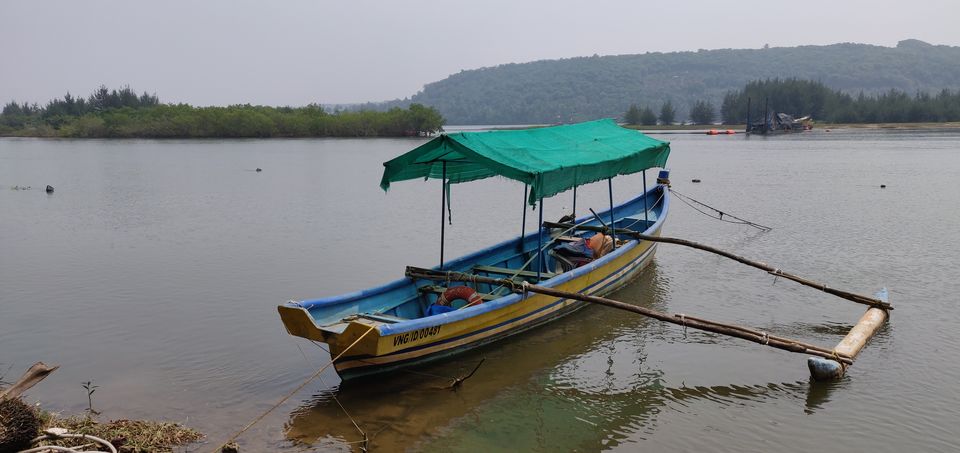 On Reaching my stay Breezy woods Resort at Devbug, Malvan around 11.30 AM, after freshening up and had simple veg lunch since sadly I am not a fish eater so typical seafood thalis are not for me but Malvan is a "Sea Food Paradise" for sea food lovers.
The staff at resort are very courteous and friendly. Overall the local malvani people are very simple, generous and hospitality is best. The owner of the resort who is based ot of Pne helped us personally to devise the itinerary .I think that is what separates people from small villages/towns from busy, robotic people from cities like Mumbai.
After resting for a while, I decided to explore nearby areas as suggested by Manager at the resort so I packed up for Tsunami Island. There are ferries starts from dock near the hotel itself to and fro for Tsunami Island.
I took a ride through the back waters till the sea and witnessed "The famed Sangam – the confluence point of Karli river and the Arabian Sea" where backwaters meet the Arabian sea but could not go in to the sea as the ferry man told us due to recent storms occurred 3 days back, the turbulence in sea in very high so venturing out in sea now is dangerous.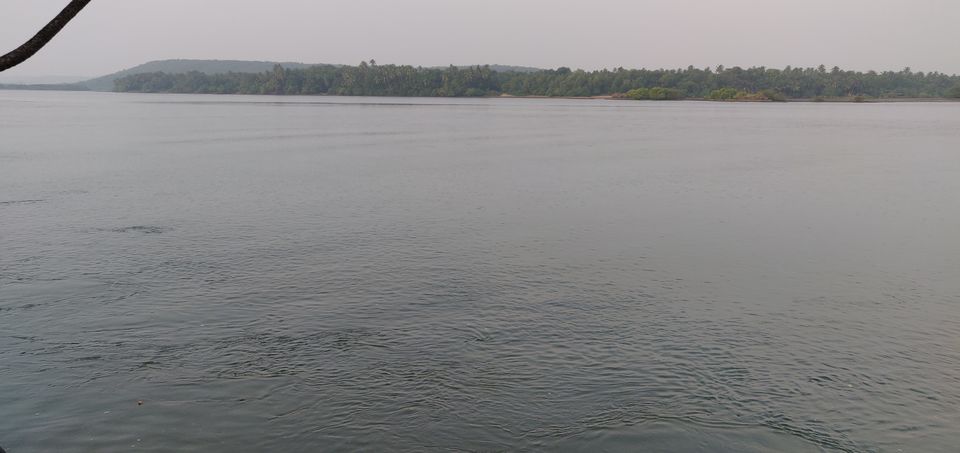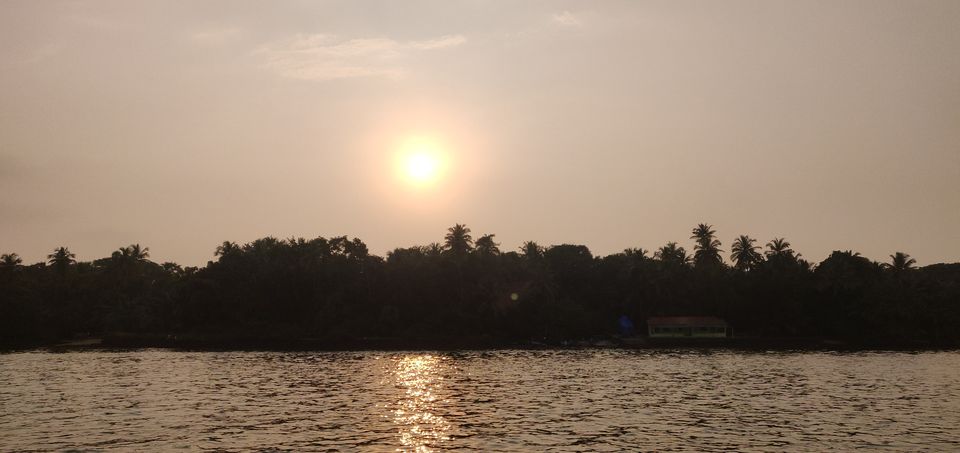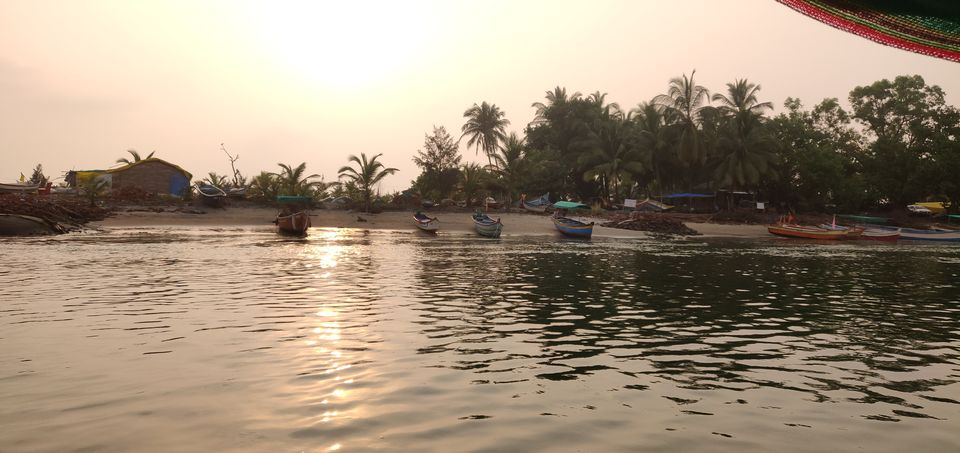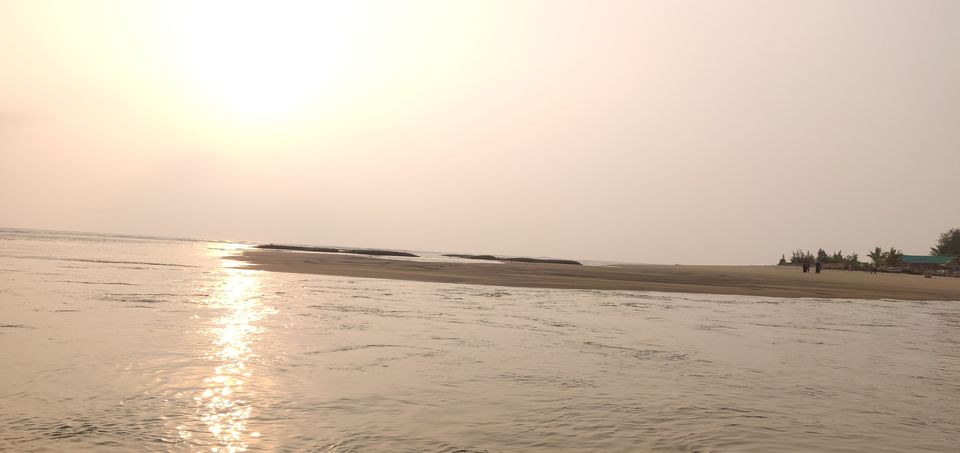 The ferry dropped me at Tsunami Island to explore on my own. This island is also called as "Crocodile Island" due to the crocodile shaped trees at the end point of on the island and was created due to the Tsunami therefore the name.
It was mesmerizing beauty with the sun set at the back drop with white sands and clear beached.
There is a wide range of water sport are offered like boat rides, parasailing, jet-skiing and water activities and are super fun. The activities take place till daylight. Summer and Post Monsoon is a good time to go as well because during rainy season, all water sports are closed.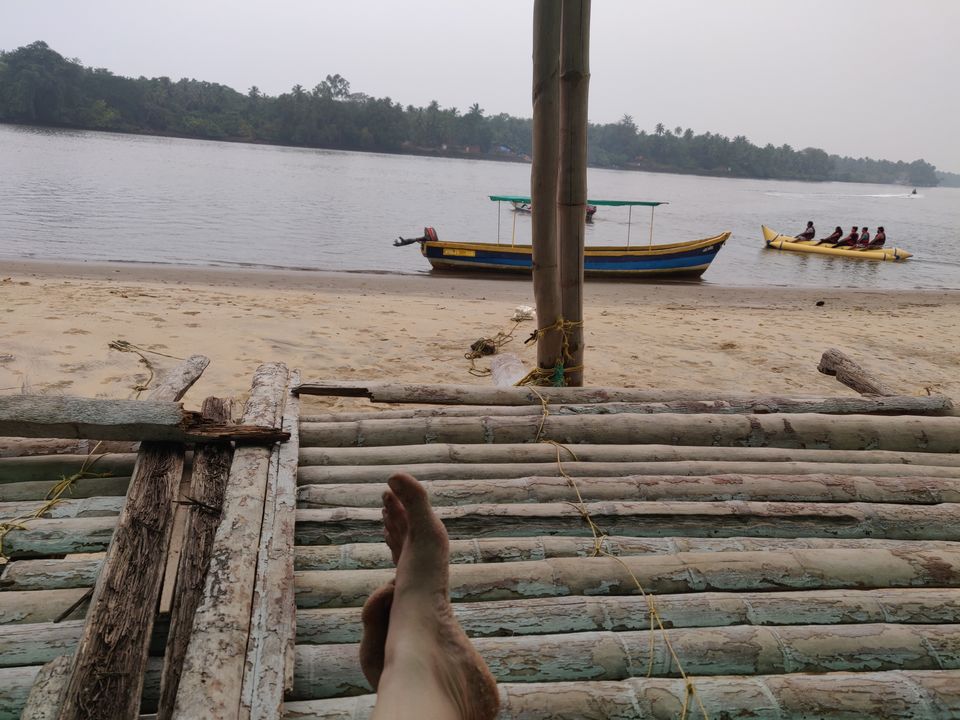 I lazed around in the island till dusk and return to the hotel to freshen up. After evening snacks, I headed to Devbaug beach which is 10 mins walking distance from the hotel.
I was surprised to see such a clean beach. It was so serene and peaceful with moon shining at night with the sound of the waves crashing in the backdrop.
There is no other entertainment like clubs/pubs at Malvan similar to Goa and markets get closed by 7 PM. This place is very laid back and quiet, so nightlife is not there but if you are going with a group of friends, it is definitely going to be fun.
I headed back to hotel by 10 PM and after having delicious malvani style chicken curry and rice and went to bed early to prepare for next day for scuba diving and visit to famous Sindhudurg Fort.
Day 2: The splendors of Sindhudurg Fort
I started out day early with a plan for scuba diving, visit to Sindhudurg fort, beach hopping and local sightseeing. I requested my cab driver to take me around the town as I don't know how to ride a scooty and moving around would have been difficult so booked the cab for whole day instead of hiring an activa from hotel as a cheap means of travel. :P
As I already mentioned, I wanted a relaxing trip, so I did splurged in luxury instead of budget travel. Hiring an activa is cheaper then booking a cab for whole day.
Malvan is a pretty little town of pretty little shops and a surprisingly large number of restaurants. Sindhudurg Fort— the 17th-century Chhatrapati Shivaji-built lies on an island off the coast, a 10-15 minutes boat ride from the Malvan beach.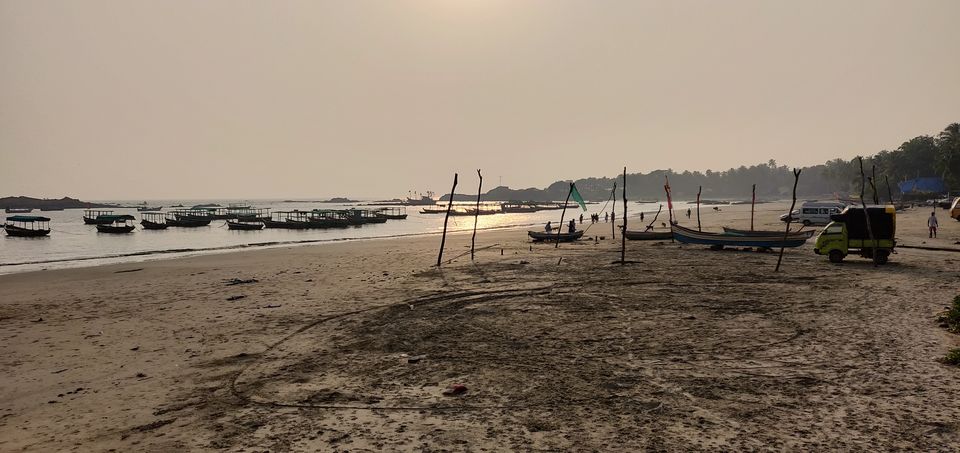 I booked tickets for scuba diving from a nearby counter shown by my cab driver. There are about 3-4 groups who conduct this activity. The guy at ticket counter told me that the water will not be very clear (which is true) due to the the storm 3 days back in October mid . I was disappointed but I have to do it anyhow.
I headed to the Sindhudurg fort in a ferry with a group of 10-12 people to diving spot where my first dive was scheduled. It was almost 2 kilometers from the shore. The ferry transferred us to another ferry, anchored at the diving spot just near the Sindhudurg Fort. Each and every one of us in the group was given training of about 5-15 mins depending on how quickly you adapt and then off you go inside for approx. 20-30 mins dive.
After putting up my gears, I warm-up for my first plunge in the deep-sea of Malvan. I gushed down deep inside the water wearing the oxygen mask, in an excitement to conquer the entire marine in just one dive! You're bound to get such crazy thoughts when you dive in for the first time. Within 5 feet of the depth of water, my head started feeling the intense pressure; jaws hurting bad to keep the oxygen mask fitted to my mouth for constant supply of oxygen. It takes a while to get used to breathing with the mouth, once that done it so tranquil and an extremely different experience under water.
To be honest, I was very scared initially and refused to take the plunge shouting that "I don't know swimming!" but the trainer was so patient, encouraging and cooperative, he did not give up till I agree to take the plunge and go deep in water and take video. :D
One of the expert divers will be there with you throughout the dive and another one will go with you down with a camera to shoot a video of yours :p.
The water was not very clear to see things very far, however I could see the diver swimming next to me and not any of the fishes and corals due to unclear water. The equipment are decent and it was safe but only issues was extra pair of cloths! When I booked the tickets, I was told that I will be given diving suits at the boat so no need of extra pair of cloths but when it was time to dive, I was refused for any suits after multiple requests so I have to go into water with whatever I was wearing. I had to go back to hotel for a change before lunch as moving around wet, sand and salted cloths were impossible in hot sun! So do take your suits before getting into the boat!
Does not matter what, it was a "must-try" experience underwater and should do it at least once, even though it's in Malvan!
After the dive, I headed off to Malvan town for lunch before going back to Sindhudurg fort. The driver took me to Chaitanya hotel which is an excellent restaurant. for malvani cuisines. I chose a rice, chicken curry in malwani style, dal, soul kadi, coconut barfi as dessert. The mildly spiced, subtly sour curry with a generous topping of chopped coriander was to die for.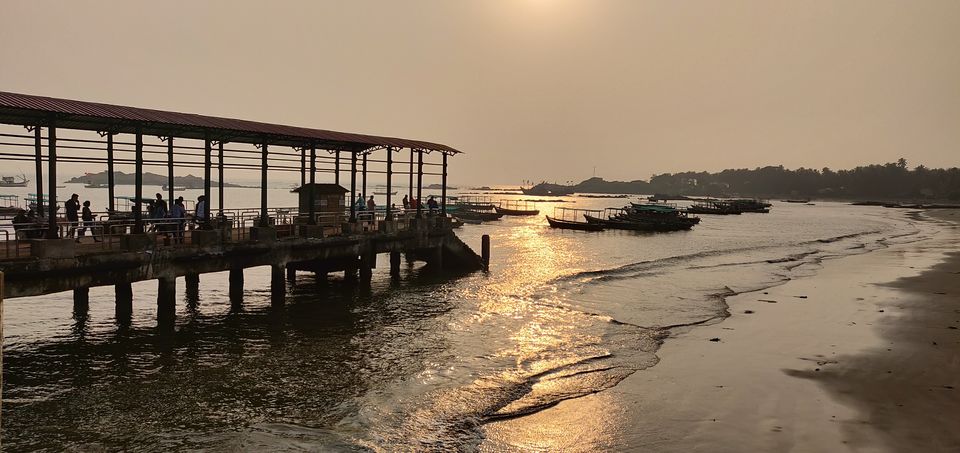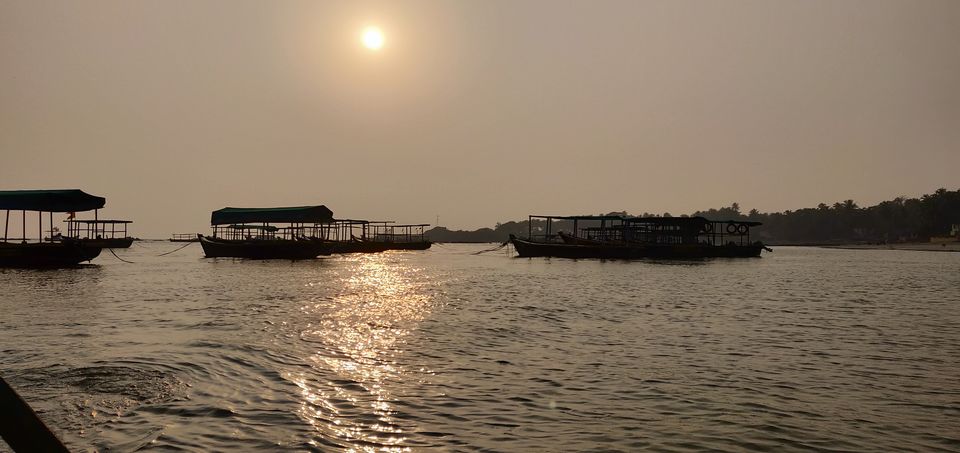 After a sumptuous meal, I headed to Sindhudurg fort. There are several machine boats available on the Malvan jetty to ferry the visitors to this fort. However, the facility is unavailable during the four months of monsoon. Even during weekdays, one is not guaranteed to get a ferry as the operator plies the ferries only when 20 passengers are available. Visiting hours to the fort are from 10 am to 5:30 pm.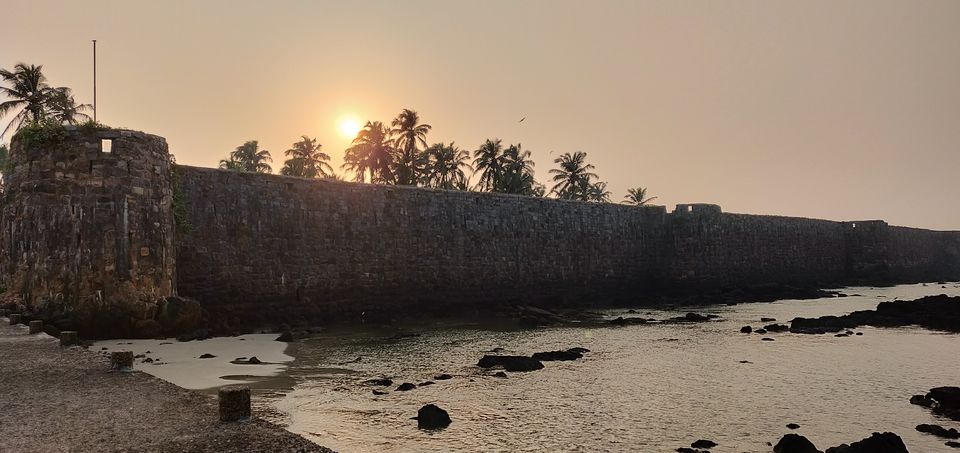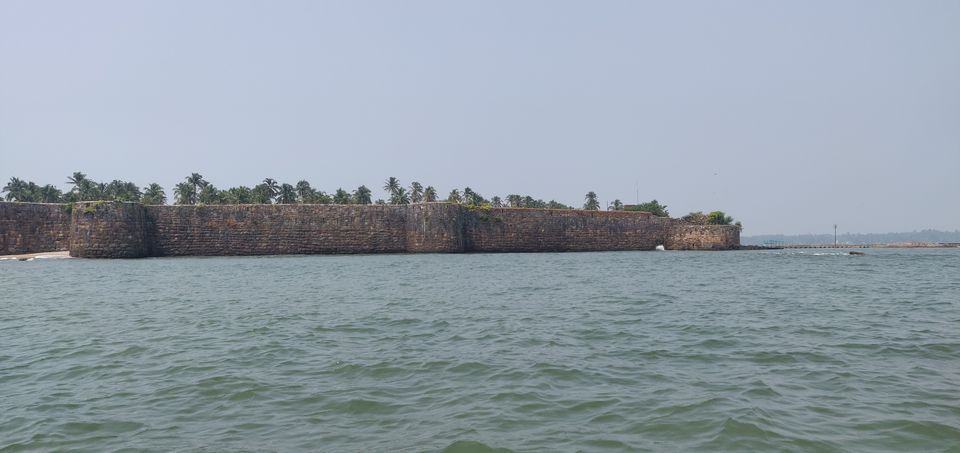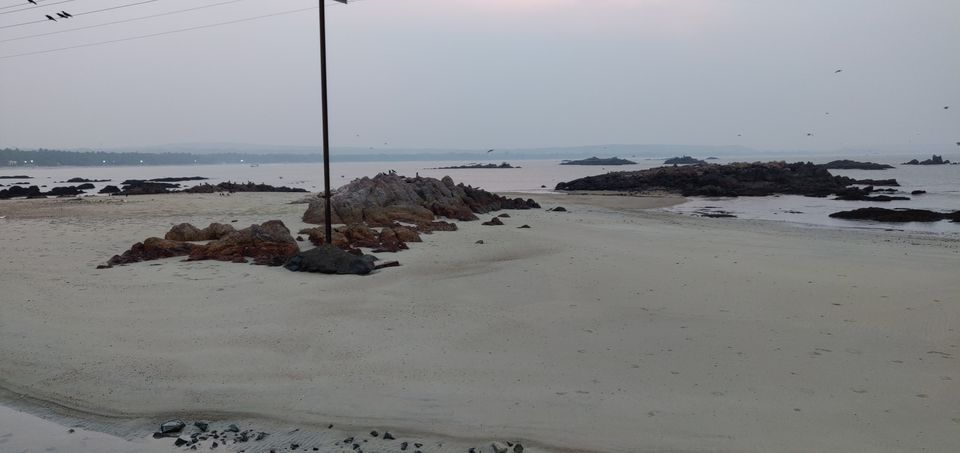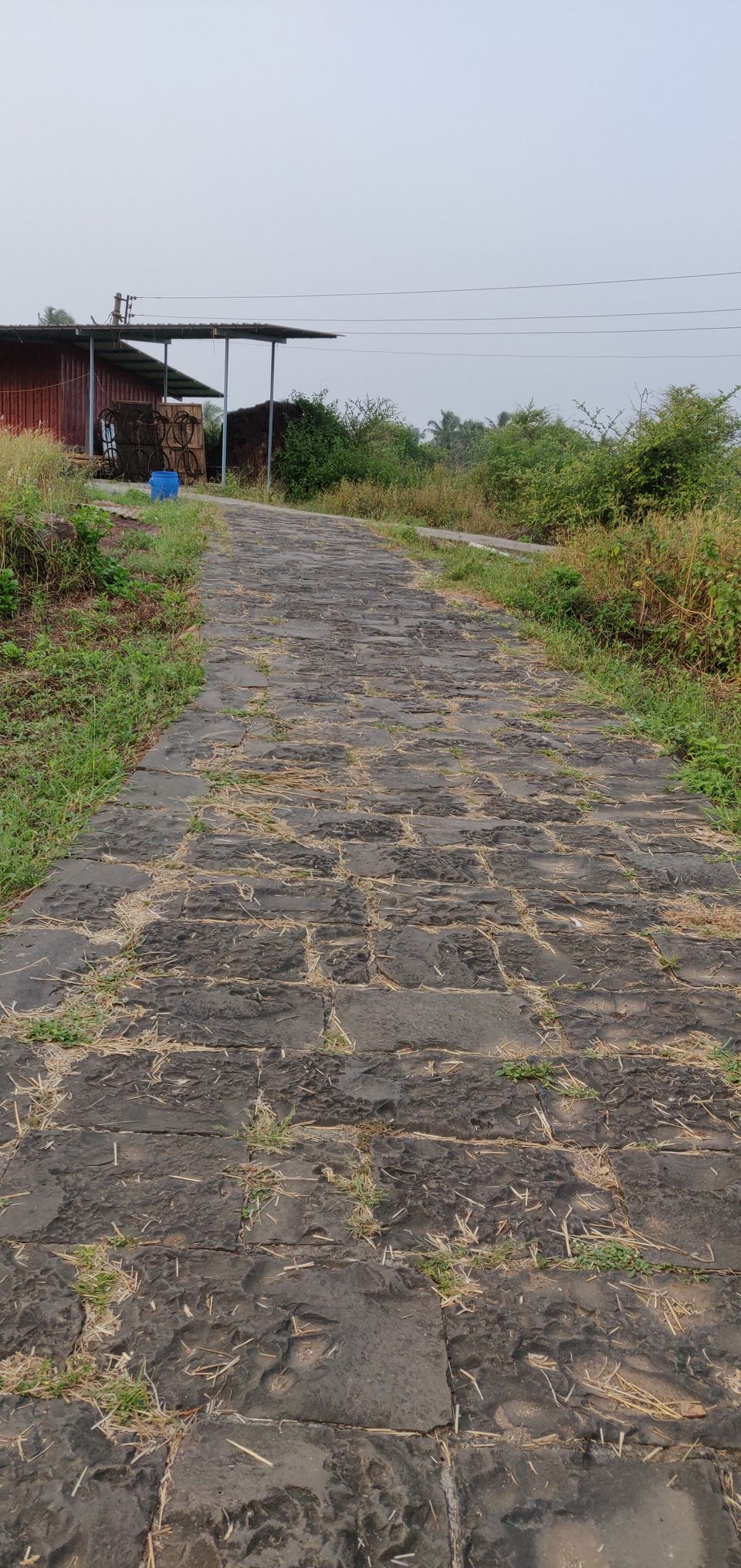 The specialty of this fort is that it houses the one and only temple of Shivaji Maharaj in India. This Shivrajeshwar temple was constructed by his second son – Rajaram Maharaj in 1665. Interestingly the idol of Shivaji Maharaj is without his typical beard and moustache, instead, it is in the guise of a sailor sitting cross legged in a unique lotus posture, surrounded by sculptures of Sun and Moon. The Karveer Chhatrapati Shahu Maharaj in 1906-07, extended the temple by constructing a big hall.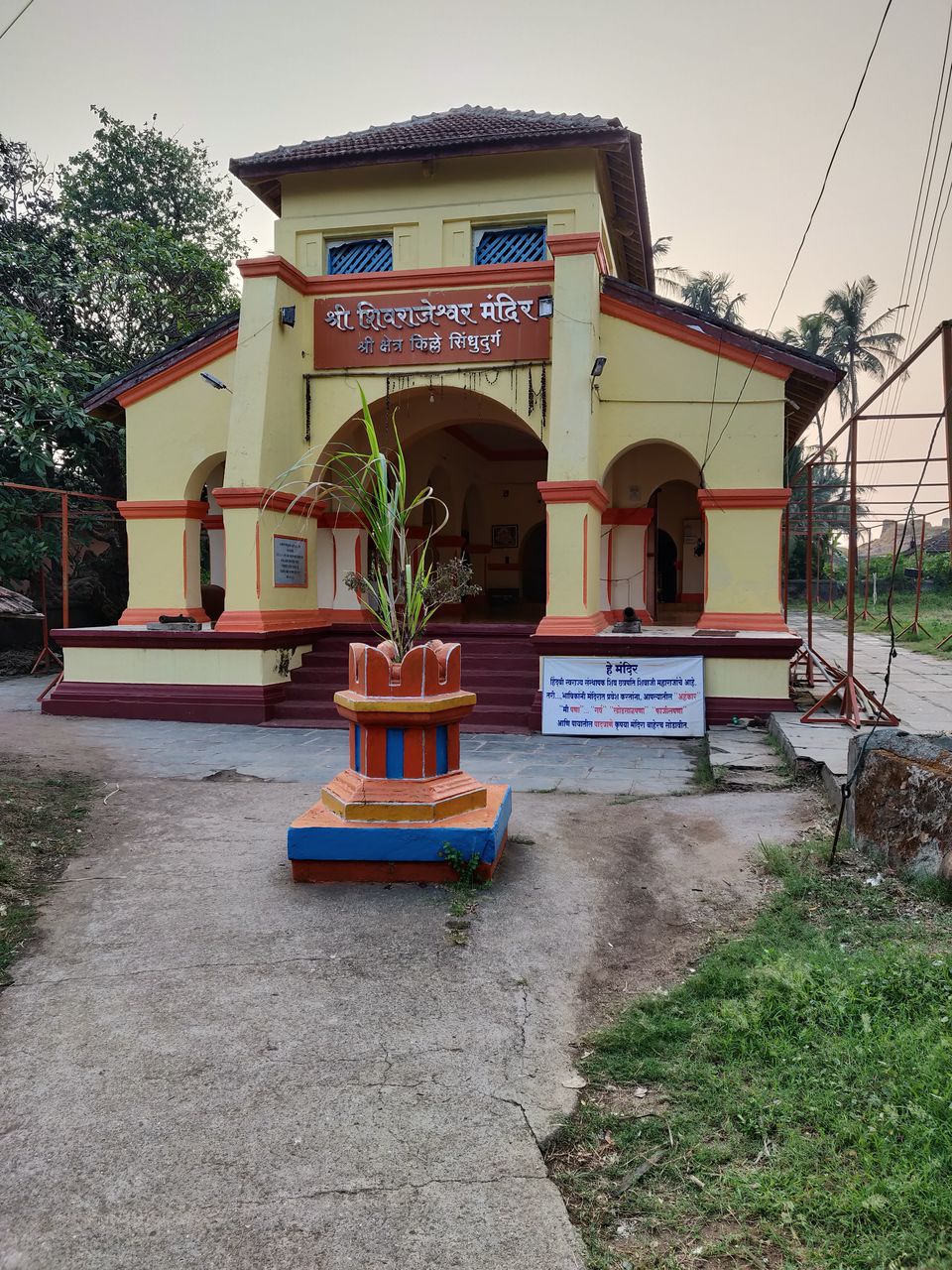 After a nearly 20 mins ferry ride, we docked at Sindhudurg fort pier. Our ferry man gave the group an hour time to explore the fort and be ready to get picked up at the same point.
Things to see inside the Fort
The staircase
On entering through the main entrance one can climb the fort rampart. There are 45 stone staircases to climb the fort rampart. It is said that in those days 1 crore hon ( gold coin currency ) was expended for the construction of the fort.
Shivaji's Hand and Foot Prints
On the left side of this rampart in a dome one can see the hand and foot imprint of Shivaji Maharaj on limestone. It is said that Chhatrapati Shivaji Maharaj would frequent visit the fort to supervise the construction, and it is during one such visit a clever worker got these prints from the king. These are the only hand and foot prints of Shivaji Maharaj available today.
Temple dedicated to Shivaji Maharaj
Other Temples
A huge statue of Lord Hanuman is carved just inside the main door. The fort also houses temples of Lord Shiva, Jari mari, Mahapurush and Bhavani.
Water Sources
There are three sweet water wells in the fort and these have been named as Dudhbav, Dahibav, and Sakharbav, besides the two small lakes.
It was a mesmerizing view from the top of watch tower of the Arabian Sea beyond the mighty Sindhudurg Fort.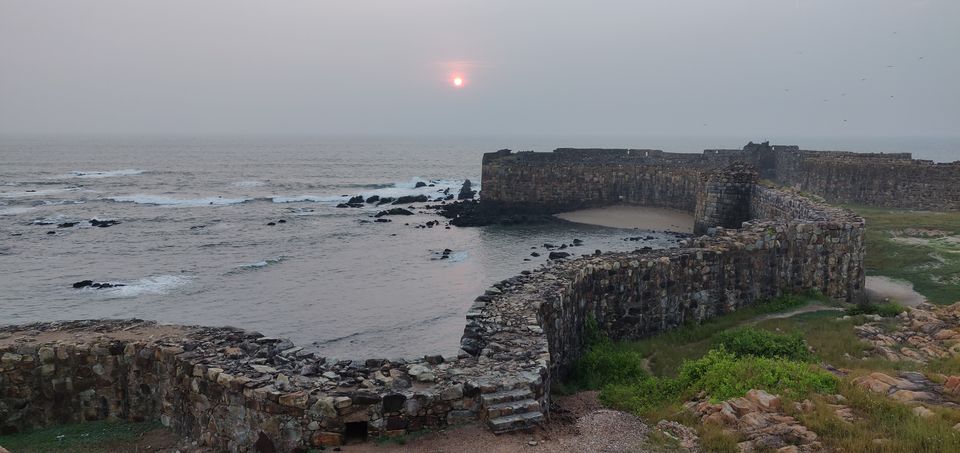 After an hour at the fort, I headed back to shore . On my way back, we visited the famous Ganesh Mandir and spent the rest of the evening in Rocky Beach , witnessing beautiful sunset over the Arabian sea.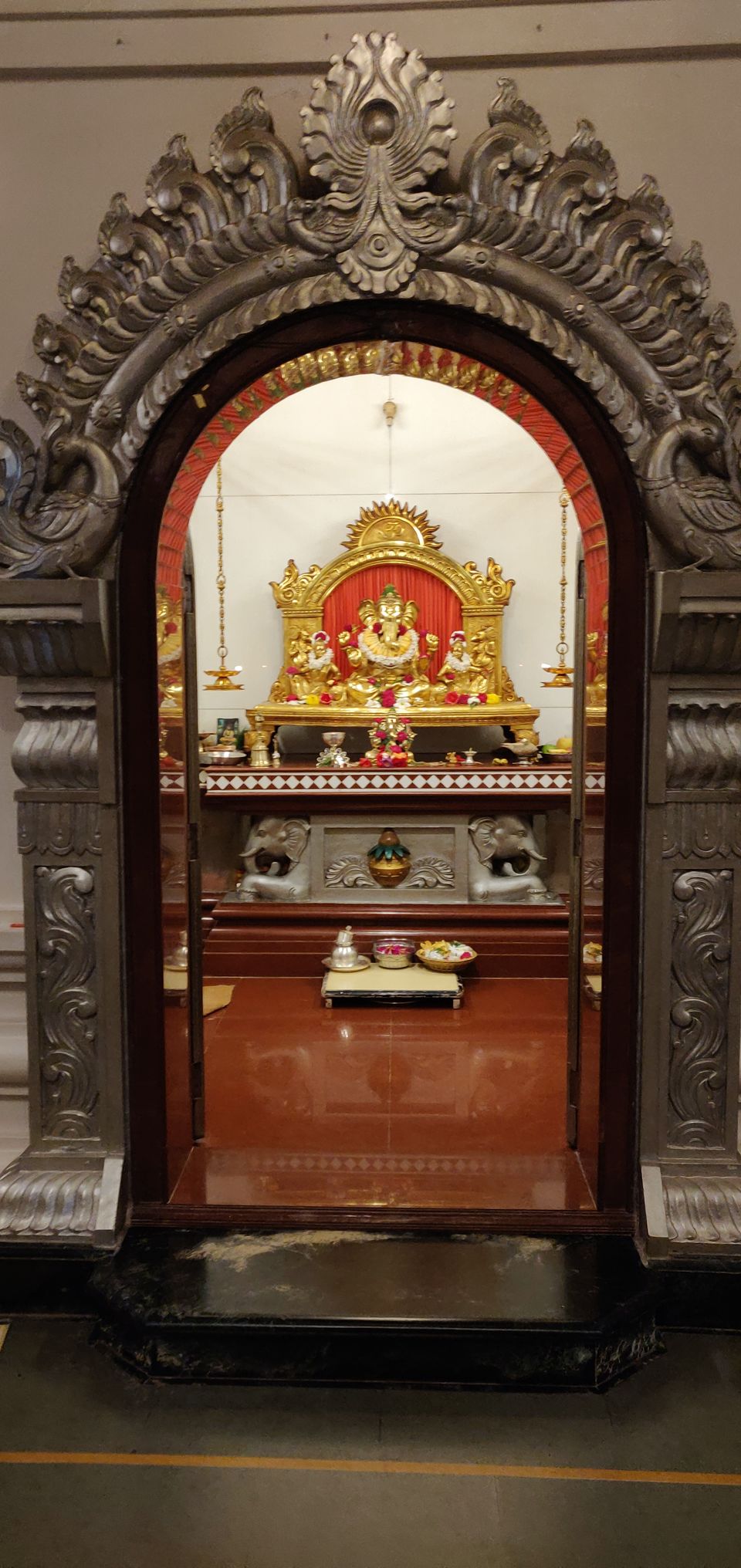 Day 3: Devbaug Beach
With a long picturesque coastline and beaches extending from Achare in the north to the little peninsular of Devbag in the southern end Malvan is blessed with some of the best beaches in India. Hopped around 4 beaches. Devbag turned out to be my favorite.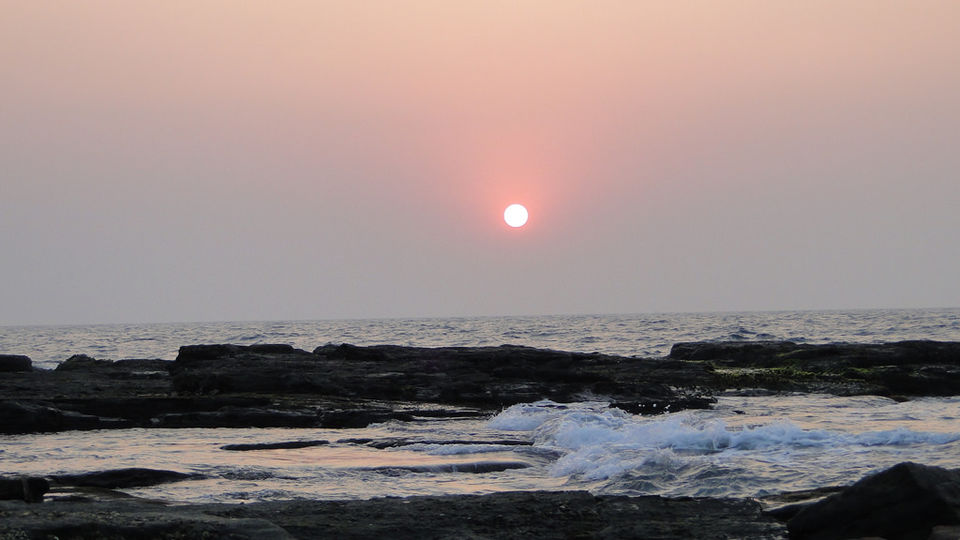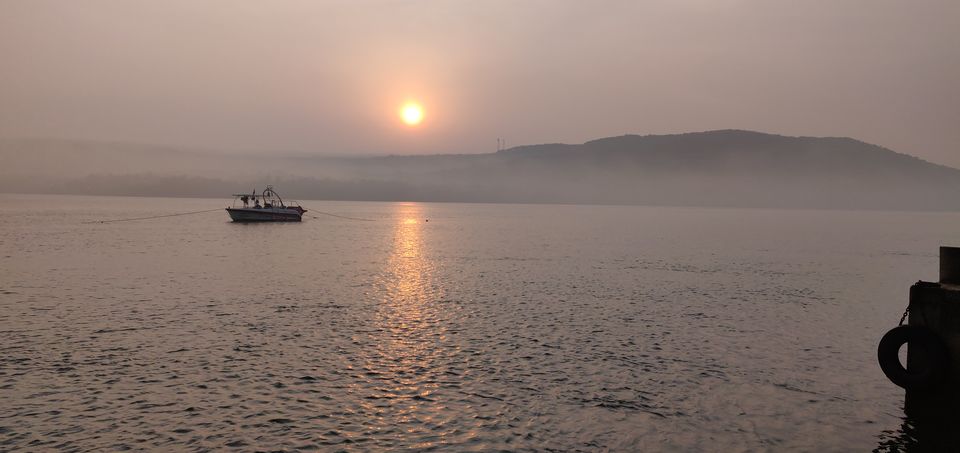 I got up early in the morning to take a dip at Devbaug beach as it was my last day in Malvan to explore few more shades of Konkan before heading out to catch train at 11.15 AM from Sindhudurg Station.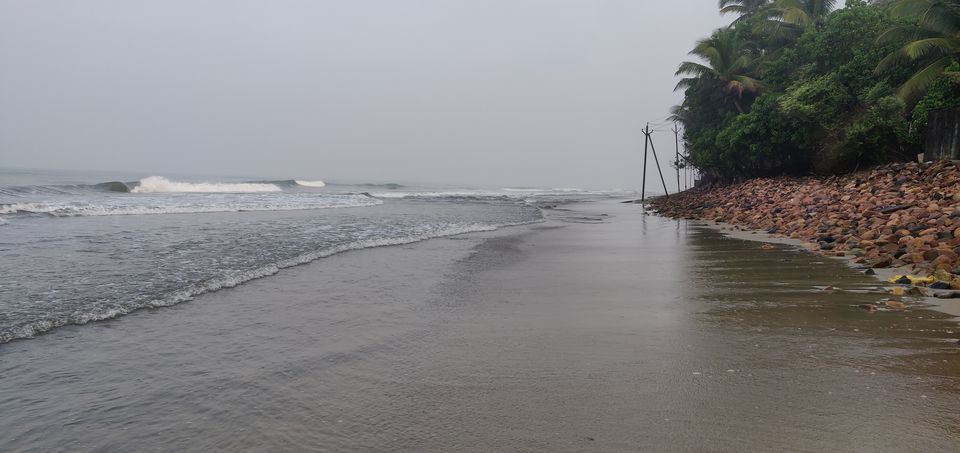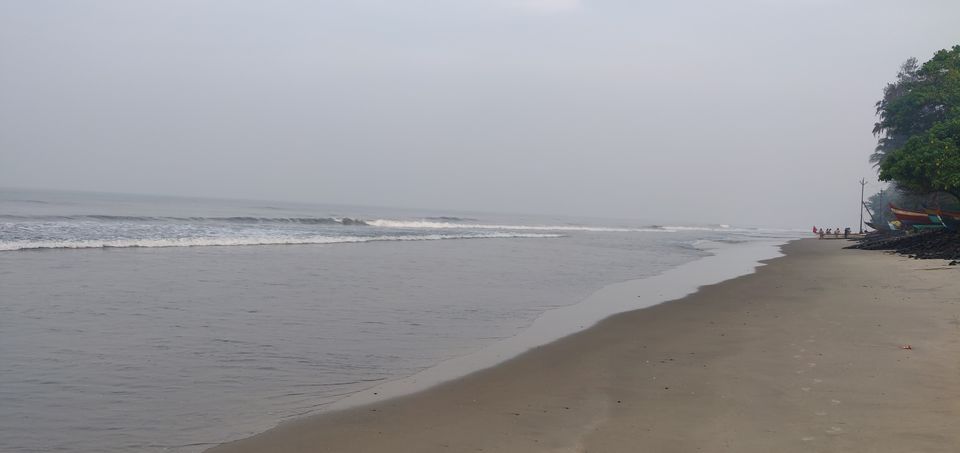 Instantly as I stepped on the beach, was greeted by the vast expanse of silvery white sand. A smile spread across my face as I tried to soak in the beauty that surrounded me. The beach was calm and so soothing in the morning. The view was mesmerizing with a little early morning drizzle. After spending almost 2 hours on the beach, I headed to station after a hearty breakfast at the resort.
Driving through scenic, quaint Malvan town for almost an hour, my guide and cab driver had dropped me at the station.
I said goodbye to amazing Konkan, with lots of memories and a promise to visit again!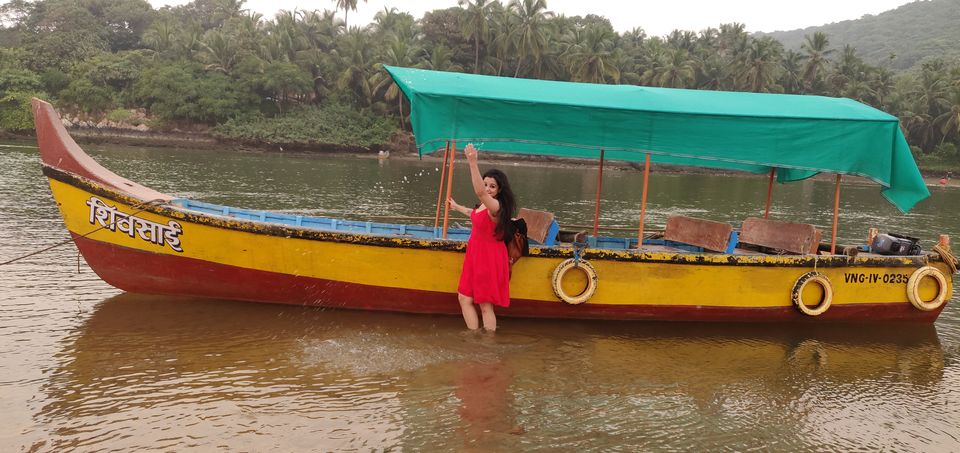 Happily ticked of my travel bucket list with one of the most satisfying trip by far to picturesque, untouched Konkan!