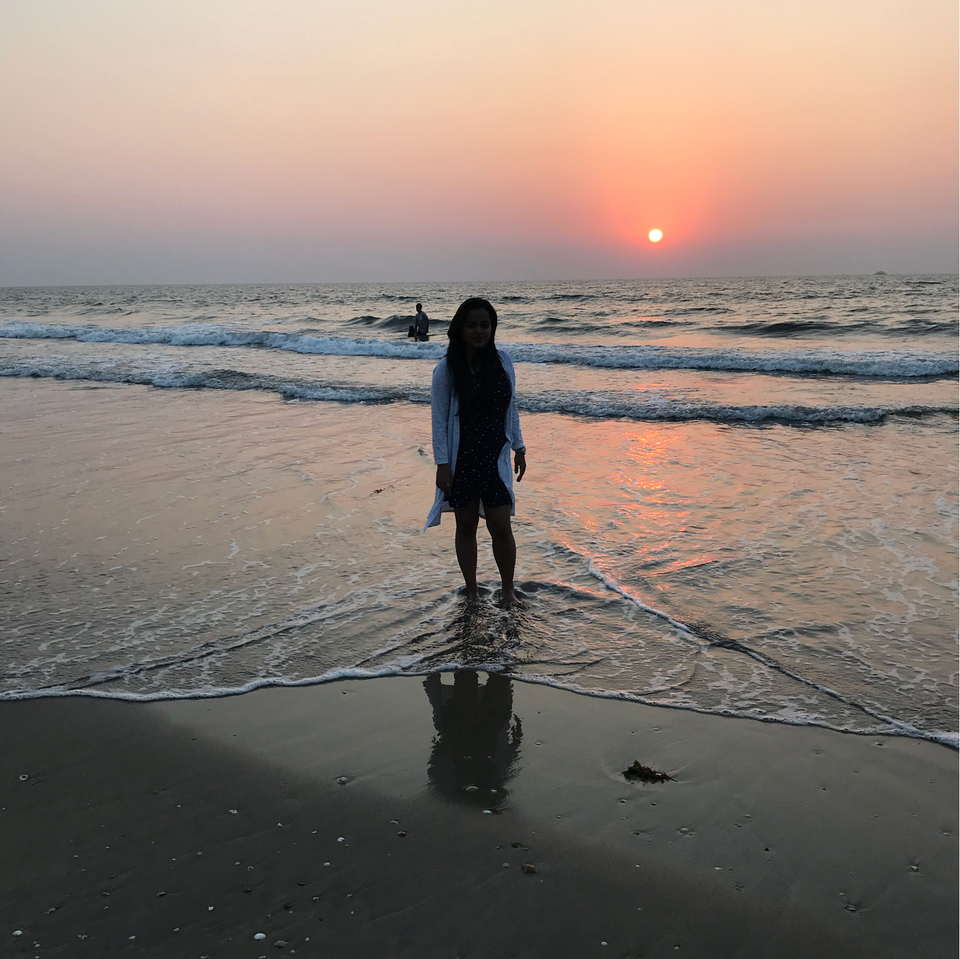 I have been to this beautiful place in the month of January 2018.
Well I had heard alot about this place, so i decided to visit the place. It was a gift from my mom to me.
Indeed place is awsum.
I stayed in Homestay in Devbagh with my Mom. Homestay are very famous in Devbagh.
Since it was a last minute plan we decided to go by bus, i would suggest to go by train or by own vehicle.
By train you have to get down at Kudal station. Just outside the station you will get normal buses or rickshaw to reach Tarkali and from there you can take normal rickshaw.
Localite are genuine people. To be true nobody fool you when you are travelling , you just need to be bit smart.
After reaching Devbagh we took rest, try some normal cuisine. If you are in Malvan , sea food is must. I m a big fan of sea food. Luckily the place we were staying that family was very genuine. Aunty cooked awsum seafood. We took thali from them. Rice, bhakri, dry fish, solakadi,fish curry, onion and nimbu. It was damn yummy. In Malvan every place you will get yummy sea food.I still miss that thali.
Near to our homestay there was backwater , we went there in the evening and chilled for a while.
Day 2 : We went to Tarkarli, I did watersport and some other activites. You can use local transport , cheap and best way to travel.We went into local market. You can buy alcohol from any shop incase you need, it's not a big deal in Malvan.
For water sport , you need to have your own big group or you will b club with some other group. If you want to do many activited go for package, it would b cheaper.
If you want you can buy dry fish, if they charge you same rate as Mumbai no need to buy them.
To gift someone you can buy laddo from local shop.
We did lunch in the local restaurant. Chicken was also good. We came back to the room in the evening and took rest. Government buses are best transport you can use to commute from one place to another.
Day 3 : Next day we went to Devbagh beach , we took a boat ride and that person took us from one spot to another.
Spot : Seagull spot, tsunami island and dolpin spot.
We were not lucky enough to see dolphin. You should visit early in the morning to see dolphin.
Tsunami island : Water is crystal clear. I have uploaded some of the picture from Tsunami island. Next to devbagh come Vengurlakar island.
In that whole ride, water was so clean .
I even did paragliding. It best to do some activites in devbagh as it less crowded and you would feel worth the money you paid
. It was breath taking experience. When you see endless water from every corner no human it feels so fresh. Up in the sky feel so high.
While going back from devbagh to our room it took us time. We were waiting for local buses. Last bus was around 7:30 due to some issue that bus got cancelled and there was no other way to go back to our room. People with own vehicle left. Some people were with us waiting.No network was there , owner of the room kept calling us but no network. It was around 8:30 my mom convenince to the localite to drop us on activa, they agreed and dropped us.Our room was 20 mins walkable distance but it was dark. I will suggest to have your own vehicle or rent a activa, yes activa are available on rent.
We came back to the room,our owner family came to see us . They were so worried about us. After a while we had food and saw same face going in rickshaw but that was around 9:45. Outside our room was road.
Next day we again went to some nearby beach. Book our bus with the help of our owner. I will still suggest train is better option.We reach on time near the bus stop, bus was late. Both the side beach was there , we waited near the beach. Bus came and we left to Mumbai.
Awsum seafood, genuine people, breath taking experience and refreshing climate what else you need to have an awsum weekend?