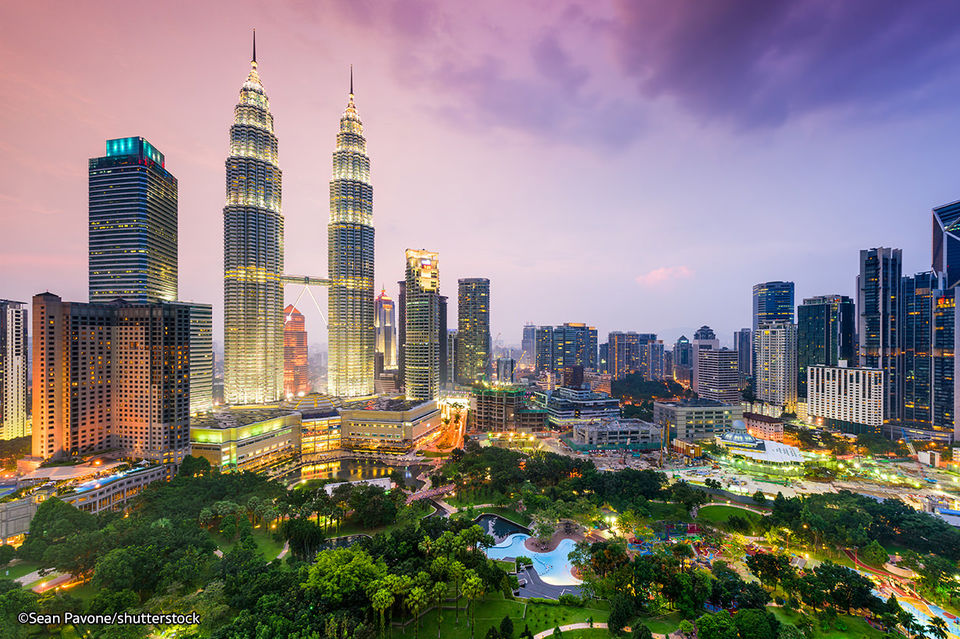 So have you dreamed of travelling to a place that have beaches with clear water, an exotic island, mountains and at the same time a beautiful developed city with tall skyscrappers and exotic food joints, a shopping paradise and infinity pools?
Then pack your bags to the most amazing destination in Asia-Malaysia- Truly Asia without burning a hole in your pocket.
An eight day trip can be planned for under 30,000
Kuala Lumpur(2 days)-Cameron Highlands(1 day)- Penang( 2 days) - Langkawi Islands (2 days or max 3 days)
FLIGHT TICKETS
The best part of travelling to Malaysia is travelling on their home company airlines- The super economical Air Asia or the Malaysian Airlines.
You can book return tickets to and from Kuala Lumpur for as low as Rs 8000 from Kolkata upto max Rs 15,000 from Mumbai or Delhi. Make sure you book atleast a month prior.Just be aware of the terms and conditions and baggage allowance. Air Asia has many offers which are dirt cheap
Cost 8000-12000
VISA
How about not going to VISA offices for interviews. You can get your VISA online and processed within a day or two. All you need to is give your scanned passport copy, flight tickets in PDF, a scanned passport size photo and confirmation of your stay. Indians can apply for eNTRI permit that allows you to freely roam in Malaysia for 15days. You can apply on the official website or can try Musafir.com for hassle free visa services
website link: https://in.musafir.com/Visa/Malaysia-Visa.aspx
Cost- Rs 2500
Stay in Malaysia
Malaysian people are one of the most friendly people. You can give a try to Couchsurfing and AirBnBs. You will definitely get a host for 1-2 days. The best perk is most residential buildings in KL have infinity pools and you wouldn't have to splurge money on that if you are hosted by your couchsurfer.
Otherwise there are endless hostels all over Malaysia which for as low as Rs 400 a night. Most of them are super clean and you get to meet a lot of people from round the globe.
So average cost of stay in Malaysia covering above places would be approx 3500
Travelling in Malaysia
Kuala Lumpur the capital of Malaysia has a wide options of travelling around the city. The best way to explore the city is travelling through GoKL buses which are completely free and covers almost all places you need to see in Kuala Lumpur. There are Metros, other public buses, high speed monorails and long distance trains too.
Hitch hiking is very safe in Malaysia and the probability of you getting a ride is high in less than half an hour. So take a deep breath and take out your thumb out. A sign card board as " Tourist from India" can fetch you a ride in less than 15 minutes. Malaysians have always given a positive response to Indians and they love Sharukh Khan and bollywood movies. You can definitely hitch hike all of Malaysia if you have the patience and don't feel weird about it.
Or else you can take super comfy buses to travel Cameron Highlands and then to Penang(Cost would be RM 50-70) (Approx 500-800 per ride).
You can rent a bike in Cameron Highland for RM 30 i.e approx Rs 480 for a day. A litre or two of petrol would be sufficient to roam around Cameron Highland. Petrol is very cheap. A litre will cost you anywhere around Rs 30-40.
Penang has public buses and tickets are cheap. RM 1-3 per ride that is approx 16- 60 per ride. You can also rent a bicycle for approx Rs 150 a day.
A high speed ferry from Penang to Langkawi is highly recommend and cost you around RM 70 i.e approx Rs 1120.
Langkawi island is best explored on bike. Petrol is dirt cheap and it is highly recommend to rent a scooter the moment you set your foot in langkawi island.
Scooters can be rented for RM 30 (Approx Rs 450 a day) with a deposit of RM 50-100 which is refundable. So take those helmets and zoom onto those beautiful roads.
So after your stay in Langkawi you can head back to KL by taking a direct flight from Langkawi and then your flight back to India. Yes the island has an airport. You can book tickets for as low as RM 120 (Rs 2000 approx)
Total Travelling Cost - Rs 4000 on higher side.
Food
If you are vegetarian, you would have a hard time finding veg food. It is advisable to carry adequate amount of ready to cook meals and snacks. You can have fresh fruits and there are 7-11 chain of stores which have variety of ready to cook meals and other food.
Approx cost Rs 3000
Entry tickets to places like KL tower, Langkawi Skybridge, Museums etc
Total cost- Approx Rs 2000
Extra activities like Scuba Diving and Snorkeling
Scuba diving and snorkeling is recommended. There are many agencies in Langkawi island who offers scuba and snorkeling both for Rs 5000-6000. Don't be ashamed to bargain and do check out with atleast 3-4 agencies before booking.
Cost 5000-6000
You can also check my blog on for detailed trip on how i covered malaysia:
https://www.tripoto.com/trip/backpacking-to-malaysia-my-first-solo-international-trip-with-my-ca-internship-stipend-p-5ac695246af2d#.Wvmib3WVpNx.facebook