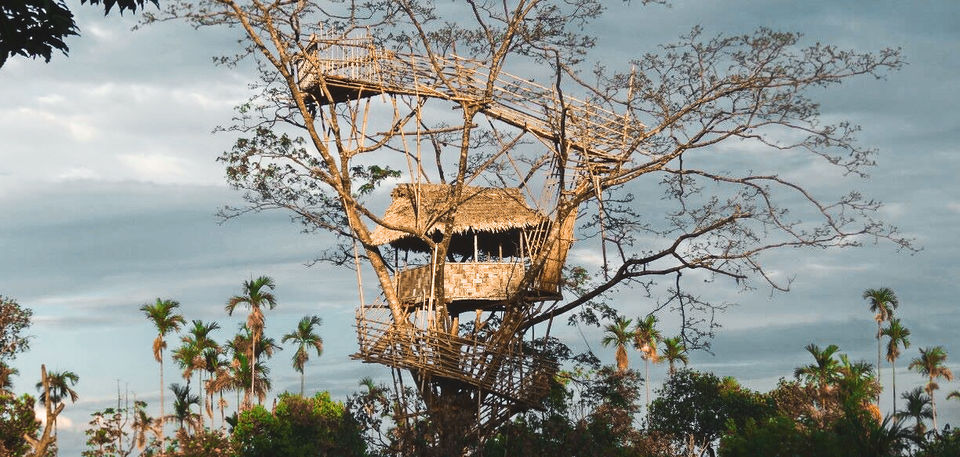 In 'Yarrow Unvisited', William Wordsworth wrote about his fear of visiting Yarrow; thinking of how devastated he would be if the real Yarrow river and its valley do not match up to his imaginative one. Believe me, it is quite easy to feel like Wordsworth too when you're about visit a place like Mawlynnong. Rated by Discover India, then again, by BBC Travel as 'The cleanest village in Asia', a quick Google search will make you excited enough and your heart will set off racing in anticipation as you drive through the fog to head to the famous village.
A fellow traveller on the next seat and this writer were talking about our 'Yarrow Unvisited' situation as the Meghalaya State Transport bus we were on climbed down East Khasi Hills with fog lights on, courtesy of our late start from Shillong. In hindsight, we were being over dramatic because a couple of hours later we were setting foot there. But since it was already dark, I couldn't form any impression. And that was left for the next morning, as I slithered into the camping tent set up for the younger and more adventurous among us.
The weather was damp and humid and boy, it was hot. Bah Risot, our host for the stay at Mawlynnong poured us a strong brew of local red tea as we try to familiarise ourselves with the environment. He speaks impeccable English and for my first impression of this famous village, this was quite good. He, like most Khasi men, has moved here since his marriage to a local woman. For the uninitiated, Khasi society is a matrilineal one. Unlike the rest of the world (mind you, there is only a handful of matrilineal societies), men move into their women's house in marriage and inheritance is given to the daughters. Probably, one of the deciding factors in making Mawlynnong the cleanest village in Asia is that women are by nature much more particular about cleanliness. Skyview, a treetop view of Bangladesh or rather the swampy upper plains of the Sylhet district of Bangladesh, came free (much like complimentary breakfast with hotels). He would charge 20 bucks for others who would like the opportunity to climb the bamboo walkway. The view is nothing to write home about but the sky does look good in the early hours as the sun rises. Maybe that's why Bah Risot had named it Skyview, instead of Bangladesh view.
So, how does this village manage to bring in over 200 tourists every day? We're about to find out. The roads are properly tarred; with flowers of every kind lining its streets, complemented of course by trash bins made out of split bamboo. One can't call it a dustbin because it's more of a basket. You'll find the womenfolk pulling weeds from their garden and if you ask around enough they'll tell you that the village has been like this, way before it was discovered. It wasn't like one day they decided to compete for the title of the cleanest village by overhauling themselves or as one might assume adopted by an NGO to be a model village. They say it's a traditional thing. Bijoya Sawian also wrote in a book I picked up from Shillong, that cleanliness is an inherent Khasi trait. I'll take his word for it.
Mawlynnong with all the modernisation around it is still a village. And this place carries the charm of a virgin bride. It was ages ago since I last saw so many crabs in a brook. One morning, we managed to find about enough crabs for lunch in under 20 minutes. Mind you, crabs come out at night and we were only picking up the ones who stayed out late in the morning. Living Root Bridge, a bridge formed out of tree roots is a spectacle. It is perhaps the only living and breathing bridge.
Sukher, a young local lad who also speaks decent English walked me through the history of Mawlynnong. He organise trekking trips to the outer part of the village and with all his enthusiasm told me of a place reminiscent of James Cameron's Avatar. To my regret, I couldn't club the foray in the schedule of my short stay. He also told me how unfortunate it is that tourists who visit the place litter. It's ironic because one will have to assume that you go to a village famous for cleanliness to learn something about it. Unfortunately, in India, it's the photo ops that matter. The photos of you standing near a monument/statue/bridge with which you can brag about to friends and relatives that matters. Mawlynnong is not just another tourist spot. It is not even a hill station. The village essentially remains a village. The only bit of commercialisation you see here is in a tea shop. And that, I believe is the most endearing part here.
Having left Mawlynnong and then Shillong, I sat down at my hotel in Guwahati and thought about Wordsworth's fear. Was I disappointed? Far from it! "The things of reality are far more beautiful than things of imagination," he wrote in Yarrow Visited. Forgive me if I sound like a parrot but I feel that way too.
P. S: 'Bah' is a Khasi honorific used to address older male members. Much like 'Da' in Bengali and Abung in Rongmei.
Looking for crabs in the early hour at Mawlynnong reminds me of the many fishing trips with my old man when I was younger. The experience made me miss him. Even more so on a day like today. Happy Father's Day.