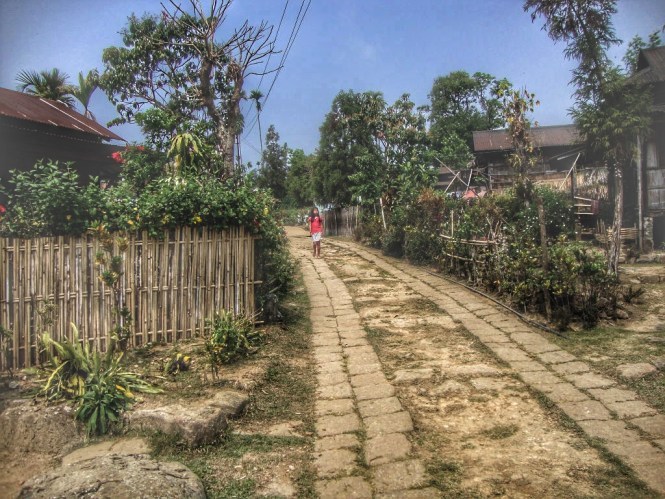 Till 2016, I considered of northeast India as poorer China, where people eat noodles and momo and lead an unhygienic lifestyle. My premonition grew from the pupils of north-east who comes down to study in urban centres, a considerable part of them living in Kolkata (that's the closest metropolitan city to northeast India). If I wouldn't have travelled to the north-east, which I wasn't particularly eager upon, but ended up travelling alone, I would have never known about the jewelled beauty of our land. Now when I consider, I feel embarrassed about my subjective attitude and the way we treat north-east India as a detached body from the full country. Many other touristy places in India is not preserved well, and it doesn't make me extremely honoured to claim, it's often, we Indians who are culpable for causing dirt and transforming the place into a commercial hub. I was thinking the same for the North-East, but I was left dumbfounded and appalled.In my North-East trip, I explored Arunachal Pradesh which was a complete pleasure for the eyes and mind. But the place that left me to reevaluate my opinions, instilled me to explore more of real India and altered the traveller in me is Mawlynnong in Meghalaya. I was an Indian who was a touristy person and was more keen on travelling overseas. The charm of the place, the beauty of people and their drive to keep the place clean brought an upheaval in me. I commenced travelling the rural India to explore it and to understand the real country beyond cities, urbanization. This inspired me to encourage responsible travelling. A tourist transformed into a traveller. But yes this is not about me. This is about Mawlynnong, a village in East Khasi Hills district of the state of Meghalaya, India.It was awarded the "Cleanest Village in Asia" in 2003 and till date, it has retained the recognition of its award.
After spending few days in Shillong, I could not wait to reach and spend some time in this village, away from the urban jungle. I had heard a lot about the two-tier living root bridge but it takes 4 hours to trek down. My schedule was tight. I wasn't informed, there was another single tier living root bridge at Mawlynnong. When I reached, the first thing I wanted to have breakfast. At a dead-end and there were two small huts. I was sipping water from a mineral water bottle. When I wound up, a boy turned and gently advised me of putting the bottle in a waste bin located near. I was dumbfounded by his attention and sensitivity. Then he escorted me inside the village. I walked on the cobbled road flanked with thatched Khasi huts and moved past the gardens adorned with colourful blooms. Not only is this the cleanest village but one of the prettiest that I have seen. To keep the village clean there is a bamboo basket outside every house. I was greeted warmly in the guest house made of bamboo. The best part was I was in a digital detoxification mode amidst the luxury of nature, there was no internet. After my lunch, I went out for a walk and hiked down to the most spectacular natural bridges made of roots of gigantic rubber tree. The roots make a pathway cross a stream. The hardy roots have grown to form a cantilevered and intertwined mesh helping villagers to commute. I was astounded to be face-to-face with one of the living root bridges. This place is also kept clean and I was in awe to see kids walking up and down removing fallen leaves and carrying water bottles for hikers. What took me 45 mins to hike up back to the village, took less than 30 mins for the kids. They guided me back to the village because it started raining. I realise it's the simplicity and the warmth of the people that make Mawlynnong special. They were beaming with happiness while serving me early dinner of rice, dal, potato and red chillies.Cleanliness is a way of life here. All houses have functional washrooms, plastic bags are banned, smoking is prohibited. The rules are strictly followed and defaulters are charged heavily. The village gets its own manure which is converted from the garbage dug into a pit. People not only keep their houses clean, they step out to sweep roads and plant trees, which is a part of their lifestyle. I was surprised in a very pleasant way to know, here the children of the family get their mother's surname and the wealth is passed down from the mother to the youngest daughter of the family. It's a living example of women empowerment and the village has acquired 100 percent literacy rate.Since this village is on the India-Bangladesh border, we are able to view the landscapes of Bangladesh as well from the place. They have constructed an 85 feet high viewing tower, but what's special is the tower is made of bamboo and you will be overwhelmed with breathtaking views.What we expect in an urban society, but fail to achieve, Mawlynnong has achieved it all. There is cleanliness and there is simplicity. It teaches you a way of life. It makes you think. It instils the urge in you to achieve what you dream of. The only thing that I left the place with is respect. The trip and the place lingered in my mind for days. If India is so beautiful and simple, the one that I have always craved for, I need to explore each and every part of it. This journey not only changed my mindset about North-East India but also as a person. I am not only in awe of the beauty of the place but I have become a traveller, travelling to the remotest corners of India, discovering it like never before. In my later posts, I will tell you stories about the unseen India, which is more than the crowded streets, the colourful markets and the Taj Mahal. And most importantly, the visit to this place, Mawlynnong, had given me the drive to promote responsible travelling in different parts of India. You may ask me what is responsible travelling, by responsible travelling I mean :
* Pack your bags with environmentally friendly things. Carry as little plastic as possible. * Do not leave behind any non-biodegradable waste. * What you wear has an impact - environmentally and culturally - dress ethically and appropriately. * Respect the local culture and refrain from physical intimacy in public places. * Carry a good water bottle. Purified drinking water is available at homestays and hotels for filling your bottles. Refrain from buying numerous plastic mineral water bottles. * Local food is great. Try it as much as possible and avoid packaged food. Ask for modifications in the food according to your taste, instead of wasting it. * Avoid excessive consumption of alcohol and refrain from drugs, especially in public places. * Seek permission before photographing people, so their privacy is respected. * Do not pluck any medicinal plants & flowers, and do not disturb the wildlife.It's a broad concept. In my other stories, you will read about it more. The main concern of mine is zero-waste living and travelling.
Mawlynnong not only mesmerises you with its natural beauty but also in its endeavour to maintain one.I am sure, most European countries and other developed nations strive and achieve in doing so. But India is an overpopulated nation, still is behind in the race. But if you have a will there is a way. This place is the example for that. To those who fear of travelling to India because of its crowd, pollution and waste littering everywhere, we are working towards responsible travelling and if you want to visit the real India, life in its truest form, put your guards down and travel, I promise, you will want to visit again.