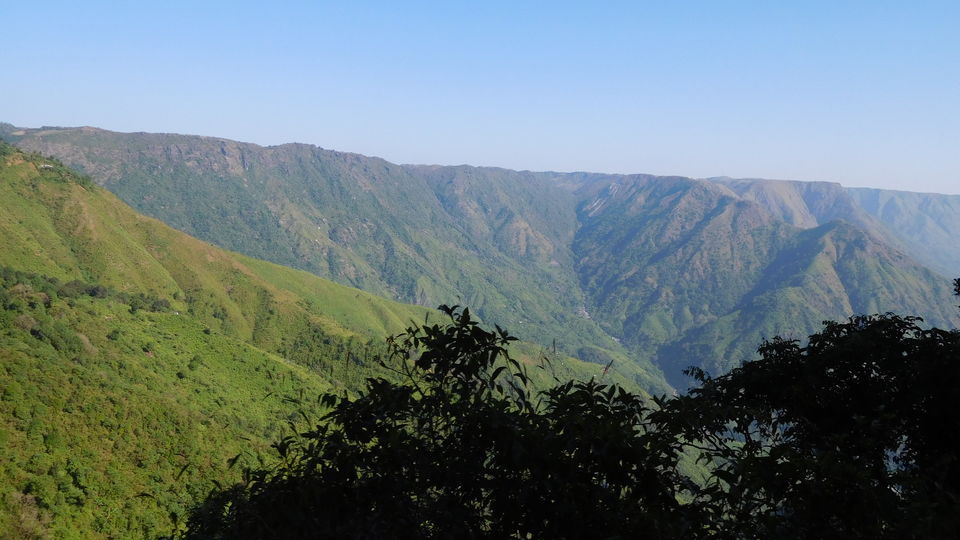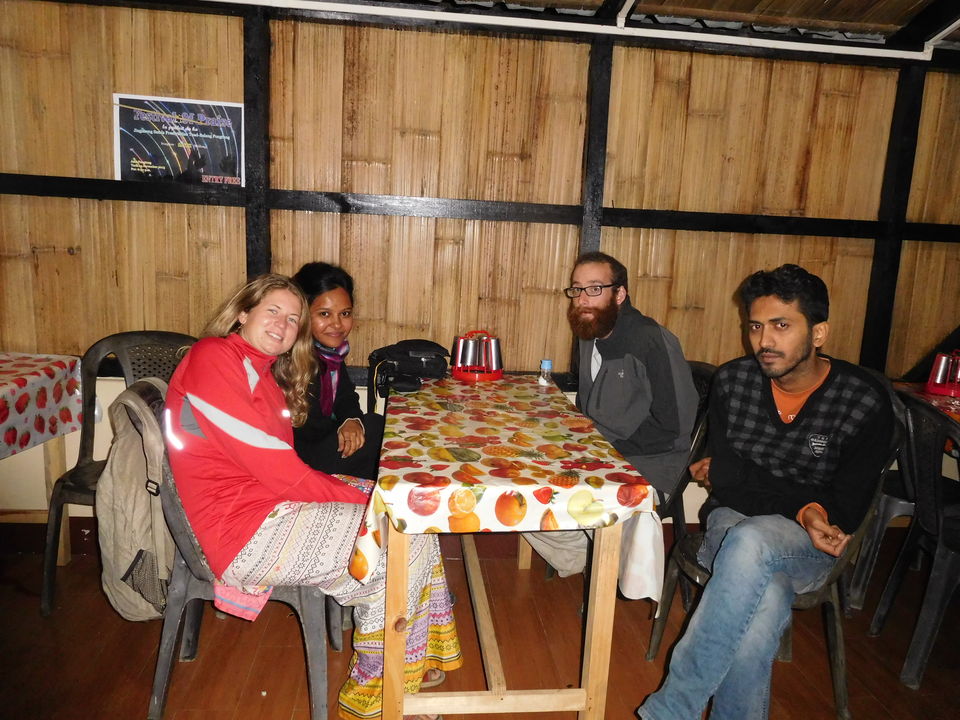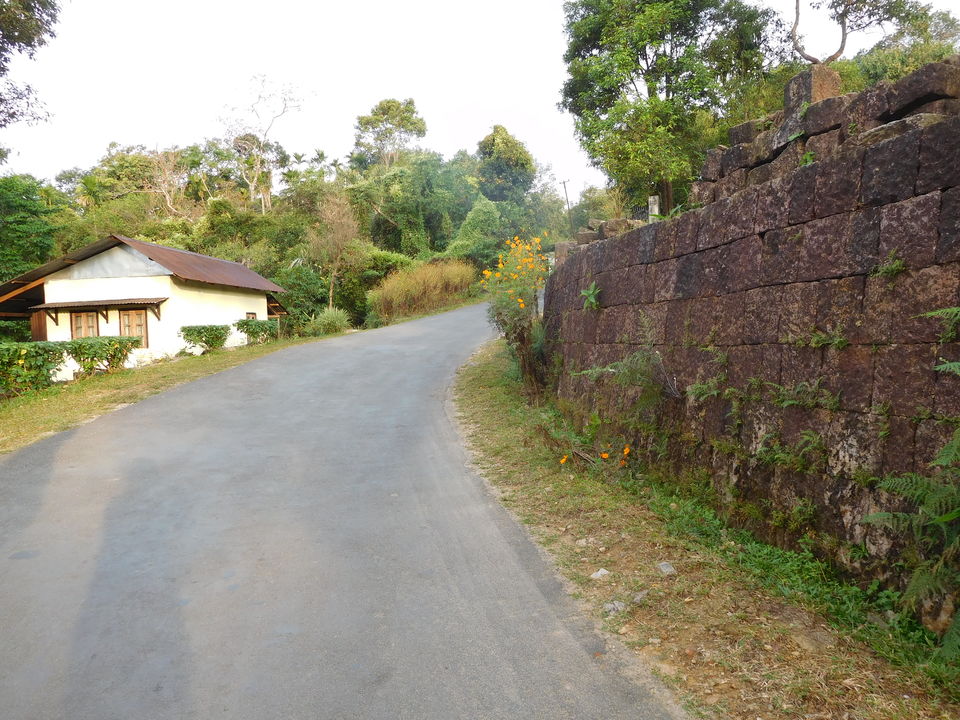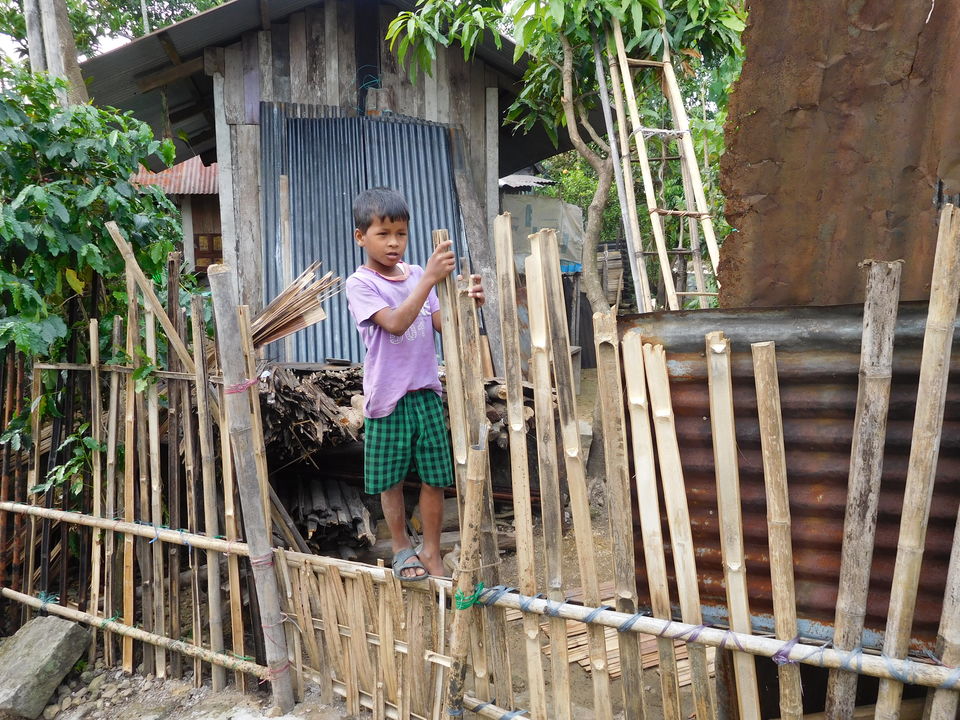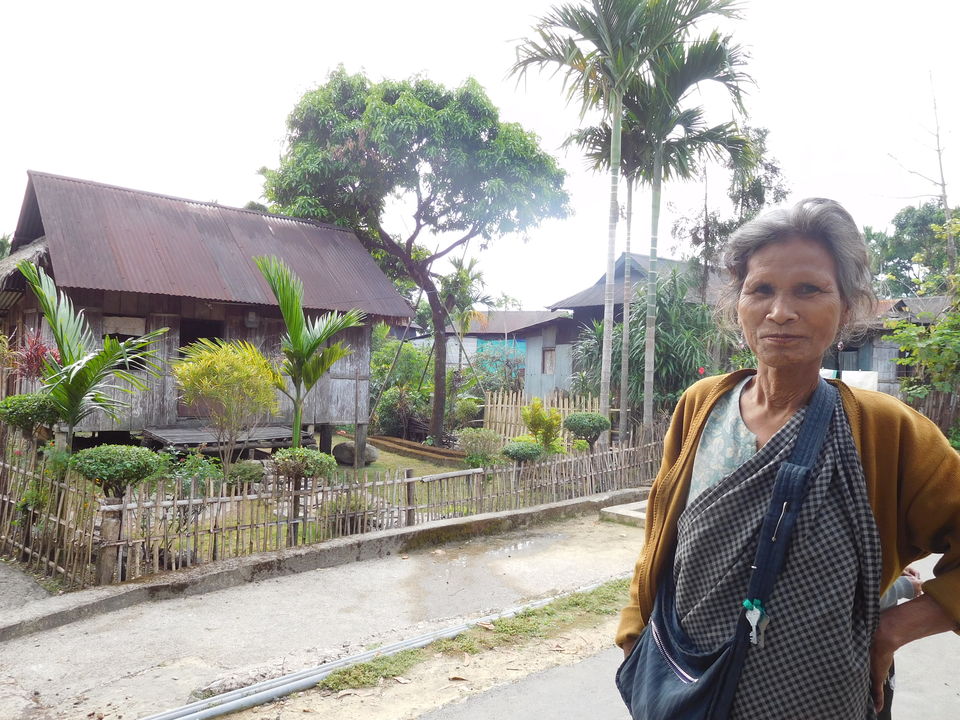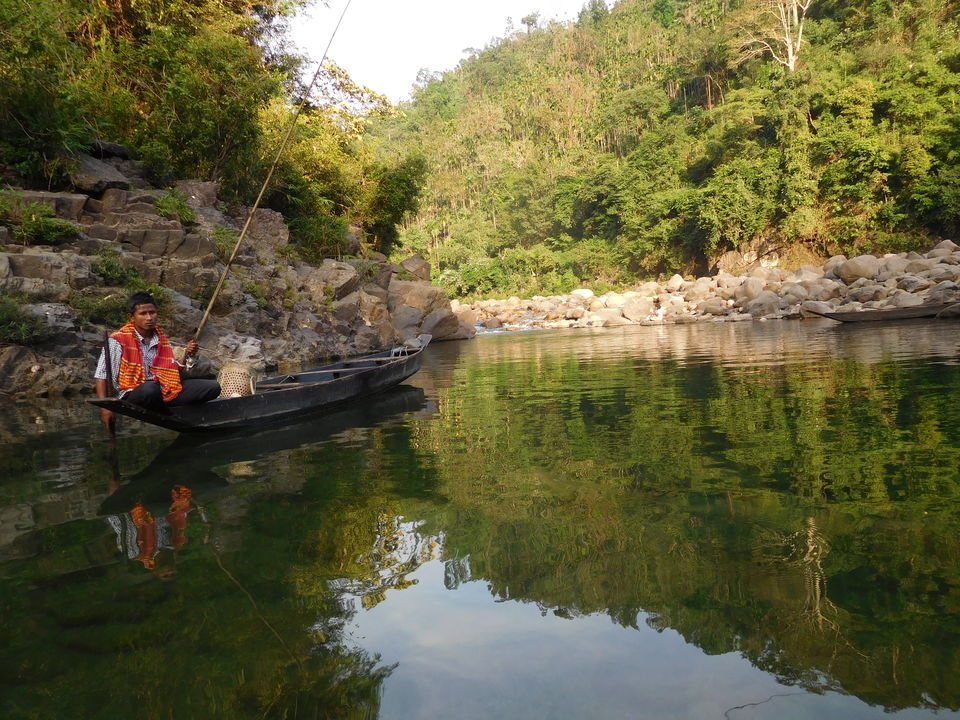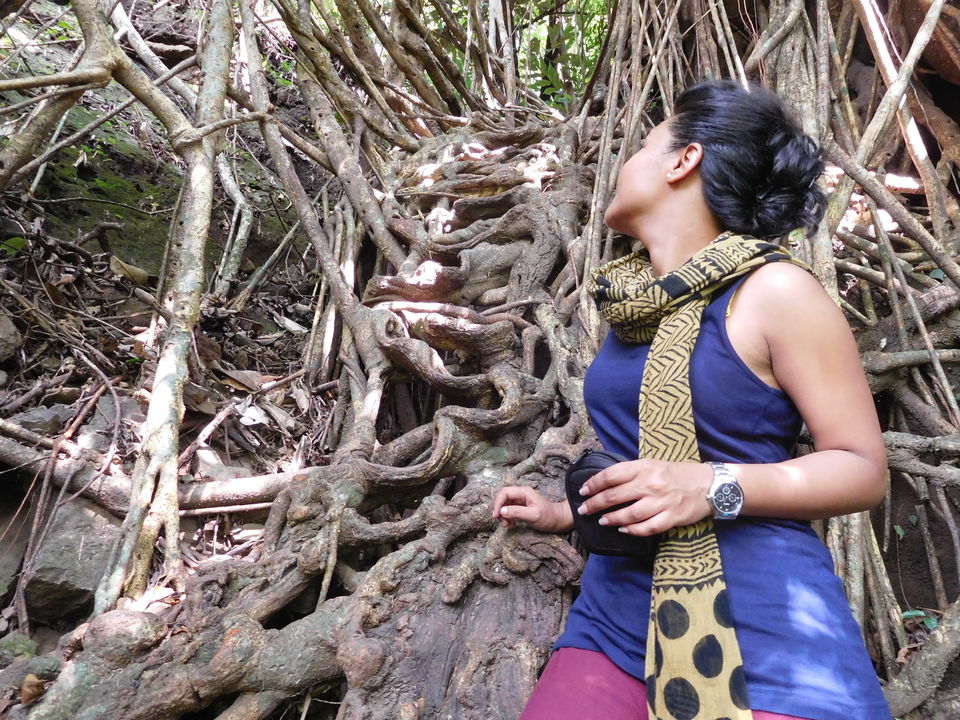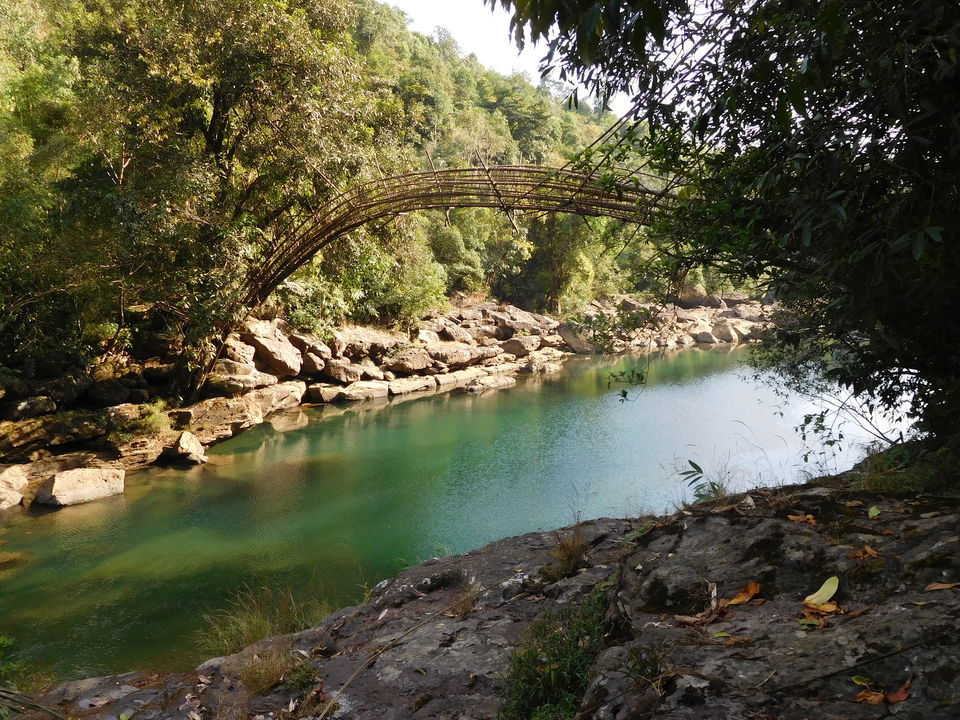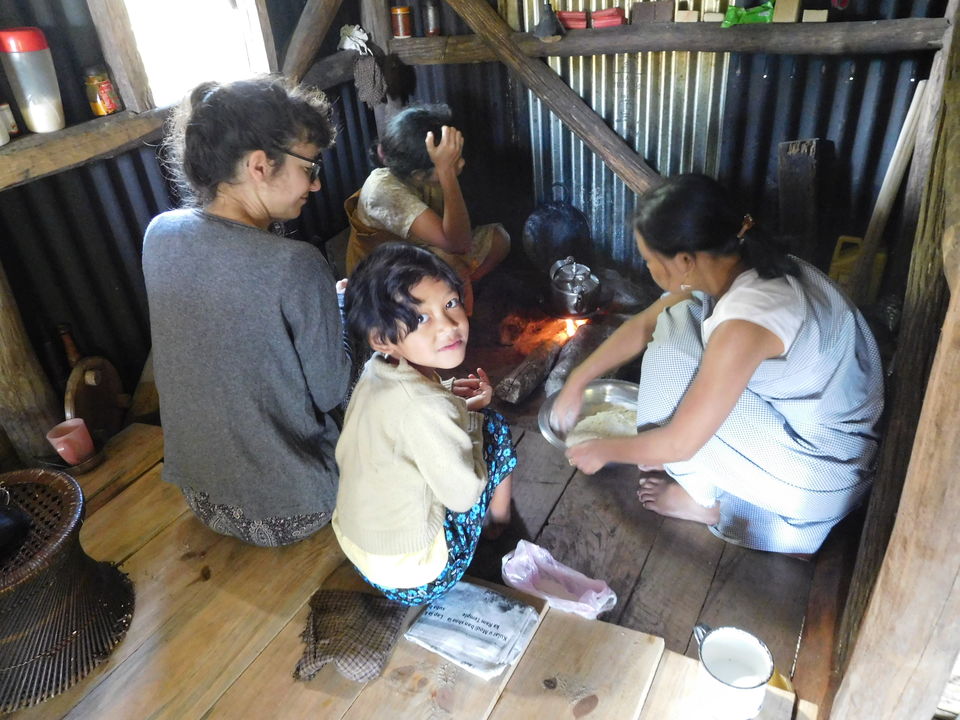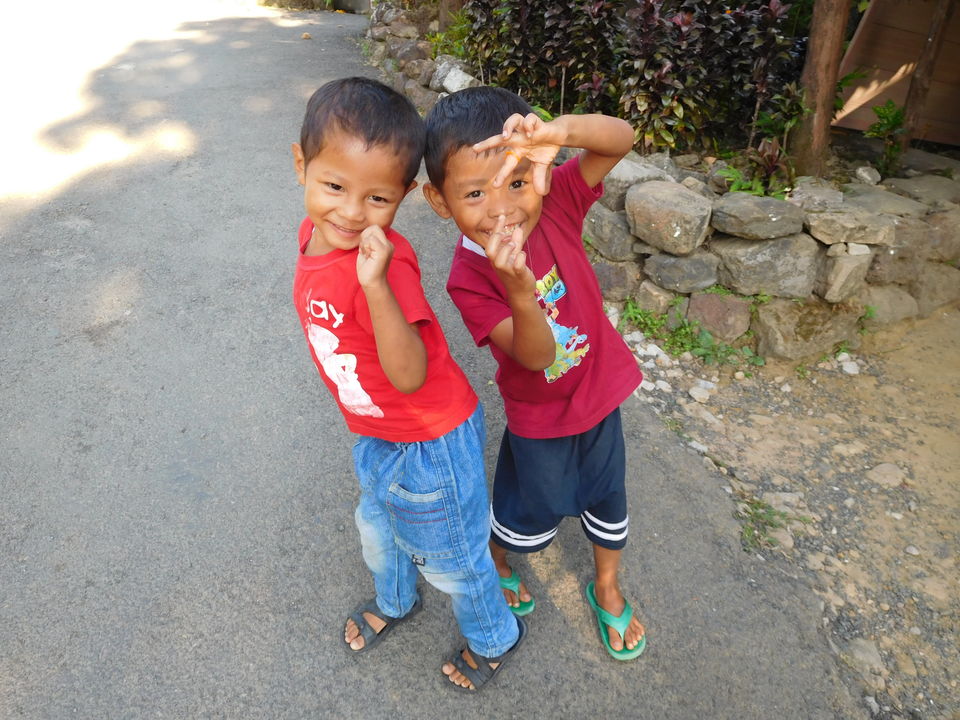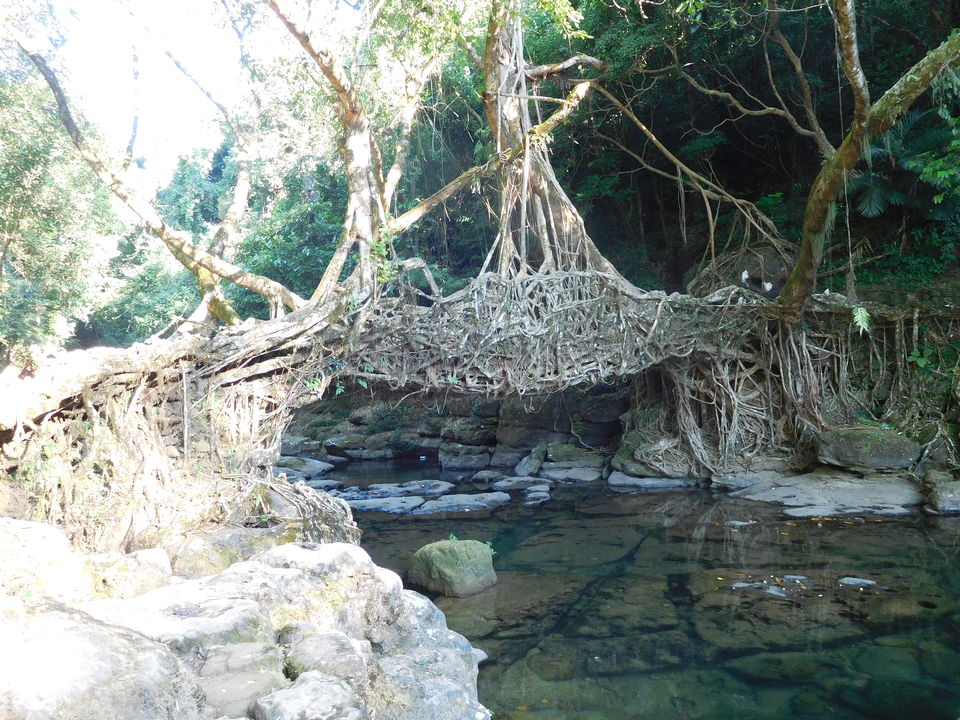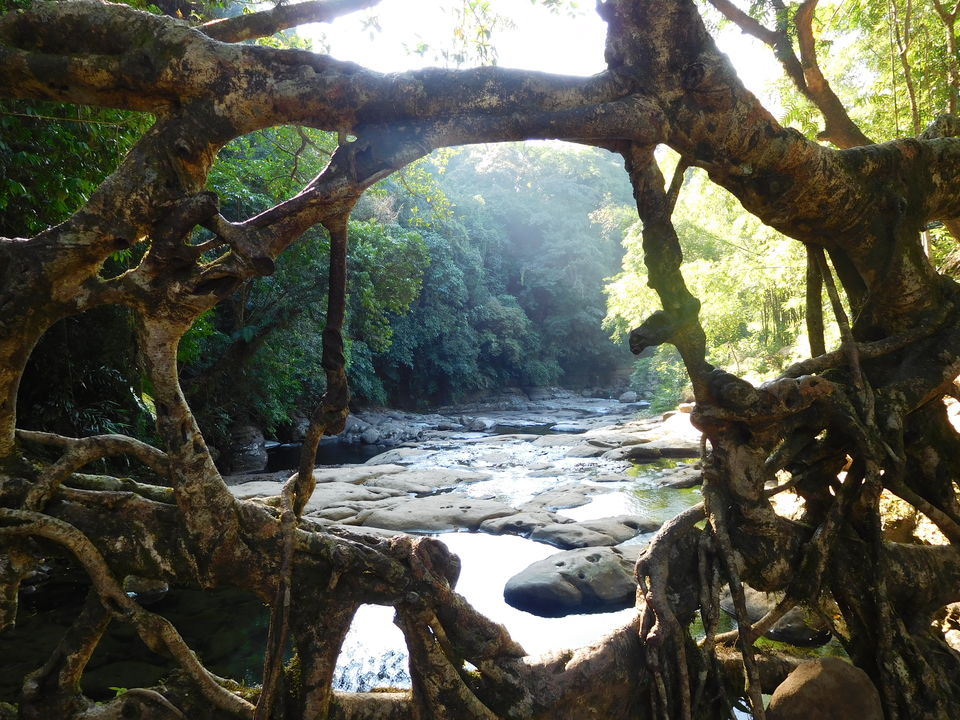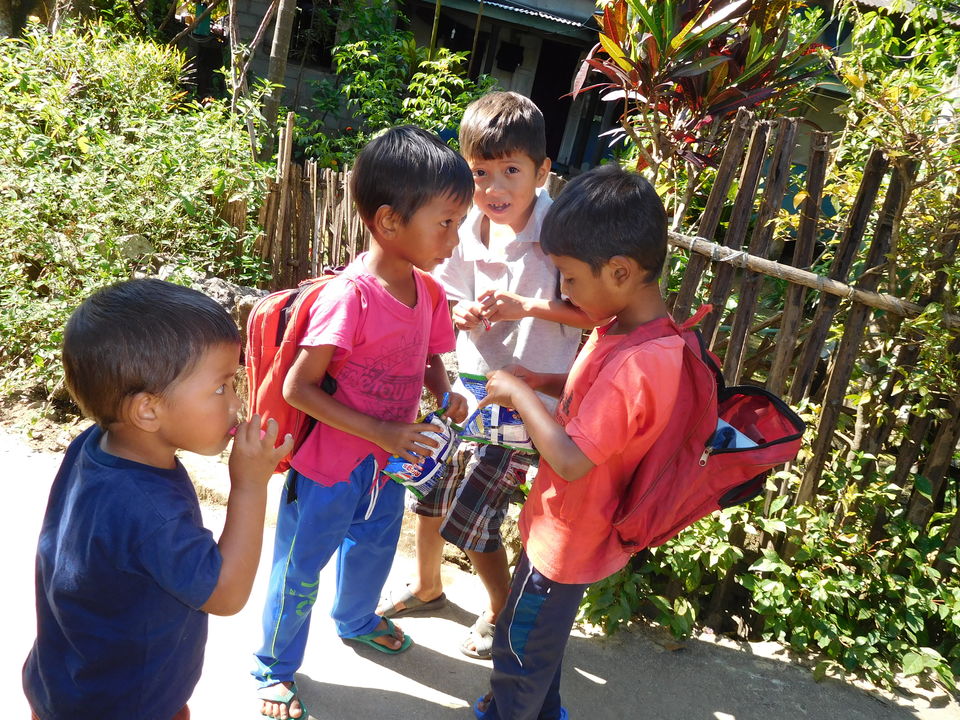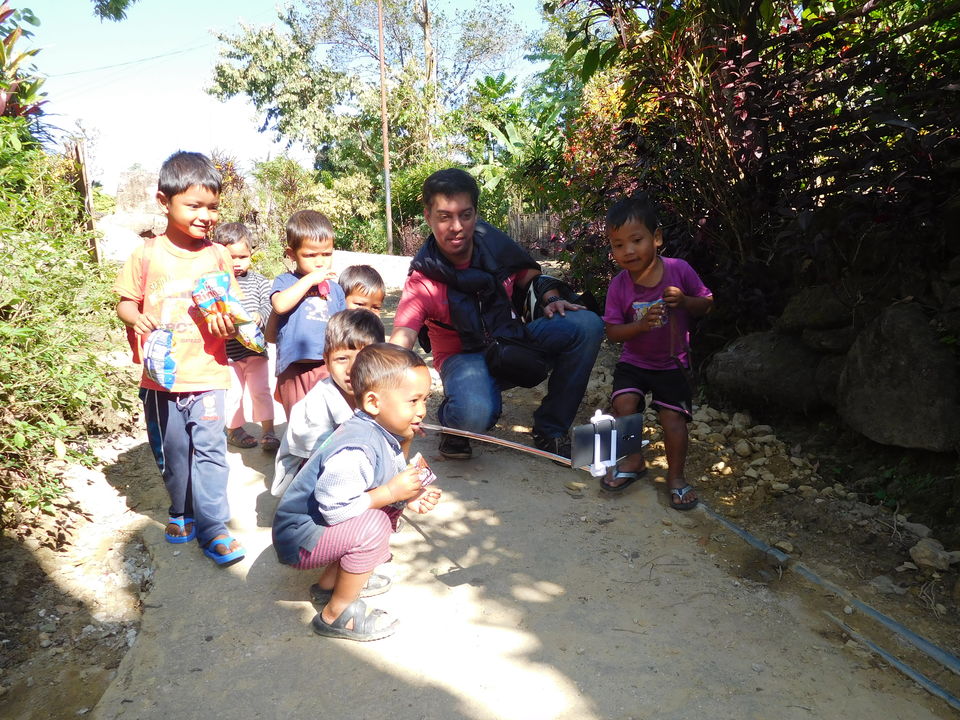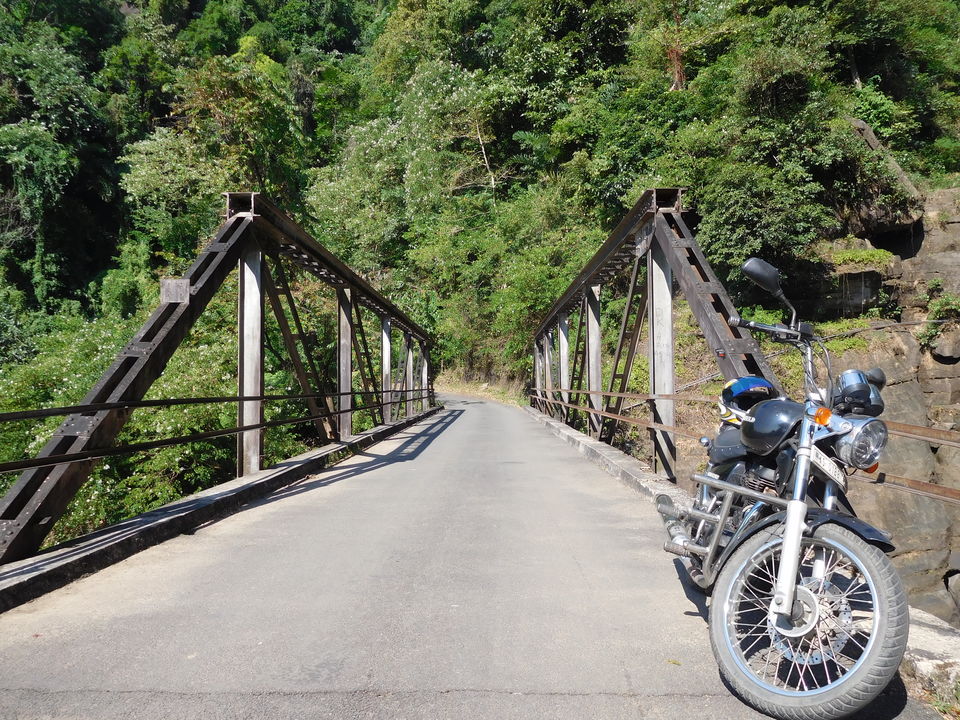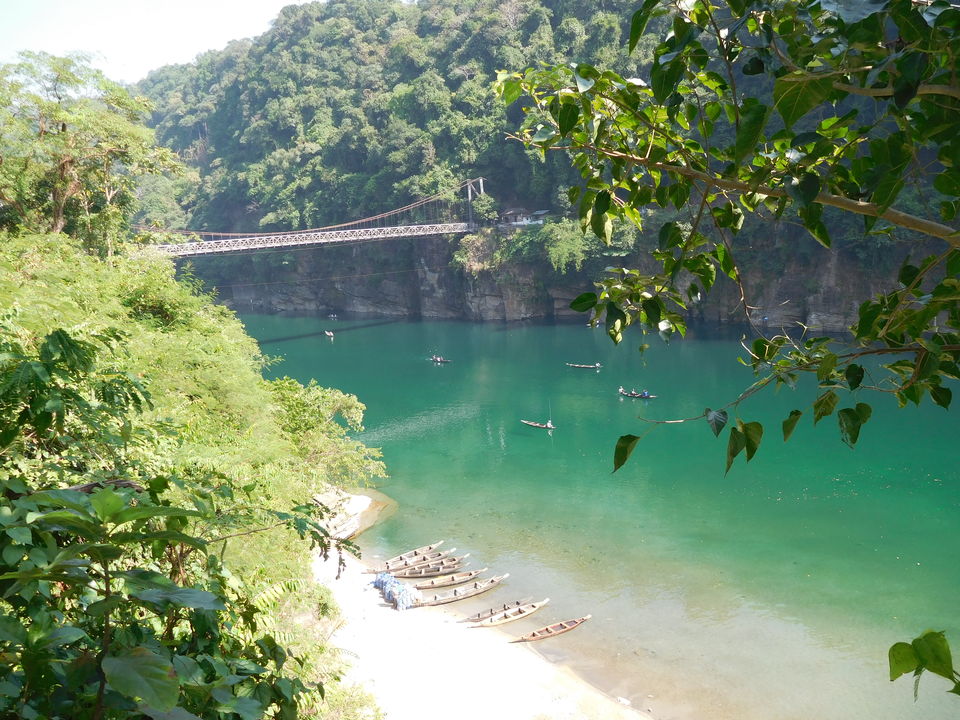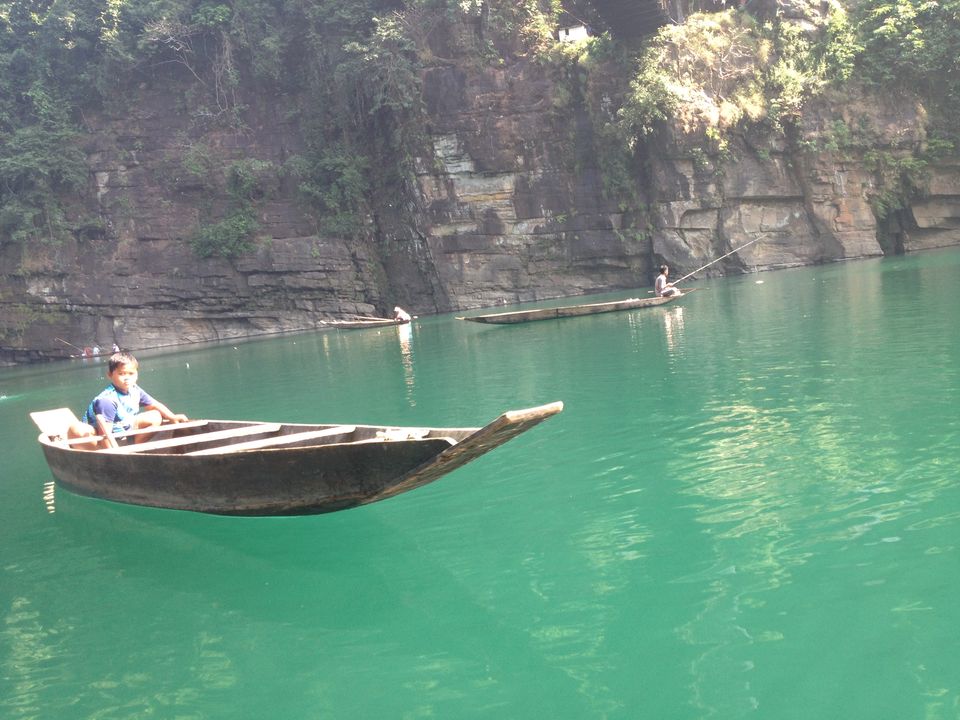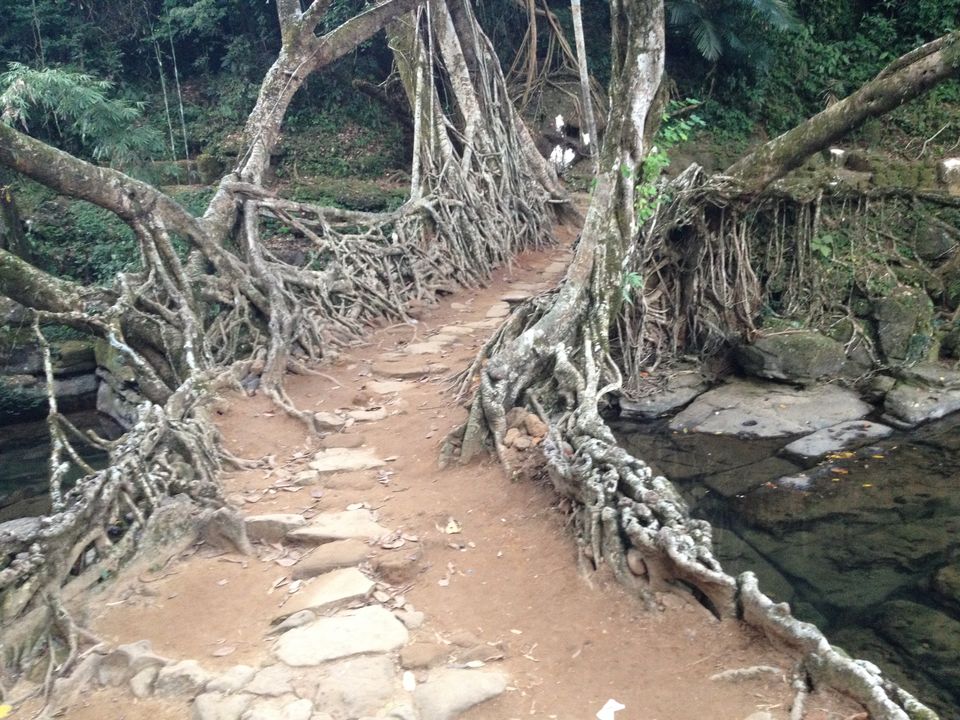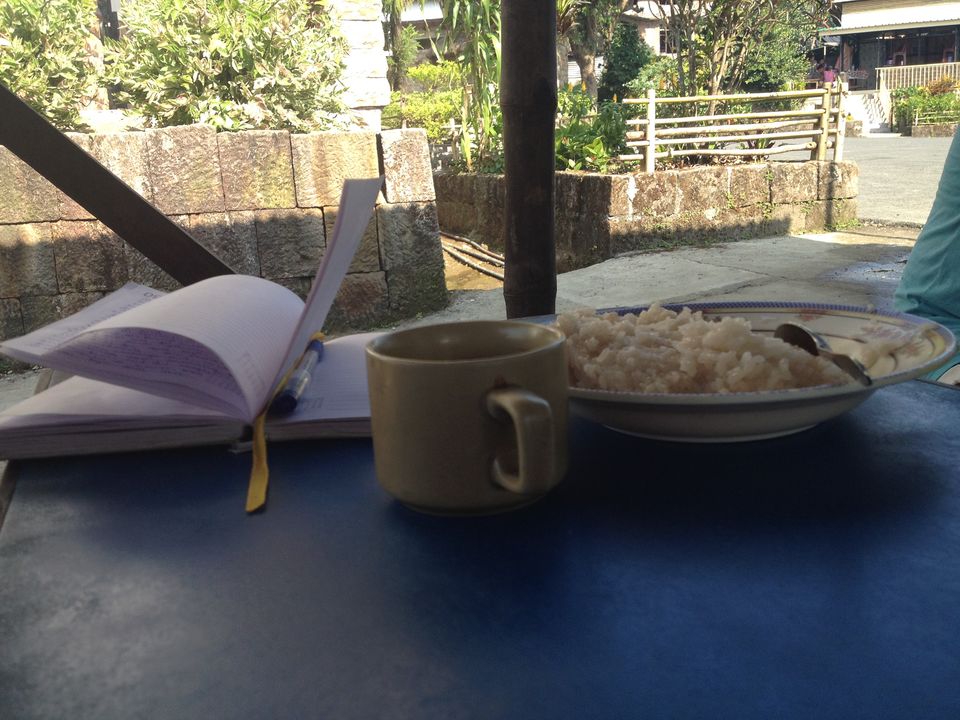 Traveling to North East India was always my dream. So I picked Meghalaya for my solo trip. It was unplanned, spontaneous, budget trip with lots of surprises. I flew from Pune to Guwahati. And real journey started when I took Yellow Sumo to Shillong. 175 rps only. Which is most popular and cheapest way of traveling. Shillong was a little disappointing with a traffic. So I didn't stay there and continued my journey to Mawlynnong-Asia's Cleanest Village. It took me half an hour to search the sumo station. And I realized that no one amlost no one could understand hindi and english. Finaly I called up Henry, the guide from Mawlynnong whome I was in regular contact. He called up his friend who happened to be a sumo driver. I took me to the sumo station, which was crowdy with local people from Shillong, People from near villages who had come for bazaar, many travellers. The place was really not beautiful, but I was more busy in trying to understand the language, eating some local food, clicking pictures of paan sellers mostly they were women, and my favorite category of people who just sit on the corners smoking some local hukkas, carefree, enjoying, not worrying about tomorrows  and smile back to everyone which reminds me Dev Anand's popular song, fikr ko dhuwe me udata chala gaya..... I tried to talk to everyone I came across. (lost my memory card and all pictures taken on the way with it)
After spending two and half hours at the sumo station, our sumo left for Mawlynnong. The journey was beautiful itself. I couldn't keep my eyes off from the green khasi hills and valleys and the turns on the roads and the small hamlets hidden in the trees.
I met Henry the guide when I reached Mawlynnong. He organised a homstay for me.   Next day I took a round of the village. For me Mawlynnong is, beautiful colourful gardens and perfectly finished bamboo fences around bamboo houses which are built 2-3 feet above the ground,  small and clean streets, well mannered and confident kids, all time helpful khasi people. And I decided to stay there for all eight days and cover places nearby.
Next day morning I went to the church, I had seen the photo of it on one of the websites. I had spent almost whole morning in the sitting around and clicking as many pictures as I could. The site was beautiful. Then I went to tree house which had a view of whole village and was built by Henry.
"Living root bridge" best example of using available natural resources. I also admire the generation who had a vision of making their next generation's life easy. Because It must have taken many decades to grow roots to form a bridge. Salute. This bridge connects Riwai and Nowhet villages.
" Nowhet view point " was a quiet place with a nice view. I could imagine the view in rainy season when the river down in the valley and the falls on the hills across are running. I could sit there for days reading my favourite novels. I took a walk to these places. I went to this place for four times. And I had to pay the entry fees only once. The guy I used to call him "Hairstyle" said Madam, no fees for you when I went there for second time.
When I came back to Mawlynnong, Henry told me that a guy from Pune had come riding his bullet. I asked for his homestay address and went to meet him. His name was Mickin and was a Hotel Manager. He had left his previous job and before joining new job in Kuwait he was on his solo trip to North East of India. We decided to visit "Dawki" together next morning. We started at 7 am. Visited living root bridge and view point again, we headed towards Dawki. It was one hour journey through thick forest. We came across one awesome waterfall on the way. We stopped there, clicked pictures.
Dawki is a must visit place with a breathtaking river view. We took a boat ride through the crystal clear waters. We were amazed to see the view. We drove back and Mickin left for Cherapunji to continue his trip. It was a nice experience to meet a person from your city in other corner of the country and travel with him. Mickin made my Dawki trip memorable as I never have thought in my wildest dream that I would be riding on bullet in North East of India. Simple, humble and nice guy he was!
Earlier day when I was searching Mickin's homestay, I ran into a Check Republic solo girl traveler. Eliska. What a positive vibe shae had. We got along with each other so easily. We had decided to meet once I am back from Dawki, so I went to her homestay and  I saw four of them were sitting outside her place. Gunajit, Eliska's host from Guwahati who had come to Mawlynnong for a day trip, Alon from Israel who was here in India for two months and was about to travel more five months travelling in India. Koaster, Eliska's homestay owner. We had very discussion on different topics ranging from Bihar Elections to Modi and solo backpacking to women empowerment. It was interesting to interact with people with different culture and countries. We had tea together after the discussion.
Next day morning Elishka and Gunajit left for Cherapunji and Guwahati respectively. Alon and I went to Shnongpeden via Dawki. And the day started with taking Alon to the living root bridge and the view point. I was becoming a guide of Asia's Cleanest Village. 
Alon was a free spirit, flexible and kind. Passionate traveler. He had this urge to know more and more about India. He used to ask me so many question and queries. He was curious about me as I was an Indian solo girl traveler.
The common thing between us was, we never wasted our time in waiting for vehicle. We  started walking towards main road. We walked almost 15 kms. We hitchhiked four vehicles in our journey.
Alon wanted to follow the trail on the hill, we were crossing to get to the river. I preferred going down to the river and relax for some time. And make myself believe that it was real place. "Shnongpden" the place I have thought only exist in romantic novel. But it's real and only 7kms away from Dawki. Magical view this village has. It is based on the slopes of khasi hills, clean and clear river like a mirror, and a lonely planet.
Where locals are fishing and one of them offered us a ride in fishing boat. We were mesmerized by seeing the reflection of hills on the water. The was so clear we could see the fishes and stones clearly. 
Next day me and Alon walked through rivers and wandered in the forest with tribals.  We walked through forest for 3-4 hours to see beautiful winter waterfalls, bamboo bridges and living ladders interior inside the woods.
One of the best part of my trip was my homestay. Nangroi(best cook and best host ever), her kids, her sister in law and few neighbourhood friends and me would talk around the fire evey night after dinner. I learned more about Matriarchy and khasi language. I tried to know their views on rest part of India. We would take after dinner tea.
One of my travel buddy rightly said I had become a citizen of Mawlynnong and Nangroi's family member in my eight days stay. I was happy not making plans and take every moment of the trip as surprise.