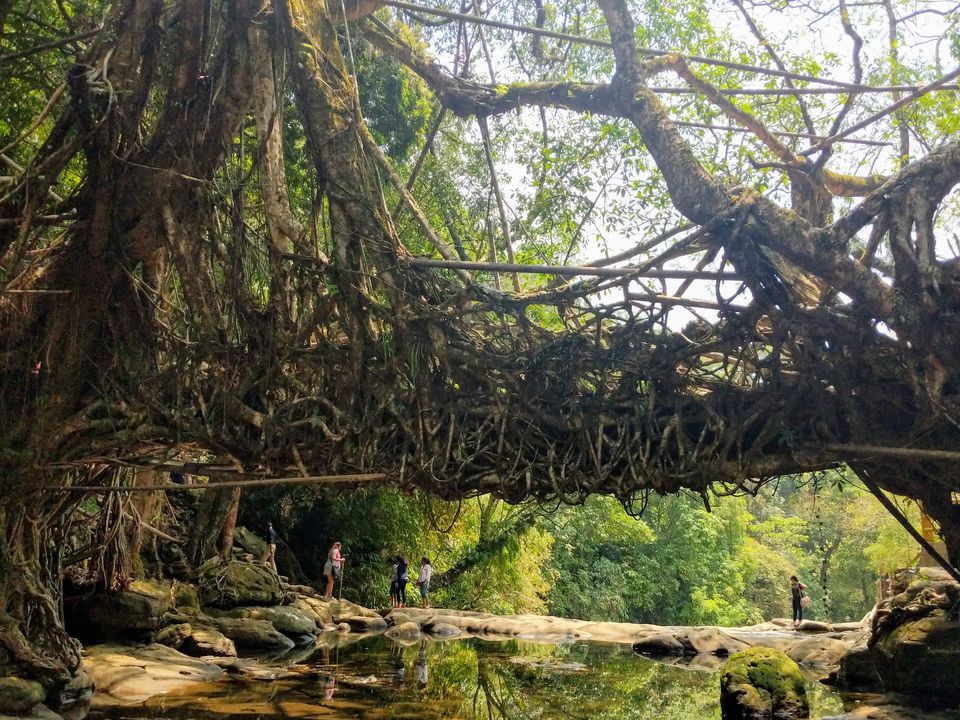 Meghalaya, also know as 'Abode of clouds,' is one of the most popular destinations in North-East India. It is one of the Seven sister states.
If you love nature, trekking, waterfalls, Hills, Canyons, rivers and wish to see the Living root bridges, Meghalaya should definitely be in your itinerary.
Here's a quick snapshot of our itinerary.
Day 1: Land in Guwahati at 7 pm. Stay night here
Day 2: 6 am cab from Guwahati to Mawlynnong (170km — 5 hrs). Explore Mawlynnong and Living root bridge. At 2 PM, leave for Dawki  and then reach Shnongpdeng by 5 PM. Stay in the riverside camp
Day 3: 7:30 am cab to Cherapunjee. Visit Mawsmai Caves, Nohkalikai falls and street shopping at Police Bazaar, Shillong. Night in Shillong
Day 4: Early morning cab to Laitlum Canyon. Enroute Guwahati, visit Umiam lake. Kamakhya temple, Navagraha temple in Guwahati. Sunset cruise on Brahmaputra river which we missed due to bad weather. Flight back home
How to reach Meghalaya?
Guwahati is the nearest airport to Shillong, the capital city of Meghalaya which is almsost 100 km away. One can get shared cabs, private cabs, buses for Shillong from Guwahati and also for visiting different locations. We had booked a private cab as we were short on time and didn't want to waste our looking for cabs around.
Our driver – Raju, was really helpful and assisted us with our itinerary and recommendations. Amazing guy, I would say. You may connect with him @8474023425 and he can pick you up from Guwahati airport itself.
Other than flight, there are trains from all over India to Guwahati but you may need a lot of time travelling. So, the flight would be the best option.
Total Cost incurred – INR 26,000
Return Flights for two – INR 7,500 (from Kolkata)
Hotel in Guwahati – OYO Hotel Parnil Palace 1 – INR 720
Camping in Shnongpdeng (booked there itself) – INR 700
Hotel in Shillong – Pumpkin Rooms Shillong – INR 2,500
Taxi (includes toll and parking charges) – INR 9,000 for 3 days
Food – Approx INR 2,000
Shopping at Police Bazaar – INR 1,500
Other expenses (boating, entry tickets etc.) – INR 2,000
The Journey
We took Spicejet flight from Kolkata and reached Guwahati by 7 PM. Then an Uber to reach our hotel by 8:30 PM. Had dinner and slept by 9:30 as Raju (our driver) was supposed to pick us at 6 AM the next morning.
6 AM and Raju was already waiting for us at the reception. We checked out of the hotel and started our journey to the 'Scotland of the East.
Our first stop was Mawlynnong village – was awarded the cleanest village in Asia in 2003 and Ruchi could not wait to get there. In the last decade, though the village has got commercialized, one would love how clean the village is. You would not find a single piece of garbage on the roads.
One can also stay in the village if they have time. There are Homestays which can be taken on rent while you are in the village or can even book on Airbnb.
We had lunch in the village and then left for Living root bridge which would be around 2 km from the village. Root bridges are made from the rubber fig trees by the Khasi and Jaintia communities of the mountainous terrain in the southern part of Meghalaya.
We left Mawlynnong at around 3 PM for Dawki, which is very close to Bangladesh. In fact, there's a rope in Dawki river which acts as the border and we were really surprised to know that.
Nevertheless, am sure most of you would have seen the clean bed of Dawki river on Instagram. But, due to rain a couple of days back, the river was not as clear as we had expected.
We then moved ahead to Shnongpdeng where we had planned for a night stay at the riverside camp which was just amazing. For those of you who have not heard of this place, this place will mesmerize you with its beauty. It has not yet become a touristy place and is much better than Dawki.
There are a few outlets where you can have food, they cook both Veg and Non-veg but most of these outlets would close by 8 PM. We slept at the Riverside camp, you would find a lot of people playing music, dancing and partying near the camp. One can easily join these groups and have fun.
Woke up at around 5 AM as the Sun was already out by then and we didn't want to miss the sunrise. We loved the place so much that if given a chance, we would definitely like to come to Shnongpdeng once again.
There are common toilet and washroom where you can take a bath but the owner of our camp also had a homestay where we took bath and got ready.
We leave you with a few more pics of the beautiful location here.
We left Shnongpdeng at around 8 AM. Next destination was Cherrapunji.
We visited multiple small and large waterfall points which were really beautiful. The Nohkalikai falls was the best among them as it's the tallest plunge waterfall in India, its height is 1115 feet (340 metres). There's a very heart touching story behind the name of this waterfall.
From the viewpoint, we could see an amazing panoramic view of the fall. Most amazing was the pool like formation below the fall with greenish coloured water. When we visited this fall, it was all covered with cloud but we could still see the greenish pool formation.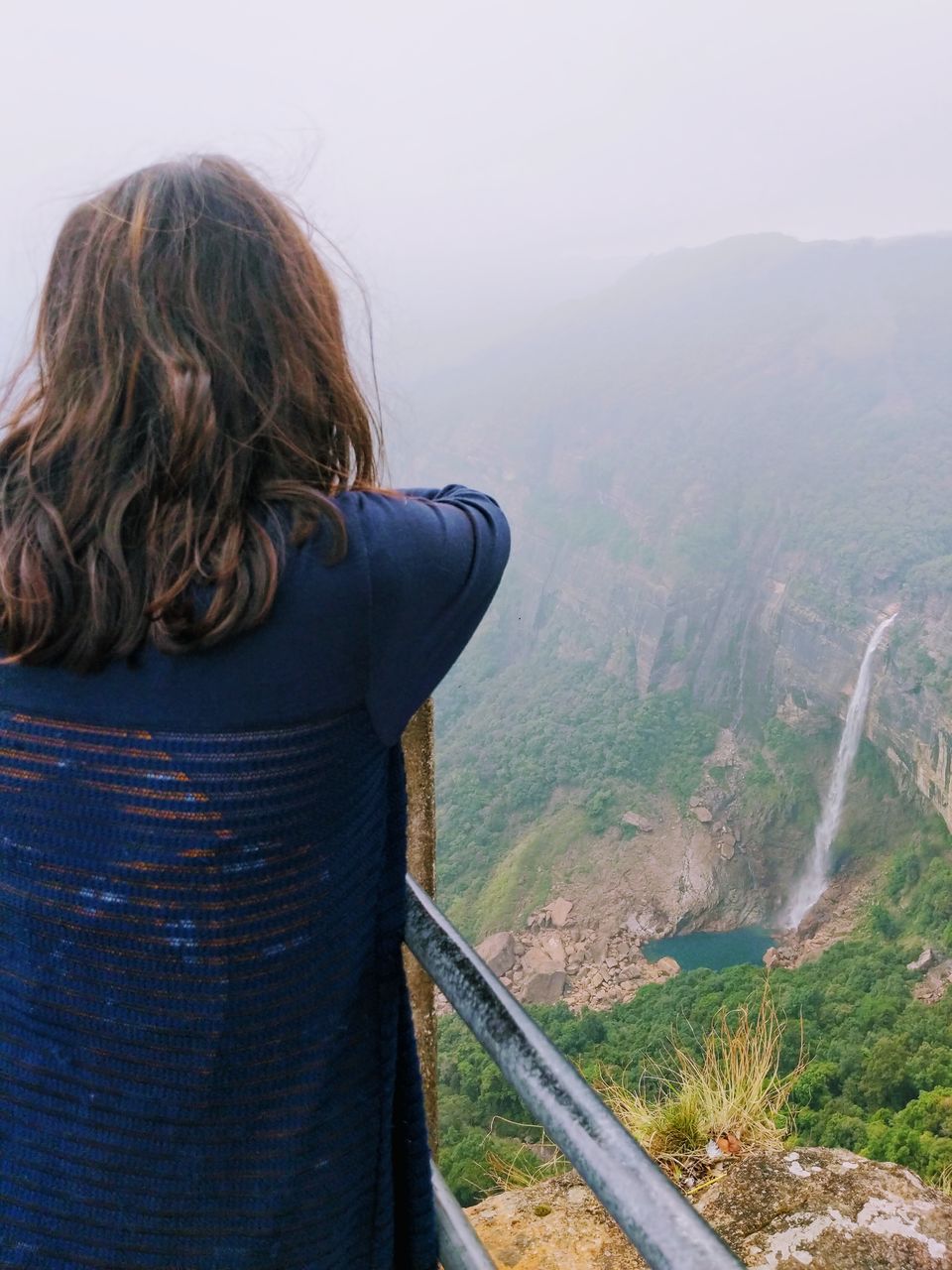 We then visited Mawsmai caves which attract a lot of tourists. The limestone cave is one of those caves which get sufficient sunlight which helps the tourists to enjoy the natural formations. Of late, though they have added artificial lights as well. At some points, the passage is very narrow and senior citizens are suggested to take precautions.
After this, we moved to Shillong and stayed in one of the hotels in Police Bazaar. It's one of the crowded places in Shillong and ladies would love street shopping. There's a lot of street foods as well which we explored as well.
It was raining heavily, but we still checked out from our hotel at 7:30 AM and went on to visit Laitlum Canon, almost 45 minutes from our Hotel. Since it was raining heavily, we were the only ones to reach at that time. It was so windy as well that our Umbrellas were of no use. We waited in our cab for a while but then we were getting late so just came out of our cab to see the view. We could not see much because of the heavy cloud, we got wet as well. We decided to move on to our next destination – Guwahati.
On the way we visited Umiam lake – though this lake looks perfectly natural; it's the biggest man-made lake in the state. The lake is surrounded by thick forests making it really scenic. There are a lot of water sports like the high-speed boat, pedal boat, kayaking, scooter and the prices are reasonable.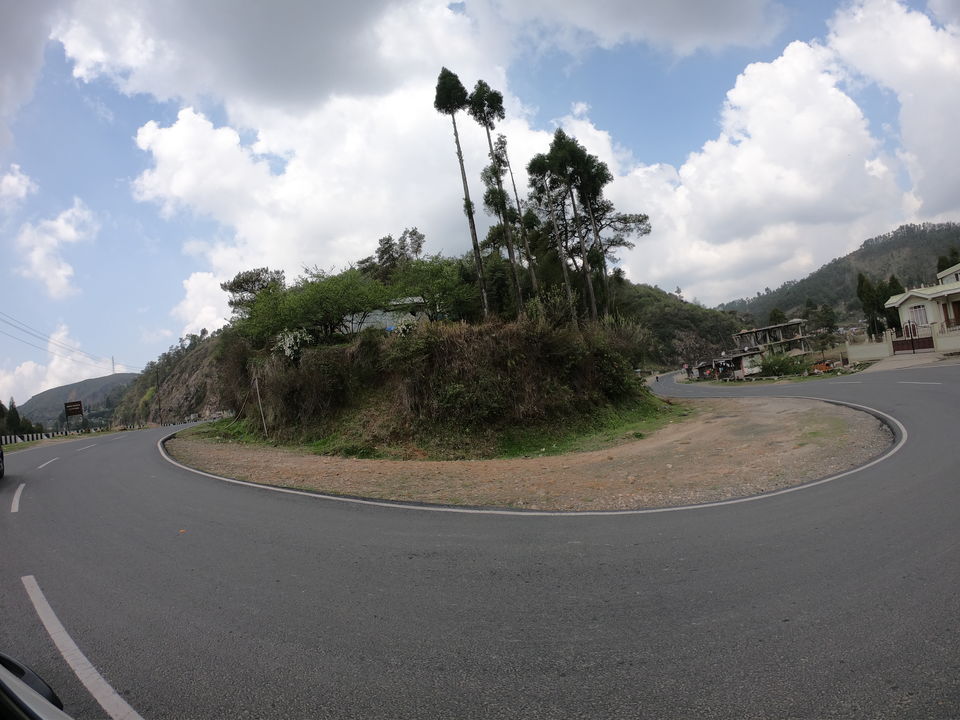 We left around 2 PM from here, had lunch and headed over to Guwahati. In Guwahati, we had planned for the Sunset cruise but due to cloudy weather, we opted not to go for it. But, I would definitely recommend going for it. Since we had time as our flight was at 8:30 PM, we went to Kamakhaya temple and Navagraha temple.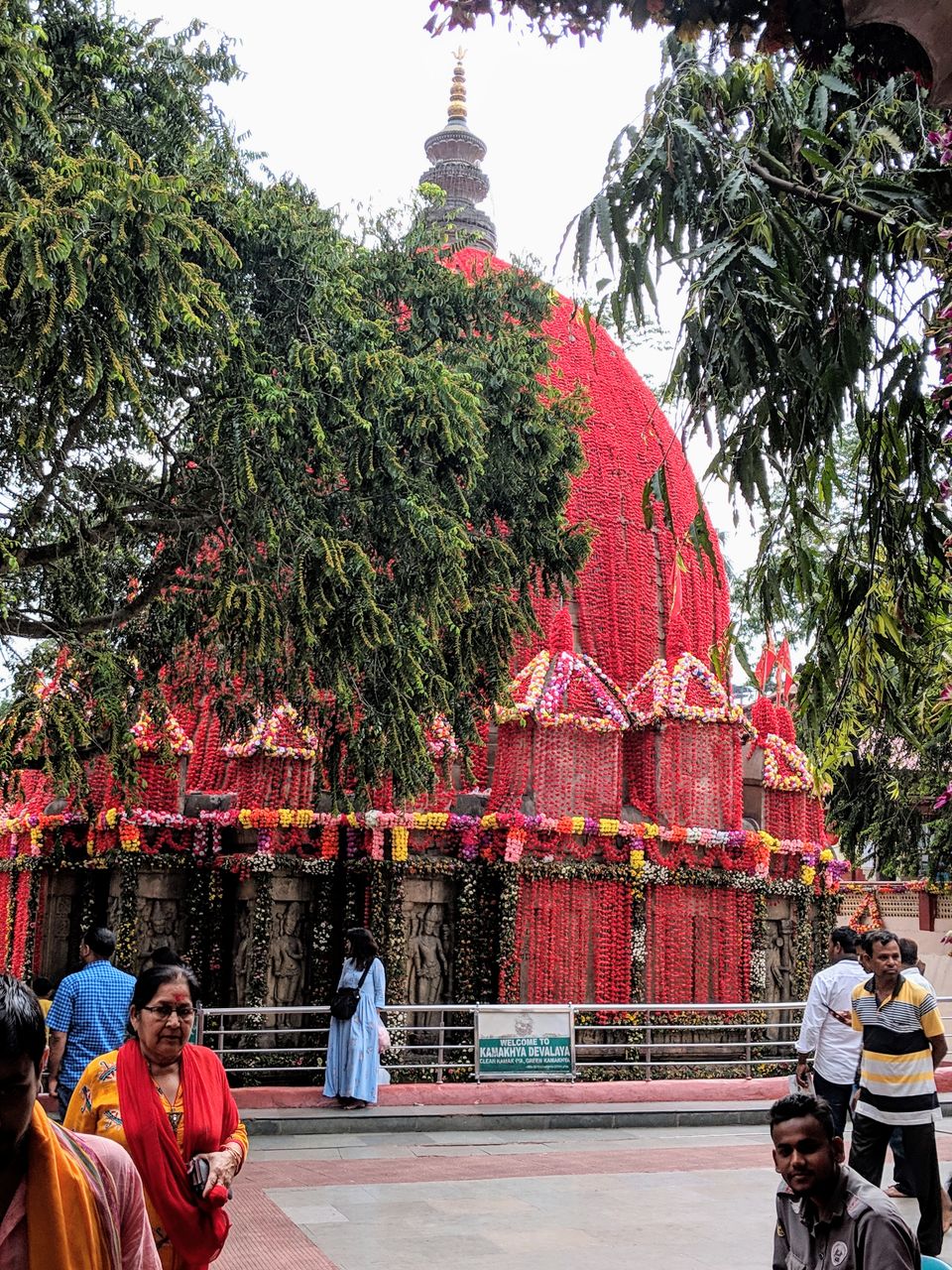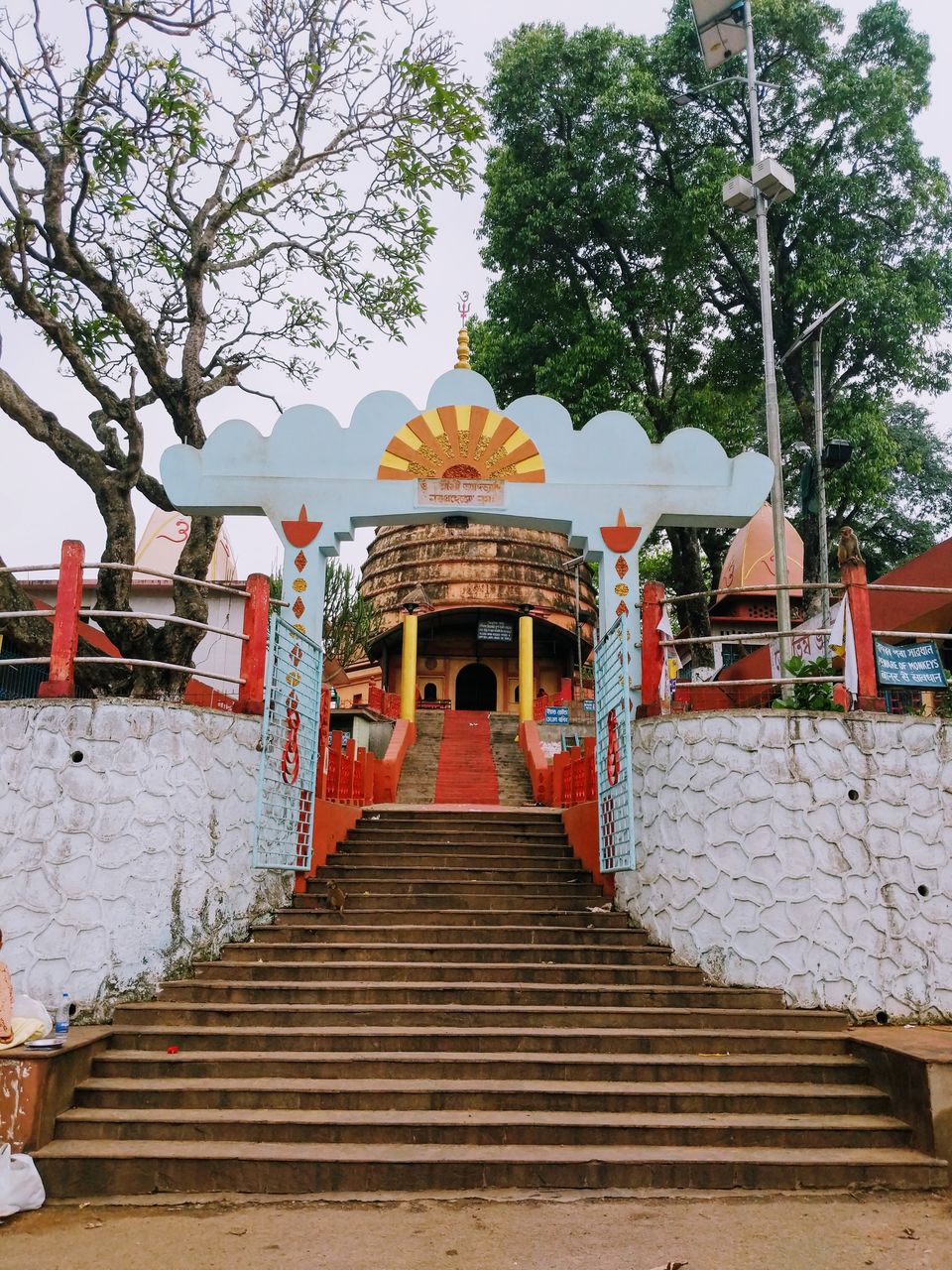 Our driver dropped us at the airport around 6:30 PM and that's how our first journey to North East ended, with the promise of visiting once again soon.
Till then see you.
-----------------------------------------------------------------
Me and my wife have been travelling for last one year since our marriage on 12th March' 18. This was our 11th trip together and we plan to do 200 trips together. You may read our first blog - #target200triptogether – A crazy dream. You may also follow our journey on Instagram.
Frequent searches leading to this page:-
Shillong tour packages, shillong sightseeing tour package, tours and travels in shillong, tour in shillong