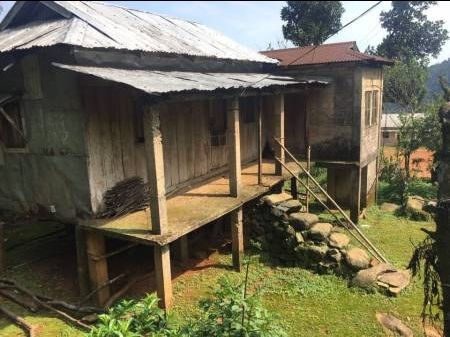 Kongthong a small village is located in east khasi hill distric in Meghalaya 60km to the south from Shillong in India is a must visit for its panoramic view, unique culture and virgin beauty. With no sign boards to guide you, lack of road connectivity (giving you offroading feels) it should take you approx 4 hr from Shillong to reach this place. Weather here is unpredictable one moment it is dry, sunny and other moment it is cloudy, you wouldn't realize it's raining until you'll be drenched.
The village is also known as "Whistling Village" as every individual there has their unique caller tune. They call this tune "Jingrwai Lawbei" which means mother's love song. In Kongthong, when a child is born mother hums a tune for the child which is inspired by the nature especially birds. As the child grows this tune becomes his caller tune, and he is called by that tune.
Jingrwai Lawbei plays like a secret code for everyone in this village which cannot be cheated. If a person is somewhere far which cannot be seen with eyes, this tune is used and the person understands that he is needed somewhere and responds. The person calling might have something to speak or need to come with them or they just want to know if someone is there or no. Nobody can respond on behalf of anybody.
With a very practical theory that high frequency sound travel longer distance in less time, people of Kong thong have been following this culture since decades now.
What's magical is there are more than 600 people in this village with unique tune and no written record of these tunes. When a person dies, the song dies. Nobody uses the same tune even after the death.
Khasi religion believes in almighty with no particular idol worship. They are always in touch with nature. They believe god is unseen but he is there taking care of the world. They have extreme love and respect for nature.
One more different practice of this village is earlier people here were uneducated so during those times if somebody purchased or sold their land it was difficult to keep a record of it. They used to follow a different system where in they used to erect a stone in the presence of members of village durbar and the parties selling and buying land. The stone would stand as evidence to both the families that the land is sold to a particular family and can't be taken back. They call it 'Mausakhi' in khasi, mau means stone and sakhi means evidence.
Apart from these practices, the village has a football pitch, a place for community gathering where they perform their pooja and cultural dance. Village has no hospital or police station but a dispensary and school until grade 8. The crime rate here is 0 making it safe to live here. People here are very simple, gentle, polite, warm and extremely hospitable.
"After seeing people appreciate the unique cultural practice we follow, it came to my mind how can I work in a city? Why not use the resources we have and let the world know about existence of such practices. People who want to know it will come and explore our village and experience our culture how we are living." - Mr Rothelle who was our guide has finished his graduation in commerce from North Eastern University but quit his promising career to promote tourism in his village. He is taking efforts to let the world know about their culture. Also they have build guest house for people who wish to stay and experience their culture.
In the world where we don't have time for ourselves, where innovation and gadgets have made our life at finger tips there is still this village sticking to it routes, giving future a greener hope.
Take days out of your busy city life visit this beautiful place, living there would give you experience which no other part in world would give you.