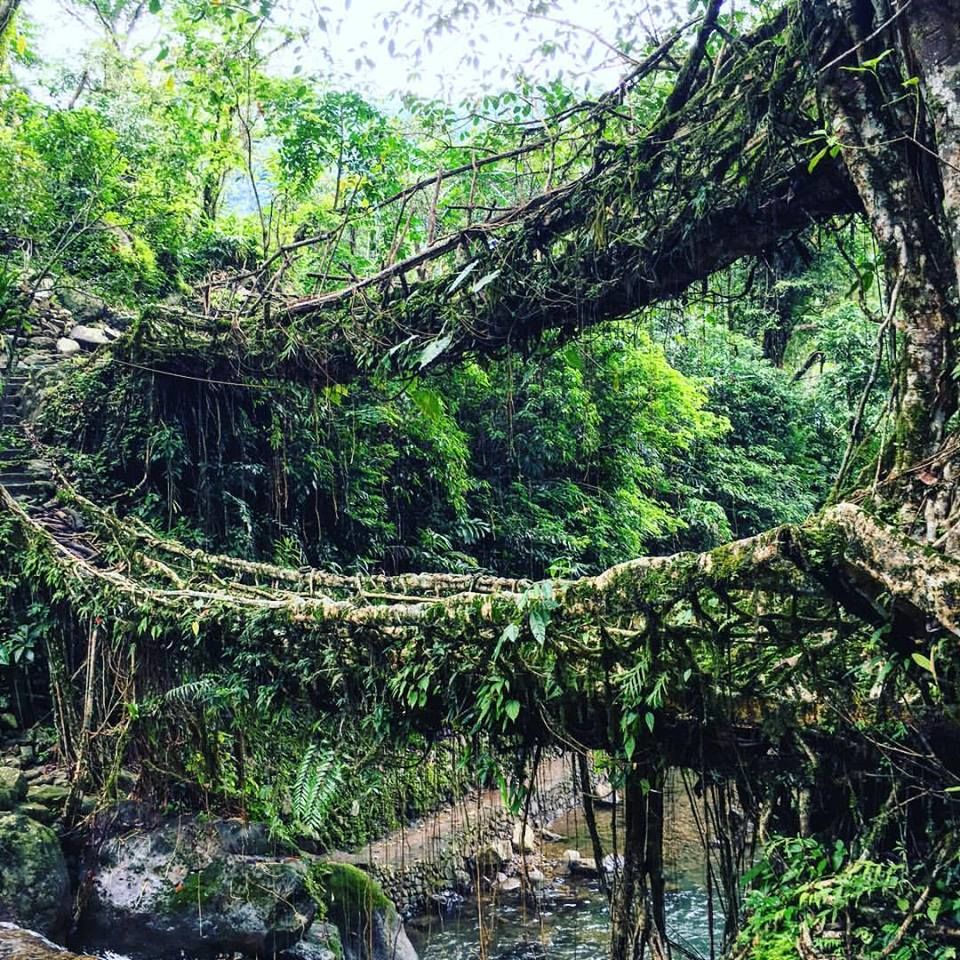 North East beauty is unparalleled yet undiscovered so we planned to go to Cherrapunji because of its easy accessibility from Guwahati (just 5-6 hours drive) and it's unique treasure Living root bridge.
Cherrapunji is a perfect long weekend gateway 2 nights & 3 days are good to explore this heavenly place at a slow pace.
1 day you can see all the breathtaking sites. I recommend not to miss incredible water falls like Seven sisters, Dainthlen, Nohkalikai, Elephant are the must see. Explore natural caves Mawsmai or Mawmluh to experience the warm earth from inside. Visit Kah Khoh Ramhah & Eco park to take a moment in this wild natural beauty.
Keep a full day aside for living root bridges as you have to do 6 kms trek in total which takes 3-5 hours, depending on your fitness level but it's a tiring one so I suggest keep a remaining day just to rest & chill. I managed to finish the whole trek in 3.5 hours with a plenty of photo & 'enjoying the beauty' breaks.
Trek is in the lush green tropical forest of Khasi hills which makes it a very refreshing experience. Route is concrete and well directed. You will also meet many locals on your way so feel free to avoid a guide even though they try to confuse you at the entrance but don't forget to carry bottled water & a hand towel to wipe off your sweat.
There are many functional living root bridges which locals still use every day but the most sought after one is Umshiang, famously known as Double Decker Bridge in Nongriat village. The site of a bioengineering wonder hanging over a creek in a dense tropical forest is totally worth your sore calf muscles.
If you still have time & energy to see more bridges then take a quick 2-3 kms detour to see Ummunoi or Ritymmen root bridges.
Trivia: Tree roots are directed by men to get firmly tangled and are strong enough to carry 50 people at a time. One bridge takes 10 to 15 years to become fully functional & it's life span can easily be 500 years.
On a last day, bid adieu to Cherrapunji and on your way back to Guwahati you can take a 50 kms detour to see Mawlynnong, the cleanest village in Asia. Honestly, there's nothing much to see & do except one more living root bridge. I would suggest give it a miss and chill at Shillong instead.
Tip: Many stay facilities are not registered online so don't worry if you are not able to pre-book your stay.
Public transport is not very good so either take your own transport or rely on hitch hiking.
Keep the place clean, you don't want to litter around in this green, natural beauty.