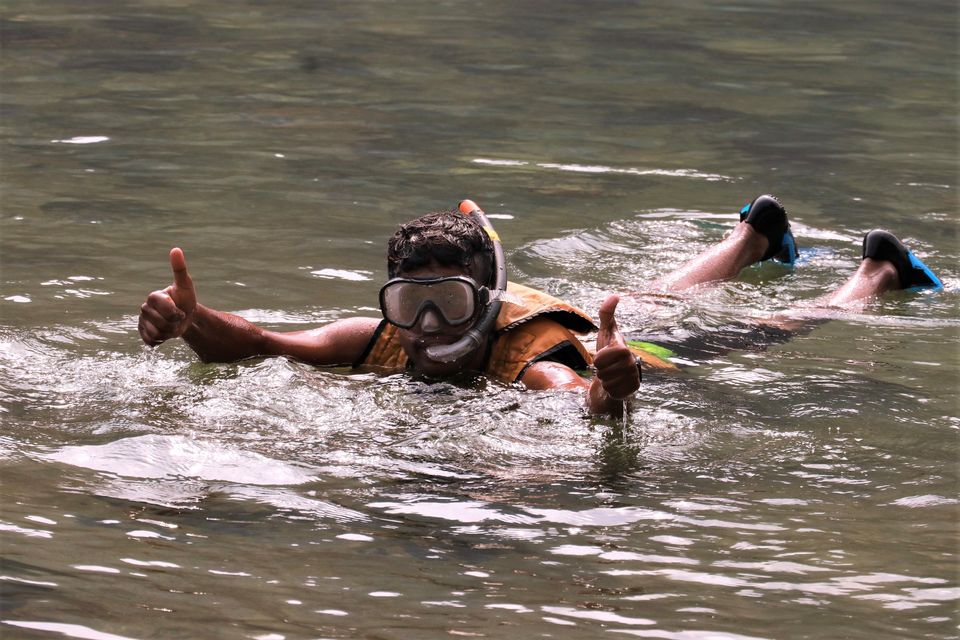 Meghalaya - just as I had read in my school GK books , is truly the wettest region of India. When I started planning my trip to this North East State, the google images of it's enchanting natural beauty did allure me and I would not deny that all I was expecting were visual marvels (I have this strange yearning for a little adventure everywhere I visit).
The "living root bridge", pristine valleys ,waterfalls, spectacular views, the enriching tribal culture – a traveler couldn't have asked for more. But as I read more and more, I came to know of the lesser known hidden jewels of this place. After a lot of research and brainstorming I carved out an itinerary to make the best of our time, money and of course, Meghalaya.
Who Should follow this itinerary:
You are a budget traveler – you sure can take a flight to save time but that doesn't mean you need luxury throughout. You prefer to stay in a home-stay and enjoy homemade local food.
Your earned leaves are valuable - You are a working professional and had to slog for days to get a few days leave from your boss and want to make the best use of it.
You like offbeat places – A little less crowded, a little disconnected from civilization and a little closer to Mother nature is your thing.
You are an adventure seeker – Doesn't mean it has to be something extremely risky but you do like challenging yourself and breaking out of your comfort zone. (I challenged my fear of heights when I did paragliding for the first time.)
You are moderately fit –My itinerary includes activities like trekking, caving and cliff jumping which although doesn't require you to be superbly athletic, but a minimal level of physical fitness would keep you from limping around for the rest of the trip. (Having said that, more than your body, it is the mind that keeps you going.)
So here's my detailed itinerary of 5 Nights/6 Days to the "abode of clouds" – a trip where we had it all from soothing natural beauty to thrilling adventures.
Places covered: Umiam Lake,Double Decker Living Root Bridge,Rainbow Falls,Mawlynnong,Single Living Root Bridge,Umgkot River,Elephant Falls,Mawmluh Caves,Mawkdok View Point,Don Bosco Museum
Activities: Trekking,Zip Lining, Kayaking, Snorkeling,Cliff Jumping, Caving.
Day 1 :- We flew to Guwahati from Hyderabad and reached around 11 a.m. We quickly started for Cherrapunjee because we had planned to spend some time at the famous Umiam Lake (Barapani).We had lunch at a roadside dhaba and were pretty on schedule to spend a good hour at this beautiful Lake, that too during sunset!
https://www.instagram.com/p/BqtvnTKn85i/?igshid=h9oioyee554f
It was important that we didn't make it too hectic on the first day itself, yet not waste it completely.
Night Stay at Hotel Sunrise Guesthouse at Cherrapunjee.
Day 2 :- We made sure we were well rested , because we needed a lot of energy and enthusiasm for this day. We were about to trek down 3500 stairs through thick forests to the majestic Double Decker Living Root Bridge!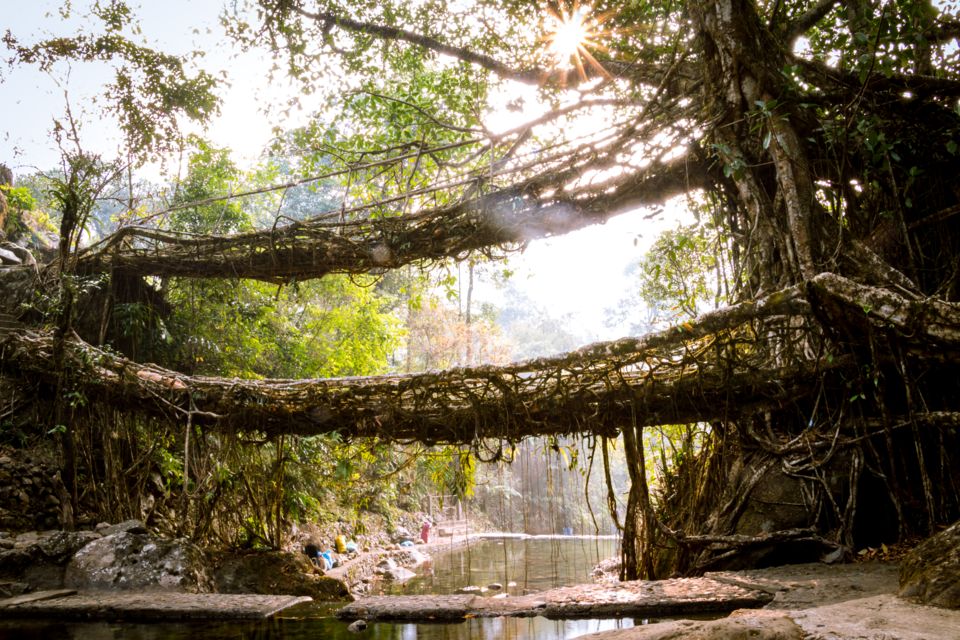 You have to reach the starting point at Tryna village early if you are planning to return the same day.We started our descent from Tryna at 8:30 am and reached the main village, Nongriat, in 2 hours. Most people visit the root bridge and return after spending some time here. Deeper into the woods are more natural wonders – a blue natural jacuzzi and the Rainbow falls. It takes 20 more minutes from Nongriat to trek to these spots, few people think of coming here and fewer have the stamina left. But these places are so worth the effort and pain that I would sincerely advice to not miss these places at any cost!
Night stay Serene Homestay at Nongriat. It offers enough for a decent stay. Do not expect anything fancy. We booked a dorm with 5 beds(Rs.300 each bed) and 2 double bed rooms (Rs.1000 each room).
What to carry:
Travel as light as possible. Carry an extra set of clothing for the pools, preferably those which dry easily. Carry a towel,bug repellents and a pain relief spray besides the daily use items. A raincoat and a waterproof pouch for your camera are musts during the monsoons. Wear comfortable trekking shoes and light clothes that allow your body to breathe.
Day 3 :- We trekked back with wobbly legs, had breakfast at Tyrna and started for our next destination Shnongpdeng. On our way we stopped to visit Asia's cleanest village-Mawlynnong. We had heard a lot about this place but honestly, it didn't meet our expectations.I think one can easily miss this over-hyped place and instead spend some time at the Single Living Root Bridge (oldest) in the nearby village Riwai.The beauty of these bridges are so unique that you can't possibly get bored of staring at them. Rest of the day we traveled and reached Shnongpdeng quite late at 9 pm.Do start early to avoid this.
We enjoyed dinner by a camp fire and stared at the gushing waters, imagining how the morning view would be. This would be a - 'one of a kind' sleep with spiders, no electricity, no connectivity - right beside the river and wilderness all around.
Day 4 :- When we woke up,the river was visible right from our tent and it was more fierce than we had thought.There were hills all around us and it felt like we were sleeping in nature's lap itself.People usually come till Dawki, have a boat ride and that's it.Shnongpdeng is around 8km from Dawki.The road is terrible but once again --DO NOT MISS THIS PLACE!
All the mystical views of river and hills and wooden boats that you see on google are captured here! Also you can do all those cool activities that you wanted to tick off your bucket list for so long – kayaking, snorkeling,cliff jumping,zip lining. You can experience these here at unbelievably low prices, with full safety and complete guidance.None of us was willing to leave this place, we had such amazing time.We had lunch late at 3pm and drove back to Cherrapunjee.
Night stay Shatsngi homestay.We paid around 3500 bucks per person for a package of one night stay,dinner, breakfast,lunch and all the above mentioned activities.
Day 5:- Just as my friends were hoping that this day would be a relaxed one – wandering around greenery and enjoying waterfalls, I broke the news to them – "Today we are going caving". We drove to Krem Mawmluh Cave, located at half a kilometer west of Cherrapunjee. The more popular caves here are Mawsmai and Arwah. But if you want a more "real" caving experience - the one where a narrow beam of light from the torch on your helmet lights your way, where you carefully watch every step you make and wade through waist deep chilling waters – then go for this lesser explored cave. We took half a day to reach half-way through this cave and decided to return after that, as most of us were finding it tough to squeeze through the narrow rugged passages.Yes, it was uncomfortable, it was challenging – but it was totally worth it!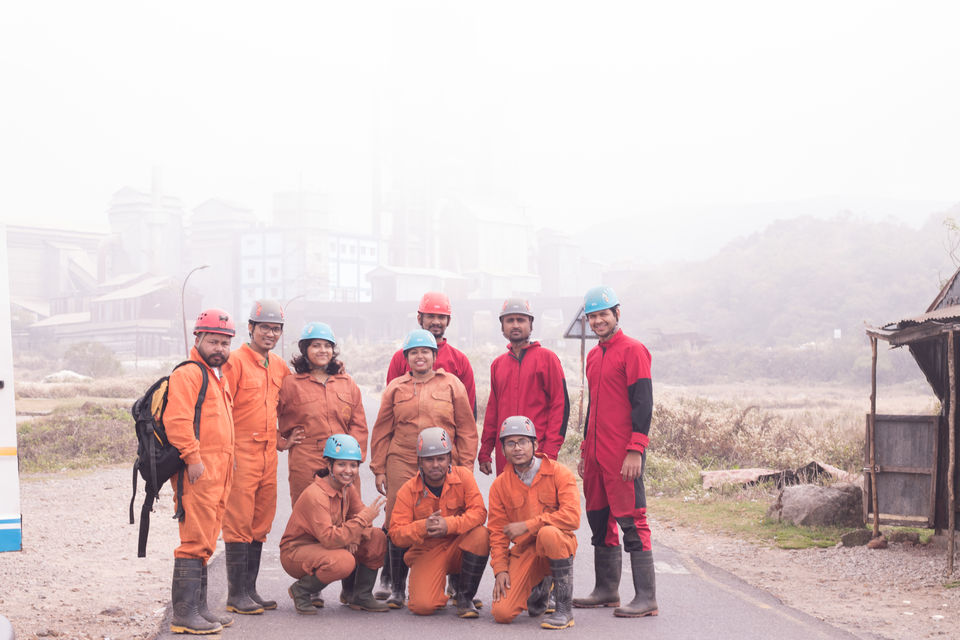 You would definitely need a professional guide and proper protection for this activity.Do not try this if you are claustrophobic or if you have some serious injury.
Prices for caving are around Rs.1500 per head.
We had lunch on our way to back to Shillong. There was this famous point for Zip Lining by Pioneer adventures - Mawkdok View Point.We thought for sometime if we have had enough adventure for this trip, then we settled with – "We aren't going to visit Meghalaya everyday" and quickly booked both the short and long zip lines. These zip lines were hung between mountains so this was more scary and thrilling than the one across Umngot River.Prices were Rs.800 per head.
We were also lucky enough to reach the Elephant Falls just before it got dark .It is a nice place to chill for sometime, click some pictures or just stare at this pretty waterfall.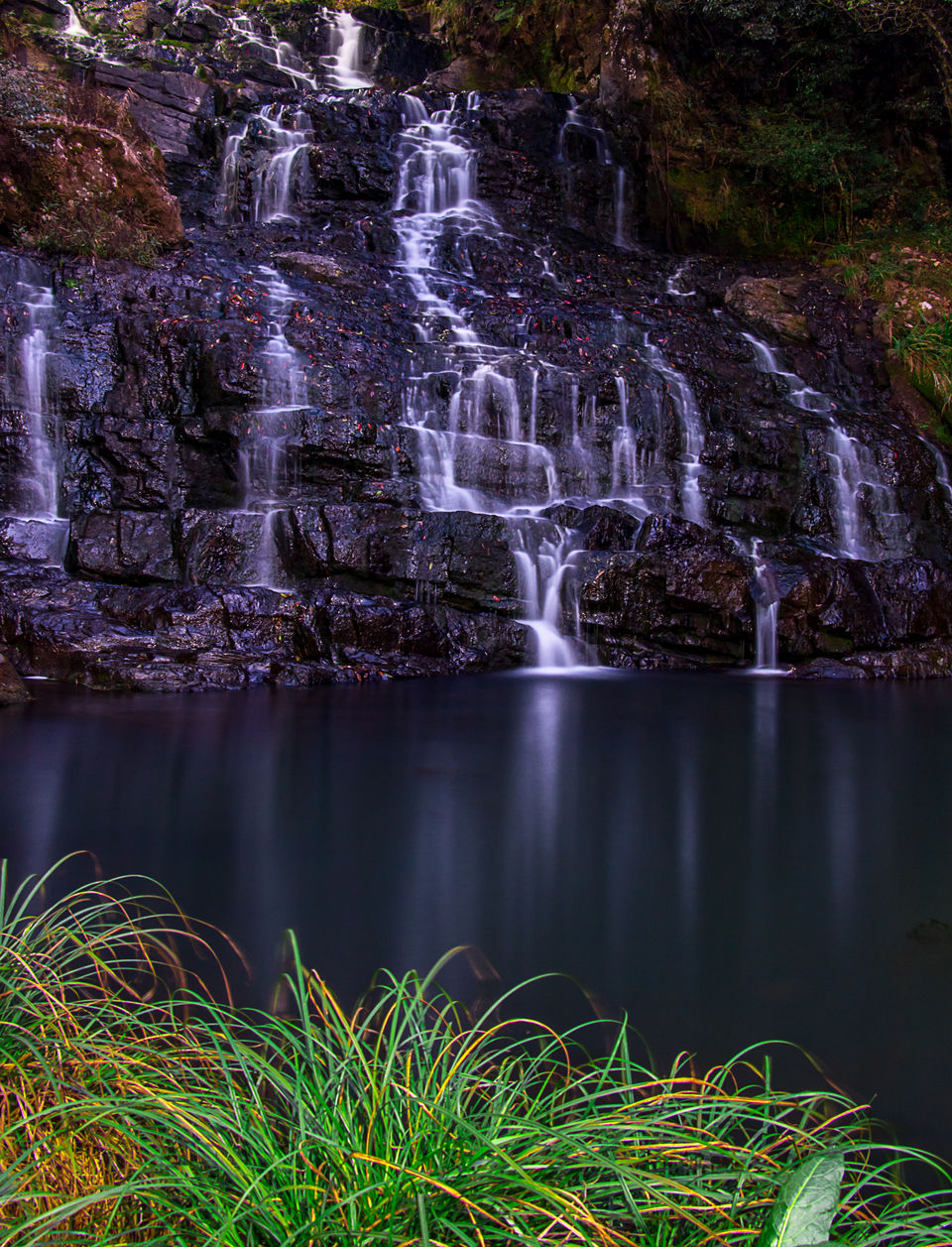 The rest of the evening you are free to spend some time at the Shillong Police Bazar, try some Khasi delicacies or buy some souvenirs.
Night Stay at Whispering Pines Hotel.
Day 6: We were exhausted and satisfied by the last day – we had never imagined such action-packed trip. Since we had a little time , I insisted we pay a visit to the Don Bosco Museum. This is a must visit place for the history and culture buffs out there. It exhibits the tribal culture, arts, artifacts of all the North Eastern states.A lot of hard work has gone into collecting these rare objects, preserving them and displaying them in an informative manner. The best part is the sky walk on the topmost floor that offers a panoramic view of Shillong and gives you feel of a walk in the clouds.
Later we drove to Guwahati Airport - with a deep sense of fulfillment, excited to blabber about the cool things we did and depressed about the oncoming Monday.
Close friends (who are sometimes funny), a backpack, a pair moderately fit legs, the yearning to explore and the will to challenge yourself - that is all we need to experience a new place and make memories :)
Frequent Searches Leading To This Page:-
itinerary for north east india, north east itinerary for the adventure tour, adventure tour packages in north india, north east adventure tour, north east india itinerary