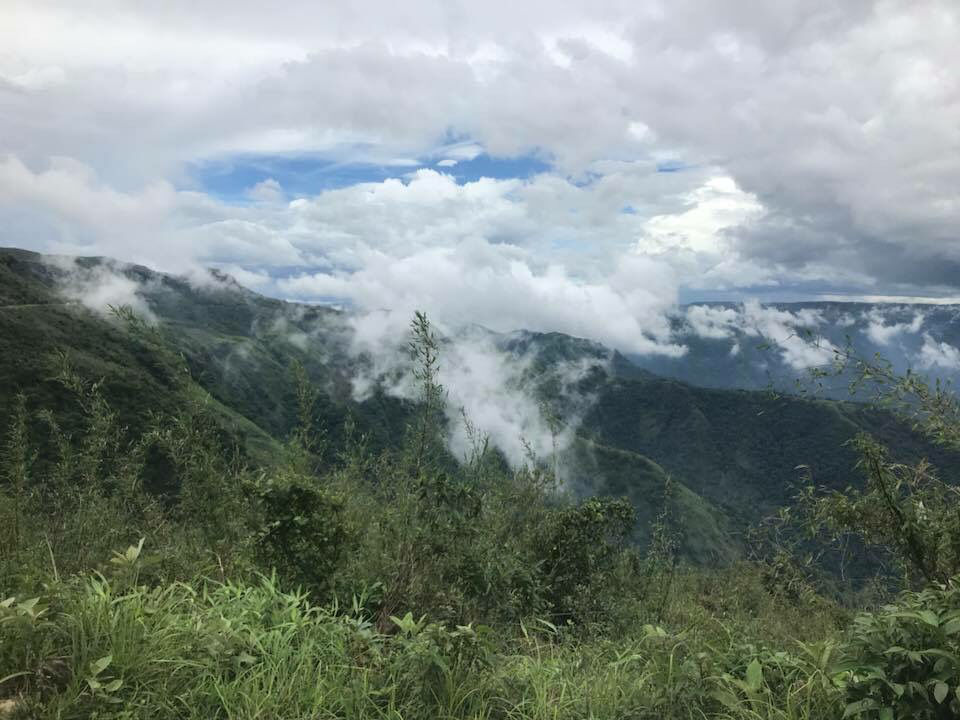 So recently my husband and I got lucky to shell out some time from our jobs and visit this hidden cozy corner in the North-east India.
To be honest, a trip to north-east is synonymous with Sikkim, Darjeeling or may be Assam. But against the much sough-after options, we decided to take our battered backpacks to the off-beat Meghalaya.
To those who don't believe in love, I challenge you; visit this gem and you'll fall in love with it! So did I.
So here's a brutally honest review of our 10-day long trip to the more beautiful part of North-East. And yes, it's a long one, so brace yourselves to go through some of the intricate details you won't find anywhere else.
Day 1: We took an early morning flight from New Delhi to Guwahati and reached the city by 12.30. We booked a taxi on sharing basis to reach Shillong, the capital city of Meghalaya. The road network was amazing and the scenic beauty on the way was pristine. The temperature too dropped by 10 degrees as we headed to Shillong. Unfortunately there was a curfew that day in Shillong and we had to while our times sitting in still car for hours. Finally we reached Police Bazaar at 6.20 PM. We had booked a home stay named Bi & Ti, around 1.5 km from Police Bazar. We walked our way up. It was an average-sized home with 4 rooms. We took one on the first floor. The room was ok. The host however was extremely helpful and recommended us few places for the upcoming days. We had our dinner around 7 at Galooz restaurant which was at a stone's throw from our house. The day ended quickly with us sleeping around 9.30. Yes, the night life in Meghalaya isn't something we actually saw because the sun sets at 6.30 here and people hit their sacks quite early. So 9 PM at Shillong is like midnight in Delhi.
Day 2: We started our day early and caught a reserved cab from Police Bazar to reach Mawsynram, the wettest place on the earth. The driver asked for Rs 2500 and we bargained it to 2200. We stopped at Elephant Falls on the way. It's a set of 3 falls. The falls were beautiful but you can't get into the water for a dip.
We made our way to Mawphlang. This place will blow your mind. The cleanliness, vastness, quietude and pristine beauty will drench your soul in serenity. I would recommend you to carry badminton rackets or any other sports to play here. This place will give you a hell of time. I played football with few locals here. Sunlight keeps fading and glowing here because of an ample lot of clouds. You can expect a few spells every 15 mins. There is a Sacred Grove forest here and you can go trekking and explore its depths.
We drove uphill to reach Mawsynram. There is nothing much to visit in Mawsynram; the panoramas of the drive alone are sufficient to lure you to visit the place. I have seen almost all the hill stations of North, I have seen Munnar and Ooty too, but Mawsynram is something which literally left me awestruck. This place is almost untouched by human "invasion" and that enunciates its beauty many folds. It is here that I realised the aptness of the name "Megh" "Aalya". The perfect blend of grey clouds and lush green hills is marvelous. So what could be more charming than such beauty along with non stop drizzles! This 90 minute drive will be unforgettable. Nevertheless, you can visit the Shiv linga here. It's a natural Shiv linga resting in a cave where water keeps dripping on its head from within the cave all naturally. We got drenched in the rain and another waterfall on the way and drove back to Shillong praising the utter beauty of the place.
Day 3: We decided to spend this day at leisure, which made it pretty uneventful yet relaxing. We left the house at 12.30 and headed to Police Bazar in a shared taxi (which cost us Rs. 10 each). We scoured the entire bazar to get a souvenir or something, but nothing could lure us to spend some bucks. We had our lunch at Subway and KFC. We then walked to Ward's Lake which took us 16 minutes. The lake is amid a beautiful vast garden and we spent 3-4 hours sitting there and taking some shots. We did boating in the lake in the evening which was tiring yet rejuvenating. We again headed to the Police Bazar and had an early dinner at Dominoz. By this time we were dead tired but couldn't find a taxi back to hotel as it was pretty late by then (7.30 PM). So we walked our way back in a light drizzle.
Day 4: It rained all night the previous night and continued in the morning too, which delayed the entire plan. Nevertheless we made our way to Cherrapunjee. On the way we stopped at Mawkdok view point which is engulfed in amazing falls. We took a dip in the ice cold water of the falls which quite chilled our bones. The falls were way down and one has to descend down the stairs to reach there. We had Maggie and coffee in a cafeteria set in the area and had a little relief. The heavy rain throughout the journey made the drive astounding. The weather could be no better. We reached Nohkalika falls in another 40 minutes and hopped our way to reach the view point as it was all dotted up with puddles. We were able to catch the picturesque vistas of the gurgling falls before the scene became all foggy. As a matter of fact, it was difficult to distinguish whether it was cloudy or foggy. Yet the view was breathtaking. We then drove to Eco Park, Mawsmai caves (which were absolutely stunning. I have visited caves before but these were different because of their depth and the water which kept pouring down from nowhere in the caves.) We couldn't catch sight of the 7 Sister falls because it was raining heavily and all foggy.
Finally after savoring every bit of these mesmerizing spots, we drove to Sohra where we had booked a home stay.
I had always dreamt of English cottages surrounded by grasslands and beautiful meadows, and secluded by the rest of the world. And this dream finally came alive with the homestay at Sohra. Never knew it would turn out to be this tranquil and antique. I took a stroll amid the meadows in the drizzle and truly this was magical!
The rest of the day was spent resting in the comfortable house.
Day 5: On this day we took the plunge to trek to the Double-decker bridge. It took us half an hour to reach the start of this trek from the hotel and we started it around 10.30. It's a 3 km trek with 3600 steps till the double-decker bridge. It is a living roots bridge made of the roots of a 400-year long tree. It took us nearly 1.5 hours to reach there. And once you reach there all the tiredness of the difficult trek would go away. The beautiful bridge, gurgling waterfall and rainfall make a perfect amalgamation. To be honest, never have I ever seen such mesmerising a place. You can also enjoy natural foot spa over there with shoal of fish. We had Maggi and tea there, which was icing on the cake. There is also a Rainbow fall which is another 1.5 hrs away, but the water level was so high due to the constant rain that we decided against it. So we made our way back. Climbing up the steps is a hell difficult task and not as easy as it sounds. But we did it in less than 2 hours. The entire way uphill it was raining heavily which made the trek more difficult. By 4 PM we reached the beginning point and by that time not only were we dripping with water but also had our legs trembling. We reached the house, had a cup of hot coffee and went off to sleep. There was a terrible thunderstorm that night. Even after such tiredness we couldn't sleep because it rained cats and dogs that night and every two seconds there was a horrifying lightning. Clouds were roaring loudly which chilled our blood to the spine.
Day 6: The next morning we woke up with no electricity and a running nose. I had caught fever and a bad cold. Nevertheless we bid goodbye to our host and took our leave. That day was planned for Mawlynnong, the cleanest village of Asia.
Reaching there was a very difficult thing we came across in this journey. I won't bother you with much details, but will tell the transit points we took.
Sohra homestay —> main bazar taxi point —> Laitlyngkot —> Pyrunsula —> Mawlynnong
My advice would be to either directly book a reserved cab from Cherrapunjee to Mawlynnong (which will cost you around Rs. 3000) or take a cab from Cherrapunjee to Shillong then Shillong to Mawlynnong ( which will cost you much less in shared booking).
The journey to Mawlynnong will appease your eyes with amazing vistas of various villages which come on the way. You will literally see cotton-like clouds floating beneath you because you will be almost on the top. Meghalaya will give you various instances to sing," Aaj mai upar, aasman niche…"
Anyway, coming back to Mawlynnong village. Yes, it indeed was a clean village and there were basket like dustbins on every other corner. It's a completely green village echoing with the merry laughter of little kids playing in the vastness of the village. There are 6-7 food stalls in the village, with not many options though. They serve very simple food and don't offer a vast variety. If you don't find electricity in the village, it's not news. And when we went there wasn't electricity for 2 days in the village because of the thunderstorm. We couldn't charge our mobile phones or see the inside of our house in proper light. We had booked a homestay there which was good, but not recommended for people like I who is afraid of lizards and other insects. The villagers sleep amid the creepy nocturnal sounds and if that doesn't sound very good to you, then a homestay isn't recommended. Otherwise everything was good about the stay. After all, it's good to say goodbye to the monotonous city life every once in a while and embrace the rural charm. The night life there also has its own charm. I saw fireflies for the first time in my life, and according to the villagers those were only few. There are more when it's not raining. The best part was when I caught one! This is just so thrilling. We also played with the children of the owner of our homestay. Khasi people are truly generous and merry. Another thing I found about that place was there was no such
thing as robbery there. People can leave their stuff anywhere and will find it there forever. They don't lock their houses! This sounded ancient to me. Wow! Another thing which quite pepped my interest was no interest in cricket. People don't follow the matches and are rather perked up by football. The local children too, play football there.
Day 7: We spent some morning hours amid the greenery and fog of the village. We also visited the local school of the village which runs till class XIII. There was one big classroom which was sectioned into various smaller units for teaching different standards. The school usually started around 11 AM and went on till 2 PM. There were no school uniforms and the education was given free under the Sarva Shiksha Abhiyaan. We bid farewell to our host and took leave around 1.30. We had booked a taxi till Shillong and enjoyed the picturesque vistas on the way. There were a lot of jackfruit trees in the village and on the way, and it's also one of the primary dishes of the locals. We reached Shillong in the evening and had our hotel booked at the Police Bazaar. We window-shopped a bit in the market, bought an umbrella for 200 bucks and had our dinner at 3Olives restaurant (a fine dining restaurant but with reasonable prices). The food was good and satiated our craving for proper north-Indian food we'd been having for days.
Day 8: We left for Guwahati in the late afternoon by a shared cab. We had booked a homestay there. It was comparatively hot and humid in Guwahati. We decided to spend the day lazing off. In the evening we went to the revered Kamakhya Temple which is located at a height. It was bustling due to the weekend but we managed. Finally, we watched a flick at Cinepolis at GS Road.
Day 9: This was the final day of the lovely trip. In the afternoon, we went to the Fancy Bazaar by a local bus. We strolled around it for some time and grabbed lunch at GM Restaurant, the only good option for vegetarians at that place. We ended this beautiful trip with a dinner cruise at the Brahmaputra river. We had booked Alfresco Grand cruise. They had a live singing show at the boat which made the night amazing.
The next morning we flew back to Delhi with a little pitara of sweet memories to cherish forever.